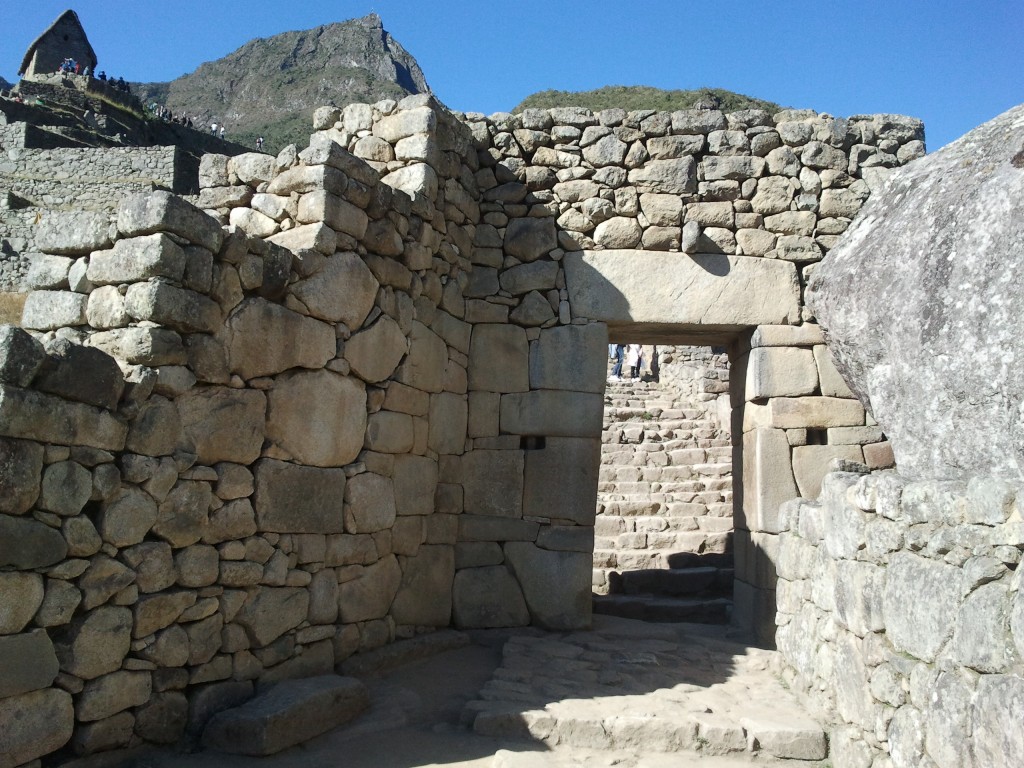 Heilige vallei Cusco – Zuid Peru
Pisaq, Ollantaytambo, Chinchero, Maras, Moray
Pisaq
Pisaq bevindt zich op 18 km van Cusco in rechte lijn en 35 Km over asfalt weg. Pisaq wordt beschouwd als een typische Inca stad. Ze heeft verscheidene herkenningspunten van een staatsstad en ook onderdelen van het bevoorrechte Inca Imperium.De overblijfselen van de politieke, administratieve en godsdienstige structuren worden verdeeld over de pieken van de heilige bergen, met rechts de rivier Urubamba als grens. Er is nog steeds een bevolkingsgroep die met dezelfde naam van toen in de vallei van de opbrengst van de landbouwterrassen leeft.In de godsdienstige sectie merken we Intiwatana, een gepolijste blok steen. Deze werkte als kolom van een zonneklok, waardoor oude Inca's astronomische observaties konden maken die betrekking hadden op de seizoenen. Deze waren noodzakelijk om te bepalen wanneer ze het land moesten bewerken. Naast Intiwatana vinden wij verscheidene ruimten met fijne gepolijste stenen en niches in trapezium vorm.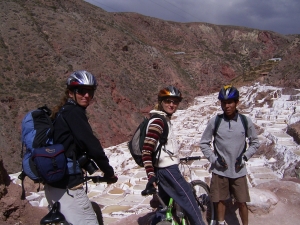 Er zijn ook vele secties en binnenplaatsen van verschillende kwaliteit. Sommigen hebben fijn opgepoetste muren, anderen niet. Sommigen zijn uit pure rots en anderen zijn gemaakt uit lemen bakstenen. Al deze secties zijn verbonden door een netwerk aan wegen met treden, tunnels en waterwegen. Er is ook een ingenieus systeem van terrassen die voor landbouwdoeleinden werden gebruikt.Een bekende Inca begraafplaats bevindt zich dicht bij een rotsmuur en heeft plaats voor meer dan 3000 graven. Deze zijn in natuurlijke holten in de rotswand begraven. De lichamen werden in persoonlijke graven of in multi familiale graven opgebaard, dit naargelang de sociale status van de personen. Jammer genoeg zijn alle graven leeggeroofden en zijn er heel weinig sporen van wetenschappelijk waarde teruggevonden. Op een hoge en winderige sectie van complex kan men een reeks pakhuizen zien, die waarschijnlijk werden gebruikt om landbouwproducten en ook vee te houden. De temperatuur en de vochtigheid maken het ideaal om voedsel in goede omstandigheden te bewaren.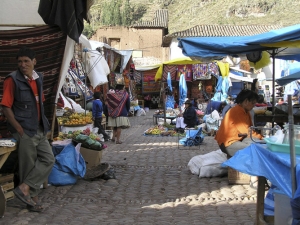 De terrassen en het bevloeiingssysteem zijn uitzonderlijk mooi. De onderzoekers hebben sporen van een hoog geavanceerde technologie terug gevonden, dit om land met water te bevloeien en zo vruchtbare grond te creëren. Er zijn ook ondergrondse kanalen ontdekt.
De stad Pisaq is een zeer interessante plaats waar de inwoners elke zondag, dinsdag en donderdag op hun kleurrijke, wekelijkse markt samenkomen. Het is een markt die ook vele toeristen aantrekt. De handelaars en bewoners komen op de markt samen om commerciële goederen aan de man te brengen. Pisaq staat bekend voor terracotta potjes en schalen van hoge kwaliteit.
Ollantaytambo
Deze stad was een belangrijk administratief en ceremonieel centrum, ongeveer 40 km.vanaf Cusco in een rechte lijn en ongeveer 87 km over asfalt weg en 70 km per trein. Ze werd gebouwd tijdens de regeertijd van Inca Pachacuty, de meest succesvolle en energieke heerser van het Imperium Inca in het Andes gebied.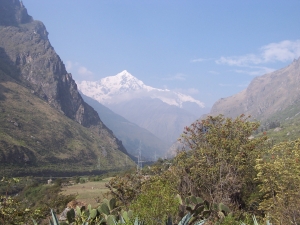 De stad ligt aan de rechter zijde van de rivier Urubamba en omvat 35 hectaren. Ze heeft een hogere sectie waar de Tempel van de Zon overheerst. We kunnen de bovenkant bereiken door een reeks Inca treden te beklimmen, die uit rotsstenen werden gemaakt. Er zijn huizen met tuinen en smalle straten in de lagere sectie van de stad. De stad heeft nog zijn oude karakter bewaard. De straten zijn nog zoals ten tijde van de Inca's. De bewoonde sectie wordt doorkruist door de Patacancha rivier, een zijtak /kanaal van de Urubamba rivier. De ruïne wordt in het zuiden beschermd door een enorme hoge rotsblok/ muur 3 meter hoog en 1,5meter breed. De zuidelijke grens is de rivier Urubamba die een hangende brug had naast de ijzeren brug, die momenteel aanwezig is.De mensen uit dit gebied leven in huizen, gemaakt van adobe stenen (modder, lemen stenen). Ongeveer halverwege dit bewoonde gebied tot aan de steengroeve van Kachiqhata, bevinden zich op ongeveer 3 km reusachtige opgepoetste stenen. Om deze reden veronderstellen we dat de bouw van de stad gebeurde met deze stenen. Het waren deze immense rotsen die op de linkergrens van de rivier werden gevonden, klaar om naar hun bestemming te worden verplaatst.
Aan de bovenkant van de heilige sectie van het complex vinden we de Tempel van de Zon met een bepaalde eigenschap. Je ziet een grote muur die uit zes blokken van roodachtige stenen vervaardigt werd en die met kleinere stenen werd gepolijst. Op de site en richting het oosten kunnen wij een symbool van de Tiahuanaco cultuur zien, met betrekking tot water en vruchtbaarheid.In het lagere deel kunnen we een vierkant zien: Manyaraki"genaamd, die door gebouwen wordt omringd die met adobe (modderbakstenen) werden gebouwd, stenen en muren die met compacte klei werd behandeld. In de zuidelijke sectie van het complex is er een groep met eigenaardige bouwstijl van stenen die met mortel van gele kleur wordt aaneengesloten. De muren hebben plaatsen voor een dubbele deur. Er is ook een uitgebreid landbouwgebied met waterwegen. De oppervlakte die door Hiram Bingham aan het begin van deze eeuw werd gefotografeerd, werd toen nog zeer intensief gecultiveerd.
Er zijn ook nog gebouwen en overblijfselen aan de linker grens van de Urubamba rivier. De meeste gebouwen hadden een defensief karakter tijdens de regeerperiode van Manco Inca, de laatste heerser voor de Spaanse overheersing.
Het complex van Ollantaytambo toont vele speciale eigenschappen en tegenstrijdige stijlen, toe te schrijven aan opeenvolgende pre- Inca bezettingen. Er zijn bijvoorbeeld dieren met verschillende vormen in de stenen gegraveerd. Er is ook een meteoriet met een trap vormig symbool.Dicht bij het complex zijn er andere gebouwen met twee à drie verdiepen met een houten kader. Al deze gebouwen hebben een parametrische muur. Er zijn ook verscheidene pakhuizen, "Colcas"genoemd. Deze werden gebruikt om granen en gewassen op te slaan en ook om hand ambachten op te slaan. Vanwege deze pakhuizen heeft de stad de naam van TAMBO gekregen.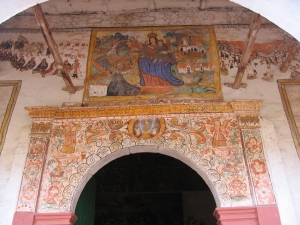 Chinchero
Een vroeger Inca landbouwcentrum. Dit district van de provincie van Urubamba is samengesteld uit 10 "Ayllus" of inheemse gemeenschappen. Het ligt zich op 3762 m. Chinchero ligt op 28 km van Cusco verwijderd en is te bereiken langs een moderne weg. Het Andes landschap is er mooi en omgeven door besneeuwde bergpieken. De huidige stad van Chinchero is een mengeling van Andes en Spaanse architectuur. Het heeft ook een uniek archeologisch complex, met de overblijfselen van gebouwen. Het heeft een plaats van verering en terrassen voor het kweken van gewassen. Het heeft een mooie koloniale kerk met schilderijen van de beroemde inheemse kunstenaar Chiwantito. Er is ook een typische kleurrijke en authentieke markt, 3 keer per week, waar bewoners van verschillende gemeenschappen samenkomen om hun goederen uit te wisselen, maar vooral om souvenirs te verkopen. Chinchero is bekend voor zijn geweven handicrafts, typisch uit dit gebied.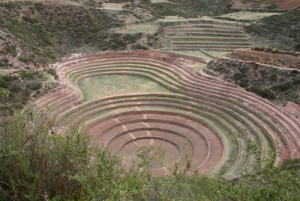 Moray
Dit is een plaats waar je vier cirkels en een concentrische stenen constructie kunt bewonderen. Deze vormen een reeks ringen. Zij worden gesteund door stenen muren. De belangrijkste bouwwerken zijn terrassen die een type van hoef vormen. Men gelooft dat Inca's de ringen en hun variërende microklimaten voor landbouwexperimentengebruikten. Anderen geloven dat de ringen een amphi theater voor burgers of godsdienstige ceremonies kon geweest zijn.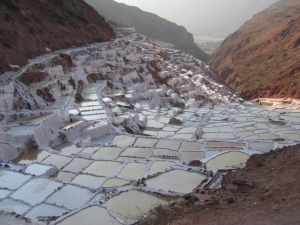 Maras
Men kan muilezels zien die met zakken zout van de natuurlijke zoutpannen worden geladen. Het is moeilijk om deze mooie plaats te bereiken. Maar het is zeker een bezoek waard. Deze zoutpannen werden reeds gebruikt ten tijde van de Inca's. Vanaf Maras kan je in 1,5 u wandelen naar de zoutpannen! Daarna eindig je op de hoofdstraat tussen Ollantaytambo en Urubamba. Het zoutkanaal wordt verdeeld over de zoutpannen en dan afgesloten. Hier droogt het water op en blijft het zout over. Nadien wordt alles manueel in zakken geschept en per ezel vervoert. Het is een prachtige rustige omgeving om de drukte van Cusco te ontvluchten.