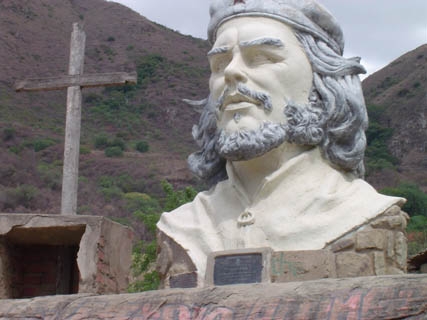 Samaypata – Santa Cruz- Bolivie
Samaypata /Santa Cruz / Bolivia
Puur natuur (vanaf Santa Cruz) Samaypata: Quechua voor 'De hoogte om uit te rusten'
De ideale start -1650m- om hoogte op te bouwen
Nationaal park amboro
1 – daagse tour
1)Zone van Los Volcanes
Gelegen bij Bermejo, op 40 km van Samaipata. Er wordt 4 à 6 uur gelopen door het bos. Het is een mooie gelegenheid om een variëteit aan vogels te observeren: Tojos, papagaaien, zuzos, cacarenas. Genietend van het zicht op Serranía Volcanes en bezoek een oud vulkaanmeer met 3 verschillende soorten wilde eenden.
2) Communiteit los Volcanes
Kampement. Communiteit omringd door imposante 'roze bergen'. De zone biedt een zeer grote diversiteit in flora en fauna. Direct contact met puma, tapir en brilbeer is er niet, wel zijn hun sporen te herkennen. Vogelaars observeren tal van gevogelte: papagaaien, Tojos, Martín pescador, Zuzo, Cacarena en vele andere.
Er zijn ook meer dagen tours mogelijk met zwaardere trekking. Vraag naar meer info.
Ruines van El Fuerte
Het eeuwen oude spirituele centrum van Amazone – Chaco – en Inca culturen. Sinds 1999 op UNESCO´s lijst van Cultureel Erfgoed van de Mensheid!!
Duur: 5 uur. De route gaat via oude paden. 1 uur bezichtiging ruïnes. Rondleiding met vertaler/gids. Het is mogelijk deze tour al wandelend of als bezoek met de auto te doen.
EXCURSIES PER AUTO OF PAARD IN VALLEIEN EN CANYON GEBIED
1: Waterval La Pajcha: Prachtige tocht door de valleien naar waterval,
stroompjes en traditionele dorpjes. Bezoek aan de kleine boerengemeenschap Postrervallecito, op de koffie bij Doña Valentina en Don Pancho.De waterval van 35 m hoog bevindt zich in een kathedraalachtige immense rotskom, waar honderden papegaaien hun nest hebben. Vele boomsoorten, bromelias, andeshert, leguanen, klein zandstrand. Duur: 5 uur onderweg + 2 à 3 uur waterval.
2: Rondje Postrervalle: Tocht door valleienstreek. Bezoek aan waterval La Pajcha en traditionele dorpjes: Postrervallecito, San Juan de Rosario, Postrervalle, Tierras Nuevas, Quirusillas en Mairana. Panoramische uit – en vergezichten, micro – klimaten, contact leggen met lokale boerenbevolking. Duur: 10 uur onderweg.
Meerdaagse pakketten
1)Oude handelsroute naar Sucre.
4 dagen/ 3 nachten in de voetsporen van Che guevara!
De regio van Che Guevarra en dorpjes met inheemse bevolking. De tour start op donderdag vanwege de zondagsmarkt in Tarabuco.
Dag 1: Vallegrande of La Higuera (waar Che Guevara gedood werd)/ Samaipata, Trigal: enorme cactussen. Vallegrande: centrum van de 'Vallunos'. Bezoek aan
mausoleum, hospitaal en Casa de la Cultura. Via Pucará door naar La Higuera.
Dag 2: Villa Serran (Vallegrande – Pucará): bedevaartsgebied van Che Guevarra. Río Grande: woestijn. Overgang naar inheems Indianenland, Nuevo Mundo, bekoorlijk Villa Serrano: prachtige adobe huizen.
Dag 3: Zudañez Villa Serrano, Tomina, Zudañez, Indiaans landbouwgebied, indrukwekkende landschappen, gezellige dorpjes met rivierstenen geplaveide straten en onderweg koloniale boerenhoeven.
Dag 4: Sucre/ Tarabuco: kleurrijke zondagse indianenmarkt: mensen gekleed in geweven kledij, de meest befaamde in Bolivia, gezellige atmosfeer. Na de lunch door naar Sucre.
Opmerking: De tour kan ook omgekeerd gemaakt worden: Sucre – Samaipata.
We reserveren de best beschikbare herbergen
Inclusief:
Locale chauffeur/gids (meertalige gids indien gewenst, aan meerprijs)
Gewone auto, ook mogelijk in 4×4 jeep.
Herberg – accomodatie + ontbijt.
Exclusief:
Andere maaltijden.
Hotel in Sucre.
2)SAMAIPATA & OMGEVING
CANYON EN VALLEIENGEBIED (7 DAGEN/ 6 NACHTEN)
De oostelijke flanken van het Andesgebergte, panoramische landschappen, subtropische valleien en steile bergwanden vol bromelia´s, de nevelwouden van Nationaal Park Amboró, eeuwenoude bomen met baardmossen, orchideeën, valken, adelaars en zwevende condors, sporen van de jaguar, droomuitzichten vanaf El Fuerte – eeuwenoud spiritueel centrum van Amazone, Chaco – en Incaculturen. Ze zijn door Unesco tot erfgoed van de Mensheid verklaard. De hoogte varieert van 1500 tot 2200 m.
Logeren doe je op een landgoed, comfortabel en sfeervol, met terrassen vol kruiden en bloemen, met panoramisch uitzicht op de grote groene vallei van Samaipata. Dit is het grootste van detraditionele dorpjes in deze streek. Een prachtige plek om op 'hoogte' te komen. De eerste dagen in Bolivia om te wennen en dit land en van daaruit verder te ontdekken.
Dag 1. Aankomst luchthaven Santa Cruz, transfer naar Hotel Asturias met Engels sprekende gids.
Dag 2. In de morgen bezoek aan museum met 2 – talige gids. In de namiddag aankomst in Samaipata. Onderdak gastenhuis gedurende de volgende 4 nachten.
Dag 3.Bezoek aan ruïnes El Fuerte. 2 opties:
Een wandeling van 5 uur door natuurgebied, uitkomend op de ruïnes met daar een rondleiding.
Voor goede wandelaars.
Met auto naar ruïnes. Terugwandelen tot bergstroom en daar wandeling van totaal 2 uur. Met auto terug naar het dorp. Bezoek Archeologisch Museum en dorpskern. Terug wandelen naar gastenhuis.
Dag 4. Volle dag excursie valleiengebied incl. La Pajcha – waterval. Met auto naar Postrervallecito, boerengemeenschapje, koffie bij weefster en leerbewerker. Verder naar dorpje San Juan de Rosario met panoramische vergezichten. Aankomst La Pajcha: een kathedraalachtige sfeer, waar honderden papagaaien nestelen.
In de namiddag vertrek naar Postervalle: de 'achterste vallei', waar afstammelingen wonen van sefardische joden uit de koloniale tijd. Dit is een typisch landbouwgebied van kleine valleiboeren met traditionele gemeenschapjes. Via Tierras Nuevas en Quirusillas, uitkomend in de enorme vallei van Mairana en over een pas hoog boven deze vallei, terug naar de groene vallei van Samaipata.
Dag 5. Dagexcursie Nationaal Park Amboró : 1 uur heen met auto, 3 tot 6 uur wandelen in nevelwoud o.l.v. lokale gids met grondige kennis van flora & fauna + vertaler. Deze dag wordt afgestemd op het wandelvermogen van de bezoeker. We streven naar een zo breed mogelijk aanbod van alle natuurelementen in het park.
Dag 6. Terugreis naar Santa Cruz. Met de auto bezichtiging van enkele indrukwekkende natuurverschijnselen Onderweg: wandeling naar
1: watervallen Cuevas
2: het vulkaanmeer
3: het vulkanen – bergmassief hoog in de bergen boven Bermejo midden tussen roodstenige enorme cayons.
Eind van de middag aankomst Hotel Asturias, Santa Cruz. Overnachting.
Dag 7. Transfer vliegveld.
Inclusief: logies en ontbijt, lunchpakket dag 3 t.e.m 6, genoemde transfers en tours.
Exclusief: avondmaal, lunch dag 2, drankjes en entreeprijzen.
Aanbevolen: goede wandelschoenen, zaklamp, regenkleding, dag rugzakje.
In de maanden mei – september: warme kleding.