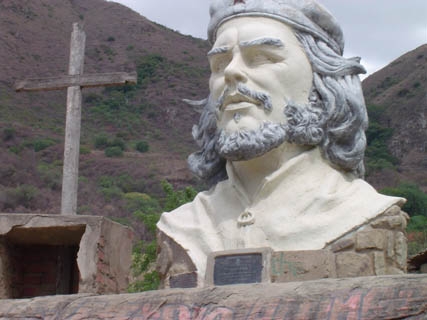 Samaypata – Santa Cruz – Bolivia
Samaypata / Santa Cruz / Bolivia
Pure Nature (from Santa Cruz) Samaypata :Quechua for altitude from "To rest"
The ideal start -1650m- to get used to the altitude
Nacional Park amboro
1 day Tours
1) Area of Volcanoes
Lain at Bermejo, on 40km of Samaipata; 4-6 hours walk thru the forest ; a beautiful occasion of observing a variety to birds: Tojos, parrots , zuzos, cacarenas, enjoy the look over Serranía Volcanoes and a visit to old Volcano lake with 3 different types wild ducks.
2) Community of Volcanes
Camping.cummunity surrounded by impressive pink mountains. The area offers a very large diversity in flora and fauna. Direct contact with puma, tapir and bear are not possible, however, it possible recognise tracks; bird are numerous Parrots, Tojos, Martín pescador, Zuzo, Cacarena and a lot more.
There are also more days tours possibly with heavier trekking, ask for more information
Ruins el Fuerte
Centuries old spiritual centre of the Amazon Chaco- & Inca cultures. Since 1999 on UNESCO´s list of cultural heritage of humanity!! A 5 hours; route goes over old paths. 1 hour at the ruins. with translator/guide Its possible to do this tour as a walk ,or by car
Excursions in this area
1: water fall Pajcha: Splendid excursion passing by fall-valleys to water fall,
streams and traditional villages, visit to the small farmer community Postrervallecito Take a coffee at Doña Valentina and Don Pancho.
The water fall of 35m high in cathedral shape immense rock bowl, where hundreds of parrots have their nest. A lot of bromelias, Andes deer, iguanas,etc.
About: 5 hours walk + 2-3 hours water fall.
2: Postrervalle: Excursion to the valley and visit the water fall Pajcha, traditional villages: Postrervallecito, San Juan the Rosario, Postrervalle, Tierras Nuevas, Quirusillas and Mairana. Panoramic views, microclimates, contact with local farmer population.
Duratiobn: 10 hours
Several Days Packages
1) OLD COMMERCIAL ROUTE TO SUCRE
4 DAYS/3 NIGHTS IN THE FOOT TRACKS OF CHE GUEVARA!
The region of Che Guevarra and villages with domestic population.The tour starts on Thursday because of the Sunday market in Tarabuco
Day 1 Vallegrande or la Higuera
(where Che Guevara were killed)Samaipata, Trigal: enormous cactuses; Vallegrande: centre of the Vallunos: visit mausoleum, Hospital and Casa de la Cultura.Thru Pucará by to Higuera.
Day 2 Villa Serrano
(Vallegrande-Pucará): pilgrims area for Che Guevarra; Rio Grande: desert; passage to domestic Indian land; Nuevo Mundo;nice villa Serrano: splendid adobehouses.
Day 3. Zudañez
Villa Serrano, Tomina, Zudañez, Indians agriculture area; impressive landscapes, sociable villages streets paved with river stones; underway colonial farms.
Day 4 Sucre
Tarabuco: coloured Sunday market people dressed in native woven clothes, most famous in Bolivia, sociable atmosphere. After the lunch we drive to Sucre.
Observation:The tour can be made also the other way around: Sucre-Samaipata/ We reserve best available accommodate
Including:
*local driver/guide (multilingual guide if wish for extra price )normal car (also possible wit 4 *4 jeep )
*Hostal accommodation + with breakfast
Excluding
*Other meals
*Hotel in Sucre
Samaypata and surroundings
CANYON AND WATERFALL AREA (7 DAYS/6 NIGHTS)
The Eastern side of the Andean mountains, panoramic landscapes, subtropical falls valleys and steep mountain slopes full bromelia´s; the rainforest of national park Amboró, very old trees with tree mosses, orchids, falcons, eagles and condors, footprints of the jaguar; perfect views from ell Fuerte – secular spiritual centre of the Amazon Chaco- and Inca-cultures; declared by UNESCO heritage of humanity; altitude varying of 1500 – 2200 m.
Herbs and flowers with panoramic view on the large green valley of Samaipata .
Stay, at the largest of the traditional villages in this region , comfortable and attractive, terraces full flowers and herbs . A splendid spot to come, the best place to get used to the altitude for a few days and discover from here this amazing country Bolivia
Day 1. Arrival at the airport of Santa Cruz, transfer to hotel Asturias with English speaking guide.
Day 2. In the morning visit to museum, with a guide. In the afternoon arrival i Samaipata, lodging guest house during the following 4 nights.
Day 3. Visit to ruin ell Fuerte – 2 options:
1 walk of 5 hours nature area ending up on the ruins, guided tour ; for good walkers
2 Bycar to the ruin; walking back to the river: there walk of total 2 hours, with car to the village, visit archaeological museum and city centre. Walk to the guest house.
Day 4. Full day excursion to the water fall area. Pajcha-waterval. With car to Postrervallecito, farmers community , coffee at weaving place, further to village San Juan the Rosario, panoramic view , arrive at Pajcha water fall : where hundreds of parrots nest. In the afternoon departure to Postervalle: the further valley, where descendants live of sefardische Jews from the colonial time, typical agriculture area of small fall slate farmers with traditional community . Passing by Tierras Nuevas and Quirusillas,we arrive at the enormous valley of Mairana and concerning just crossing over this valley, we return to Samaipata.
Day 5. day excursion national park Amboró – 1 hour go by car, 3-6 hours walk in the cloud forest with local guide with knowledge of flora & fauna + translator. This day is coordinated on the walking capacity of the visitor.
Day 6. Return to Santa Cruz. With the car ,we visit some impressive nature phenomena on the way :we walk to
1: water falls Cuevas
2: the volcano lake and
3: the volcano –massive high in the mounts above Bermejo in the middle of the red rocks of the enormous cayons.
End around the afternoon arrival hotel Asturias, Santa Cruz; overnight !.
Day 7. Transfer to the airport
Including: loge with breakfast, lunch parcel day 3 till 6, transfers and tours in and out
Excluding: diner, lunch day 2, drinks and entréé prices
Recommended: good walking shoe, pocket lamp, rain clothing, day pack small pocket
In the months may-September: warm clothing