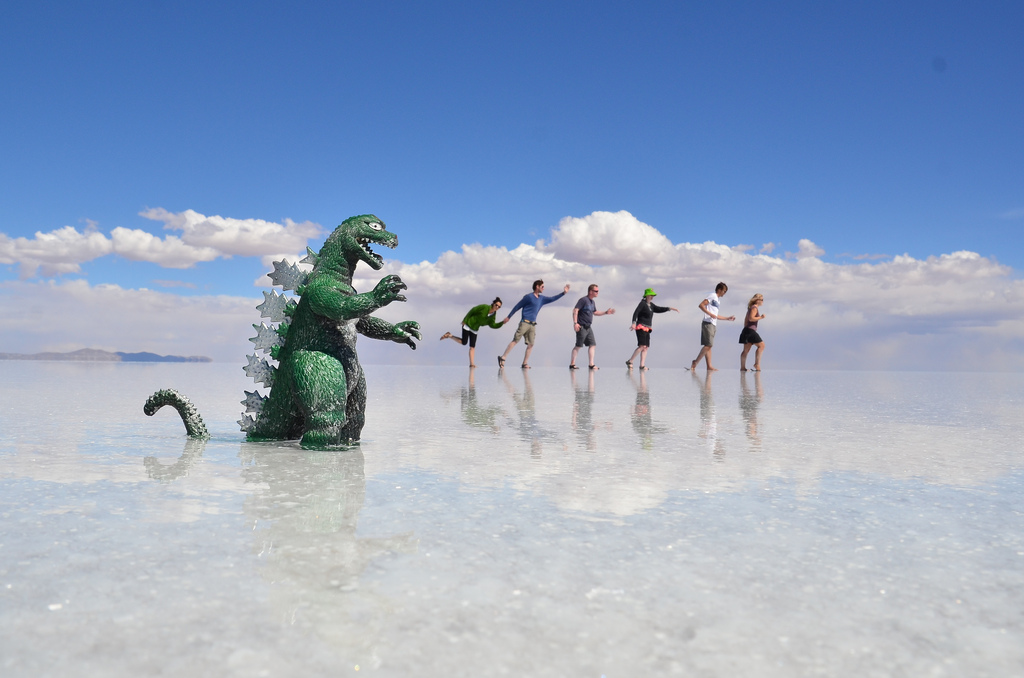 Uyuni – zoutvlaktes – Bolivie
Uyuni -Zoutvlaktes – Bolivia
De grootste zoutvlakte in de wereld
In Uyuni kan je genieten van de prachtige uitzichten van deAltiplano,
hoogvlaktes en bergketens in het Oosten. Ze zijn onderweg naar Chili te zien tijdens een jeep rondtrip.
Je komt onderweg vele lamas, vicuñas en de Andean Viscachas(een soort konijn) tegen, maar ook lokale flora zoals het gras van de Andes (Ichu) en mossen zoals Thola.
UYUNI Gelegen op 220 km van Potosí. Het bevindt zich op eenhoogte van 3665 m in de Antiplano.
Uyuni is te bereiken per bus vanuit La Paz, of per bus vanuit Potosi, of per jeep vanuit Chili of per trein vanuit Oruro. Er is ook een groot trein kerkhof. Je ziet hier de belangrijkste Boliviaanse locomotieven. Treinliefhebbers zullen de tranen in de ogen krijgen, wanneer ze deze verwaarloosde rijkdom aan treinen zien staan. Het is een stuk geschiedenis op zich.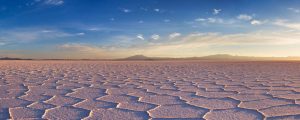 Er bestaat een mogelijkheid om de zoutvlaktes te bezoeken op 1 dag, of op een fantastische 3 – of 4 – daagse zoals hieronder beschreven.
4×4 jeep tour tot San Pedro de Atacama
Dag 1: Vertrek uit Uyuni rond 10.00 u.
We rijden eerst vanaf Uyuni naar het dorpje Colchani. Hier kan je het zoutfabriek bezoeken. Hier wordt jodium aan het zout toegevoegd. Alles gebeurt hier nog manueel. De zoutwerkers verkopen hier souveniertjes, gemaakt van zout.
Nadien rijden we verder naar de grootste zoutvlakte van de wereld. De oppervlakte bedraagt meer dan 12.000 km². De stralend witte zoutkorst lijkt op een zeer grote sneeuwvlakte! In het regenseizoen staat er water op de vlakte en lijkt het één grote spiegel!
Geniet van het avontuur om in een jeep deze prachtige vlakte ter grootte van 1/3 van Belgie over te steken.
Voel je zelf als in één grote zoutwoestijn op de Salar de Uyuni! Het lijkt onwaarschijnlijk en zeer speciaal! Aan de rand van de zoutvlakte zijn de ogen van het zout. Hier zie je dat er zich onder het zout water bevindt. Nadien bezoeken we de zouthopen waar het zout uitdroogt en ook het zouthotel, dat volledig gebouwd is uit zoutblokken, ook de tafels, stoelen en het bed.
De Uyuni zoutvlakte geeft je een gevoel van vrijheid op een hoogte van 3665 m. De zoutvlakte kan samen met de grote muur in China gezien worden vanuit de ruimte door de satellieten. De vlakte varieert van 2 tot 20 meter dikte. Er wordt geschat dat de vlakte 64000 miljoen ton zout bevat en ook grote reserves aan Lithium, Mg, Na en Bo.
Nadien rijden we verder tot aan het Vis eiland (Isla Pescado). Dit bevindt zich in het midden van de zoutvlakte op 100 km van Uyuni.
Fish Island (Isla Pescado) verrast je met prachtige zichten en effecten. Het lijkt wel op de Noordpool, gedomineerd door een staalblauwe hemel en bergen die vol staan met de vele immense cactussen van 8 tot 10 m hoogte!!
Dit eiland is beschermd gebied en is ook een onderzoekcentrum. 2 usd inkom.
Fish eiland is zeer uniek met een geïsoleerde ecosysteem. Fotografen zullen zich kunnen botvieren in hun passie en dit 1 van de beste plaatsen in de wereld vinden voor hun experimenten. Hier lunchen we meestal ook.
Nadien rijden we verder tot aan het dorpje San Juan waar we overnachten.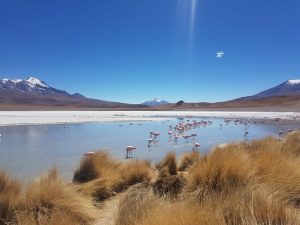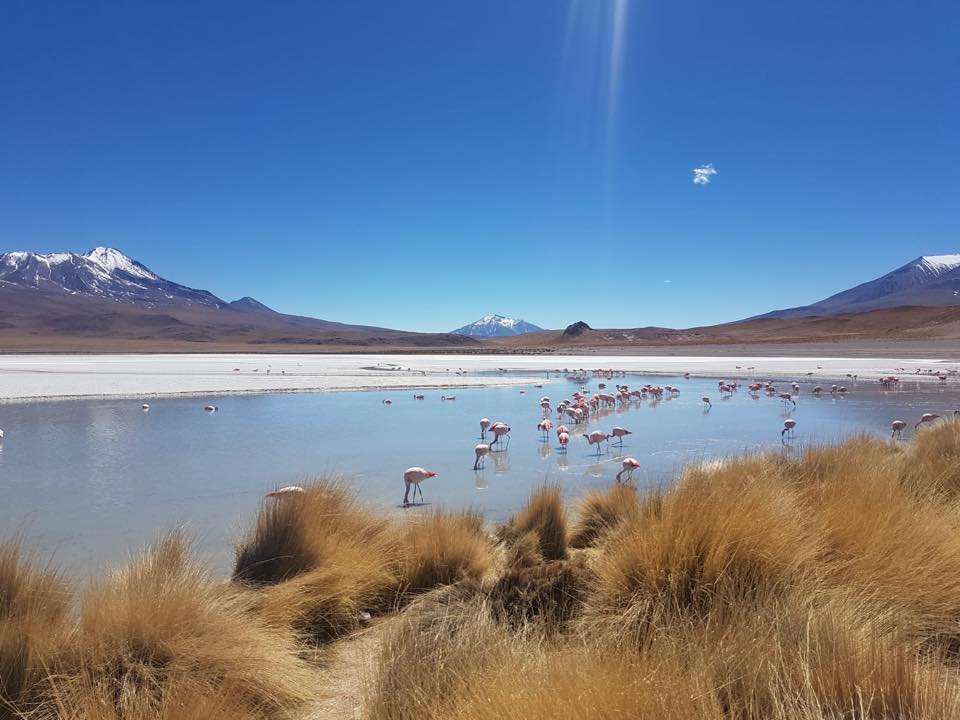 ---
Dag 2: We vertrekken zeer vroeg na ons ontbijt, rond 8.30 u en we rijden eerst langs de gestolde lava van de Ollague vulkaan. Nadien starten we aan onze tocht langs 5 prachtige lagunes:Canapa, Hedionda, Chiarcota, Ramaditas en Honda. We zien hier 3 prachtige soorten flamingo's: James, Andean en Cilean flamingo.
De lagunes hebben veel verschillende fantastische kleuren, gevormd door mineralen.
Onderweg komen we ook de bekende stenen boom tegen en we komen rond 16.00 u aan bij Laguna Colorado waar we ons avondeten eten en basic overnachten. Deze nacht zal het koud worden aangezien we op 4000 meter hoogte slapen!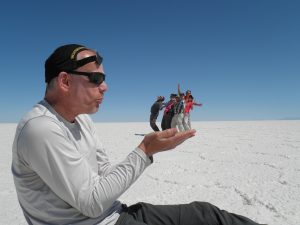 ---
Dag 3: We ontbijten zeer vroeg en vertrekken dan rond 5.30 u naar Sol de Manana. Dit zijn vulkanische geisers. Nadien rijden we verder naar de warmwaterbronnen waar iedereen kan ontdooien…
We vervolgen onze rit en passeren de Rocas Dali in een prachtig woestijnlandschap, tot we aan één van de mooiste lagunes aankomen: lagune verde. Vanaf hier kan je verder rijden tot aan de grens met Chili. Hier neem je afscheid van je chauffeur/kok en jeep om zo tot San Pedro de Atacama te rijden in een busje.
Hier eindigt dan de mooiste 3 – daagse van heel Zuid – Amerika.
Mogelijk te doen in gedeelde jeep in Zeer basic overnachting / OF in Prive jeep met de betere Tayka hotels
Wat raden we aan mee te nemen:
*Slaapzak
*Zonnebril
*4 liter water voor 3 dagen
*Paspoort
*Warme kleding, handschoenen, sjaal, muts
*Zaklamp