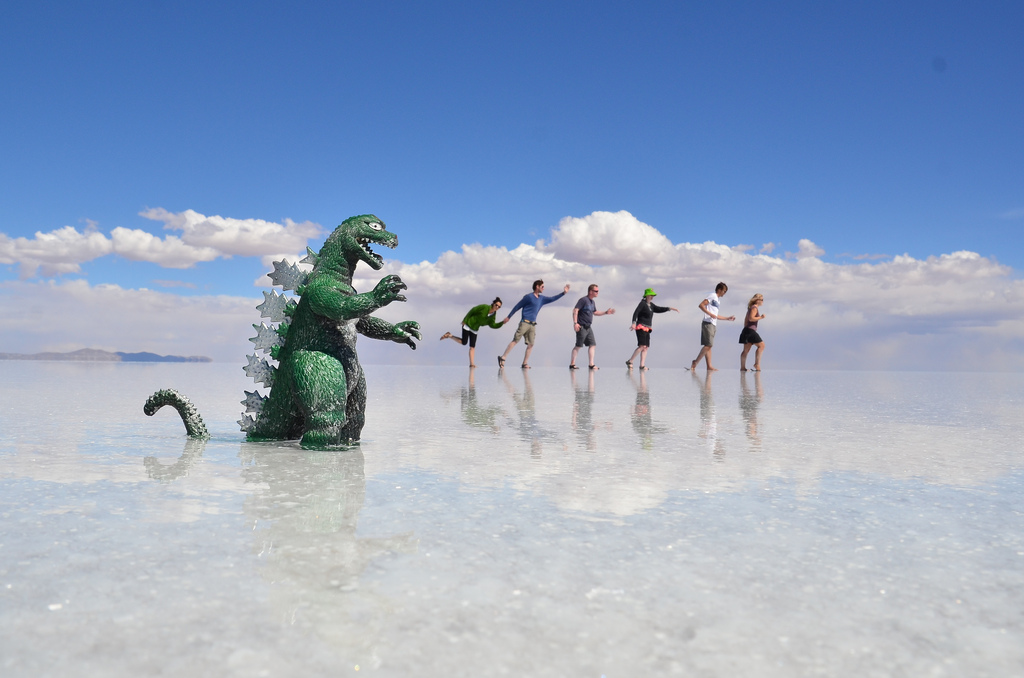 Uyuni – saltflats – Bolivia
Uyuni – Saltlakes – Bolivia
Largest Salt Lake in the world
From Uyuni we will appreciate lovely views of the AltiplanoHighland plain and the eastern mountain ranges on the way to Chili ,or in a jeep roundtrip .
We will observe llamas, vicuñas an Andean Wildcats, as well as local flora such as Andean grass (Ichu) yareta muss and Thola.
UYUNI, the town of Uyuni is situated 220 km from Potosí, high in the altiplane at an altitude of 3665 above sea level. You can reach Uyuni in bus from La Paz, or from Potosi, or in jeep from Chilli San pedro de atacama ,or by train from Orruro.
There is a big Train Cementery, you can observe Bolivia's most important rail tracks, locomotives, resting place for many of Bolivia's historic trains.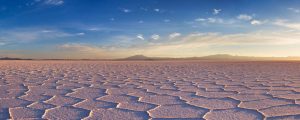 ---
It's possible to visit the salt fields in 1 day or with a fantastic 3 or 4 days jeep tour 4*4 jeep tour to San Pedro de Atacama
Day 1: Depart from Uyuni around 10 Am
Colchani, we drive in our 4*4 jeep from Uyuni to the town ofColchani we will visit the Salt factory where they put Iodine to the salt,
everything is manual .The salt workers sell souvenirs made of salt
After this visit we continue to the biggest salt field in the world with a surface area of more then 12.000 km thin exciting Salt crust is as blinding white as the most perfect snow field ,and as a gigantic mirror in the rain season.
We venture across the salar of Uyuni .We drive in the middle of this immense desert of salt. It provokes a sentiment and unreality.
Enjoy the jeep ride over the salt; this place is almost 1/3 of the size of Belgium. At the border of the salar we will visit the salt eyes, salt blocks and salt hotel, we arrive at the salt hotel one unusual hotel is constructed entirely of salt blocks, also chairs and tables /beds.
Uyuni Salt Flats provokes a feeling of freedom and reality. At an altitude of 3665m.Together with the wall in China its possible to see the salt flats from satellites . The salt varies from 2 to 20m. in depth.It is estimated that the flats contain 64.000 million tons of salt .The flats also contain a large reserves of Lithium, Mg, Na, Bo
We continue our trip to the Fish Island Inca Wasi, this is located in the middle of the salt flats at 100 km from
Uyuni, fish Island (Isla Pescado) afford views of the flats reminiscent of Polar region, dominate by blues and whites producing images of hills.
Fish Island is an oasis with unique and isolated ecosystem populated by cactuses up to 8 to 10 m high. Photographers will find that fish island is one of the best sites in the world to indulge in their passion.
The Island has the shape of a fish. Lunch at the island. It's full of giant cantuses who give an extraordinary contrast with the salt. This island is an research centre and protected .2 usd entrée After this visit we continue to the small village of San Juan where we sleep.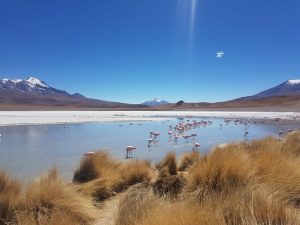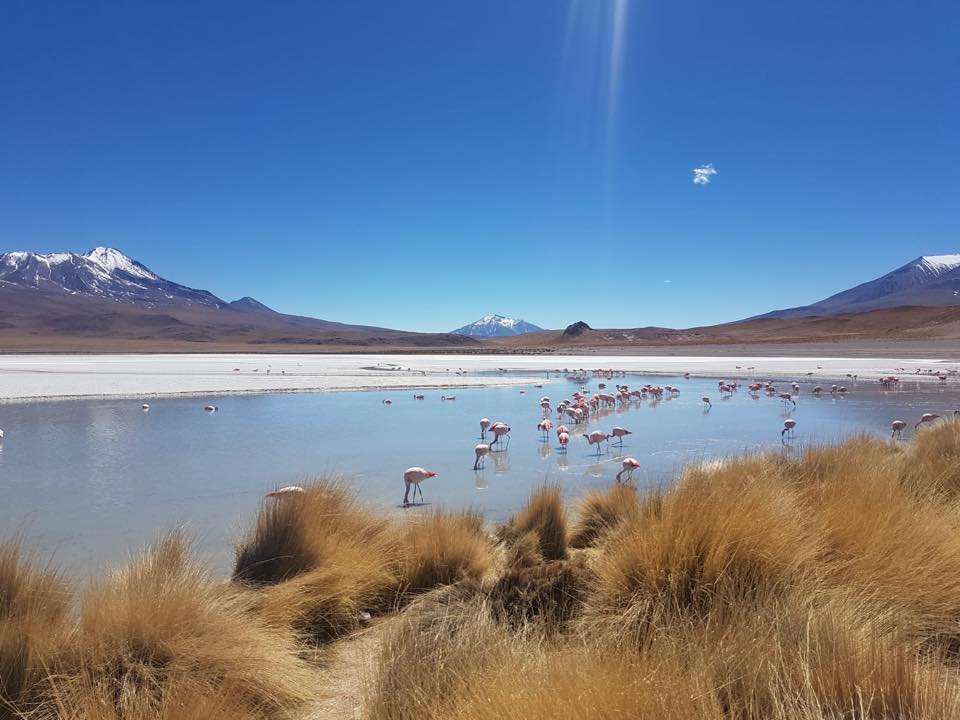 ---
At Day 2 We depart very early after our breakfast around 8.30 AM and drive first along the hard lava from the Ollague volcano. Than we continue and pass by 5 amazing beautiful Laguna'sCanapa,Hedionda ,Chiarcota,Ramaditas and Honda.We see 3 different species of flamingo's James ,Andean and the Chilean flamingo
The Laguna's have fantastic colours created from minerals .Than we pass by the famous rock tree. We arrive around 4 Pm at Laguna Colorado where we take our diner and where we slee very basic. This night it can be very cold, because we sleep at 4000mt altitude
---
At Day 3 We wake up very early ,and after our breakfast we leave around 5.30 AM with our jeeps to Sol de Manana, this is an volcanic geyser ,than we drive to the hot spring where we can warm up !Than we pass through the valley of Salvador Dali ,and arrive at Laguna verde to see the lagoon change color .From here you can continue to the border of Chile and further to San Pedro de Atacama where the trip finish .We say good buy to our driver and cook and change vehicle at the border .
Here finish the most beautiful 3 day tour in whole South America
Its also possible that you return from Lagune Verde to Uyuni .
Posible to do in Shared service in very Basic hostals/ Or in private in the better Tayka hotels
We suggest you bring
*Sleeping bag
*sunglasses
*4 liter water for 3 days
*pasport
*warm clothes, gloves, hat
*flashlight