Galapagos cruises Coral 1 and Coral 2 in 4 or 5 days
Tour for 4 days from Sunday to Wednesday
Tour for 5 days from Wednesday to Sunday

From Guayaquil or Quito in the Galapagos Coral
Navigating in a 36 or 20 passenger Luxury expedition.
Here you can find full info about these boats Click here
CORAL I & CORAL II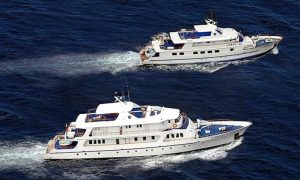 Embarkation Days: Sunday & Wednesday Year-Round
Every date have different programs, ask your exact program !
---
The Coral 1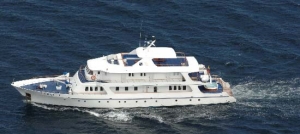 With a European design and modern shape offers more space, comfort safe security for and a naturalist cruise. It is an attractive and functional mid-size (Mega yacht), perfect for an intimate experience when cruising the islands. Some cabins are connecting, jus for families and special groups. The Galápagos Islands, where Charles Darwin developed his famous theory, a land of Legends. The secret is isolation,the advantage of being in the middle of nowhere has allowed animals, fish and plants adapt and change forming new species. Share the Legend where animals do not fear man, see the Giant Tortoises and blue footed boobies, walk inside lava tubes and swim safely among sharks and sea lions. It has eighteen spacious cabins decorated with a marine taste. There is plenty of room for storage, and moreover, all beds in all cabins are lower and they can be arranged as matrimonial, as well as single and double beds. Each cabin has their own private facilities, hot and cold shower with a fresh and lasting supply of water.
All the cabins are provided with smoke detectors and sprinkler system
---
Coral 2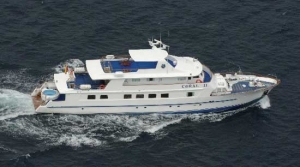 The Coral II is a landmark 11-cabin yacht, styled in an era of eye-catching design, a beautiful blend of form and function. She boasts romantic and cozy living areas, intimate and modish dining, sleek and seductive outside decks. Her amenities and outstanding service make her the ideal yacht for experiencing the marvels of the islands. The M/Y Coral II accommodates 20 passengers, ideal for those who want to discover the islands with privacy, intimacy and supreme comfort. Her excellent cruising speed means more time for visiting the islands and enjoying activities, while her small size means less time organizing shore visits.
---
Here you can find Pictures from the cabins Click here Coral 1 & 2 Cabins
Here you can find the Deck plan Click Here CORAL 1 & 2 Deck Plan
Here you can find the programs Click on the bleu Links
Cruise-A-North-Coral-I-Coral-II-4 days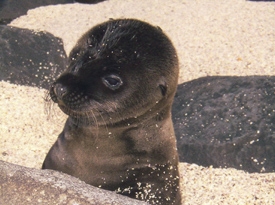 ---
Cruise-B-West-Coral-I-Coral-II 5 Days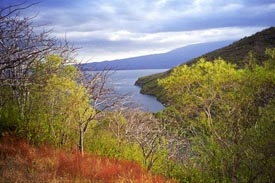 ---
Cruise-C-East-Coral-I-Coral-II.. 4 Days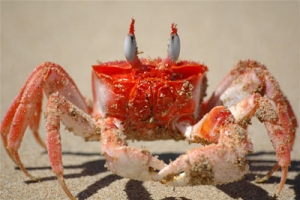 ---
Cruise-D-South-Coral-I-Coal-II- 5 days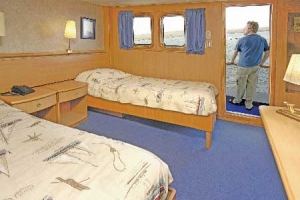 Included
rates are a person and includes
All meals during the M/Y CORAL 2 Galapagos cruise vacation package, guided shore excursions and lectures, hosted by multilingual, experienced, naturalist guides, as well as transfers to/from the yacht in Baltra/the Galapagos.
Note: Incidentals/extras are not included in the Galapagos cruise rate(s) and must be paid directly by the passenger(s). All Galapagos cruise vacation packages and tour itineraries are subject to change at any time without notice.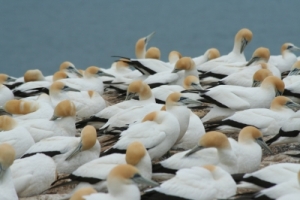 ---
Not Included
Round trip international airfares between the USA or any other country and Quito or Guayaquil, Ecuador, are not included in the Galapagos cruise rates shown above and must be purchased and paid for separately by the passenger(s). Also not included is the local Galapagos airfare from Quito or Guayaquil to/from Baltra. The approximate cost of the round trip Galapagos airfare (these prices are subject to change at any time without notice), between Quito or Guayaquil and Baltra, is $475.00 per person, including Ecuadorian air ticket-related taxes and ticketing fees. This item is quoted and paid for separately by the passenger(s).The cost of tips and general gratuities to the ship's crew, the captain and the ship's naturalist guide(s),m are not included and they are at the discretion of the passenger(s), according to the level of service received during the M/Y CORAL 2 cruise. The US$110.00 per person Galapagos National Park tax (subject to change at any time without notice) is not included in the cruise rates shown and must be paid directly by the passenger(s), in US$/cash, upon arrival at the airport in Baltra.
Single passengers are charged an supplement of 80% above the applicable per person double cruise rate for single occupancy of any type of cabin available on the M/Y CORAL 2. There are no triple cabins available on the M/Y CORAL 2 and 1