Galapagos cruises Coral 1 and Coral 2 in 4 or 5 days
[Sassy_Social_Share style="background-color:transparent;"]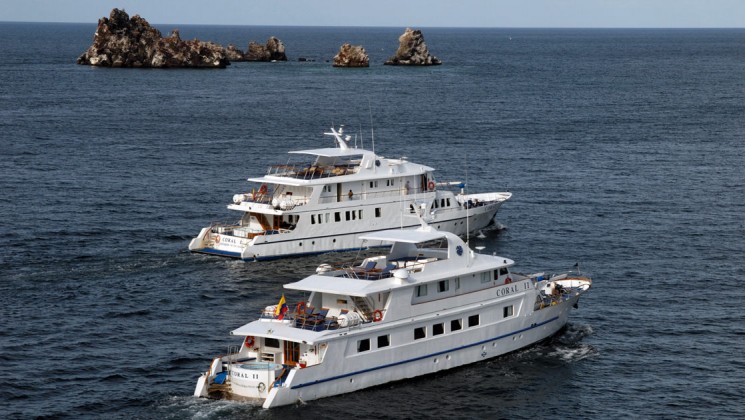 Tour for 4  days  from Sunday to Wednesday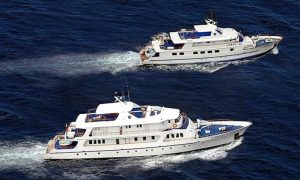 Tour for 5 days from Wednesday to Sunday

From Guayaquil or Quito in the Galapagos Coral
Navigating in a 36 or 20 passenger Luxury expedition.
CORAL I & CORAL II
 Embarkation Days: Sunday & Wednesday Year-Round
Ervery date have diferent programs, ask your exact program !
Prices 2018 in double cabin each person in USD
Cabin                Deck Category

Number of cabins

3 Nights      4 Nights        7 Nights Sun            Wed        Sun & Wed

Coral I
Coral II
Standard
Sea
2
1
1,662
2,215
3,606
Standard Plus
Sea
9
4
2,058
2,743
4,465
Junior
Earth/Sky
8
7
2,346
3,128
5,090
The Coral 1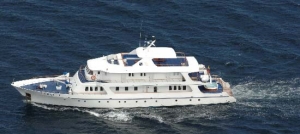 With a European design and modern shape offers more space, comfort safe security for and a naturalist cruise. It is an attractive and functional mid-size (Mega yacht), perfect for an intimate experience when cruising the islands. Some cabins are connecting, jus for families and special groups. The Galápagos Islands, where Charles Darwin developed his famous theory, a land of Legends. The secret is isolation,the advantage of being in the middle of nowhere has allowed animals, fish and plants adapt and change forming new species. Share the Legend where animals do not fear man, see the Giant Tortoises and blue footed boobies, walk inside lava tubes and swim safely among sharks and sea lions. It has eighteen spacious cabins decorated with a marine taste. There is plenty of room for storage, and moreover, all beds in all cabins are lower and they can be arranged as matrimonial, as well as single and double beds. Each cabin has their own private facilities, hot and cold shower with a fresh and lasting supply of water.
All the cabins are provided with smoke detectors and sprinkler system
Coral 2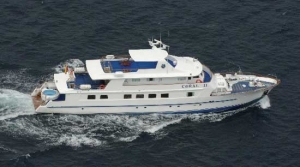 The Coral II is a landmark 11-cabin yacht, styled in an era of eye-catching design, a beautiful blend of form and function. She boasts romantic and cozy living areas, intimate and modish dining, sleek and seductive outside decks. Her amenities and outstanding service make her the ideal yacht for experiencing the marvels of the islands. The M/Y Coral II accommodates 20 passengers, ideal for those who want to discover the islands with privacy, intimacy and supreme comfort. Her excellent cruising speed means more time for visiting the islands and enjoying activities, while her small size means less time organizing shore visits.
East Itinerary 3 nights / 4 days 
Day 1:  – Santa cruz  Sunday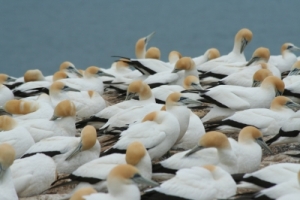 – AM – Baltra Airport
Departure from Quito or Guayaquil to Baltra (2 ½ hours flight). Passengers are picked up at the airport by our naturalist guides and taken on a ten minute bus drive to the pier to board the
M/Y Corals.
– PM – Fausto Llerena Breeding Center – Charles Darwin Station(Santa Cruz)
Dry landing. We visit the Station where the Galapagos giant tortoise breeding program takes place as part of our efforts to preserve the fragile Galapagos environment and where the famous Lonesome George (the last surviving specimen of his specie) lived for decades. Admire a prickly-pear cactus forest and variety Darwin's finches and other
land birds. The Darwin Station also works providing environmental education to communities and schools within the islands, and to tourists visiting the Galapagos Islands. You will also have some free time to visit the town and shop for souvenirs.
Difficulty level: intermediate
Type of terrain: flat
Duration: 1h30 walk
Day 2 Monday :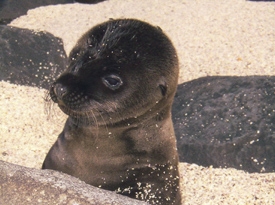 – AM – Cormorant Point / Devil's Crown / Champion (Floreana)
Wet landing on an olivine green sand beach. We hike from the black mangrove beds to  a brackish lagoon, which usually holds one of the largest flamingo populations in the Galapagos. This island features some endemic plants such as Scalesia villosa, white and black mangrove, and holy stick. The trail continues to a beautiful white-sand beach, one of the most important nesting sites of Green Pacific Sea Turtles. It is important to avoid walking in the water due to the Sting Rays that may be hiding in the sand, which can be dangerous if accidentally stepped on. From the beach one can spot sea turtles, Blue-footed Boobies plunging into the water, and small reef sharks floating along the shoreline in search of food.
This coral-sand beach marks the end of our trail, and we head back to the olivine beach we landed on to swim or snorkel amongst sea turtles, reef fish, sea lions and, on a good day, white-tipped reef sharks. A small colony of penguins resides on Floreana and can sometimes be observed as well.
Difficulty level: easy
Type of terrain: sandy and walk on a flat terrain
Duration: 1 hour walk / 1 hour snorkeling
– PM – Post Office (Floreana) Wet landing.
Located on the north side of Floreana, the bay is so-named because in 1793 Captain James Colnett installed a wooden barrel which served as an informal post office for sailors passing through, who would take letters with them to their destinations. Today, our visitors continue the tradition by placing unstamped postcards inside the barrel that should reach their destinations for free. It can take weeks, months, even years, not arrive at all, or even arrive before you! We may also encounter Darwin's finches, Yellow Warbler and lava lizards. Great snorkeling opportunities with Green Pacific Sea Turtles as well, this island is best known for its endemic vegetation: Scalesia villosa, Lecocarpus pinnatifidus, and Galapagos milkwort. Snorkelers can practice on the main beach among playful sea lions.
Difficulty level: easy
Type of terrain: sandy
Duration: 30 minutes walk / 1 hour snorkeling
Day 3 Tuesday: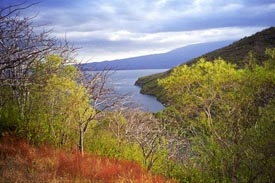 – AM – Gardner Bay / Gardner & Osborn Islets (Española)
Wet landing on a beautiful white coral sand beach guarded by a colony of sea lions. There are no trails, so we stay along the shore where we can spot Galapagos Hawk, American Oystercatcher, Galapagos Dove, Hood Mockingbird, Yellow Warbler, lava lizards, marine iguanas, and three species of Darwin's finches: a subspecies (Geospiza fuliginosa) of the Large Cactus Finch, which is similar to the large ground finch, the Small Ground Finch (Geospiza fuliginosa) and the Warbler Finch (Certhidea Olivacea) which is another endemic subspecies. Swimming and snorkeling offers a great variety
of Galapagos marine animals: King Angelfish, Creole Fish, Damsel Fish, parrot fish, manta rays, and White-tipped Reef Sharks.
Difficulty level: easy
Type of terrain: sandy
Duration: 1 hour walk / 1 hour snorkeling
– PM – Suarez Point (Española)
Dry landing. An island of geological interest, we explore volcanic formations and a riveting wildlife: large sea lion colonies and seabirds including Española mockingbird,
Nazca boobies and the spectacular red billed tropic bird. You will also encounter marine iguanas, lava lizards, and the colorful sally lightfoot crabs. A somewhat lengthy hike will bring you among Nazca and Blue-footed Boobies, right up to nesting grounds that sometimes overlap the trail. Other birding favorites include
Galapagos Dove, Galapagos Hawk, Swallow-tailed Gulls and the world's largest colony of Waved Albatross, an unequivocal highlight during mating season (May-December). Admire the island's dramatic backdrop, featuring the famous Soplador, a seaward blowhole that shoots water at some 23 m. (75 ft.) in the air.
Difficulty level: difficult
Type of terrain: rocky
Duration: 2h30 walk
Day 4 Wednesday: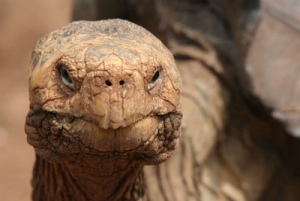 – AM – Daphne
We circumnavigate the islet of Daphne, an eroded tuff cone formation* that was created by successive volcanic activity, for an opportunity to see Darwin's finches, Blue-footed Boobies, Nazca Boobies, Red-billed Tropicbirds, Swallow-tailed
Gulls, Brown Noddies. Afterwards, you will go straight to the airport for return flight to Guayaquil or Quito
Ask us the 5 days program ! 
There are departures in different dates
* South-East Islands
* Western Islands
* Central Islands
* North-Central Islands
Ask our fixed departure dates and programs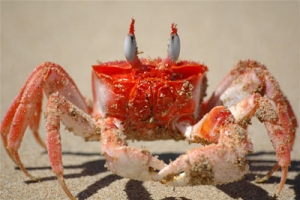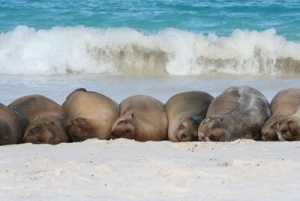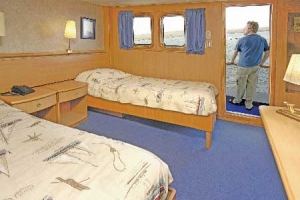 Included
rates are a person and includes
All meals during the M/Y CORAL 2 Galapagos cruise vacation package, guided shore excursions and lectures, hosted by multilingual, experienced, naturalist guides, as well as transfers to/from the yacht in Baltra/the Galapagos.
Note: Incidentals/extras are not included in the Galapagos cruise rate(s) and must be paid directly by the passenger(s). All Galapagos cruise vacation packages and tour itineraries are subject to change at any time without notice.
Not Included
Round trip international airfares between the USA or any other country and Quito or Guayaquil, Ecuador, are not included in the Galapagos cruise rates shown above and must be purchased and paid for separately by the passenger(s). Also not included is the local Galapagos airfare from Quito or Guayaquil to/from Baltra. The approximate cost of the round trip Galapagos airfare (these prices are subject to change at any time without notice), between Quito or Guayaquil and Baltra, is $418.00 per person, including Ecuadorian air ticket-related taxes and ticketing fees. This item is quoted and paid for separately by the passenger(s).The cost of tips and general gratuities to the ship's crew, the captain and the ship's naturalist guide(s),m are not included and they are at the discretion of the passenger(s), according to the level of service received during the M/Y CORAL 2 cruise. The US$110.00 per person Galapagos National Park tax (subject to change at any time without notice) is not included in the cruise rates shown and must be paid directly by the passenger(s), in US$/cash, upon arrival at the airport in Baltra.
Single passengers are charged an supplement of 80% above the applicable per person double cruise rate for single occupancy of any type of cabin available on the M/Y CORAL 2. There are no triple cabins available on the M/Y CORAL 2 and 1