The expedition to Antarctica in 11 days 10 nights 2018-2019
[Sassy_Social_Share style="background-color:transparent;"]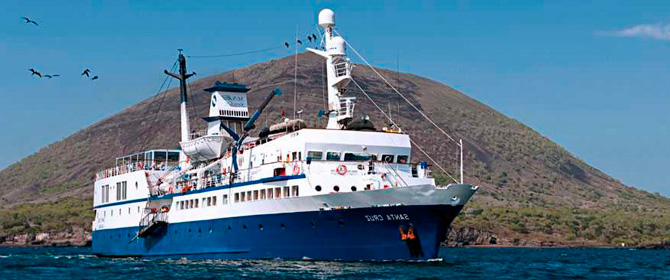 The amazing Antarctica  in 11 days in the  Ushuaya boat
From Ushuaia to Ushuaia
Ask the real program of your date !
Antarctica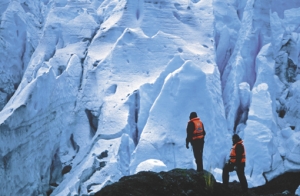 Antarctica is one of the most beautiful and unexplored places in our planet. For over two centuries, the White Continent has attracted scientists and adventurers for its unmatched natural beauty. Nowadays, this frozen land has opened its doors to world travellers who have become mesmerized with its unique wildlife, its majestic icebergs and its superb scenario.
The austral summer, from November to March, with its endless daylight renders the exploration unique. The expedition leader will take voyagers to remote locations where only a few men have set foot on. While landing in zodiacs, large penguin colonies, magnificent whales, and breathtaking icebergs and glaciers will be at sight. Voyages can usually last 11 days, and even if the itinerary might be the same for all of them, its changing climate and the whims of stranded icebergs prevent the possibility that two voyages could be alike, the overwhelming and sometimes awesome views are never the same. If you ever decide to come back, the scenery will be different.
How do we work ?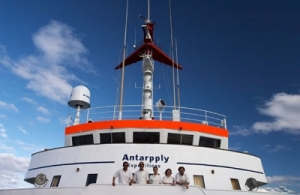 In our packet tours you travel all by yourself, but  Southamerica planet take care for you.
Aditional we can reserve  your hotel, transport and tours. For example when you arrive in Ushuaia we can arrange flights /transfers / hotels and excursions in ushuaya and Buenos Aires or all over Argentina or chili.
On the Antarctica expedition there are English speaking Biologist.
Our prices are without international or local flights but ask us for the specal deals we have with Lan Airlines.
We also can arrange flight from Buenos Aires to Ushuaia or  transfer and hotel in Buenos aires
What is included?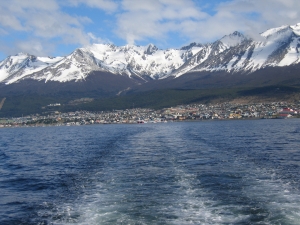 * The voucher and information about Ushuaia, like nice restaurants, things to see
* The Antarctica expedition 11 days, here the price range depending on what kind of cabin you like, including meals and expedition tours, lecturesTransfers and excursions as written in the program
Not included
* The entry fees and taxes, like airport tax.
* Travel insurgency, everybody is obligated to have one
Ushuaya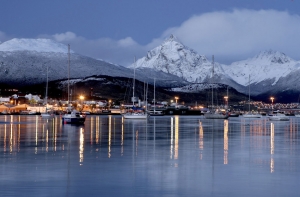 Arrive in Ushuaia, southernmost city in the world. Its a nice place and it have the atmosphere of a ski resort. You enter the earth of the Yahgan-indians, the mysterious "Fire land". The name fire land is made by the Spanish people when they see from they're boats the red sky in the evening. Ushuaia (Argentinia), is on the Beagle-channel . The mountains around Ushuaia are snow-capped white all year around. Its the most southern city in the world.
Classic Antarctica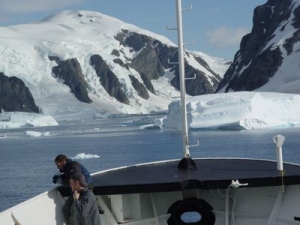 Expedition cruise to the Antarctic Peninsula & South Shetland Islands. Aboard the 'Ushuaia'
Short boat expedition / full pension
* with often (land) excursions
* English speaking expedition
* min. 30 / max. ca. 75  passengers  /  international clients
* possible to extend your stay in Argentinië, Chili
These adventure cruises offer the ultimate introduction to the White Continent. Departing from and finishing in the port of Ushuaia, Argentina, they include many of the wildlife and scenic highlights of the Antarctic Peninsula and the South Shetland Islands. They are designed to include as much wildlife viewing as possible but also incorporate visits to scientific bases and allow plenty of time to enjoy the breathtaking scenery of icy waterways, glaciers, icebergs and rugged mountains.
The itinerary shown here is for the 11-day voyage along the Antarctic Peninsula. However, no two voyages can ever be exactly the same and so this itinerary is for guidance only. The Captain and Expedition Leader continually assess daily weather conditions and wildlife opportunities to take full advantage of the almost continuous daylight and to maximize time ashore. Although it is impossible to guarantee precisely what we will see because sightings and encounters inevitably vary from trip to trip, we are confident that no-one will be disappointed. Few people have ever set foot on Antarctica but those fortunate few treasure precious memories of a unique, unforgettable experience.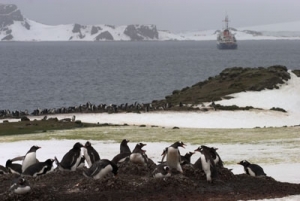 Day 1 : Depart from Ushuaia
Embark the in the afternoon and meet your expedition and lecture staff. After you have settled into your cabins we sail along the famous Beagle Channel and the scenic Mackinlay Pass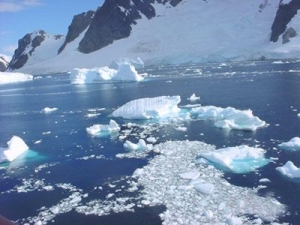 Day 2 and 3: Crossing the Drake Passage
Named after the renowned explorer, Sir Frances Drake, who sailed these waters in 1578, the Drake Passage also marks the Antarctic Convergence, a biological barrier where cold polar water sinks beneath the warmer northern waters. This creates a great up welling of nutrients, which sustains the biodiversity of this region. The Drake Passage also marks the northern limit of many Antarctic seabirds.
As we sail across the passage, Expeditions' lecturers will be out with you on deck to help in the identification of an amazing variety of seabirds, including many albatrosses, which follow in our wake. The Ushuaia's open bridge policy allows you to join our officers on the bridge and learn about navigation, watch for whales, and enjoy the view. A full program of lectures will be offered as well. The first sightings of icebergs and snow-capped mountains indicate that we have reached the South Shetland Islands, a group of twenty islands and islets first sighted in February 1819 by Capt. William Smith of the brig Williams. With favourable conditions in the Drake Passage our lecturers and naturalists will accompany you ashore as you experience your first encounter with the penguins and seals on Day 3.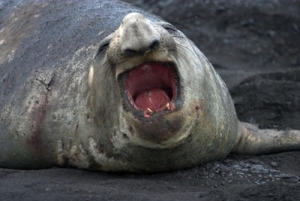 Day 4 to 8: Exploring South Shetland Islands and the Antarctic Peninsula
The South Shetland Islandsare a heaven for wildlife. Vast penguin rookeries, beaches ruled by Antarctic fur sealsand southern elephant seals make every day spent in this amazing island group unforgettable. Sailing through the narrow passage into the flooded caldera of Deception Island and the chance to swim in the hot springs of Pendulum Cove is truly amazing. King George Island, the largest of the South Shetland Islands, features colonies of nesting Adélie and Chinstrap Penguins, Kelp Gulls, Blue-eyed Cormorants, Antarctic Sterns and Southern Giant Petrels and is home to scientific bases of many different countries. Macaroni, Chinstrap and Gentoo Penguins as well as elephant seals await you at Livingston Island.
The Antarctic Peninsula's remarkable history will provide you with a type of excitement often only associated with the early explorers. You will have plenty of time to explore its amazing scenery, a pristine wilderness of snow, ice, mountains and waterways, and an incredible wide variety of wildlife. Apart from penguins and seabirds you are very likely to see Weddell, crab eater and leopard sealsas well as Minke, killer (orca) and humpback whales at close range.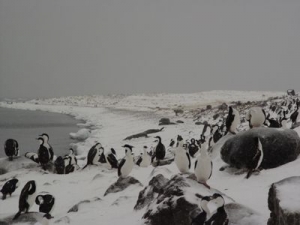 We hope to navigate some of the most beautiful waterways depending on the ice conditions): the Gerlache Strait, the Neumayer Channel, and the Lemaire Channel, the latter are narrow passages between towering rock faces and spectacular glaciers. We plan to make at least two landings per day. Possible landing sites may include:
Paradise Bay is perhaps the most aptly named place in the world and we attempt a landing on the continent proper. After negotiating the iceberg-strewn watersof the Antarctic Sound, we hope to visit the bustling AdéliePenguin (over 100,000 pairs breed here) and Blue-eyed Cormorant colonies on Paulet Island. The Nordenskjöld expeditionbuilt a stone survival hut here in 1904. Today its ruins have been taken over by nesting penguins.
Further exploration may take you to Melchior Island, Cuverville Island, Portal Point, Neko Harbour, Pléneau Island and if ice conditions permit, to Petermann Island for a visit to the southernmost colony of Gentoo Penguins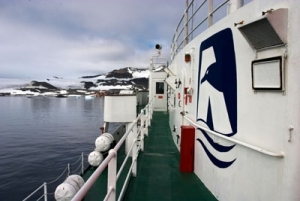 Day 9 -10: At Sea crossing the Drake Passage, northbound
We leave Antarctica and head north across the Drake Passage. Join our lecturers and naturalists on deck as we search for seabirds and whalesand enjoy some final lectures. Take the chance to relax and reflect on the fascinating adventures of the past 10 days on the way back to Ushuaia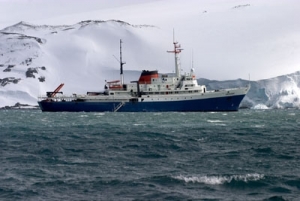 Day 11 Ushuaya
We arrive at Ushuaia in the early morning and disembark the 'Ushuaia' after breakfast.
Please note:
The above itinerary is a guide only. Our exact route and program will vary to take best advantage of local weather and ice conditions and opportunities to view wildlife. Changes will be made by the Captain and/or Expedition Leader to facilitate the best results from the prevailing conditions. A daily program sheet will be issued on board. Flexibility is the key to success.
The Cabins
Accommodation:
Suites:            4 Outside cabins with windows on the upper deck (G), private facilities, two lower berths, lounge, TV, DVD player and fridge.Suite 201 features two double beds, Suite 202 one double bed and a sofa bed. Suites 204 and 207 feature three lower single beds.
Superior:        9 Twin outside cabins with windows on the upper deck (G), private facilities, two lower berths. Cabin 301 has one double and one single bed.
A cabins:       6 Twin outside cabins with windows on the upper deck (G), private facilities, two lower berths.
B cabins:        14 Twin outside cabins: 12 twin outside cabins with portholes on deck (E) and semi-private facilities, two berths (upper/lower); and 2 twin outside cabins (214 and 215) with portholes on the upper deck (G) with private facilities and two berths (upper/lower).
C cabins:        8 Twin inside cabins on the lower deck (D) with semi-private facilities, two berths (upper/lower).
DATES & RATES 2018-19
Expedition cruises on board the USHUAIA. Port of embarkation and disembarkation: Ushuaia, Argentina
Voyage Code
Itinerary & Duration
Embarkation
Disembarkation
 

A171018

CLASSIC SOUTH GEORGIA

Falkland Islands (Malvinas), South Georgia & Antarctica

(19 nights/20 days)

 

October 17, 2018

 

November 05, 2018

 

A051118

CLASSIC ANTARCTICA

Antarctic Peninsula & South Shetland Islands

(9 nights/10 days)

 

November 05, 2018

 

November 14, 2018

 

A231118

CLASSIC ANTARCTICA

Antarctic Peninsula & South Shetland Islands

(10 nights/11 days)

 

November 23, 2018

 

December 03, 2018

 

A131218

CLASSIC ANTARCTICA

Antarctic Peninsula & South Shetland Islands

(9 nights/10 days)

 

December 13, 2018

 

December 22, 2018

 

A190119

CLASSIC ANTARCTICA

Antarctic Peninsula & South Shetland Islands

(9 nights/10 days)

 

January 19, 2019

 

January 28, 2019

 

A060219

WEDDELL SEA QUEST

Antarctic Peninsula, South Shetland Islands & Weddell Sea (10 nights/11 days)

 

February 06, 2019

 

February 16, 2019

 

A160219

CLASSIC ANTARCTICA

Antarctic Peninsula & South Shetland Islands

(9 nights/10 days)

 

February 16, 2019

 

February 25, 2019

 

A250219

POLAR CIRCLE QUEST

Antarctic Peninsula & South Shetland Islands (11 nights/12 days)

 

February 25, 2019

 

March 08, 2019

 

A170319

CLASSIC ANTARCTICA

Antarctic Peninsula & South Shetland Islands

(9 nights/10 days)

 

March 17, 2019

 

March 26, 2019

 

A260319

CLASSIC ANTARCTICA

Antarctic Peninsula & South Shetland Islands (9 nights/10 days)

 

March 26, 2019

 

April 04, 2019
RATES 2018-19
All rates are quoted in US Dollars per person, based on twin or triple occupancy. Two dedicated Premier single cabins are available at a special single rate.
Special rates for families – A child (under 16 years) accompanied by two adults will be free of charge in a triple Superior cabin or triple Suite (see rates below).
Cabin Categories:
Voyage:
Standard

Plus Triple

Standard Twin
Standard Plus Twin
Premier Twin
Premier Single
Superior Twin
Suite Twin
A171018

CLASSIC SOUTH GEORGIA

Falkland Islands (Malvinas) , South Georgia & Antarctica (19 nights/20 days)

8,910

9,660

12,280

14,580

17,490

15,410

16,190

A051118

CLASSIC ANTARCTICA

Antarctic Peninsula & South Shetland Islands (9 nights/10 days)

4,870

5,210

6,610

7,840

9,380

8,290

8,710

A231118

CLASSIC ANTARCTICA

Antarctic Peninsula & South Shetland Islands (10 nights/11 days)

6,170

6,590

8,360

9,920

11,870

10,500

10,990

A131218, A190119, A160219

CLASSIC ANTARCTICA

Antarctic Peninsula & South Shetland Islands (9 nights/10 days)

6,970

7,440

8,990

10,710

12,840

11,310

11,880

A060219

WEDDELL SEA QUEST

Antarctic Peninsula, South Shetland Islands & Weddell Sea

(10 nights/11 days)

7,730

8,260

9,980

11,890

14,250

12,560

13,190

A250219

POLAR CIRCLE QUEST

Antarctic Peninsula & South Shetland Islands (11 nights/12 days)

7,250

7,740

9,670

11,490

13,760

12,160

12,770

A170319, A260319

CLASSIC ANTARCTICA

Antarctic Peninsula & South Shetland Islands (9 nights/10 days)

5,560

5,940

7,530

8,490

10,690

9,460

9,940
All rates are subject to change, especially possible fuel surcharges. However, there will be NO fuel surcharge for the 2018-19 season if the price of the barrel of crude oil is US$100 or
What to bring with you
we advice to travel as light as possible, around15kg a person ,we prefer a  travel bag. Clothes , in this tour you go to real cold places so it can be cold at night ,so prepared for cold and warm , good walking shoes ,sunscreen, waterproof clothing ,alarm clock ,lip salve, personal medication  and don't forget , if there is something you miss , you always can buy it  cheaper in Argentina ,there are many outdoor shops in Ushuaia  !
Money and Passport
*We advice to bring with you around 300 EURO pocket money, this in a combination of cash/andcredit card. This money is for the cost of the meals in the restaurants, entrée fee and your souvenirs, its just an indication to eat normal, everybody spend different!
*The money in Argentina is the Peso ,EURO is widely accepted around Argentina , you better bring around 100 USD to pay the airport tax and entrée fee ,the rest in Euro.
*Credit cards like Master card /Visa are widely accepted; everywhere in Ushuaia are ATM machines.
*No visa is necessary for countries of Western Europe /Asia/North or South –America/Australia/New Zealand/South Africa. With a valid passport the tourist card allows you up to 90  days in Argentina
Climate
The mountains have a lot of influence at the climate in Ushuaia .High temperatures in springtime/daytime from November if the sun shines ,In the evenings it can be cold .The best time to travel: dry season, from October to march .Showers of rain, can be all year around!
Medication
PS: People who have hart or Long problems, better contact first a doctor before travelling.
Argentina don't ask officially vaccinations,
We advice that you take some vaccinations like :
– Hepatitis-A
– DTP (diphtheria, tetanus, polio);
You have to start with these vaccinations about 6 weeks before departure. For more info, look at  www.fitfortravel.scot.nhs.uk
Changes and extension possibilities
*It is possible to arrive earlier, also to depart later. This you have to tell us in advance together with your reservation, so we ca arrange something for you.
*We can arrange some extra nights ,before or after the tour. Let us now your date, time ,flight number and carrier of arrival , so we can arrange the transfer in Ushuaia to the hotel , always included . We also can arrange things in Buenos aires or in other parts is Patagonia
Insurance
Clients are obligated and responsible for ensuring that they have adequate cover for the full duration of the tour in respect of medical expenses, injury, death, repatriation, cancellation and curtailment. It is our policy to check the validity and cover of your insurance policy and we hold the right to refuse travel to anyone whose insurance does not satisfy these criteria .We strongly advice to take a cancellation insurgency !
24-h emergency service
24-h of your private travel insurgency , but we have an office in Peru/Cusco ,and contact in Ushuaia, Here Argentinean people are working and its always possible to contact them 7 days a week 24 h for emergency .They now there country better than we do and have the best contacts !
Cancellation
Should the client wish to cancel, cancellation charges will be imposed. These are calculated from the day written notification is received by Peruplanet .The charges are shown below: 90 days before departure: 500 euro a person, cancellation 89 days or less :the total price ,also even if you paid only deposit we need the other 65 %, We strongly recommend that full insurance is taken out, which includes cover, under certain circumstances, against the loss of deposit or cancellation charges.The Ushuaia take the right to cancel the trip before departure, in this case she pays back the total amount, mines the administration costs .
For reservation we ask 40 % deposit and the 60 % /100 days before departure
We need the following information
*Full name as it is written in your passport
*Date of birth
*Nationality
*Passport number
*Flight nr and date of arrival
Some pictures are made by Antarpply expedition /claudio suter
Terms & Conditions
Rates
All rates are quoted per person in US Dollars, based on twin occupancy. A limited amount of twin cabins (except suites) are available for single occupancy at 1.5 times the share rate. Suites may be reserved at 2 times the share rate. A third berth in two of the suites maybe occupied at 50% of the published twin share rate.
Shared accommodation can be arranged on request.
All rates are subject to change and Antarpply Expeditions reserves the right to modify the published rates without prior notice.
Included in the cruise price:
*voyage aboard the USHUAIA as indicated in the itinerary.
*All meals throughout the voyage aboard the USHUAIA.
*All shore excursions and activities throughout the voyage by zodiac. *Program of lectures by noted naturalists and leadership by experienced expedition staff.
*All miscellaneous service taxes and port charges throughout the program.
*Comprehensive pre-departure material.
*Detailed post-expedition log.
Not included in the cruise price:
Any airfare, whether on scheduled or charter flights; pre- and post land arrangements; transfers to / from the vessel; passport and visa expenses; Government arrival and departure taxes; meals ashore; baggage, cancellation and personal insurance (strongly recommended); excess baggage charges and all items of a personal nature such as bar and beverage charges and telecommunication charges; and the customary gratuity at the end of the voyages (guidelines will be provided).
Reservations and Payments
A deposit of 40% of the cruise fare is required per person to confirm reservations with final payment due 100 days prior to departure.
Cancellations
All requests for cancellations must be received in writing. Cancellations received 100 days prior to departure are fully refunded less an administrative fee of US$ 500 per person.
From 99 days up to and including the day of departure all deposits and tariffs are forfeited. If cancellation occurs within the 99 day period and full payment has not yet been received, the full penalty will still apply and unpaid monies are due immediately.
For these and other reasons mentioned below, you are strongly encouraged to obtain trip cancellation insurance.
Peru planet and Antarpply Expeditions reserves the right to cancel any voyage prior to departure in which case payments will be refunded in full without further obligation on our part.
Itineraries
The itineraries published are for reference only and are subject to change due to weather and ice conditions, or due to any other reason beyond our control, at the Master's and Expedition Leader's discretion without prior notice. Passengers have no right to any refund, any other consideration or claim whatsoever in the event of inevitable itinerary changes.
Insurance
Southamerica  planet Expeditions requests their passengers to purchase a comprehensive travel insurance including trip cancellation and mandatory medical evacuation and repatriation cover. Antarpply Expeditions shall not be responsible for any injuries to persons (whether or not resulting in death) or damage or loss to property. In case of a medical problem arising during the voyage, either on board or on shore, which results in costs for evacuation, use of aircraft or repatriation, the responsibility for payment of these costs belongs solely to the passenger and Antarpply Expeditions specifically decline any responsibility whatsoever (also if not covered by travel insurance).
Passenger Contract
The passenger must sign a passenger contract which constitutes the sole contract and his/her agreement to all the terms and conditions relative to the cruise. By accepting the cruise ticket the passenger also agrees to its terms & conditions.