Manu cultural zone 4 days, manu, jungle, south peru
[Sassy_Social_Share style="background-color:transparent;"]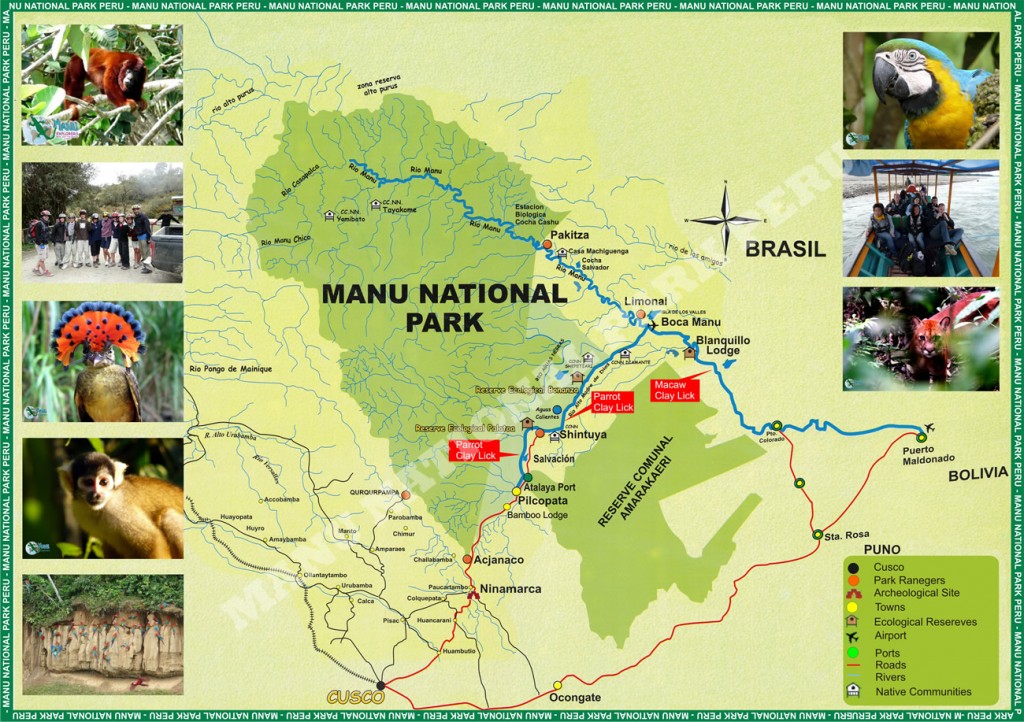 Cultural Zone Manu Program 
4 days program
Also available as 3 or 5 day programs and special bird waching program.
Outside reserve zone (sleeping in lodge)
Adventure with free options: rafting, observation platform and zip line.
This tour departs every day with a minimum of 4 persons . You'll discover the beauty and variety of fauna and flora, in this tour you don't observe as many animals as in the national reserve, but you get the real jungle feeling, its a mixture of nature, culture and adventure. The Cultural Zone is one of the three zones from Manu National Park which covers high mountains, cloud forest and low jungle.
In this area there are small villages, settlers and native communities working on productive activities such as agriculture, since these activities are controlled by the Ministry of Agriculture and Park Authorities. One of the proposes of this controlled area is to act as a buffer zone to the Reserved and Intangible Zones.
Day 01:
We will leave Cusco early in the morning in one of our vehicles. Approximately mid-morning we will visit the interesting tombs of Ninamarca, commonly known as "Chullpas". We will continue to Paucartambo, a picturesque Spanish colonial town, and then to the Acjanacu pass, which marks the beginning of the Cultural Zone of Manu Biosphere Reserve.
Here, a thick cloak of clouds provides perpetual humidity and makes an ideal habitat for epiphytic plants such as bromeliads. This varied and fascinating world is home of the Cock of the Rock, Spectacled Bear, Orchids, Tree Ferns (one of the oldest living plants), mosses and lichens. This cloud forest exists between 2,000 and 3,500 m.a.s.l. and at least 50% of the plant species found here are unique to this region. We will stay overnight in our "Orquídeas de San Pedro Lodge".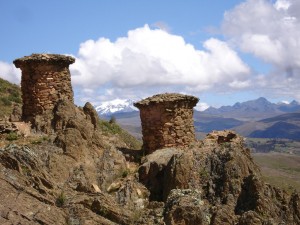 Day 02:
Today we will wake up very early to observe the Cock of the Rock (Rupicola peruviana), Peru's national bird from a platform. The male birds are a vibrant reddish orange, and as many as several dozen come together for an exhibition of a mating ritual dance in a place called Lek. The males display their crest, showing off and posturing for the females. The females, fewer in number, watch to select the most suitable males. After breakfast we will continue in our vehicle down the narrow road between waterfalls and canyons toward the town of Pilcopata  and then on to Atalaya Port. here we will board our covered, outboard motor boat and head down the Alto Madre de Dios River for approximately 15 minutes toward our private reserve of "Erika" a comfortable, rustic lodge owned also by Manu Adventures. Here we will hike through the interesting trail system that this transitional area between high and low jungle offers. We will stay overnight at the lodge.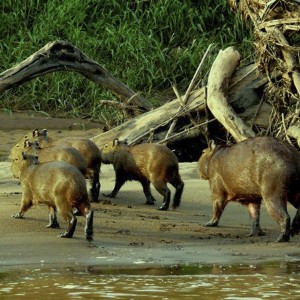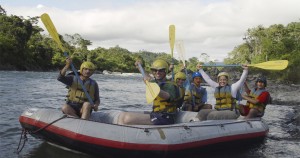 Day 03:
Erika Lodge is located in a transition zone between high and low jungle (600 m.a.s.l. to 1,150 m.a.s.l), encompassing different habitats. This altitude range explains the high diversity of wildlife found around this lodge, so immediately after breakfast, we will start walking to the riverbanks, during the hike our guide will talk about insects, medicinal plants, trees, reptiles, mammals, etc. This afternoon we will board our boat, and after five minutes, we will walk for another 30 minutes though a very nice trail to observe and talk about the interesting flora found here, such as sensitive plants, heliconias, fruit plantations, etc. until we arrive to Machuwasi Lake where with the help of a telescope we can observe great egrets, tucanets, carpenters, Keskadees, cardinals, etc. We will take a short night walk to observe American bullfrogs, horned frogs, tree frogs and an incredible variety of insects.
Free options:
*1 Free Option: Here in Pilcopata town we will make the final settings for a 1½ hour river rafting (class I and II) trip down the Koshñipata River where we will have the opportunity for a dip and of course enjoy the spectacular view of the Koñeq Canyon.
*2 New!!! Option: We walk through the trail that leads us to the observation platform located 15 feet above the mammal clay lick itself where we wait for the lumbering peccaries to arrive, we will observe and photograph them in action. Important: The observation depends on availability and weather conditions.
*3 Free Option: Canopy Zip Line: At Erika Lodge, our guests traverse from tree to tree and platform to platform using pulleys on horizontal traverse cables (zip lines), as they sail through the treetops of the tropical rainforest canopy, and over the trails far below. Expert guides will assist you in this exciting journey through the different layers of the rain forests and explain what's going on around you from the time you leave the ground, until you rappel back down to the forest floor.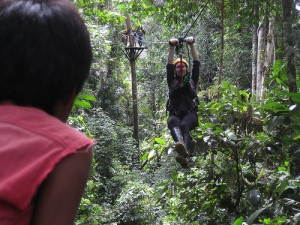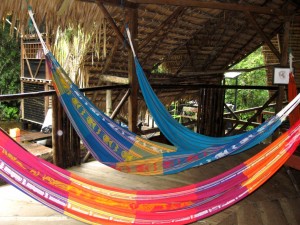 Day 04:
This day we will get up very early to board our boat again for a short journey of about five minutes down river to our Parrot clay Lick called "Collpa" on the riverbanks, where many species of parrots such as the blue headed parrot and
white-eyed parakeet, feed for mineral and salt supplements to their diet of seeds and fruits. Immediately we will continue to Atalaya Port where the bus will drive us back to Cusco city, arriving late in the evening.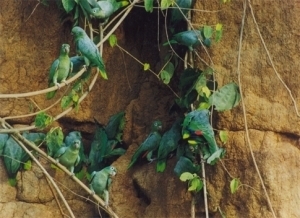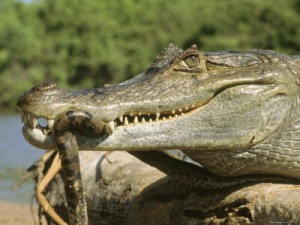 Included:
*Specialized and bilingual guide.
*Camping equipment, 01 night in San Pedro open air lodge, 02 nights in Erika Lodge.
*Meals.
*First aid kit.
*All land and river transportation, rafting equipment:
*Safety box for values and storage for luggage.
Not included:
*The breakfast and mineral water on the first day.
*Certain kinds of drinks such as beers or sodas.
*Tips and the last dinner.
What do you have to bring with you?
*Sleeping Bag.
*Binoculars.
*Camera and film ASA 200 and 400 for the inner forest.
*Warm clothing (in case of a cold front).
*long sleeve shirts and long pants (cotton).
*100% waterproof rain gear (long poncho or rain wear).
*Insect repellent (at least 50% Deet).
*Sunscreen lotion.
*One pair of lightweight ankle high boots and sandals.
*Flashlight.
*Enough batteries (alkaline).
*Sun glasses.
*Towel.
*Swimming suit.
*Personal medicines and/or supplies (e.g.: liquid for contact lenses).
*Day pack, and one back pack or duffel bag of luggage per person.
*One bottle of water for the first day, plastic bags.
Our lodges:
Our open air platform "San Pedro" (1,700m.a.s.l. – 5, 100 feet)
Tambo San Pedro, accommodates groups of less to 25 people in comfortable beds with mosquito nets. It is limited to this number to prevent detrimental effects to the surrounding forest. There is no electricity. Kerosene lanterns and torches provide all artificial light. Facilities are rustic; there is also a screen in the dinning room, kitchen and bathrooms. Mostly used by serious bird watchers and groups wishing to visit more isolated and less disturbed areas of the cloud forest. But also is used by all of our fixed departure groups for one night on the way in.
Erika Lodge (600 m.a.s.l. to 1,150 m.a.s.l)
Erika Lodge is located on the Alto Madre Dios River and is backed by the Piсi Piсi Mountains in a transition zone between high and low jungle containing different habitats. This altitude range explains the high diversity of wildlife found around this lodge. The lodge owns 90 hectares of forest declared private reserve in 1992.
Erika first opened in 1970 and became the first tourist lodge in the Manu area. In the past was also used by those searching for the Paititi (the lost gold city of the Incas), visitors to the Petrogliphs of Pusharo and the Paratoari Pyramids.
The private reserve of Erika accommodates groups of less than 32 people in single, double and triple rooms.
There is no electricity. Facilities are rustic but comfortable, accommodation is in mosquito proof rooms with beds, sheets and blankets, there is also a screened dining room, a nice overview site with hammocks, kitchen and bathrooms.
This wonderful place is used by birdwatchers but also by all of our fixed departure groups for one night on the way in to the Reserved Zone
There are a series of approximately 15km. of unmarked trails that interlock through the forest at Erika Lodge. Guests are asked to use these trails only while accompanied by a guide.
Erika's forest and river are home to many plants and animals, some are endangered species and the forest is a source of seeds and seedlings for reforestation projects.
It is possible to see a wide variety of birds and animals including macaws, parrots, toucans, peccaries, tapir, jaguars and at least 5 different species of monkeys including the endangered Common Wooly Monkey, but we can't promise you will see them. Nearby streams are home to the endangered Steam caiman
In the river shore in front to the "Collpa" parrot lick it is possible to observe quietly and with the help of a telescope the various parrots feeding on the clay for mineral and salt supplements to their diet of seeds and fruits. The most common species are: the blue-headed parrot  and the dusky-headed parrot.
Health:
Manu National Park is not an endemic area for malaria or yellow fever, but is recommended to use insect repellent. The river water is not recommended for drinking. Purified water will be provided at the lodge. There is radio communication available at the lodge.
Transportation:
For our land transportation needs, Manu Ecological Adventures has two full equipped and comfortable overland trucks and four 4WD vehicles. They are permanently under maintenance and are assigned to only one driver.
River transportation:
Six motorized boats with roofs, comfortable seats and spare motors. They are permanently under maintenance by their crew.
Rafts:
Full equipped rafts. We provide life vests, helmets and paddles