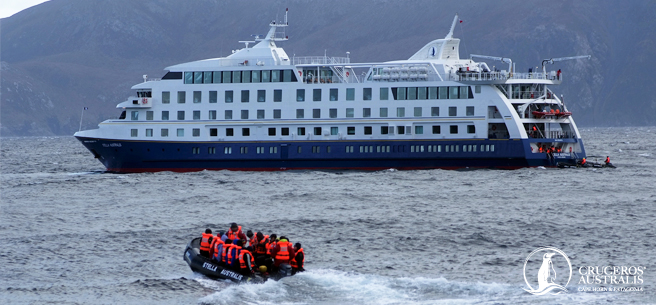 Cruise with Mare Australis,The Fjords in Patagonia
Mare Australis (max. 200 passengers) 5 ot 8 Days cruise/ Fire land from Punta Arenas Chili to Ushuaya Argentina or other way around
Individual : Fixed departure dates
Click in blue name for AUSTRALIS DATES AND PRICES 2020-2021
We are a luxury expedition cruise company that navigates through the fjords and channels of Tierra del Fuego, located in the Chilean-Argentinean Patagonia. Since 1990 we have transported passengers from different nationalities to explore one of the most beautiful and remote regions in the world, carrying out a special-interest type of tourism, with expert guides and Zodiac expeditions. We are conscious that navigating through such a pristine ecosystem is a privilege, therefore we conduct our operations in a sustainable way, to preserve the unexplored and natural surroundings as we have known them since we started our exploration routes, almost 30 years ago.
Annually, between the months of September through April, our ships Stella and Ventus Australis cover a 4-night route between the cities of Punta Arenas in Chile and Ushuaia, in Argentina, going through landmarks in the Patagonia landscape, such as the Beagle Channel and Cape Horn. Our service on board is all inclusive, with first class gastronomy, open bar and an expedition program led by expert guides, trained in glaciology and Natural History of the Magellan Region and the Chilean Arctic.
Due to our exceptional on board service and well renowned trajectory, we have received important awards such as the Travel+Leisure World's Best Awards and the Cruiser's Choice Awards, in the category of Best Small Cruise Ship in South America.
TIERRA DEL FUEGO
Discover the most remote corner of Patagonia
On board one of our vessels, Ventus and Stella Australis, you will be able to admire the majestic Cape Horn, the Darwin Range and the Beagle Channel, among other gems of the Patagonian landscape of Tierra del Fuego.Located where the American continent ends, the unknown archipelago of Tierra del Fuego has attracted navigators and explorers throughout time. From Ferdinand Magellan to Charles Darwin, many renowned men have ventured to discover these faraway lands, still unexplored today. Along our route, you will get to know geographical milestones and natural landscapes known worldwide in an unforgettable journey of discovery and adventure.
Our fleet
Especially designed and built to navigate the southernmost channels of the world, our ships Ventus and Stella Australis have a maximum capacity of 200 passengers. We follow strict security
protocols that allow us to travel in the narrower routes, where the bigger ships cannot venture.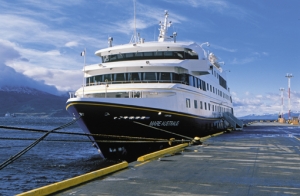 ---
Fjords of Tierra del Fuego – itinerary Click in blue name for day to day Program
Itinerary Fjords of Tierra del Fuego Punta Arenas – Ushuaia 5 Days 4 Nights
4 nights | Punta Arenas – Ushuaia
Day 1: Punta Arenas
Day 2: Ainsworth Bay – Tuckers Islets*
Day 3: Pía Glacier – Glaciares Alley**
Day 4: Cape Horn – Wulaia Bay
Day 5: Ushuaia
* This excursion is replaced by Brookes Glacier in September and April.
** This is not an excursion.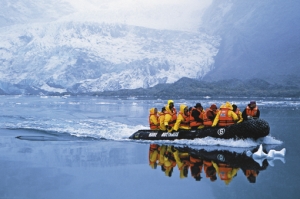 ---
Patagonia Explorers – itinerary Click in blue name for day to day Program
Patagonian Explorer 5 days 4 Nights Ushuaia to Punta Arenas
4nights | Ushuaia – Punta Arenas
Day 1: Ushuaia
Day 2: Cape Horn – Wulaia Bay
Day 3: Pía Glacier – Garibaldi Glacier
Day 4: Águila Glacier – Cóndor Glacier
Day 5: Magdalena Island* – Punta Arenas
* This excursion is replaced by Marta Island in September and April.
We also have an 8 days program , look at this link
Ushuaia Darwin's Route from Ushuaia to Ushuaia in 8 Days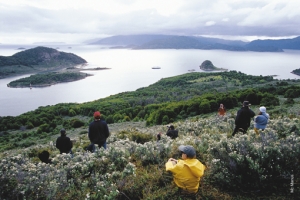 The Chilean / Argentinean fjords are one of the most pure nature zones in the world .Because of the steep mountains from the Andes,roads are almost impossible .This is why in Chile these fjords only can be visit by boat or by foot
From the end of September till the end of April the cruises ship Mare Australis travels thru this beautiful landscape .During the trip there are daily excursions to land in Zodiac boats .There are also daily lectures about the flora and fauna of the zone. For these excursions you don't need to have any experience, everybody can do this, for al ages
We can arrange your further travel in Patagonia, from Ushuaia we can arrange transfers, hotels tours, just let us now your program,we can also arrange hotel and transfer in Punta Arenas !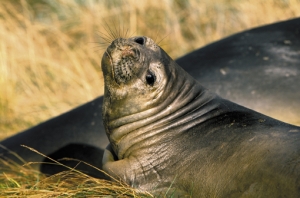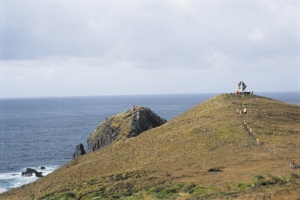 https://southamericaplanet.com/en/cruise-with-mare-australisthe-fjords-in-patagonia/
https://southamericaplanet.com/es/crucero-con-mare-australis-los-fiordos-en-la-patagonia/
https://southamericaplanet.com/nl/cruise-met-mare-australis-het-fjordengebied-van-patagonie/