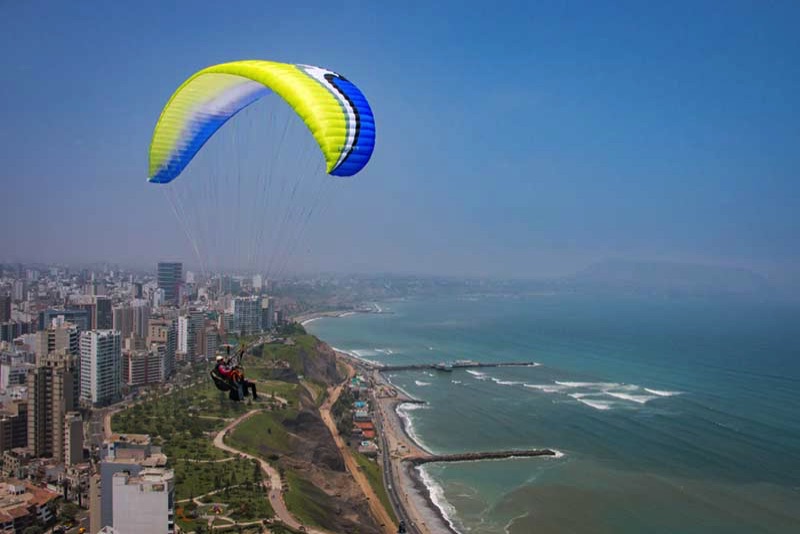 Flying paragliding in Miraflores
Flying paragliding in Miraflores, is in the TOP 10 activities that a tourist must do in Lima. At the Paraport, safety and quality of care are the most important things.
For this reason, numerous times we have been named as an example to be followed by government institutions,
⚠ Important points to keep in mind
• Because it depends on the wind, and it is not possible to predict when you are going to fly, IT IS NOT RECOMMENDED to set a fixed flight time. You must calculate available time.
• It is IMPORTANT to emphasize that you must be flexible with the time, and that there are possibilities that you cannot fly in a day due to lack of wind.
• Generally, flights are in the afternoon. The chances that there will be wind from the mornings are not very great.
Includes: 10-minute tandem paragliding flight with instructor, video of the flight in SD memory and photos in the form of an on-screen video capture.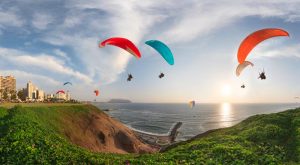 ---
⚠ RESTRICTIONS
● For safety and weight reasons, it is only possible for ONE passenger with ONE instructor to fly at a time per paraglider.
● Minimum age: 12 years. Maximum age: 69 years.
● Weight: the maximum passenger weight will always depend on the current wind intensity. With very light wind, the maximum weight can vary from 50 to 60kg. With normal-average wind, can be 90 – 100kg. In strong winds it can reach a maximum of 120kg, provided the pilot agrees. Taking off with too much weight increases considerably the chances of landing down on the beach and not being able to make a satisfactory flight. Remember that if we do not get to fly someone, it is because we are waiting for ideal conditions to fly it.
● During the flight it is forbidden to take cameras or cell phones. These are not properly attached and can fall. The flight zone has many people walking and in cars. We not want to do no harm to those below us
WHERE WE FLY �
The Paraport is in the Raimondi Park next to the Love Park on the Cisneros Malecon,
---
Does not include transfer and staff waiting time
This tour you only can reserve inside a package
https://southamericaplanet.com/en/flying-paragliding-in-miraflores/
https://southamericaplanet.com/es/volar-parapente-miraflores/
https://southamericaplanet.com/nl/paragliden-in-miraflores/