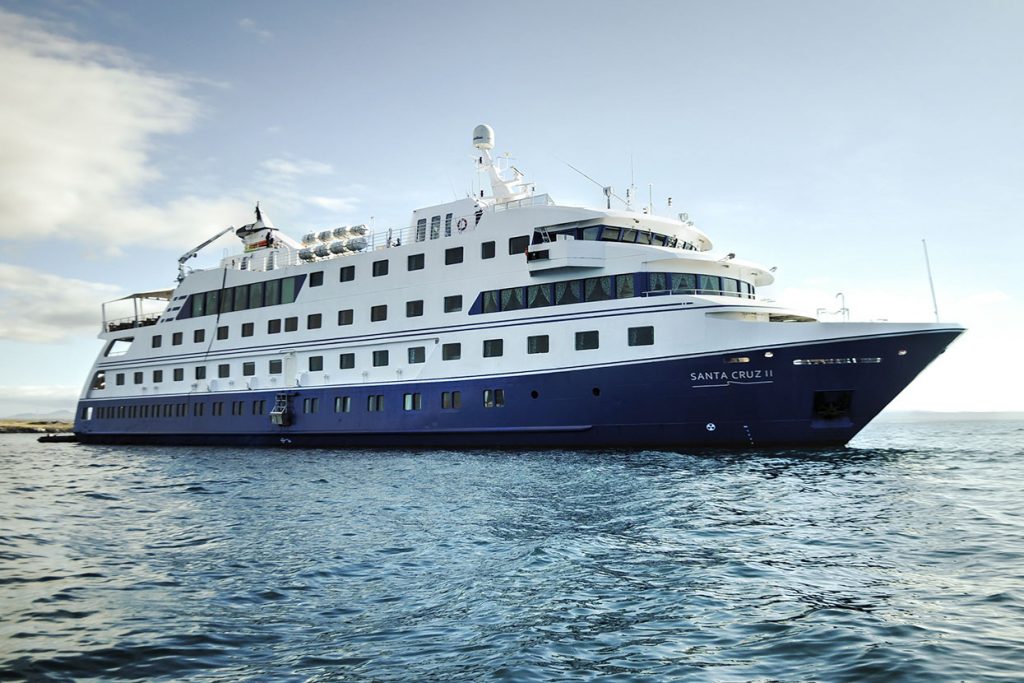 Galapagos islands, on the Santa Cruz Boat cruise 5 or 7 days adventure
The Santa Cruz is the finest ship in her class to sail the archipelago today. She's versatile, flexible and fun, with an excellent crew committed to making her guests' experience extraordinary. Ask also the program and dates of our other La Pinta Luxury Yacht
Ask our Promotions 2021 !  normal Price  $4376 por persona for the 5 days 4 nights tour
NOW in Standard cabine ( prive each person in double cabin )
➢ June FROM: $1919
➢ Jul a Aug FROM: $2142
➢ 01 Sept to 15 Dec from: $2956
➢ 15 to 31 Dec from: $3778
This is a larger boat, so ideal for people prone to seasickness
We have 
Eastern Galapagos 7 d 6 n Friday to Thursday
Western Galapagos 5 d 4 n Thursday to Monday
Northern Galapagos 5 d 4 n Monday to Friday
---
---
Santa Cruz II Galapagos Cruise
Sleek and modern, the Santa Cruz II is ready to send you on an adventure journey of the Galapagos Islands in contemporary style. Perfect for groups of any size, it's numerous and large social spaces will give you the ability to enjoy peaceful moments: by yourself or in groups, as you wish. Galapagos land and aquatic activities abound in the form of hiking, kayaking, paddle boarding, snorkeling, coastal explorations, and even a glass-bottom boat (for those looking to witness the underwater world of the Galapagos Islands without getting wet)! Exceptional service and exquisite gastronomy await to complement the fascinating journey you're destined to experience during your Galapagos adventure travel aboard the Santa Cruz II, be it with family, friends, or on your own!
Cruise cabins on the Santa Cruz II have been designed to offer its guests the perfect deluxe travel environment. This is the ideal place to relax, rest, and unwind after an unforgettable day of exploration. Modern and comfortable layouts will make your time onboard an incredibly enjoyable unique experience.
---
Our Eastern Galapagos cruise itinerary begins from Baltra Island, after which a short journey aboard the Santa Cruz II brings us to Mosquera Islet where we check out the sea lions before our sailing team heads towards San Cristobal. A stop at the Cerro Colorado Tortoise Breeding Center will open our eyes to the beauty of the Galapagos giant tortoise and to the important scientific work that continues to be done on the islands. In the afternoon, we travel to the most eastern tip of the archipelago, Punta Pitt, the only stop on this journey where we can (potentially) see red-footed boobies. From here, it's on to the central islands, starting with Santa Fe, with its beautiful tranquil bay, before continuing to the wild cliffs of South Plaza Island with its alluring cacti, land iguanas and stunning marine birds. The following day we visit the world-famous Charles Darwin Research Station on Santa Cruz Island. Then, Española Island, voted the #1 island by guides and expedition leaders, awaits with its remarkable visitor site of Punta Suarez, home to hundreds of marine iguanas, sea lions, marine birds, and even albatross (present between April and December) – making this a truly stunning site! In the afternoon, we enjoy the water at Gardner Bay. The following morning we will wake up at Eden Islet and finish the day at North Seymour, famous for its land iguanas and sea lions as well as bird colonies of blue-footed boobies, frigatebirds, and Nazca boobies. We finish at Baltra after a moving and memorable experience of the Eastern Galapagos Islands.
---
Our Western Galapagos cruise itinerary begins in Baltra, where we will board the ship and sail towards Dragon Hill on Santa Cruz Island for an interesting hike through palo santo forests that are full of the Galapagos' famed land iguanas. Overnight, we sail around the seahorse-shaped Isabela Island to two great visitor sites: Punta Vicente Roca on Isabela Island (with the fascinating geology of the collapsed Ecuador volcano) and then wild and pure Punta Espinoza on Fernandina (one of the most pristine islands in the world, with one of the archipelago's biggest colony of marine iguanas and opportunities to see flightless cormorants). From there, we sail back around to Santa Cruz Island to visit the world-famous Charles Darwin Research Station, where scientists are involved in research and conservation efforts, the most well-known of which involves a captive breeding program for Galapagos giant tortoises. After that, we'll spend the afternoon enjoying a range of activities. The following day finds us on Floreana Island, exploring its human history and stunning wildlife at both Post Office Bay and Cormorant Point. The next day we say goodbye to the Galapagos Islands after an amazing journey!
---
Our Northern Galapagos cruise itinerary together begins at Baltra airport, from which we'll sail to the glorious white beach of Las Bachas with a pair of brackish water lagoons only a few steps from the sea. These lagoons serve as feeding grounds for various wading birds, including stilts, pintail ducks, and flamingos. As we continue our voyage, we explore two fascinating visitor sites on Santiago Island: Buccaneer Cove, home to a large number of marine birds, sea lions, and inter-tidal organisms; and Puerto Egas, with its fantastic tidal pools that are full of life and good snorkeling and swimming opportunities. The next day we visit the red-sand beach of Rabida Island along with a lovely trail around some cliffs and a popular spot for aquatic activities, with some of the best snorkeling in the Galapagos Islands! In the afternoon, we round out the day with a stop at Bartolome Island, which offers a volcanic viewpoint with room for hiking, swimming, and exploring the beach and the coast. Bartolome is one of the few spots in the Galapagos that will give you the chance to see Galapagos penguins. From here we sail northeast, crossing the equatorial line, to the sunken crater of Genovesa Island, home to thousands of marine birds. It feels like a world a million miles from our own. We finish with an incredible encounter with nature through which we respectfully share a wild habitat with giant Galapagos tortoises at a private reserve up in the highlands of Santa Cruz Island and then make our way to the airport at Baltra.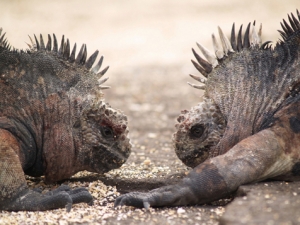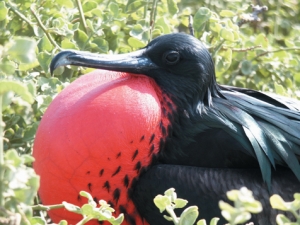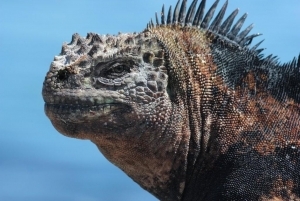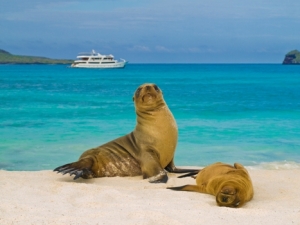 ---
Important
The itineraries and programma are subject to change without prior notice, due mainly to adjustments in the policies and regulations of the Galápagos National Park, weather conditions, seasonal changes and safety reasons.
Dry landing: guests step from the dinghy onto rocks or a dock.
Wet landing: as the dinghy edges onto a sandy beach, guests step into knee-deep water and wade ashore
 For more info about this and other botes like la pinta and isabela  click here 
---
It includes:
▪ Accommodation and all meals on board
▪ Expeditions on the islands with certified naturalist guides
▪ Informative talks
▪ Equipment for surface diving (snorkeling), kayaks, paddleboards
and glass bottom boat
▪ Doctor on board available 24/7 (does not include medicines)
▪ Transfers in Galapagos (pre / post boarding)
▪ Assistance with your luggage
▪ Wi-Fi Internet
▪ Soft drinks (Juices and sodas, NOT non-alcoholic cocktails)
▪ Neoprene suits
---
Does not include:
▪ Air ticket
▪ Entrance fee to the Galapagos National Park
▪ INGALA Transit Control Card ($ 20 USD per adult,subject to change)
▪ Alcoholic beverages.
▪ Tips, laundry or valet service and additional items
▪ Medical and / or travel insurance
https://southamericaplanet.com/en/galapagos-islands-on-the-santa-cruz-boat-cruise-5-or-7-days-adventure/
https://southamericaplanet.com/es/islas-galapagos-en-el-crucero-en-barco-santa-cruz-5-o-7-dias-de-aventura/
https://southamericaplanet.com/nl/galapagos-eilanden-op-de-santa-cruz-boat-cruise-5-of-7-dagen-avontuur/