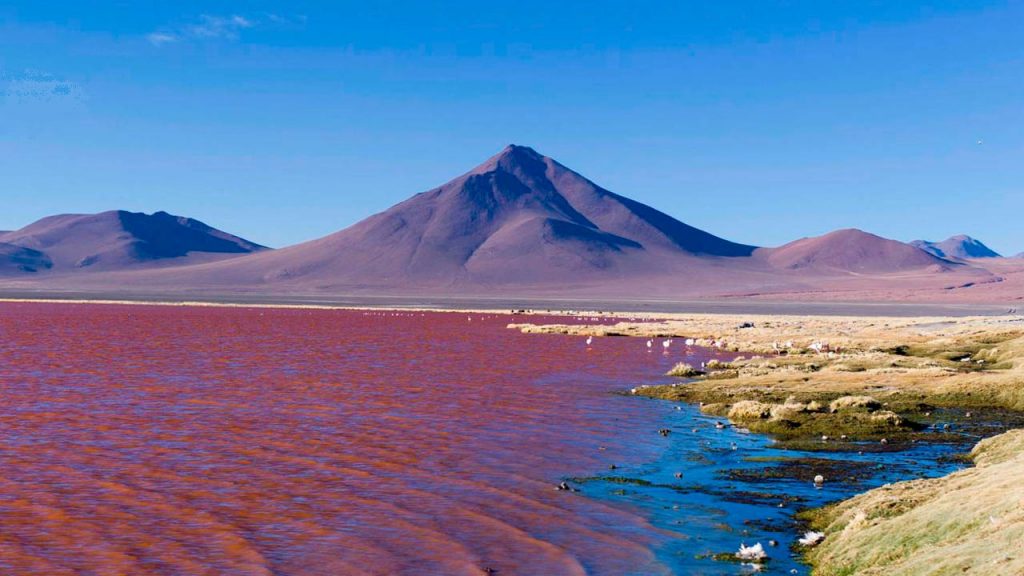 JEEP TOUR 4 DAYS 3 NIGHTS -TUPIZA & SALAR A HITO CAJÓN (Chile)
Depart from Tupiza in the middle of a fascinating landscape of rock formations, type Far West, enter the spectacular Salar de Uyuni and continue through the High Andean Lagoons, deserts, geysers, hot springs and different attractions of Los Lípez until reaching the Chilean border of Hito Cajón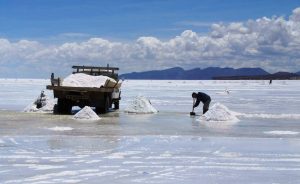 ---
Day 1 City of Tupiza – 2900 mt -Atocha- Uyuni
We leave Tupiza towards Uyuni, passing the towns of Charahota and Monte Rico where surprising formations rise, later in San Miguel and Salo we cross extensive corn fields and colorful mountainous landscapes upholstered with cacti and queñuales until Huaca Huañusca (4100m), site of the last assault of the legendary Buch Cassidy and the Sundance Kid. Under the gaze of the imposing Chorolque, the journey continues towards the isolated and desolate mining centers of Cerdas, Santa Ana, Siete Suyos, Animas, La Vieja Chocaya until reaching the legendary town of Atocha (3660 m.a.s.l.).
The journey continues between rusty colored mountains and sand dunes until reaching the town of Uyuni. If you wish, you can visit the Train cemetery, a place where you can see metals from the 18th century. Overnight in Uyuni or transfer to Colchani.
OPTIONAL: CITY ENCANTO.- The path is diverted through a mysterious and magical plain where capricious geological formations of volcanic lava emerge, sculptures carved by rain and wind that make any tourist with an average camera turn professional (only in private to extra expense)
no images were found
---
Day 2 Uyuni- Salar de Uyuni -San Pedro de Quemez or Atullcha
OPTIONAL TOUR OF STARS AND REFLEXION: 3:00 departure from Uyuni towards the north of the salt flat to observe the reflection of the stars in the salt flat and see the milky way, an impressive scenery that can be appreciated in places where there is a greater concentration of water and allows you to take extraordinary photographs of reflections of the stars in the salt flat, then the sunrise 5:30 approx. at 7:00 a.m. Breakfast in the salar to continue with the program (extra expense)
Depending on where you spend the night, we leave directly to reach the sunrise inside the great wonder of Bolivia "El Salar de Uyuni" or visit the Train Cemetery to walk among locomotives, iron and metals of the 18th century, the artisan market of Colchani, where You can buy souvenirs made of Llama wool, Alpaca and salt. Visit small family factories for the extraction of salt where the piles of salt are found, the Ojos de Sal ( eyes of the salt), continue with the visit to the first Hotel de Sal (Playa Blanca) and enter the Highest and largest salt flat in the world 3,663 m above sea level, a surface area of ​​12,582 km2 and 11 layers ranging from 2 to 10 m., 120 meters deep approximately where 10 billion tons of sodium chloride, lithium, boron, magnesium, potassium and strontium. The temperature during the day varies between 12 and 18 ° C and at night they drop considerably and can reach -20 ° below zero.
A long process of water evaporation and accumulation of salts due to the arid climate, gave rise to the birth of the Uyuni salt flat and others such as the Coipasa, Empexa, Chiguana, Chalviri and Capina salt flats. The islands that are seen today in the salt flat are the top of ancient volcanoes. You cross the salt flat until you reach the Inkahuasi Island or Inca's house to take a walk along a beautiful path of petrified reefs along the entire path that leads to the top where there is a viewpoint of the salt (360º), it is made of rock or Petrified volcanic lava of origin "Blue Alga" or Fossil Stromatolites one of the oldest testimonies of life on earth. The underwater bacteria that have formed them have developed in the times of Lake Michín (40 thousand years ago) and Lake Tayka (11 thousand years ago) that kept the entire island under water, today, it can be seen that the The island is largely covered by a kind of light-colored calcareous shell that measures between 9 and 12 m. This island is located in the center of the Salar and the large number of ancient giant cactus (Echinopsis atacamensis) is surprising, a variety that grows 1cm. per year, that's why some of them are over a thousand years old. After the visit to the island, the jeep drives off to the saline plain to find a convenient place to take amazing photos with special effects . In perspective, the imagination and elements that you want to use play a lot in this, to end in the town of Atullcha between 16:30 hrs.
Optional "Sunset in the Salt Flat": Arrival at 18:00 hrs.
no images were found
---
Day 3 Atullcha – jewels route – Siloli desert – Laguna Colorada -Huayllajara
Departure from Atullcha or San Pedro de Quemes at 06:30 am, depart for the Galaxies (U $ 2.5 entrance fee) and Coral Rocks to then cross the Salar de Chiguana, its surroundings are an impressive surreal landscape of petrified volcanic lava until arriving to the Tomasamil Volcano 5890 masl and the Ollagüe Volcano viewpoint 5865 m.s.n.m. Active volcano with fumaroles that can be seen from afar, it is the only active volcano in Bolivia. Immediately you reach the first of five small lagoons: Laguna Ramaditas, Laguna Cañapa at 4265 m.s.n.m. Surrounded by volcanoes, it is the deepest with its 10 m in the deepest part, Laguna hedionda 4250 m.s.n.m. Its waters have a high sulfur content so it gives off a foul smell and it is home to the three varieties of flamingos, Laguna ChiarKhota 4285 m.s.n.m. where you can see nests of different birds, Laguna Honda 4270 m.s.n.m. with its variety of wild ducks. Going up you reach the Siloli Desert, the surroundings have a majestic view of the colored volcanoes and plains with large herds of vicuñas and wildlife where the Stone Tree rises imposingly a monumental volcanic rock formed of Ignimbrites (petrified lava foam) and many other rock formations of strange shapes that are sculpted by the sand that it raises the wind in an extensive area composed of sand and small stones that is located at 4600 meters above sea level, 18 km away you reach Laguna Colorada and Huayllajara. Arrival around 17:00. Overnight.
SILOLI OPTION: (only for private groups) This day ends in Siloli Desert. Eco hostel option.
OPTION ANOTHER ROUTE: ATULLCHA – LAGUNA NEGRA – ALOTA – CUP OF THE WORLD – VILLA MAR.
---
Day 4 Laguna Colorado O villa mar – Geysers- Laguna verde – Hito Cajon
Depending on the type of transfer you take, the departure time is between 4:00 to 7:30.
Visit to Laguna Colorada 4278mt. Located at the foot of the black hill with an area of ​​60 km2 and a depth of 80cm. approximately, its waters have an intense red color due to the presence of plankton, microscopic algae with red pigmentation of the Dunaliella salina species that is released into the water with greater intensity between 10:00 am and 15:00 pm because solar radiation and temperature reach their highest level. On the shores of the lagoon there is a phenomenon of accumulation of different minerals: sodium, borax and manganese that give it a bright white color that contrasts with the lagoon, for all this it is a sanctuary of thousands of Pink Flamingos in its three varieties: Andean , Chilean and James.
After the visit and photography, the excursion continues towards the geysers of Sol de Mañana, an amazing sight that is located at 4,855 m.a.s.l. It is an area characterized by its intense volcanic activity, where you can see geysers and fantastic fume that emerge from deep in the earth, one can walk near the small craters from where volcanic lava of different colors comes out at a temperature of 90 ° C , Then you go to the Salvador Dalí Desert, named after the Spanish-Catalan painter due to the similarity of his paintings to the surreal volcanic eruptions of majestic colors, the Polques hot springs 4856m.snm, pools of mineral waters from 26 to 30 ° C where you can enjoy a relaxing bath and finally stops at the lagoons of Laguna Verde and Laguna Blanca 4,350 meters above sea level, located southeast of the Eduardo Avaroa Reserve, they are salt water lagoons with a high content of magnesium, arsenic, lead and calcium carbonate giving the lagoon a beautiful emerald green color that is accentuated, favored by the strong winds that suspend the mineral particles, between 11:00 am and 14:00 pm. The Blanca lagoon is part of the Verde lagoon and they are joined by a narrow channel and divided by the whitish color of its waters that contain sulfates, calcium and magnesium carbonates. These lagoons are at the foot of the Licancabur Volcano with a surface area of ​​17 km2 and 5916 m. At the top there is a crater with a green lagoon bordered by stone constructions, for this reason it is believed that the top of the volcano was a place of human sacrifice during the Inca empire. The Licancabur marks the border with the neighboring country of Chile, ten minutes from the Laguna Verde is a Bolivian border post "Hito Cajón". Here you change transport, private or shared one to drive to San Pedro de atacama ( shared ones miss a part and leave early )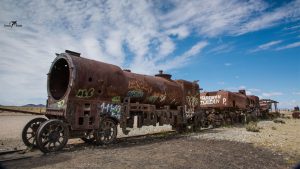 ---
Lodging
Basic: Basic accommodation with rooms and shared bathroom for 4 to 6 people, does not include hot shower. (Included in the cost of the tour).
Standard: Basic accommodation in a double room with private bathroom, with prior reservation. Extra cost.- (Possibility of hot shower for an additional cost of $ us. 1.5.-).
Special: Request a quote . Only in private
---
included
3 Breakfasts, 4 Lunches and 3 Dinners.
Mineral Water (2 liters per person per day).
Refreshments.
Fruits.
1 Oxygen Bottle.
Basic Shared Accommodation: 3 nights of lodging.
Driver / Guide in Spanish.
Transport in a Jeep 4X4 in good condition with oxygen and all necessary implements.
---
Not included
Souvenir.
Public toilets.
Bathroom towels.
Hot shower (Cost USD 1.5.- per person) Not mandatory.
Sleeping bag (Cost USD 7.5.- per person throughout the tour) Not mandatory.
Entrance to Inkahuasi Island (Coto USD 4.5.- per person) Mandatory.
Entrance to Eduardo Avaroa National Reserve (Cost USD 22.- per person) Mandatory.
Entrance to Hot Springs (Cost USD 1.- per person) Mandatory.
Transfer to San Pedro de Atacama. ( we can arrange )
Guide in English or another language.
Travel insurance.
Tips.
---
Recommendations to Take
Photocopy of Identity Card.
Sleeping bag and clothing for low temperatures.
Comfortable and safe hiking boots.
Sunscreen and hat / cap.
Wool Gloves.
Sunglasses.
Swimwear.
Flashlight and Towels.
Toilet Paper and Pen Cutters.
Two Backpacks: A travel backpack and a small one.
People who are medicated do not forget their respective medication.
---
Protection Clause
The program described above should be considered as ideal and may be subject to modifications due to situations independent of our will and commitment (social demonstrations, road blocks, changes in train, plane and bus schedules, weather conditions, closure of sites of tourist interest in days in which they should work, torrential rains, etc.) Despite this, we will make the best possible effort so that the program sent is fulfilled in its entirety. If not, this situation will be communicated, explained, justified and corrected in the best possible way.
https://southamericaplanet.com/en/jeep-tour-4-days-3-nights-tupiza-salar-a-hito-cajon-chile/
https://southamericaplanet.com/es/jeep-tour-4-dias-3-noches-tupiza-salar-a-hito-cajon-chile/
https://southamericaplanet.com/nl/jeep-tour-4-dagen-3-nachten-tupiza-salar-a-hito-cajon-chili/