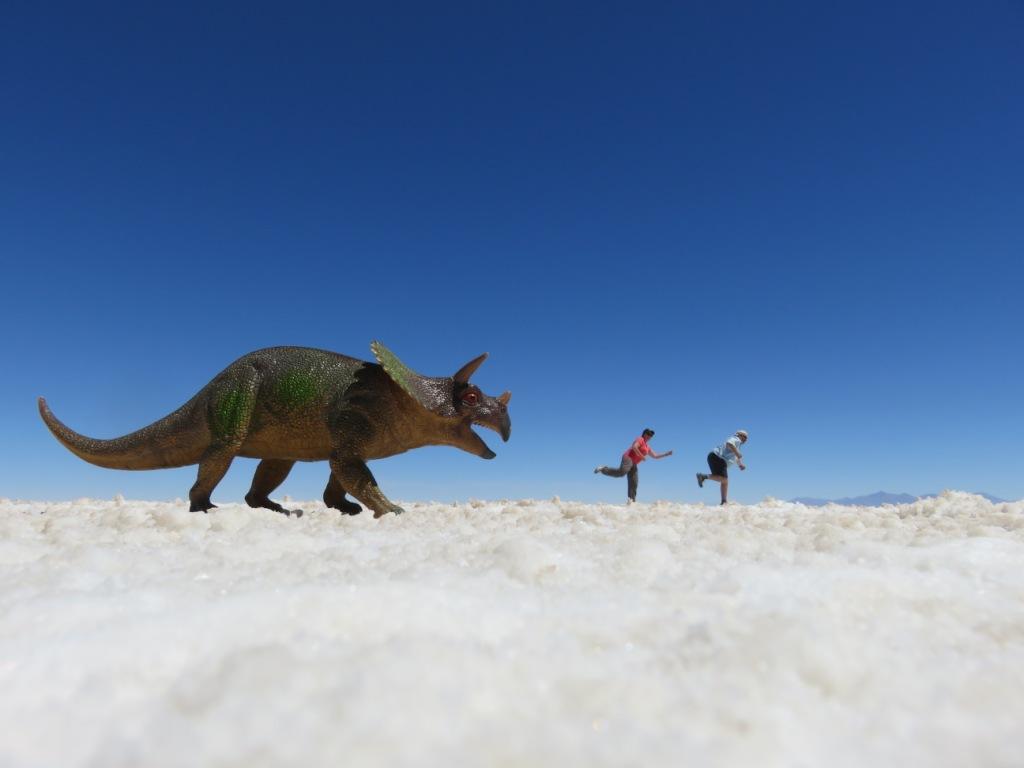 Start Packet Uyuni Saltflats jeeptour, Bolivia 3days
Uyuni Salt lakes 3 days tour
Salar de Uyuni (or Salar de Tunupa) is the world's largest salt flat, or playa, at over 10,000 square kilometers (3,900 sq mi) in area. It is located in the Potosí province in southwest Bolivia, near the crest of the Andes at an elevation of 3,656 meters (11,995 ft) above sea level.
The Salar was formed as a result of transformations between several prehistoric lakes. It is covered by a few meters of salt crust, which has an extraordinary flatness with the average elevation variations within one meter over the entire area of the Salar. The crust serves as a source of salt and covers a pool of brine, which is exceptionally rich in lithium. It contains 50% to 70% of the world's known lithium reserves. The large area, clear skies, and exceptional flatness of the surface make the Salar ideal for calibrating the altimeters of Earth observation satellites. Following rain, a thin layer of dead calm water transforms the flat into the world's largest mirror, 129 kilometers (80 miles) across.
In Uyuni, we will appreciate lovely views of the Altiplano highland plain and the eastern mountain ranges on the way to Chile or a jeep round trip. We will observe llamas, vicuñas, as well as local flora such as Andean grass (Ichu) yareta muss, and Thola. The town of Uyuni has situated 220 km from Potosí, at the top of the Altiplano at an altitude of 3665 above sea level. You can get to Uyuni by bus from La Paz, or Potosí, or by jeep from Chile in San Pedro de Atacama, or by train from Oruro. Here in Uyuni, there is a large Train Cemetery, you will be able to observe the railroad tracks, locomotives, and the most important resting places for many of Bolivia's historic trains.
From here you can do the most amazing tour in South America. The Salt lakes in 4X drive jeeps
no images were found
---
You can choose this tour in 2 options
1 Budget Shared jeep tour : in hostals in shared tour
2 Private jeep tour: in 3* hotels in private tour
---
Day 1: Saltlakes Uyuni
Depart from Uyuni around 10 a.m. first, we go to the train cemetery, with all the old trains. Then we will continue to Colchani, we will drive in our 4*4 jeep. We will visit the Salt factory where they put Iodine to the salt, everything is manual. The salt workers sell souvenirs made of salt. After this visit we continue to the biggest salt field in the world with a surface area of more than 12.000 km of the thin exciting salt crust is as blinding white as the most perfect snowfield, and as a gigantic mirror in the rain season. We will venture across the Salar of Uyuni. We will be driving in the middle of this immense desert of salt. It provokes a sentiment and unreality. Enjoy the jeep ride over the salt. This place is almost 1/3 of the size of Belgium. At the border of the salar we will visit the salt eyes, salt blocks, and salt hotel. We will arrive at the Salt Hotel, an unusual hotel is constructed entirely of salt blocks, chairs, tables, and beds are also made of salt. At an altitude of 3665 meters. Along with the Chinese Wall, it is possible to see the salt flats from satellites. The salt varies from 2 to 20m. in depth. It is estimated that the flats contain 64.000 million tons of salt. The flats also contain a large reserve of Lithium, Mg, Na, Bo. We continue our trip to the Fish Island INCA WASI, this is located in the middle of the salt flats at 100 km from Uyuni, Fish Island (Isla Pescado) afford views of the flats reminiscent of the Polar region, dominated by blues and whites producing images of hills.
Fish Island is an oasis with a unique and isolated ecosystem populated by cactus up to 8 to 10 meters high. Photographers will find that fish island is one of the best sites in the world to indulge in their passion. The Island has the shape of a fish. Lunch at the island. It is full of giant cactus who give an extraordinary contrast with the salt. This island is a research center and protected. 30 bolivianos entrée. After this visit, we will continue to the small village of San Juan where we will sleep ( in shared service ) or to the nice Salt Hotel at the border of the salt (in private tours)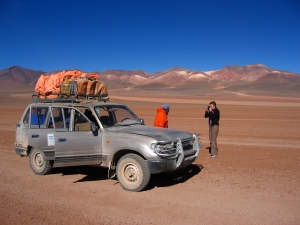 ---
Day 2 Lagunas
We will depart very early after our breakfast around 8.30 AM and drive first along the hard lava from the Ollagüe volcano. Then we will continue and pass by 5 amazing beautiful lagoons: Laguna Canapa, Hedionda, Chiarcota, Ramaditas, and Honda. We will see 3 different species of flamingo's James, Andean, and the Chilean flamingo. The Lagunas have fantastic colors created from minerals. Afterward, we will pass by the famous rock tree. We will arrive around 4 p.m. to Laguna Colorada, where we will take our diner and where we sleep very basic.(on a private tour you can have Tayka hotel)
This night it can be very cold because we will be sleeping at 4000 meters of altitude!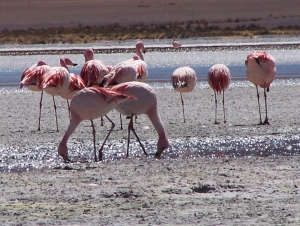 ---
Day 3 San pedro de Atacama or Uyuni
We will wake up very early, and after our breakfast, we will leave around 5.30 a.m. with our jeeps to this is a volcanic geyser, then we will drive to the hot spring where we can warm up!
Then we will pass through the valley of Salvador Dali, and we will arrive at Laguna Verde to see the lagoon change color.
From here you have the option to continue to the border of Chile and further to San Pedro de Atacama where the trip will finish. Here you change transport and drive to San Pedro de Atacama. Or the normal tour returns to Uyuni, several hours transport on a not paved road. We arrive in the afternoon between 5 and 6 pm in the hotel in Uyuni.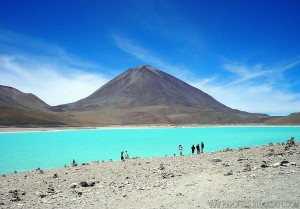 ---
Here finish the most beautiful 3 day tour in whole South America
Included
* the 4×4 W.D. jeep with a driver who is also a guide, only in Spanish ( optional extra charge for English speaking guide )
* 3 nice meals a day + kitchen equipment
* Basic overnight for 2 or 3 nights in shared service ( 2 options basic in a dorm or basic in a private room) OR only on a private tour in the nice Hotel de Sal + Hotel Tayka Desierto.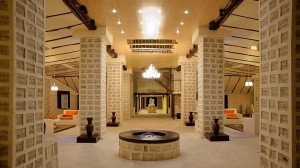 ---
Not included:
* Personal material
* Tips and extra drinks
* Entree tickets, fish island 30 bolivianos and national park 150 bolivianos (border tax if you go to chile)
* English speaking guide
---
We can arrange this tour with the nice Hotel de Sal and Hotel Tayka (only possible in Private)
Nota / the Shared jeep tour is always in very basic hostels in a dorm or basic private room
We suggest you bring
* Sleeping bag
* Sunglasses
* 4-liters water for 3 days
* Passport
* Warm clothes, gloves, hat
* Flashlight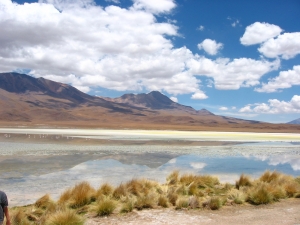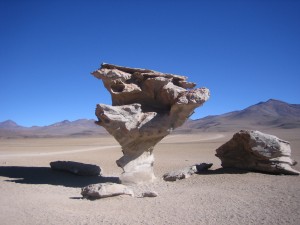 https://southamericaplanet.com/en/start-packet-uyuni-saltflats-jeeptour-bolivia-3days/
https://southamericaplanet.com/es/paquete-de-inicio-uyuni-saltflats-jeeptour-bolivia-3-dias/
https://southamericaplanet.com/nl/start-pakket-bouwsteen-uyuni-bolivie-zoutvlaktes-lagunes-jeeptour-bolivia-3-dagen/