The 5 LAGOONS OF PARU PARU, 2 DAYS 1 NIGHTS COMMUNITY TOURISM IN POTATO PARK
The Paru Paru community is located almost reaching the highest peaks of the Apus (mountain spirits) of Pisaq, it is about 3800 meters above sea level, its adobe houses treasure a community that continues to transmit its ancestral traditions and customs to all visitors who arrive at the place, it is located within the national potato park and is undoubtedly one of the richest communities in the production of native potatoes in Peru.
This community has around 500 inhabitants including the elderly, young people and children, it is located two hours by car from the city of Cusco and 45 minutes from Pisac. There, at the top of its location, you can still feel and observe the ancestral secrets that connect you with Pacha Mama (Mother Earth).
"Pisaq" is a Quechua word that means "partridge", at the top of its sacred ruins natural, ancestral secrets that still fly and are processed at that level are still kept. Pisaq is divided into two zones, the old and the current one.
Day 1 Cusco – Laguna Kisnacocha (Paru Paru)
Our guide and private transportation will pick you up from your hotel at 8 am. Then, we will have a 1 hr trip, through beautiful landscapes in the sacred valley, with views of beautiful mountains.
We will continue our trip and we will pass through the Artisan town of Pisac, until we reach the Kisnacocha Lagoon (09:30 am). When we arrive, the villagers will welcome us warmly and we will be able to start our Community Tourism adventure in the community of Paru Paru.
We will have many activities that day and many surprises. We will share ancient traditions,ancestral music and we will visit the ethnobotanical garden where we will learn about native plants. We will have an exhibition of fabrics, we will visit a native potato farm to recognize the varieties and agricultural work with different traditional and ancestral tools.
We will have lunch and share a dinner with the residents with local products and we will stay in their houses with basic services, where we will be able to enjoy the tranquility that the Kisnacocha Lagoon gives us.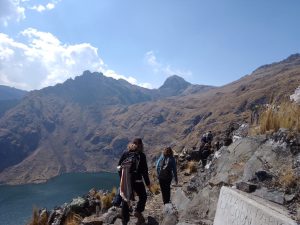 ---
Day 2 hiking 5 Lagoons
Today we start very early at 07:00 with a breakfast of organic products that gives us the energy to start our walk of about 5 hours. The maximum altitude is about 4,400 meters above sea level. Half way through the trip we enjoy our lunch with beautiful panoramas. The route is not difficult, but it gives us great scenery, with very few other tourists. It will be a fantastic experience. We have the opportunity (with luck) to see birds, vizcachas, alpacas and llamas.
The day will be intense and pleasant and around 3 pm it will be time to say goodbye to our friends from Paru Paru, our transport will take us to our next destination Cusco or Sacred Valley.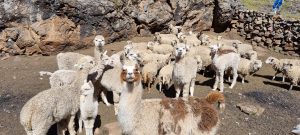 ---
Included in the itinerary
Private transportation Round trip
English / Spanish guide
day 1 lunch and dinner
day 2 breakfast and lunch (box lunch on the trekking route)
1 night in a double room in a peasant house
The accommodations are very basic and with the possibility that the bathroom is shared and the shower is not always hot.
Various activities in the community
Oxygen and first aid kit
Does not include
Walking sticks
tips
hotel the second day