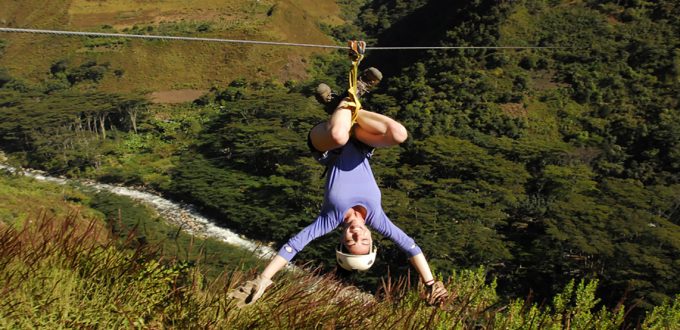 Via Ferrata & Zip line in sacred valley – Cusco
VIA FERRATA & ZIP LINE
Flying over the Sacred Valley
We do not claim to be the longest one or the highest one, We do claim to be the SAFE AND BEST ONE.
The safest way to climb a 400 meter rock face.You can try 300 meters climbing and 100 meters rappel or the combined tour Via ferrata & Zip-line.
This tour has been made to offer an amazing MOUNTAIN EXPERIENCE for people without any experience. It will be an experience of a lifetime. It is a combo for both activities, you will climb 400 meters of via ferrata and descend the mountain using 6 zipwires (150 mts to 700 mts).
The price, it includes private transportation from/to Cusco or the Sacred Valley, guides, equipment (harness, helmet, via ferrata lanyard, zip-line set and gloves) and box lunch. For private groups rates, please ask. Average activity duration: 4-5 hours plus transportation time.What is a zip-line or canopy?A zip-line (also known as a flying fox, foefie slide, zip wire, aerial runway) consists of a pulley suspended on a cable mounted on an incline. It is designed to enable a user propelled by gravity to traverse from the top to the bottom of the inclined cable, by holding on or attaching to the freely moving pulley.1. What is a via ferrata?A via ferrata is a path used to climb a mountain with a safety system permanently installed. It gives the chance to people without any experience in climbing, the opportunity to move through spectacular mountain scenery using a minimum of equipment.The climber is permanently tied to a steel cable that runs through the entire route. Usually does not require any climbing rope. Metal ladders, bridges and similar facilities are used. This helps maintain the physical difficulty of climbing and mix beginners skills while providing access to a very high, and extreme vertical sections of a mountain, that could only be accessible to experienced rock climbers.
English speaking guide

Lunchbox

Equipment (harness, helmet, ferrata cord, zip line set and gloves).

Transfer
https://southamericaplanet.com/en/via-ferrata-zip-line-in-sacred-valley-cusco/
https://southamericaplanet.com/es/via-ferrata-zip-line-en-valle-sagrado-cusco/
https://southamericaplanet.com/nl/via-ferrata-zip-line-in-de-heilige-vallei-cusco/