Choquequirao trekking 4 days, cusco, cachora, choquequirao, peru
[Sassy_Social_Share style="background-color:transparent;"]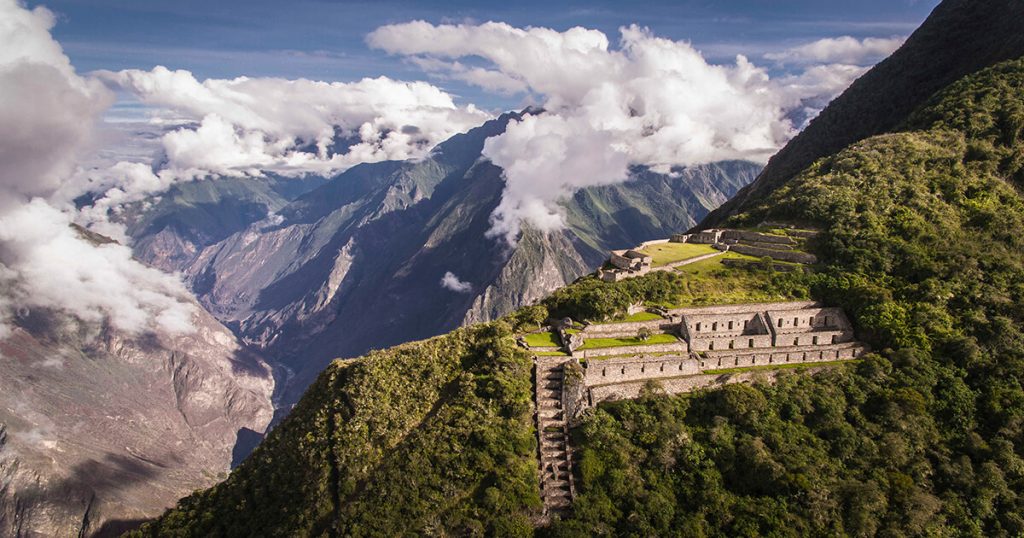 Official Choquequirao Operator
Program Duration: 4 days / 3 nights.
Ending Point: Cusco
Activities: Archaeological, Cultural, Ecological, Hiking & Camping.
Introduction:
Altitude: 1500 – 3030 m. / 4921 – 9941 f.
High season: Whole year
Duration: 4 days – 3 nights
Level of difficulty: Moderate / Challenge ( click for levels)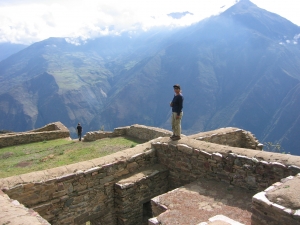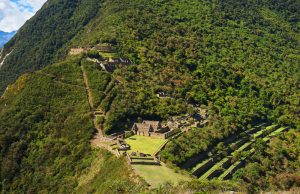 *A minimum of 2 persons is needed for this trek
Starting Point: Cusco
The archaeological site of Choquequirao is part of the complex system of Andean towns in Vilcabamba Valley. In the time of the Incas it was united and in communication with Machu Picchu by a complex network of trails. Choquequirao is situated in the spurs of the mountain range of Salcantay, at 3035 m.a.s.l, surrounded by the snowcapped Apus of Yanama, Ampay, Choquecarpu, Pumasillo and Panta on the right side of Apurimac river in the Santa Teresa district. The Convention province of the department of Cusco. Choquequirao is an Inca town formed by small sites spread out in rubblework that in its adjoining constructs a complex metropolis, similar to those of the other regions placed on the crest of the hill by the same name Choquequirao.
This program can change, depending the physical condition of the client!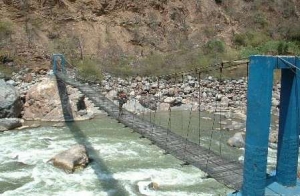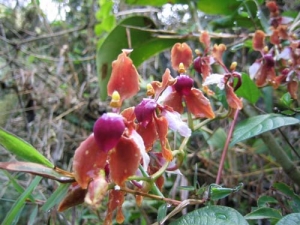 1st Day Cusco – Chiquisca – Santa Rosa 6 h
We will leave from Cusco at around 5.30 am. Arriving at Cachora town around 9.30 am after 4 h drive (2850 mt), situated on the edge of the Apurimac canyon. We will stop in Cachora to purchase any last minute supplies before continuing by car to just before Capuliyoc (2915 metres/ 9561 feet) We will meet our arrieros (muleteers). After we will arrange the equipment on the mules or horses. From here we can also observe the majestic Padrayoc snow -covered peaks at 5482 m and Wayn Cachora snow – covered peaks. From here, we descend steeply into the Apurimac Canyon, taking in the spectacular views as we descend for 3.5 to 4 hours to Chiccisqa (1836m / 6023ft), with breathtaking drops to our side. 1 hour after Chiccisqa we arrive at the roaring Apurimac River (1550 metres/ 5084 feet). We can see the Apurimac Valley, Huayhuacalle (2970m.a.s.l.), Tinajayoc (2630m.a.s.l.), Mirador (2370m.a.s.l.), Cocamasana (2330m.a.s.l.), Torowisqana (2285m.a.s.l.) & Chiquisqa (1950m.a.s.l.).
– LUNCH
From the river, we begin to climb to the Santa Rosa Campsite, which is 2095m / 6873ft. This is a tough climb of 2 hours but makes the next day easier! As the campsite is further along than the most popular camp, it is often quiet and you can see the stars at night.
Accomodation: Camping at Santa Rosa 1950m – we will aim to be at our campsite by 6pm.
Our total hiking time today is around 6 to 7 hours / 16 km
Descending 1200m / 4 hours
2 hrs ascending – Rio Apurimac to Santa Rosa
2nd day: Santa Rosa – Choquequirao Ruins 5 h
Departing early again today to get the best out of the day (around 6am) we continue upwards onto Maranpata where we will have a break. The climb from the Santa Rosa to Maranpata (3110 metres/ 10120 feet) takes about 3 hours and is a tough uphill stretch.
A little further on from our break site we will get our first view of the ruins of Choquequirao! From here we have 2 more hours hiking to the ruins.  After the rigors of the past two days, this is a gentle undulating hike. We take our lunch at the Choquequirao campsite (3110 metres/ 10120 feet)  nearest to the ruins, before we head to the Choquequirao ruins for the afternoon. Spending the afternoon exploring the ruins, we will watch the sunset and keep our fingers crossed for the chance to see condors.
Only around 30% of the Inca remains of Choquequirao have been excavated. What can be seen today however, is most impressive and very much worth the challenging trek to get here. The stonework in Choquequirao is not as sophisticated as that found in Machu Picchu, because the stone found here is very difficult to carve, but the buildings are impressive and suggest a site of high status. Choquequirao evokes a sense of awe simply because of the sites' surrounding beauty and isolation and condors can be seen frequently soaring the skies.
Accommodation: Camping at Choquequirao campsite 3050m (10,000 ft)
Total hiking time today to campsite is: around 4. 5 hours
13 km ascending 1600 m in altitude – Santa Rosa to Choquequirao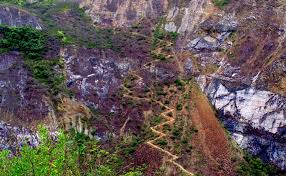 3rd Day: Choquequirao – Santa Rosa 5 h
We have a chance to more fully explore the ruins and have a little rest in the morning. In the afternoon we return along the edge of the Apurimac canyon, descending to our tropical campsite at Santa Rosa. (5 hours hiking) Accommodation: Camping at Santa Rosa (2095m / 6873ft) Depending on the progress of the group, the guide may elect to camp at Chiccisqa (1836m / 6023ft).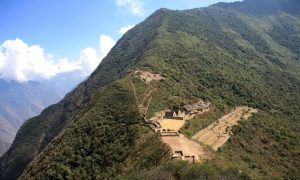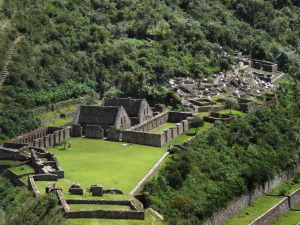 4th Day: Santa Rosa -Cachora- Cusco
Early in the morning, in order to escape the heat of the canyon of the Apurimac, we descend to the raging river, and then begin an arduous climb that is rewarded with spectacular views. We climb for about four hours, and have lunch in Capuliyoc (2915 metres/ 9561 feet). The final two hours of our hike into the village of Cachora refreshingly flat through pretty farming countryside. Our private car will be waiting to take us back to Cusco (4 hours drive). We will arrive in Cusco between 7and 8pm.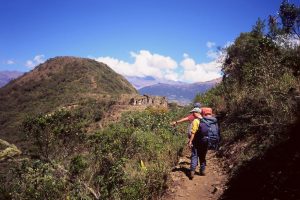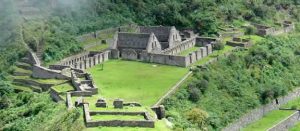 Included: 
* Bilingual and local guides.
* pre briefing in Cusco.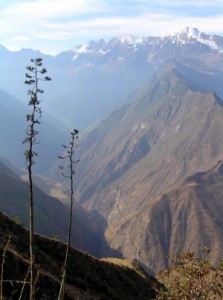 * 3 meals per day. Vegetarian food available on request.
* Tents and mattresses.
* Horses or mules for camping equipment and food.
* Horsemen.
* Transport (local or private transport) depending on the size of the group.
* Cook and kitchen equipment.
* Entrance to Choquequirao.
* Pick-up from hotel.
Not included:
* Breakfast on the first day and dinner on the last day.
* Sleeping bag, these can be rented from us.
* Walking sticks.
* Tips for guide, cook & horseman.
* Extra drinks.
What do we need to make reservation ?
*Full name as it is written in your passport.
*Passport number.
*Nationality.
*Date of birth.
*Departing date for the trail.
* We ask for a 40% deposit, sending to us  via visa online  +5,5% through this website click at visa logo
The balance you will pay at our office in Cusco before the start of the trek. We accept cash USD or credit card (+5,5%)
What you should bring: 
* Personal sleeping bag, We rent out sleeping bags if you don't have one.
* Day pack.
* Trekking shoes.
* Water bottle or micropur in order to purify the water.
* Flash light.
* Sun Hat +sun-block.
* Personal clothing for trek and clothes for rain.
* Insect repellent.
* Camera with extra batteries.
* Snack.
* Clothes for cold and warm weather.
* Emergency money and money for the tips.