Individual south Peru in 20 days for adventure lovers, Peru different
[Sassy_Social_Share style="background-color:transparent;"]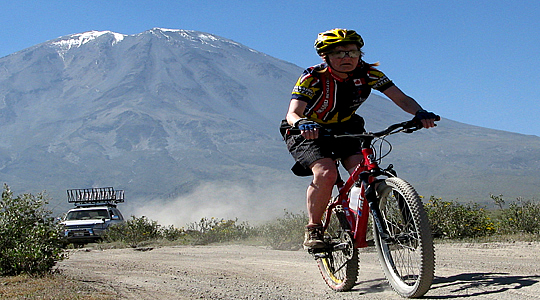 South Peru in 20 days, Special for active people/ adventurous lovers!
Individual tour with hotels/transport and excursions included
From Lima to —Lima
This tour is special for peaple who don't like to sit on buses for city tours, and instead, like to take some action!
In this tour you'll have trekking, mountainbike, rafting etc. Discover Peru different/ Action!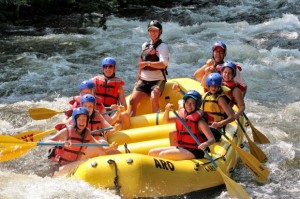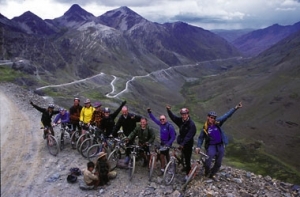 You can choose this tour in 3 options 
1 Budget tour : in hostals/ local transport / excursions in international group
2 Classic tour: in 3* hotels/ mix local transport – private / mix private excursions – international group
3 Luxe tour: all 4 * hotels / private transport / private excursions/ entrance fees included
Note: because of the adventure, it's not always possible 4 *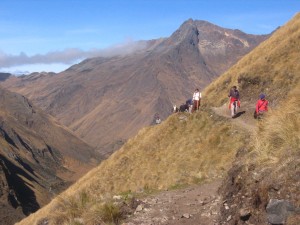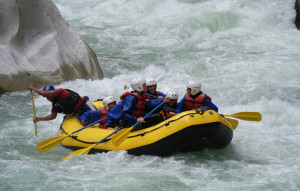 How do we work ?
In our packet, you'll travel all by yourself. Southamerica planet will take care for you. We'll reserve all your hotels and transport. When you arrive in Peru you'll get a personal briefing at your first hotel in lima. We give you all the vouchers for hotels, buses and excursions. You'll do excursions  in International groups with English speaking guides.
We also arranges your transfers and gives you the bus tickets to go from  A to  B,  like this, you'll travel around by yourself but without worries , all arranged through  Southamerica planet. If there are any problems, you can always find support by contacting our office in Cusco or Lima! During your trip we have contact by whatsapp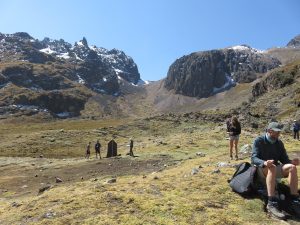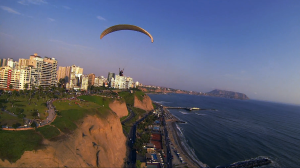 What is included?
* All bus transport, all hotels and all the tours as indicated in the program.
* All your vouchers, information package and general information over all the places you'll visit.
* All hotels are based on double room with private bathroom, single rooms on request for an extra price, all buses are based on good buses, we work most of the time with  Cruz del Sur, the best company in Peru.
* We can offer this tour in 3 or4  star hotels or local clean hostels or in a mix.
* All the transfers
Not included
* Your food, in the hotels breakfast is included.
* The entrance fees and taxes, like Nasca airport tax. (in 4* included)
* Local flight Cusco – Lima
* Some aditional excursions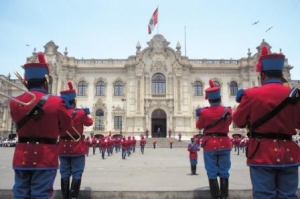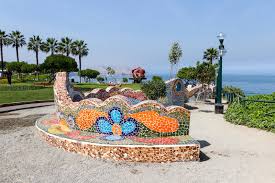 Day 1: Lima
You'll arrive at Lima airport and someone from Southamerica planet picks you up from the airport and brings you to your first hotel in Lima or Miraflores.
Included
Transfer
Hotel/hostal in Lima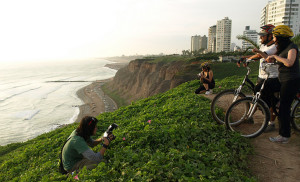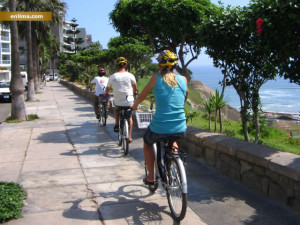 Day 2 :Lima
First day  in Lima. Today is NOT the standard city tour, but you will visit Lima by bike. You can choose 3,5 h in the morning, where you take the Bay tour, Barranco & Chorrillos, or 3,5 h in the afternoon and take the Urban tour, where you'll visit Miraflores and San isidro. After or before the bike tour, you can visit downtown Lima by yourself, also known as "the City of the Kings". The Main Square of Lima, upon which sits the Government Palace, the Cathedral, the Archbishop's Palace, and the City Hall. You can also choose to walk at the seafront in Miraflores.
Optional For the real adrenaline lovers, you can take the duo flight for 20 min on the cliff- seafront in Miraflores.
Included
3,5 h City tour in Lima by bike (in 4* private tour)
hotel/hostal in Lima
Not included
Entrance fee
transfer to start bike tour ( in 4* included)
Lunch + diner
Duo flight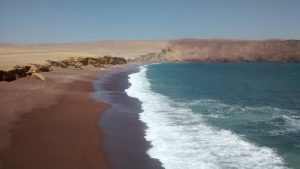 Day 3:  Paracas
Around 7 am or 1.30 pm you'll take the luxury Cruz del Sur bus to Paracas. It's about 4 h drive. Your hotel is close to the harbor with swimming pool. You can walk on the Boulevard and eat the delicious fresh fish or walk on the beach.
Optional: For active people, it's  possible to do some Kite surfing in Paracas, there is always  good wind.
Included
Transfer in lima
Bus tickets to Pisco ( private car in 4*)
Hostal / hotel in paracas
Not Included
Lunch + diner
Kite surf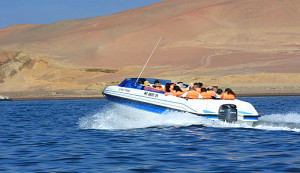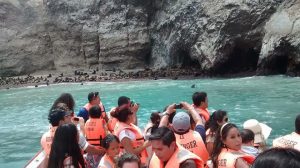 Day 4 : Ballestas + Sandbuggy Huacachina
This morning around 8 am you'll go by speedboat to the Ballestas islands. Paracas is known for its extraordinary marine wild life and wonderful natural setting. You'll enjoy a boat tour, lasting approximately 2 hours, around the Ballestas Islands, where you can observe countless species, including the world's largest sea lion colony. You can also view seals, penguins, turtles, albatrosses, pelicans, and seagulls. With many sea lions and birds. After this excursion you'll take a private car direction to Ica. First we'll visit the Pisco bruery ( to make you happy), then we'll continue to Huacachina where we have the 1 h amazing sand buggy tour through the sanddunes. You can also do some sand boarding. Pure adrenaline! After this tour, the private car will bring you in 3 more h drive to Nazca. This is where we have a hostal- hotel with swimming pool.
Included
Ballestas Islands tour
Private car to Nazca
1 h sand buggy – sand surf tour
Hostal/ Hotel with swimming pool
Not included
Lunch + diner/ piertax 13 sol/ entrance fee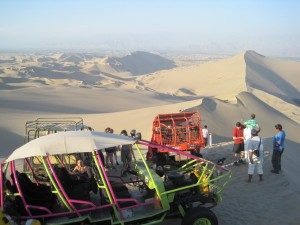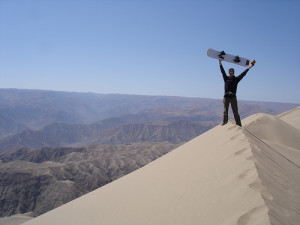 Day 5 : Nazca and Nazca lines
After breakfast you will be picked up at your hotel for your journey to the mysterious Nazca Lines! You'll board a small aircraft. During your  adventure, you'll see first hand several famous line figures, including the spider, monkey, astronaut, flamingo, parrot & condor among many others. Why were these figures created? Do they have an astrological or religious purposes? After your flight you'll visit Chauchilla. The area is named after the Nazca civilization that flourished there between 300BC and 800AD. At night you'll take the luxury night bus for 10 h to Arequipa. The bus leaves at 10 PM.
Included
Flight over Nasca lines 30 min
Transfer
Night Bus crusero to Arequipa (in 4* Bed )
Not included
Chauchilla
Airport tax 30 soles ( included in 4*)
lunch + diner
Optional: If you don't like night buses, you can take a day bus.
Optional mountain bike tour or climb and sand board cerro blanco, the biggest sand dune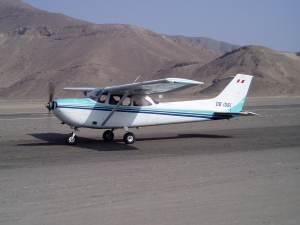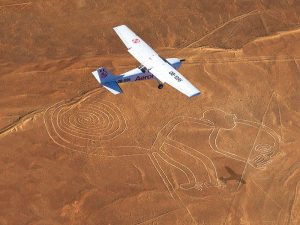 Day 6 : Arequipa / rafting
Early in the morning you'll arrive in Arequipa. The white city and its famous historical downtown. Visit the Plaza de Armas, the Church of the Company and the Church of San Francisco. The highlight of Arequipa is the 16th century Santa Catalina Convent. This beautiful complex of plazas and buildings is remarkably intact and remained closed to the outside world until 1970. You'll also visit the star of Arequipa "The Mummy Juanita ". In the evening you may choose to dine at one of Arequipa's many fine restaurants. Try the amazing alpacca steak. Action of the day, 1/2 day rafting on the Rio Chile.
Included 
Transfer
Hotel / hostal in Arequipa
1/2 day rafting
Not included
lunch + diner
other Excursion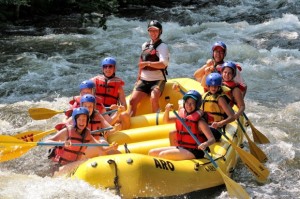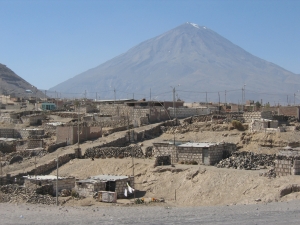 Day 7 : Arequipa- mountainbike downhill volcano
Next adventure At 8AM pick-up from hotel and drive in a four wheel drive for approximately three hours for the sector of CABRERIAS between MISTI and CHACHANI Mountains. We will stop in many places where you can take pictures of the landscape and visit the national reserve of SALINAS Y AGUADA BLANCA. Amazing view of conical form of Misti north face.
At 10AM we arrive at AZUFRERO (5000m). Here we conduct a brief safety orientation regarding the gears and brakes of our mountain bikes, the protective equipment, and a descripton of the route down.
FIRST PART
1000M drop on a nice zig zag compact road. This is stony and sandy with closed curves and sloped construction for a distance of 10 kilometers. It is recommended to go down at 10 – 15 KPH for those with less mountian biking experience.
SECOND PART
The motly level part called CABALLO MUERTO (Dead Horse) over 4000M. Here we ride our bikes 16 kilometers going bit by bit up to 4200m. At three times, the road is compact earth, the rest is sandy.
THIRD PART
This final part is the longest in distance with an elevation change of 2000m. We descend from the 4200M to Arequipa in approximately 2 hours. Following a paved road with minimal traffic, we connect with Charcani road, accelerating to a good speed between 40 – 45 KPH on the bikes.
Around 3PM or 4PM will be the last stop at Mirador de Carmen Alto, where we end the adventure mountain bike tour. You will then be taken back to your hotel.
Included
Hotel/hostal
1 day downhill mountain bike
Not included
Lunch + diner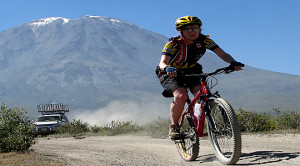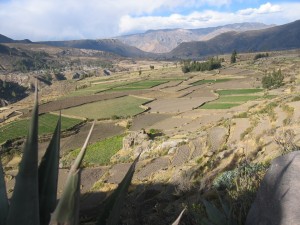 Day 8 : Colca Canyon 3 days trekking
Day 1 trek: We don't just take the Colca tour, but we'll do some trekking, like this you really feel the canyon. We will begin this adventure by picking up passengers from their hotels at 4 am to take an international group tour bus to Chivay. We'll have breakfast after we continue to Cabanaconde (approx. 5 hours). Here we will have lunch in a touristic restaurant. Then we will begin our walk and arrive at the Pampa San Miguel, where we will have an impressive view of the fabulous Colca Canyon . Then we will descend and after three and a half hours walking, we will arrive at the first community of San Juan de Chuccho (2,200m), descending approximately 1,357m to the River Colca. We will explore the surroundings and then carry on walking an hour and a half more to the next community of Cosnirhua (2,450m). Here we can enjoy our free time and shower with naturally water heated by the sun, as this place does not have electricity. Here we can rest, have dinner and spend our first night in comfortable cabins.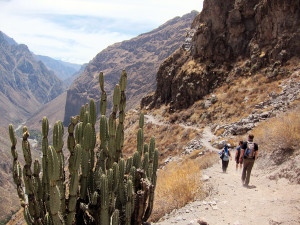 Day 9 :
Day 2 trekking: We will get up at the time decided by the guide, and before having breakfast we will visit the surrounding countryside where we will see different types of crops as well as fruit orchards. We will then visit the nearby school, where you can teach the children and share your travellers' tales with them. We will also visit the hospital in a precarious construction zone. We will return to have breakfast and then continue our walk and visit other annexes and communities, such as the Malata annex (2,450m), a place which stands out as the only annex with a 17 th Century Church, which still retains its colonial characteristics. In this community we will meet people who speak Quechua, after three hours walking we will arrive at the place where we will make a pause for three hours, at the oasis(1,230m). Here we will enjoy a pool of 24 degrees centigrade and go for a walk around the surroundings. We will have lunch here and then continue our walk (approx 3 hours) uphill to the town of Cabanaconde, where we will spend the night in a hotel with private bathrooms and hot water. Later we will go take a short walk and then have dinner in a restaurant.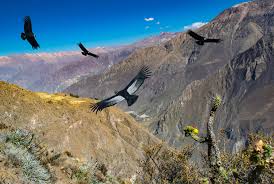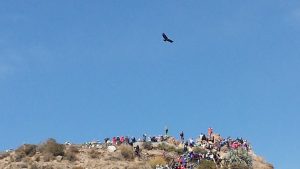 Day 10 :
Day 3 trekking We will get up at 6am to have our breakfast. Then we will go to the Cruz del Condor reserve where we can see the Condor, considered to be a sacred bird and worshipped by the Incas. Here we can appreciate the fabulous and elegant flight of the condor, as well as the depth of the canyon. After this spectacular wonderful we will take a local bus to Chivay, the most important town in the length of the valley. Here we change buses. We'll take a bus at 1.30 pm to Puno, over the Altiplano, where we'll arrive in the evening.
Included
3 days Colca Canyon trekking tour in internat group
Hotel / hostal in Puno
bus from Chivay to Puno
Not included
Entrance fee 70 soles ( included in 4*)
lunch + diner day 3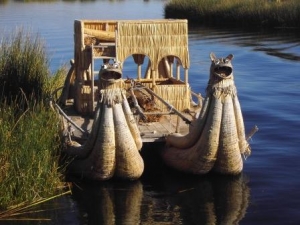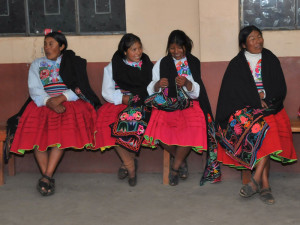 Day 11: Amantani – Titicaca 2 days
Today you'll will visit the incredible Lake Titicaca located some 3,800m above sea level and covering an area of over 8000 square kilometers.  You'll begin your tour by visiting the fascinating Uros Islands, home to the descendants of the pre-Inca Urus people, who continue to live on the floating islands, which are constructed by totoro reeds which grow around the lake.  It is said that, when seen from above, the lake looks like a Puma hunting a rabbit. Uros is comprised of about 40 islands, but the total number varies over time.  Then we'll go to Amantania Island, where you'll sleep on the island with a local family, basic but a nice adventure! They treat you as their own children. In the evening you'll sing and dance with the whole village in local clothes. This option provides a great opportunity to interact with the warm and hospitality from the islanders and to learn about their daily lives. We'll leave the big lugage in Puno and travel with a day pack. In the evening you'll climb up to the top of the island above 4,000 mt to see its amazing sunset.
Included
Transfer
2 days boat tour in internat group
Family stay (food included)
Not included
Present for the family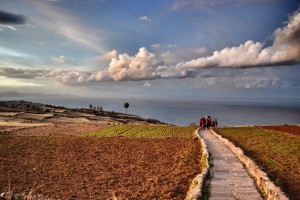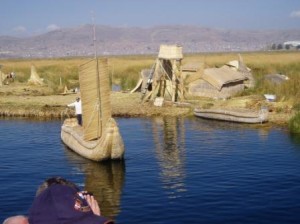 Day 12: Puno
After breakfast, we'll leave our local family and go to Taquile Island, another beautiful destination. The island still bears vestiges of a pre-Incan past. There are Aymara Indians. The intricated and brightly-colored textiles produced here reflect the inhabitants' Andean beliefs, myths, and ways of life. After a short but steep climb to the main village you'll enjoy lunch and spend the afternoon exploring the island and finding out about its people. The islanders are known for the beautiful textiles and garments that they produce, and interestingly the knitting of these garments is done exclusively by men.  Boat back to Puno /hotel Puno .
Included
Taquile tour
Hotel / hostal  in puno
Not included
Lunch and diner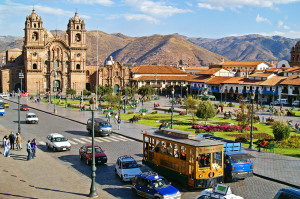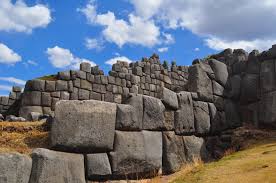 Day 13 : Bus to Cusco
After an early breakfast you will be transferred to the bus station  for your journey to Cusco. During this journey you will enjoy stunning views of beautiful landscapes of the the Andes. We will take the direct bus for about 6 h. Upon your arrival to Cusco, you will be welcomed by Southamerica planet.  In the evening there are many excellent restaurants to choose from in Cusco
Opcional: You can take the bus with stops at the La Raya Pass,  the Incan archeological site of Raqchi, renowned for its massive temple to the god Viracocha. Next on the itinerary is a stop at the village of Andahuaylillas, where you will see an actual architectural masterpiece: its main church, built in the 17th century, whose finely painted interior walls will astound you.
Also opcional it's possible to take the amazing but expensive train ride andean explorer Puno to Cusco 3 times a week
Included:
Transfers
Direct bus to Cusco ( in 4* bus with stops, meal + guide)
Hostal / hotel Cusco
Not included
Bus with stops / guide and meals
Entrance fee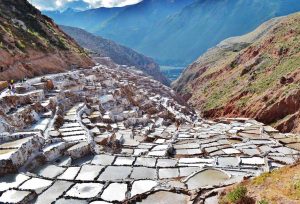 Day 14: Cusco mountain bike
Today we'll have another active day. We'll go on mountain bike tour to the saltpans of Maras and Moray reservoir through the nice sacred valley. This tour takes a whole day.
Included
Hotel / hostal Cusco
Mountain bike tour in international group ( private in 4*)
Not included
Entrance fees/ like Cusco visitor ticket 130 soles ( included in 4*)
Lunch + diner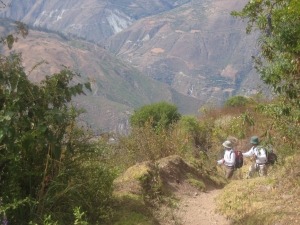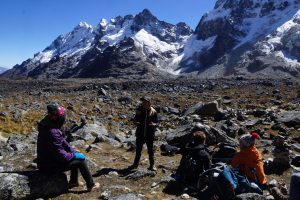 Day 15+16+17+18 : 4 days Salkantay or Lares trekking with Machu Picchu
Day 1: Cusco-Mollepata- Huayracmachay 5 to 7 h walk
You should have breakfast in your hotel prior to departure or take snacks with you. We will collect you early in the morning from your hotel and take private transport to the village of Mollepata (2.5 hours) where we will have breakfast/ or a snack (not included) and have a look around in the village. This is the traditional starting point for the Salkantay trek (5 days). We also suggest if you want to buy last minute supplies you can do so in Mollepata, which supports the local economy. We'll continue the tour in our vehicle for 1.5 hours more to Soraypampa, (3,800 meters) where we will start hiking. From here we'll gently climb for about 2-3 hours to Salkantay Cocha/Pampa. We'll have lunch very close to Salkantay Mountain and glaciers. After lunch and a rest we'll continue to climb steeply for 2.5 to 3 hours to the Salkantay pass where we will make small offerings to the apus (mountain spirits). This is the highest point of the trip (4,600 meters/13,451 feet). From here we descend for 3 hours to the campsite at Huayracmachay (3,854 meters) or Andenes (3,100 meters). Around the camp side you'll enjoy a beautiful view like a small river and all the mountains around Salkantay.
Total hours walking: 5 – 7 hours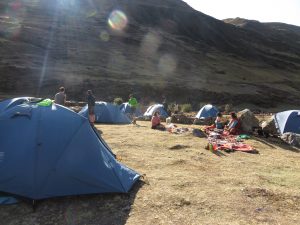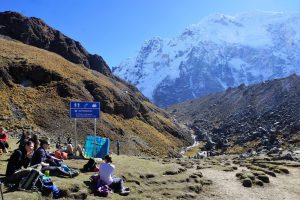 Day 2: Huayraqmachay –Chaullay- Colpachaca – Playa Sahuayaco 9 h walk
The second day we will have breakfast at 5.30 a.m. and continue walking at 6.00 a.m. This day will be long, but not really hard. After lunch we'll walk through the high jungle (known as the eyebrow of the jungle) enjoying the landscapes which offer us its natural beauty. You will be walking downhill most of the day and enjoying the different kinds of landscape and also different kinds of trees and orchids. When we reach Collpachaca we will have lunch (after 5 hours). In the afternoon we'll have a gentle descent for 3 – 4  hours to the small high jungle village of "La Playa Sahuayaco" (2010 mts). In playa it's possible to enjoy the afternoon with cold drinks because this is a warm place. You can also do some walks along the river. You'll walk for about 8-9 hours during this day.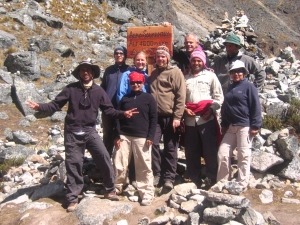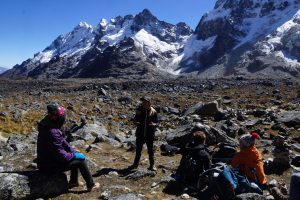 Day 3:Playa Sahuayaco- Llactapata – Hydro elecrtrica- Aguas Calientes 6 h walk
We'll leave early after breakfast, to climb for about 3 h inside to the jungle up to Llactapata (2,700 m.) where you see a lot of trees, flowers coffee plants, avocado trees, cocoa trees, banana trees and local people who live along the way to Llactapata (Inka side place). From here we'll have our first view of Machu Picchu. You'll have time to enjoy the beautiful view of Machu Picchu in the saddle of the opposite mountain. We'll descend very steeply on a muddy track for two hours (during a rainy season only), then you'll continue to see the impressive Machu Picchu Hydroelectric System where we will have lunch. After lunch, we will walk for 2.5 hours along the train tracks.
(Opcional for extra charge you can take the train) to arriving at the village of Aguas Calientes. Hostel in Aguas Calientes
Note: The climb to Llactapata depends on the condition of the group.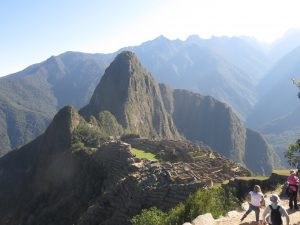 Day 4 : Machu Picchu – Cusco
You'll have breakfast very early, at around 5 AM in the morning. We'll take one of the first busses to Machu Picchu around 5.45 AM. We'll enter Machu Picchu and have a guided tour of the complex for around 2 hours. After this you'll have some free time to wander around by yourself. You'll walk to Inti Punko, the "Sun Gate" or go to the mountain behind Machu Picchu "Waynapicchu ", in 45 Min, from here you have stunning views over the whole complex, but be careful there is a new rule that only 400 people a day are allowed, it's included in your trip if on the day of your reservation there will still be permits left. If the permits are gone you can climb up to the sungate. After your free time you can walk down or drive down by bus to the town of Aguas Calientes for a late lunch (not included). In the afternoon we'll take the train back to Poroy or Ollantaytambo, transfer and arrive late at yout hotel in Cusco !
PS Traintickets / depending on what kind of ticket is available.
Included
4 days  Salkantay trekking
Hostal/hotel in Cusco
Not included
Lunch Day 4,  + sleeping bagg
Entrance fee, hot springs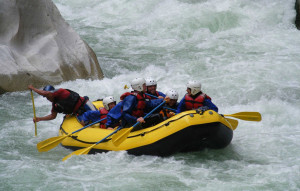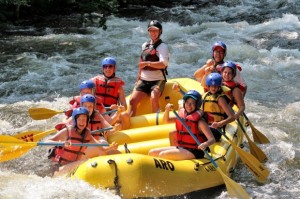 Day 19: Cusco Rafting
After breakfast, we'll have our last adventure in Cusco and go rafting on the side river of the Urubamba. This tour takes a whole day. Hostal- hotel Cusco
Included
Rafting
Hotel / hostal
Not included
Dinner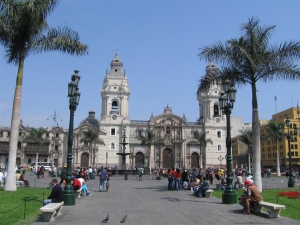 Day 20 : Lima + Flight Home
Transfer to the airport, flight back to Lima to connect with your international flight.
Optional you can stay 1 more night in Lima
Included
Transfer
Not included
Food
Transfer in Lima
Local flight to Lima
Extra night in Lima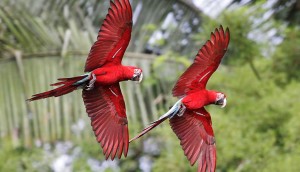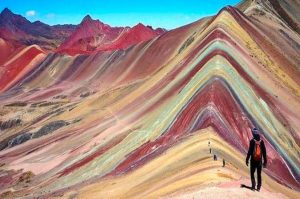 This program is only an example, we can make programs to all your needs !!!
Its also possible to extend with North Peru or relax some days at the beach.
1 flight included: 1 over the Nasca lines
This tour you can use as a base, you can add the 2 or 4 days Inca trail or extend this tour wit a visit to the jungle in Manu or Puerto Maldonado
People who like to do the very famous INCATRAIL , the 2 or 4 days (look at this website for the program ) have to make reservation for this ,together with the reservation of this tour .This Inca trail is so popular that it need more than 90 days reservation in advance !
Or go to water falls of iguazu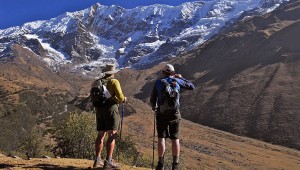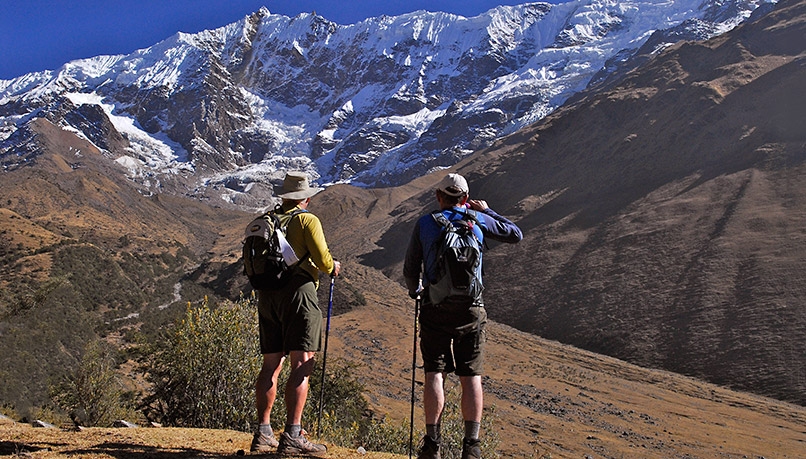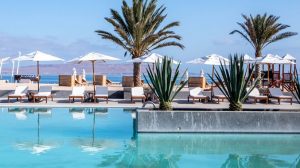 Click below for general info.