Jungle Rurenabaque, basic jungle lodge, pampas tour 3 days, Bolivian jungle
[Sassy_Social_Share style="background-color:transparent;"]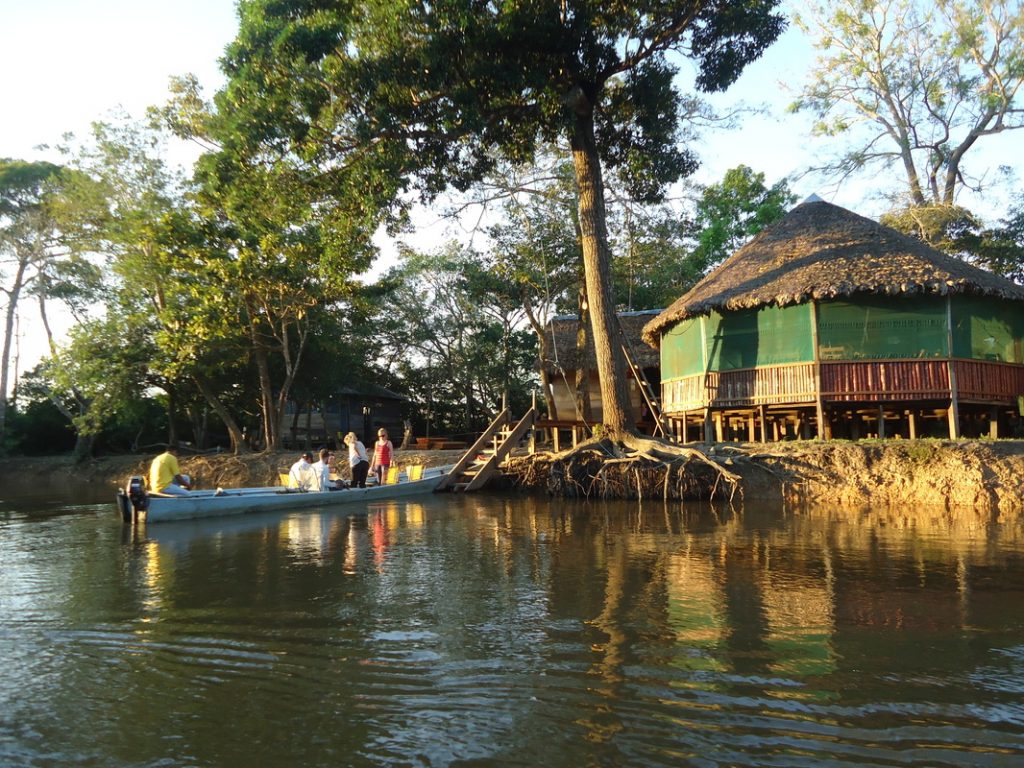 Cheapest jungle tour in South america
3 days Pampa 
tour for 3 or more days in pure jungle of Rurrenabaque- Bolivian Jungle
A different world between the animals, back to nature, swim with the dolphins!!!!!Tours in pampas with many animals ,Here we give you an example
of the 3 day tour in the pampas in Rurrenabaque
Not included
Flighs: (we also can arrange)
Entree fee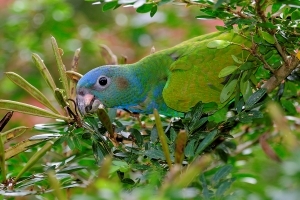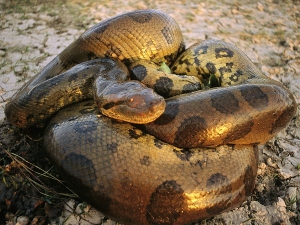 Day 1 Santa Rosa – Camp
8:30. We will travel in a Jeep 4×4 from Rurrenabaque to Santa Rosa. During the trip you will be able to see heron families; sloth's and lost of flora and fauna in the steaming lowlands of the Bolivian Amazon.
12:00 Lunch will be served in Santa Rosa
Board a motorized dugout canoe in Santa Rosa sailing the Yacuma River for a 3 ½ hours. During this navigation of this wildlife rich river you will be able to observe a large variety of reptiles and amphibians, lagartos, turtles, caimans, toads, lizards. Mammals like night monkey, red howler, brown capuchin, black spider monkeys, capybaras, storks, kingfishers, falcons, hawks and eagles—we will sail until Bibosi Ecolodge is reached. Lodging–Coffee, herbal teas will be served
We will continue with one and one-half trekking to observe a sunset. Dinner will be served upon return.
One and one-half hour night sailing trip by canoe in search of caiman and anacondas to observe how the eyes of these wildlife animals shine at night, we could also see other night birds like hawks.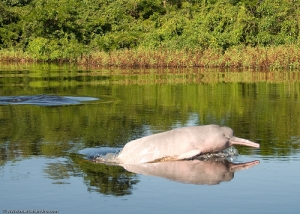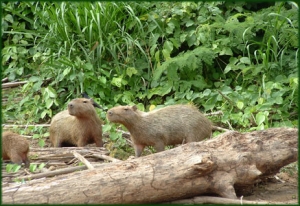 Day 2 animals + pink dolphins
7:00 Breakfast
8:00 Morning hike through the Pampas to reach some small lagoons and rivers where you can see anacondas, snakes. You will observe some eagles in search for their food, usually snakes. There is a vast selection of tropical plants and flowers amongst them wild orchids like the Queen Victoria, taropes and many more.
12:00 Lunch and break
Board a canoe for an exploration of this wildlife rich river, experience pink dolphins; you'll have a chance to swim with them. You will also see turtles, capybaras and many large water birds flamingos. If you like to fish, this is your opportunity to catch some piranhas.
8:00 Dinner – We will share with you the richness of the indigenous cultures. We will invite you a glass of wine courtesy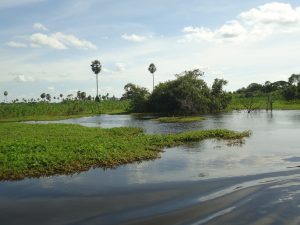 Day 3 Sunrise
5:30 Arise early for bird watching, trip on a dugout boat for one and one-half hour to see the sunrise and listen a symphony of birds signing. You will also hear some parrots, macaws, guans, brown capuchin monkeys.
7:00 breakfast
8:00 We will travel by canoe on the Yacuma River until we reach some small forest islands–along the shores you will see wild geese, neotropicals cormorants, toucans, swamp deer's, caimans, sloth's. You tour guide will share some knowledge of the surroundings while you encounter and enjoy a vast diversity of animal life. He will also share with you information on plants and their medicinal uses.
12:00    Lunch To return to Santa Rosa, we will sail the Yacuma River for one and one-half hour
14:00 the trip from Santa Rosa to Rurrenabaque is going to be made by a Jeep 4X4.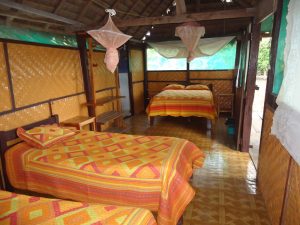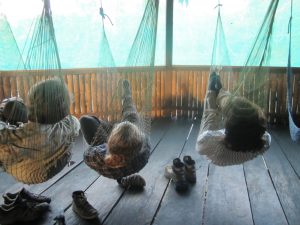 Included
*Native Guides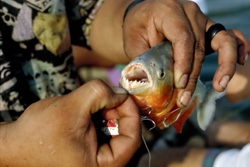 *Driver
*Cook (eaten vegetarian and not vegetarian)
*Boots
*Bottled mineral water
*Assistance medical
*Complete Meals (breakfast, lunch and dinner)
*Transport in 4×4, boat to motor
*Camping equipment (beds, savannahs, blankets)
*Baths with shower
not included
Entrance to the Santa Rosa Park (Bs 150.-)
Recommendation on what to bring
*Clothing suitable for humid, tropical weather, for trekking through bushes and traveling by boat, canoe
*4-6 pair of socks

*4 – T-shirt *2 shorts for walking
*2-3 cotton pants (or other light material)
*3 long sleeved cotton shirts (for sun and mosquitoes)
*Hiking boots
*Sneakers (rubber shoes for boat trips)
*Light windbreaker
*Bathing suit
*Hat or cap
*Sleepwear
Equipment
*Camera and film
*Pocket knife
*Sun glasses
*Notebook
*Flashlight w/batteries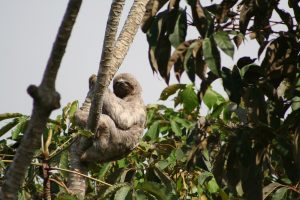 *Binoculars
*1 medium to large backpack
*Towel
Other
*Documents (Passport or any other type of ID)
*Insect Repellent (90-100% DEET)
*Vitamin "B" to repel mosquitoes
*Copy of vaccination record for yellow fever and tetanus
(Malaria is not present)