Lares 4 days, Machu Picchu, Calca, lares hot springs, local villages huacahuasi, official operator cusco peru
[Sassy_Social_Share style="background-color:transparent;"]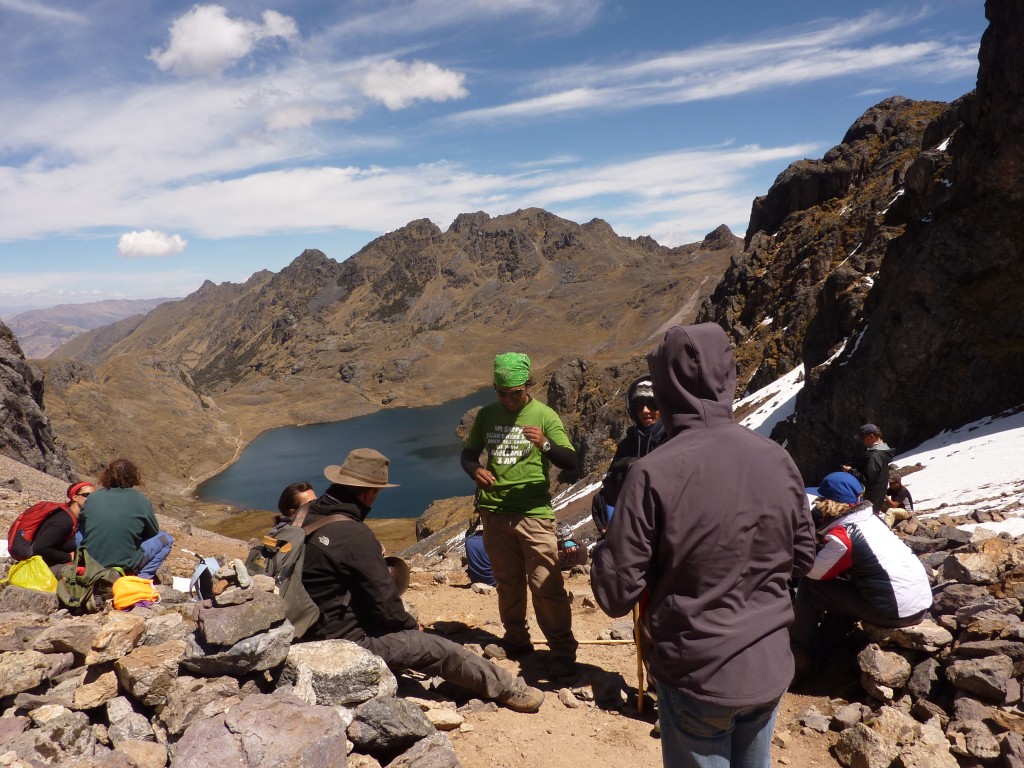 This trek is a good alternative when there are no permits left for the Inca Trail
We are official trekking operator
Altitude: 2850 – 4600 m. / 9350 – 14236 f.
season: Whole year
Duration: 4 days / 3 nights
Level of difficulty: Normal / Moderate  Click to see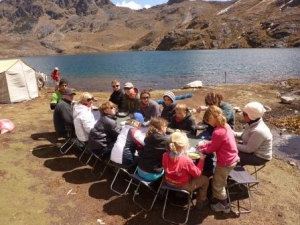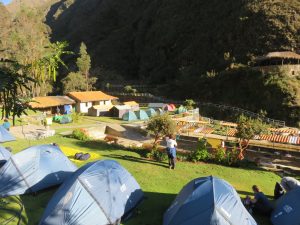 Introduction:
For those who like to avoid the crowded routes like the Inca trail we have added a more rustic tour, the 3 or 4 days trekking in the Lares Valley. This less-known hike combines amazing mountains and lakes. Beside that you can see lamas and authentic textile from the Quechua communities; you will meet local people and pass by small villages. Up in the village of Lares you can enjoy fabulous hot springs. This program can be altered, depending on the physical condition of the Group. Campsites are subject to change according to our guides' criteria and the evolution of the group.
Watch our video about the Lares trek on Youtube  Lares Pictures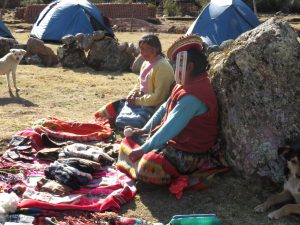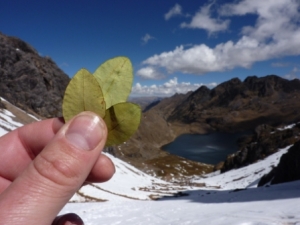 First day: Cusco – Lares hot springs – Huaca huasi 4 h walk
You will be picked up at your hotel at 5.00 a.m. from where we will travel straight to Lares (4 hours by bus). Along the way you will be passing the highest point of 4265 m.a.s.l. where you get to see a few glaciers such as Sawasiray and Pitusiray. After 4 hours of driving you will have lunch in the valley of Lares (3207 m.a.s.l.). At Lares you´ll have the opportunity to visit the hot springs or walk around the area. After a good rest we will start climbing up from 3207 (Lares) to 3800 meters above sea level (4 hours). During this hike you will have some amazing views and get to know the local people even better.
After a day of walking we arrive at our camping site in Waca Huasi, which is a charming little community. You can walk around in the village, or even play football with the locals. After dinner you can take a good rest in one of the comfortable tents.
Second day: Huaca wasi-Miski unuyoc 6 to 7 h walk
Your wake-up call will be at 6.00 a.m. Today will be the hardest day. After breakfast we will start hiking for at least 4 hours before we reach the Huaca Wasi pass (4600 m.a.s.l.). During this hike you will see a lot of typical South America animals, like llamas and alpacas. When you reach the top you will have an amazing view over the Auroray Lake (Blue Lagoon). Sometimes we have to walk through snow on the pass. We will offer some coca leaves for pacha mama (mother earth) and start walking down toward the lake where we will have our lunch break. After lunch we will continue hiking to the second camp site: Miski Unuyoc (1,5 hours). Miski Unuyoc located at 3800 Mt. This is an open area with views of the snow capped mountains. At this campsite it can be very cold but at night we can make a campfire to keep warm.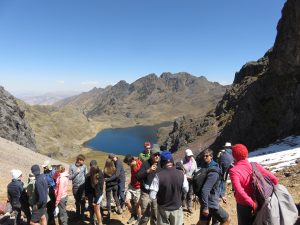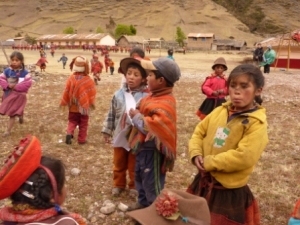 Third day: Misky unuyoc Yanahuara – Ollantaytambo – Aguas Calientes 3 to 4 H walk
Today the wake-up call will be at 7.00 a.m. After a healthy breakfast you will start hiking around 8.00 toward Yanahuara (2950 m.a.s.l.). Yanahuara is a beautiful town with a very nice climate, located in the Urubamba Valley. This area is one of the major suppliers of food products for Cusco such as corn and vegetables. We will walk down him for about 3 to 4 hours until the beginning of the village of Yanahuara. After a lunch break in the village we will continue our trip by bus to Ollantaytambo where you will take the train to Aguas Calientes. After a 2 hour train ride we will arrive at Aguas Calientes. You will spend the night in a hostel with private bathrooms. After checking in at your hostel you are going to have dinner in a local restaurant. At this time our tour guide will give you some information about the next day. There will be an option to visit the hot springs or have a cold beer in one of the bars in the village.
PS : It is possible to do the Lares trek without visiting Machu Picchu and return from Yanaguara to Cusco on day 3.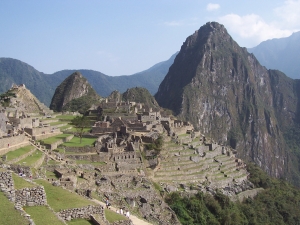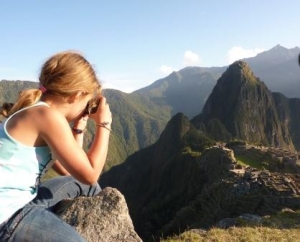 Fourth day: Aguas Calientes – Machupicchu – Cusco
Today you will have breakfast at 5.00 a.m. At round 5.45 a.m. you will take one of the first busses to Machu Picchu. At Machu Picchu you will have a guided tour that tells you all about this wonderful and interesting Inca village. The tour will last for about 2 hours. After the tour there is enough time to take photos and explore Machu Picchu by yourself. After you are done exploring Machu Picchu you can walk down, or take the bus (included in the price) to Aguas Calientes to have lunch (not included).
You also can climb the Wayna Picchu Mountain, from where you can take some amazing photos of Machu Picchu (included in the tour if at time of reservation there are still permits available). Or you could also walk up to the sun gate. In the afternoon you will take the train back to Ollantaytambo or Poroy, from where there will be a transfer to Cusco, where you will arrive late evening after an amazing 4 days!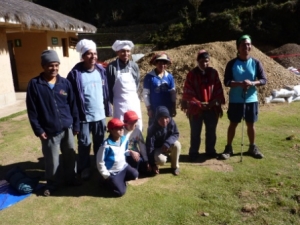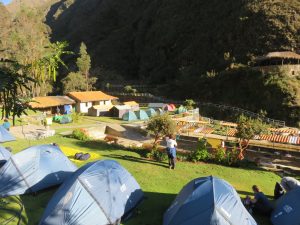 Information 
* Departure and arrival times are approximate.
* Campsites are subject to change according to our guide's criteria and the evolution of the group
* keep in mind that October – November there can be more musquitos along the river
* Custom made programs may be prepared for groups with special interests. Extra nights, optional starting and ending points, additional tours and extra flight reservations may be arranged upon request. All tours may be provided in private upon request as well.
NOTE: When we are in high season and there is no possibility for a return train, we will transfer you by bus from hydro electrico to Cusco.
* Entrance to Wayna Picchu is only possible when you reserve at the same time as you reserve your trek, and is dependent on availability.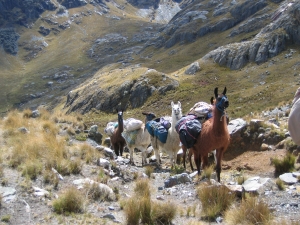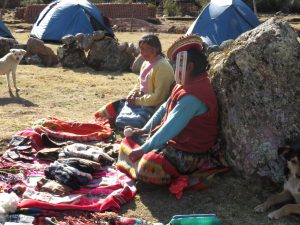 It includes:
* Transport from  Cusco to Lares.
* Professional bilingual guide + Porters or horses (The horses will carry up to 5kg per person).
* Kitchen Equipment + Food (3D, 3 B , 3D)( vegeterian option possible).
* Camping Equipment, tent and mattress.
* Hostel in Aguas Calientes (double room).
* Bus up and down to Machu Picchu.
* Entrance fee to Machu Micchu and Wayna Picchu if there are still permits available at the time of booking.
* Train from Ollantaytambo to Aguas Calientes and Aguas Calientes to Poroy or Ollantaytambo. (If we are in high season and there are no train tickets available we will bring you back to Cusco by bus from hydro electrico).
* Transfer to Cusco
It does not include:
*Entrance to the hot springs (10 soles).
*Sleeping bag.
*Walking sticks.
*Personal insurance.
*Extra night in Aguas Calientes.
*Extra horses (170 USD 3 days).
What do we need when you make a reservation?
* Full name as it is written in your passport.
* Fax or scan of your international ISIC student card (if you have one the tour will cost $18 less).
* Passport number.
* Nationality.
* Date of birth.
* Departing date for the trail.
* We ask for a 40% deposit, sending to us via Western Union, or via visa online through this website +5,5 % ( the extra charge of credit cards), to pay click on the Visa or Pay pal sign at the right of this page.

The balance you will pay at our office in Cusco before the start of the trek. We accept cash USD or credit card (+5,5%)
What you should bring:
* A light back pack with a change of clothes for the whole period of the trek – prepare for a vast range of changes in temperature.
* Rain gear (jacket and pants if available) or rain poncho.
* Plastic ponchos can be bought for about $1 in Cusco.
* Strong footwear, waterproof trekking boots recommended.
* Extra socks are a must.
* Sandals are also good to give your feet a chance to breath in the evenings.
* Warm clothes, including jacket, fleeces, gloves, scarf.
* Thermal clothing is also recommended, especially for sleeping.
* Sleeping bag (we can rent this to you if you like).
* Torch/Flashlight and spare batteries.
* Camera, films and batteries (batteries consume quicker under cold conditions).
* Hat or cap to protect you from the sun, rain and cold.
* Sun block + After-sun cream or hydrating cream for face and body.
* Insect repellent – minimum recommended 20% DEET – although NO malaria risk has been reported.
* Toilet paper in plastic bag.
* Snacks: biscuits, energy bars, chocolate, raw fruits, muesli, etc.
*  Non-disposable canteen (Nalgene type) and water for the first morning.
* We advise you to bring water sterilizing tablets in case you collect water from streams.
* Your own medical kit with any special medications that you might require, paracetamol, plasters for blisters etc.
* Small towel or sarong.
* Swimsuit (if you intend on swimming in the hot springs).
* Cash – sufficient for snacks, tips and souvenirs.
* Original passport & ISIC (International Student Identity Card) if you have one.
* Walking sticks or poles (we can rent these to you. Please note poles with metal tips cannot be carried into Machu Picchu and should be left at your hotel on the final day).
* Binoculars (if you have them).