luxury cruise, 4 days, amazon river Iquitos, Aqua Expedition's, Iquitos, north Peru
[Sassy_Social_Share style="background-color:transparent;"]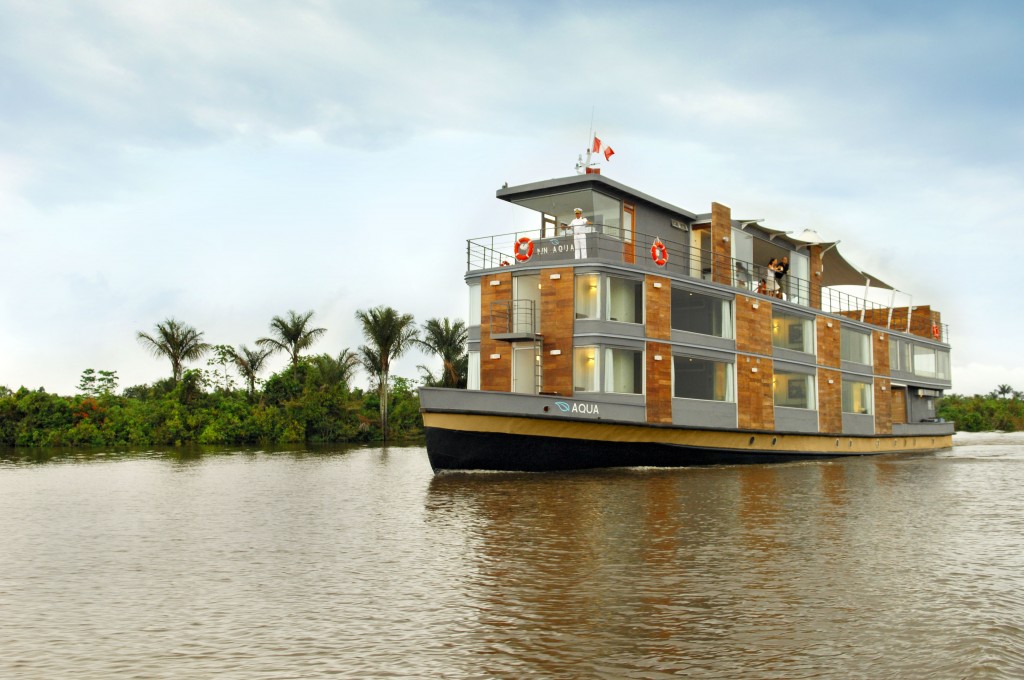 Embark on the voyage of a lifetime,
sailing the earth's mightiest river — the Amazon.
The first luxury vessel in the region, the M/V Aqua caters to the most discriminating and adventurous of world travelers, providing an unforgettable journey into areas penetrated by only a privileged few. As your ship docks along the river, knowledgeable and experienced naturalists will take you, via small launches, into remote estuaries in the Peruvian rain forest and the Pacaya Samiria Reserve. As you explore these pristine wilderness areas teeming with wildlife, you will also encounter local people living in villages as they have for centuries. And when the day's sightseeing is over, the comforts of your luxurious floating hotel will await you.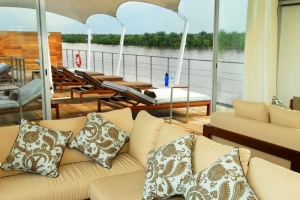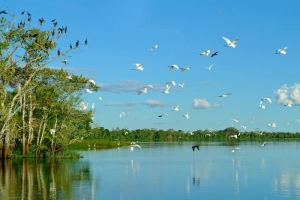 Accommodation
M/V Aqua is Aqua Expedition's 130-foot flagship. Its 12 luxury guest suites, designed by an internationally renowned Peruvian interior designer, measure a generous 230 to 240 square feet, and feature large, outward facing panoramic windows and en suite sitting areas. All suites are air conditioned, and four are interconnected, to cater to families. Guests can socialize in the dining room, bar, on the observation deck and in the outdoor lounge. There is also a small boutique. You'll be served by a crew of 16, plus three skilled guides. Rates include all excursions, meals, and wine with meals.
Here we show you the Low water program June to November

Ask for the High water program from  December to May
4 days 3 night Program / Ask us for the 5 days program
Day 1: Saturday Iquitos/Amazon river
5:00 p.m.        Arrival
Your Guides await you, as your flight from Lima glides in for landing at Iquitos International Airport. After you've claimed your luggage, you will board an air-conditioned bus and transfer to Iquitos' main wharf. There the M/V Aqua awaits your arrival.
As you settle into your over-sized suite, your vessel will start on its journey toward the Yanayacu River, deep in the heart of Amazonia. Over the next days, you will also sail along the two largest tributaries of the Amazon, the Ucayali and the Marañon, as well as on the mighty Amazon itself. You are embarking on a spectacular adventure, to a place visited by only a few of even the most experienced world travelers.
8:00 p.m.        Safety Drill and Briefing on the Top Deck
Before dinner, we will perform a routine safety drill. Following that, your Cruise Director and Guides will give a brief orientation talk about life on board, where you will go, and what you will see on your Amazon journey.
8:30 p.m.        Welcome Dinner
Peruvian cuisine is considered one of the world's best. Here it is presented with a touch of European flair, and a vegetarian dish is always available. Raise a glass of fine South American wine to toast the beginning of a beautiful journey, then look out the window and watch the river go by as you experience your first wonderful meal aboard the M/V Aqua.
Perhaps enjoy a nightcap under the stars before retiring.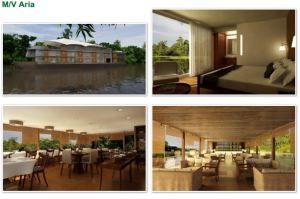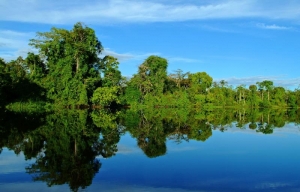 Day 2: Sunday amazon/Tahuayo/rivers and charo lake
6:30 a.m.        Early Morning Skiff Expedition on the Amazon River
Be up early to catch your first glimpse of the majestic Amazon River, as you watch the sun rise over this green world filled with wonderful wildlife. This initial contact with Amazonia is only a brief sampling of what the rest of your journey will hold.
8:00 a.m.        Breakfast
Our sumptuous daily breakfast buffet features a wide choice of traditional breakfast egg dishes, plus Peruvian specialties, and fresh-squeezed fruit juices.
9:15 a.m         Tahuayo River Exploration and Fishing Trip at Charo Lake
This morning you will board our comfortable excursion skiffs for your first adventure, traveling from the Amazon through the Huaysi short-cut canal to explore the Tahuayo black water river. Life jackets, ponchos, rubber boots, and plenty of cold potable water will always be available for you on board the skiffs. As we float down the Tahuayo, occasional fishermen paddling in their dug-out canoes will give us a cheerful greeting. Keep your binoculars ready to spot a vast variety of wildlife: terns, orioles, blackbirds, black collared hawks, monkeys, and sloth share this wonderful environment with us. Upon arrival at Charo Lake, you can bait your hooks to try to catch one of Amazonia's fearsome piranhas (and other fish as well). As you fish, trained guides will also tell you the story of the lake and its inhabitants.
11:30 a.m.      Return to the M/V Aqua
Icy cold towels await you, as you transfer from your skiffs into the M/V Aqua. As the vessel continues up the Amazon River, you have some time to relax, or perhaps even take a nap, before lunch.
12:30 p.m.      Lunch
Enjoy lighter mid-day fare in our air-conditioned dining room.
4:00 p.m.        Yacapana Islands Exploration and Dolphin Sighting
Locals call the Yacapana Islands the "Iguana Islands," because of the huge population of these reptiles—like tiny dinosaurs—crawling over the ground and resting in the tree tops. We will pass by in the skiff, giving you a chance to snap good photos. As the sun sets, you will have the once-in-a-lifetime opportunity to see and photograph both gray and pink freshwater dolphins. The people of the Amazon believe that these dolphins turn into humans to steal handsome men or pretty women from their villages during celebrations.
6:30 p.m.        To the Headwaters
We will return to the M/V Aqua vessel and continue our journey upstream, toward the headwaters of the Amazon River, where the Ucayali, Marañon, and the Amazon Rivers merge.
Perhaps sip a pre-dinner pisco sour on the Upper Deck, while you watch the sun set.
8:00 p.m.        Dinner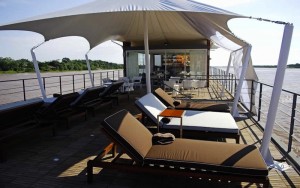 Day 3: Monday Maranon river/Pacaya samiria ntional reserve ( Yanayacu pucate)
6:30 a.m.        Breakfast
7:30 a.m.        Guided Jungle Walk in the Primary Forest
This morning your Naturalist Guide will tell you all about sustainable resource management projects in Amazonia. You will visit one of these projects, where villagers are planting palms to obtain oil. Your Guide may also show you the artificial nests created on the sand to protect turtle eggs. Then we will take you deep into the jungle, where you will encounter wildlife and learn first-hand about the important medical value of jungle plants. And we will show you famous Kapok Trees (ceiba pentandra), the tallest trees in the Amazon Basin.
12:00 a.m.      Return to the M/V Aqua
12:30 p.m.      Lunch, followed by a Siesta
3:30 a.m.        Monkey / Dolphin and Caiman Expedition
In this late afternoon skiff excursion, you are likely to see howler and capuchin monkeys, the squirrel-sized monkeys called tamarins, and a vast variety of birds. You are also apt to see the two different kinds of freshwater dolphins—including the unusual pink ones—found in the Amazon. Later, keep your eyes directed toward the jungle canopy, where you can spot at least several kinds of primates—among the 13 species of monkeys resident in the National Park. Perhaps you will catch a glimpse of tamarins and dusky titi monkeys and pigmy marmoset monkeys. Watch for alligators, and keep your binoculars at the ready, as you are likely to see more than 200 species of birds. As the sun sets and our searchlight comes on, keep your eyes out for caimans, tree boas, tarantulas, and frogs. After this night adventure, the M/V Aqua will start sailing downstream on the Marañon River, back toward the headwaters of the Amazon.
7:30 p.m.        Arrive at the M/V Aqua.
8:30 p.m.        Dinner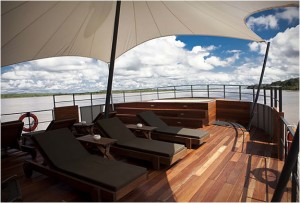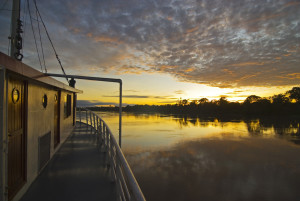 Day 4: Tuesday  Yucuruche lake , birthplace of the amazon, puerto prado village, iquitos
6:30 a.m.        Ucayali River and Yucuruche Lake
Rise early and be on your skiff at 6:30 AM. This morning we will travel by skiff along the Ucayali River to Yucuruche Lake, where we will walk a little way into the jungle to see the world's largest aquatic plant, the giant water lilies or "Victoria Regias". You will be one of a very small number of people who have ever seen these plants bloom.
8:30 a.m.        Breakfast
9:15 a.m.        Birthplace of the Amazon/Puerto Prado Village
This morning, the M/V Aqua skirts the edges of the vast Pacaya-Samiria Reserve, a flooded forest covering five million acres at the headwaters of the Amazon basin. Here—where the union of two major tributaries, the Ucayali and the Marañon, form the world's greatest waterway—nature is at its most dramatic. Your morning excursion will be accompanied by abundant bird song, as you glide in small boats past river banks populated by large-billed terns, laughing falcons, gray tanagers, sandpipers, five kinds of parakeets, the exotic short-tailed parrot, and dozens of other birds.
We will then travel by skiff to Puerto Prado native village, where you will meet and interact with the hospitable native Cocama Indians. They will share their culture, traditions, and folklore with you, and you will have the opportunity to purchase some of their handicrafts and delightful folk art.
11:00 a.m.      Return to the M/V Aqua
11:30 p.m.      Lunch
Share a final onboard lunch with the friends you have made on your Amazon journey.
12:30 p.m.      Disembarkation
Step off the M/V Aqua in the small city of Nauta, where your air-conditioned bus awaits you. Enjoy a 1 1/2-hour drive through the Peruvian countryside. On our way to the airport, we will visit the Manatee Rescue Center where biologists and volunteers take care of endangered Amazon manatees and dolphins who have been seized by conservation authorities from locals or fishermen. Biologists will give you a presentation on the project and it efforts to help these helpless mammals and you will have the opportunity to observe how these animals are taken care of and prepared for future re-introduction into their natural habitat. Finally, we will stop at the San Juan Amazonian Indian Market, for a last chance to shop for local crafts.
When arriving at Iquitos International airport, your guides will assist you with your baggage and check-in, and will wait with you until you are ready to board your flight to Lima.
5:00 p.m.        Departure. Your flight leaves for Lima.
Note: All itineraries are subject to change, due to weather and other conditions.  All times indicated are approximate, and are also subject to change.
Amazon River Cruise Dates
Aqua Expeditions operates every week of the year and all of our Amazon River cruise departure dates are guaranteed.
---
Ask for our fixed departure dates!
Included in your all inclusive rate are:
*All meals while onboard
*All excursions
*Wine with meals
*Transfers to/from vessel when arriving on recommended flights
*Pacaya Samiria entrance fee
Not Included:
*Air tickets to and from Iquitos
*Guide and crew tips
*Bar and Boutique purchases
---
Reservations & Deposits for your Amazon Cruise Booking 
*Cruise rates are per person, double occupancy.
*For reservations made 91 days or more before departure:
We ask 40 % deposit /The final balance is required 90 days prior to departure. If the payment is not received on time, the space(s) will be automatically released.
*Reservations made 90 days or less prior to departure:
A full, non-refundable payment is required to confirm the booking.
Cruise Cancellation Policies :
*For cancellations made 121 days or more before departure:
The deposit will be refunded, less a US $100 service charge per person.
*For cancellations made 120 to 91 days prior to departure:
All deposits are nonrefundable.
*For cancellations made 90 days or less prior to departure:
Full payment will be applied as the cancellation penalty.
Medical and Health Requirements
Guests should be in good physical health in order to be able to make the most of their Amazon Cruise. Visiting the area involves the use of small motorized skiffs and at times may include some possible wet landings. The daily nature excursions may include walking on irregular terrain, and getting in and out of the skiffs occasionally requires some physical effort. Walking excursions may last up to one hour. Malaria and yellow fever vaccinations are not required for travelers coming into the region, but are recommended.
Travel Insurance
Travelers are strongly advised to purchase trip cancellation insurance, which will reimburse the cost of air tickets and other non-refundable trip payments. International medical, baggage loss and delay insurance are also recommended. M/V Aqua's operator, assumes no liability for lost or stolen personal belongings.
Vessel Replacement
Aqua Expeditions reserves the right to substitute another vessel for the M/V Aqua if considered necessary (i.e. force majeure or mechanical failure). If the travelers do not take this option, Aqua Expeditions reserves the right to cancel the trip upon a refund pro rata per cruise night not used or, as an alternative, will offer credit toward a future cruise on the Aqua.
Pacaya Samiria Reserve Restrictions
The Pacaya Samiria Reserve is a protected area and visitors are required to comply with certain rules and regulations. The naturalist guide will inform passengers of these rules. The Pacaya Samiria Reserve and Aqua Expeditions, through the guide onboard, reserve the right to deny any passenger disembarkation for visits if any of these regulations are ignored or violated.