Start Packet Lima, culinary, gastronomic tour for food lovers!
[Sassy_Social_Share style="background-color:transparent;"]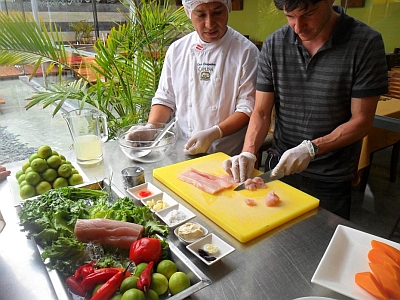 Here we give you options to discouver Lima different
Food is amazing in Peru, thats why we offer you 3 special tours where you can taste peru !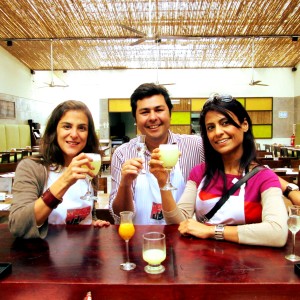 You can choose this tour in 3 opcions ( the tours are possible in 2 or 3 days)
1 Budget tour : in hostals
2 classic tour: in 3* hotels
3 Luxe tour: all 4 * hotels
Lima, a city of 9 million  habitants with many districts. Make it yourself easy, after a long flight! Don't hassle for a taxi, you don't know the prices, don't know where to go etc,
Let us pick you up from the airport! Someone of Southamericaplanet pick you up at the airport with  a sign with your name. This person brings you direct to the hotel of your choice. Lima/ a fantastic city with many options for food lovers,  learn to cook your own Peruvian meal and Pisco sour.
Look below the 3 programs 
LIMA A 

 

With Sky citchen, own coocking class + market ( smal group)

Day 1
transfer inn from airport lima to your hotel
hotel – hostal in miraflores
Day 2
coocking classes with Sly citchen + market visit  9 am to 14 h
lima by night city tour + waterfountains in international group 17,40
Day 3
transfer out  lima
| | |
| --- | --- |
| LIMA B | With Haku own coocking + market + walking tour ( smal group) |
| Day 1 | transfer inn from airport lima |
| | hotel hostal in miraflores |
| Day 2 | Haku tour Market + coocking + Pisco sour classes 4 h |
| | afternoon city – walking tour in old lima 3 1/2 H |
| | hotel / hostal  miraflores |
| Day 3 | transfer out  lima |
| | |
| --- | --- |
| LIMA C | With Lima vision, demonstation  |
| Day 1 | transfer inn from airport lima |
| | hotel hostal in  miraflores |
| Day 2 | Lima Culinari tour in group + market + Pisco sour |
| | Lunch in la rosa nautico |
| | city tour lima in group |
| | waterfountains evening tour international group |
| | hotel / hostal  miraflores |
| Day 3 | transfer out  lima |
LIMA A   coocking+ market + city tour by night and fountains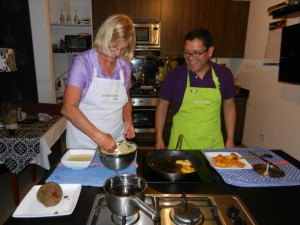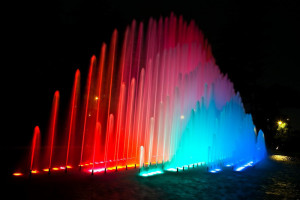 The market tour takes place from 9am – 11am before our  lunch class (11am – 2pm).
Program:
Tour through a market in Lima
Tasting of fruits from Peru bought at the market
Cooking class with the preparation of one of our meals:
Peruvian classic meal
Start 9 Am  from Monday to Sunday for 4 1/2 h
To prepare your own 4 course meal Peruvian Classics  
1st course: Causa Rellena
2nd course: Ceviche (Tiradito for 2nd time visitors)
3rd course: Lomo Saltado
4th course: Picarones
Includes non-alcoholic drinks; bring your own wine
Fountains of Lima + city tour by night/ from 6 Pm
Be surprised by the largest compound of electronic fountains in the world
Guided excursion to the "Magical Water Circuit" the largest water fountain compound in the world, certified by Guinness World Records. Here you will enjoy a wonderful display of water, light, music and images presented at Reserve Park, one of Limas' most beautiful urban areas.
————————————————————————————–
LIMA B  Peruvian Cooking Lesson + Local Market Tour -+ Pisco Sour Lessons+ walking tour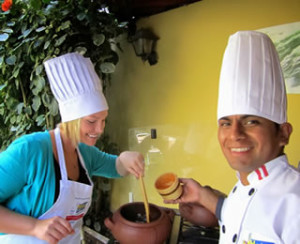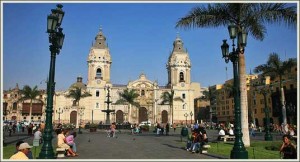 This class is for people who love traditional foods and want to make it at home! You'll love the relaxed atmosphere with no dull demo's, because we believe in the hands-on approach. You will make an authentic Peruvian dish to tantalise your tastebuds and later enjoy your achievements.To cook, we use ceramic pots the same as our ancestors did on this way we will keep all the flavour as more natural they are.
You have to choose 1 among the next dishes:
FISH  the Peruvian dish we cook with fish is:
"Sudado de Pescado" Steamed Fish (Main Course), with red onions and fresh herbs; cook with yellow half spicy souce, as starter we will cook our Peruvian National dish called "Ceviche!" the most popular dish among Peruvians! It is about small size pieces of fish marinated raw in fresh aromatic lime juice tender onions, boiled sweet potatoes mixed with or without Andean hot chilis
CHICKEN; for chicken we cook:
"Aji de Pollo" in English chili chicken (Main Course), consists of thin strips of chicken served with a creamy yellow and spicy sauce, made with ají amarillo (yellow chilis), cheese, milk, cronchi bread. As starter, we will teach you to prepare the most 2 Typical Peruvian souces: Papas a la Huancaina (Huancayo-style potatoes) this souce came from the middle of the Andes of Peru and Ocopa souce came from the south of the Andes near to Cusco, both starters consisting of a creamy slightly spicy sauce, one made with the freshest aromatic herbs from our Mountains and the other fresh local chili with cheese souce both served with native organic sliced boiled potatoes.
MEAT; or delicious
"Lomo saltado" (Main Course), Beef tenderloin slices, sautéed with onions, tomatoes, aji (hot peppers), and more spices. It is served with French fries and rice, for starter we have our super delicious "Causa Limeña" Mashed organic yellow potatoes seasoned with lime and aji (hot pepper), and filled with fresh seasonal local veggies (it is less than half spicy)
CITY TOUR "City of Kings and Queens Tour" – Walking Tour  + Pisco classes at 2 pm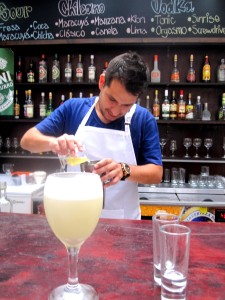 Pisco Sour: One of the most popular cocktails in Peru is the Pisco Sour. It is based on the Pisco (kind of brandy) and the first creation originated in Lima in the early 1920s. There are many stories who created.
Apart from the Pisco other main ingredients are lime juice, egg white and sugar syrup. Usually the cocktail is served in three sizes: Single, Double or "Catedral" (Cathedral). When prepared right the drink is a fine balance between the quite strong Pisco (alcohol percentage of between 38% and 48%), the intense lime juice and the sweetness of the sugar syrup.
Get acquainted with the Peruvian capital, and learn about when it was founded in 1535 and became the "City Of The Kings" We going to pick you up from your hotel and take you to a fascinating walking tour in our historical center. together with our expert local guide we will take you, to our tour route! it's different as the classic and unique, we will show you the Palaces and castles our city hide, we also going to take you to our great Saint Francisco Monastery and the impressive underground Catacombs!.
For sure we won't miss to visit the most important square in the whole country; "The Main Square", Archbishop's Palace and the Municipal, Palace other great places you will visit are: the Wall Park, Train Station Palace, unique old fashioned "Cordano Bar", colorful mansion palaces, Jiron del Union Pathway, First Fotoshop Palace in southmerica, Post Office Palace, Domenicans tower, Historical Rimac Bridge and lovely surrounded wooden Balconies and the next big project in the City "the Under river subway!"
Our historical center is considered a World Heritage protected by the Unesco, We are proud to be the only one tour company who can take you to visit The Original Spain Mansion Palace and enjoy its great collection of 18th Century Original Oil paintings, its impressive sculptures, wooden varandas, trendy gilded mirrors and great original terrace.
After the tour we will take you back to your hotel.
We recommend to wear comfortable clothes and shoes, sunglasses, sunscreen and a hat, take a bottle of water with you and spare battery for your camera.
—————————————————————————————————————————–
LIMA C   Gastronomic Tour + Lunch + City Tour+ Pisco Sour+ Magical Water Circuit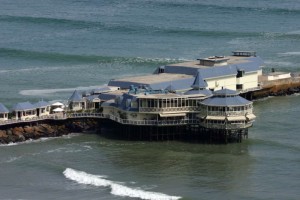 The tour begins with a culinary adventure to a typical "peruvian market". Where you will find a wide variety of Peruvian products and enjoy unique fruits like "chirimoya", "lúcuma", "aguaymanto" and "pacae".
We will also visit the exclusive restaurant "La Rosa Nautica", where you will learn to prepare the famous "Pisco Sour", by an expert barman, and the delicious "Ceviche" prepared by the cheff of the restaurant. Then you will taste a delicius lunch featuring the most representative dishes of the peruvian cuisine.
After lunch, we will continue our tour and take you through Lima in its 3 historical periods: Pre-hispanic, Colonial and Modern.
We will first show you a panoramic view of "La Huaca Pucllana", and then you will visit the impressive Historical Downtown of Lima: Its palaces, mansions, churches and squares, ending with a visit to the residential district of San Isidro and an unforgettable view of the Pacific Ocean from the district of Miraflores.
* This tour includes the admission to the BCR Museum and the Complejo Monumental San Francisco and its Catacombs.
* The BCR Museum is closed to the public on Saturdays and Sundays afternoon. It is closed all day and Mondays.
In the evening 
Guided excursion to the "Magical Water Circuit" the largest water fountain compound in the world, certified by Guinness World Records. Here you will enjoy a wonderful display of water, light, music and images presented at Reserve Park, one of Limas' most beautiful urban areas.