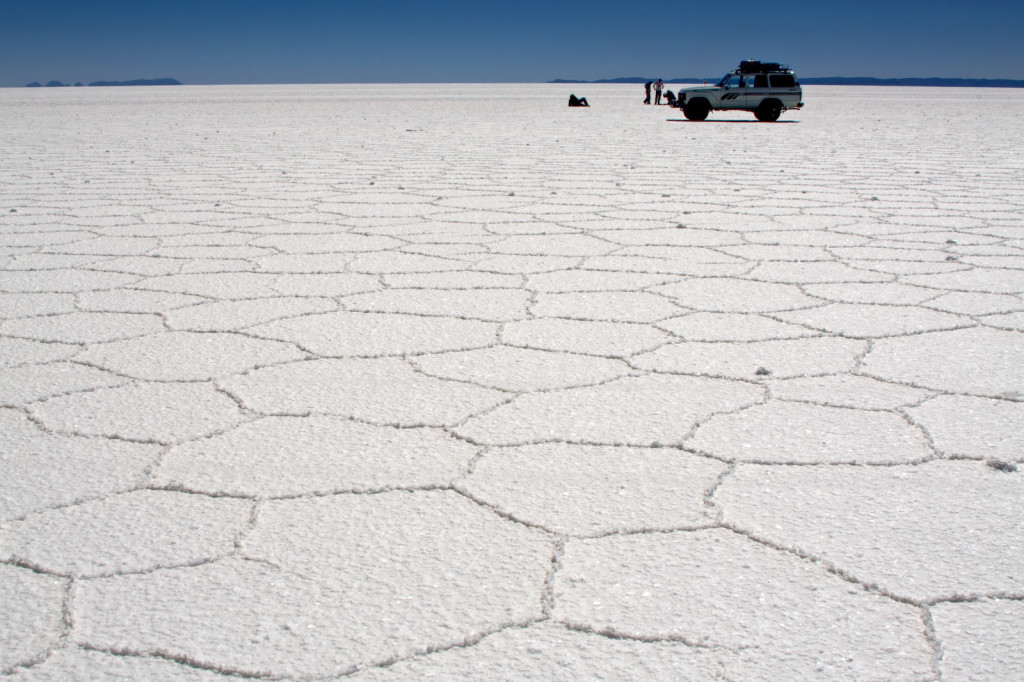 1 day tour to the saltflats of Uyuni
Uyuni Salt lakes 1 day tour in Private or shared tour
Salar de Uyuni (or Salar de Tunupa) is the world's largest salt flat, or playa, at over 10,000 square kilometres (3,900 sq mi) in area. It is in the Potosí province in southwest Bolivia, near the crest of the Andes at an elevation of 3,656 meters (11,995 ft) above sea level.
The Salar was formed as a result of transformations between several prehistoric lakes. It is covered by a few meters of salt crust, which has an extraordinary flatness with the average elevation variations within one meter over the entire area of the Salar. The crust serves as a source of salt and covers a pool of brine, which is exceptionally rich in lithium. It contains 50% to 70% of the world's known lithium reserves. The large area, clear skies, and exceptional flatness of the surface make the Salar ideal for calibrating the altimeters of Earth observation satellites. Following rain, a thin layer of dead calm water transforms the flat into the world's largest mirror, 129 kilometers (80 miles) across.
no images were found
---
The Saltlakes in 4X drive jeeps Tour in 1 Day
You will depart at around 10 am (private tour) or (group tour) in the morning to go on this wonderful tour to the Salar de Uyuni.
Near Uyuni you will visit the Train Cemetery, where you can see antique English trains that where brought to Bolivia many years ago and that are no longer in use.
Than we drive to the village of Colchani, where you can see or buy handicrafts made of salt, as well as the process of making domestic salt, and the Salt Museum.
Then you will enter the salt flats and you will see the Ojos del Salar; here bubbling gases escape from underneath the salt flat, the Salt Hotel and Isla Incahuasi (cactus island), where you will have the opportunity to go for a short walk to observe giant cacti and volcanic rocks.
In the afternoon you will cross the salt flat again for one hour and you will arrive back in Uyuni where the tour will end around 5 Pm
Included:
Transport in 4×4 vehicle;
Spanish speaking driver/guide or English speaking guide ( at extra charge )
Lunch.
Not included:
Entrance fee 30 bol
All other costs that are not specifically mentioned.
https://southamericaplanet.com/en/1-day-tour-to-the-saltflats-of-uyuni/
https://southamericaplanet.com/es/1-dia-salar-de-uyuni/
https://southamericaplanet.com/nl/1-dag-tour-naar-de-zoutvlaktes-van-uyuni/