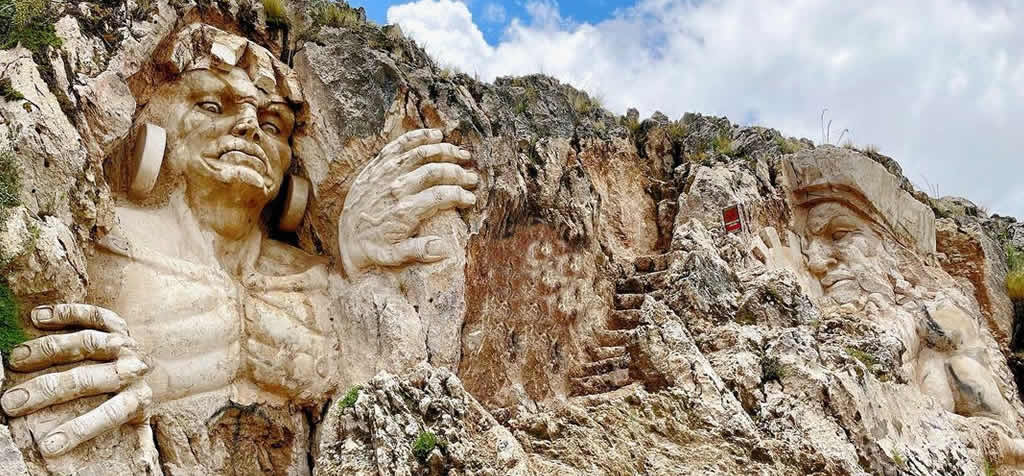 Apukunaq Tianan – Morada de los Dioses + Waterfall Poc Poc
We start with the pick up from the hotel 08:30 Hrs, to go to a wonderful place called Apukunaq Tianan, where we will take a small circuit on foot around the huge and impressive sculptures that currently represent the Andean gods in the Inca culture, such as : The mural of the Andean worldview, The "Pachamama" or "Mother Earth", The Wiracocha God creator of everything that exists in the Andean world, The Inti portal, El Puma and others.
We continue with our journey
to the Urubamba Valley
, during the journey we will be able to observe the magnificent and imposing snow-capped mountains. Then we arrive
at Chinchero,
it is a town stopped in time, and as in no other place you will be able to observe
the living Andean culture
, we will take a
wonderful tour along the shores of the Piuray lagoon
, we will observe different types of birds and we will enjoy nature.
Later we will do a pleasant walk of approximately 1 hour, along the Inca trail
that connects Chinchero with Urquillos, towards the
impressive waterfall of POC POC,
Knowing the waterfall is a spectacle, on the way we will observe different landscapes, in addition to the typical flora and fauna of the place. Surrounded by such impressive nature you will enjoy a pleasant lunch (Box Lunch)
Later we will do the return walk to Chinchero, to take the transport to the city of Cusco, Arriving at 15:30 Hrs.
---
IT INCLUDES:
Tourist transport.
Professional guide (bilingual)
Box lunch.
Entrance ticket to Apukunaq Tianan.
First aid kits.
Permanent assistance
DOES NOT INCLUDE:
Chinchero Entree fee
Additionals
https://southamericaplanet.com/en/apukunaq-tianan-morada-de-los-dioses-waterfall-poc-poc/
https://southamericaplanet.com/es/apukunaq-tianan-morada-de-los-dioses-cataratas-poc-poc/
https://southamericaplanet.com/nl/apukunaq-tianan-morada-de-los-dioses-waterval-poc-poc/