Choquequirao- Machu picchu 6 days
These 6 days trekking combine Choquequirao & Machu Picchu , Cusco, santa rosa, machu picchu, aquas calientes
For the real trekking lovers! Both amazing ruins in 1 trek.
Choquequirao to Machu Picchu is the second most important archeological site in Cusco region. It has a connection with the last Inca city of Vilcabamba and with Machu Picchu. It is in the middle of different Inca roads that traversed all of the Inca Empire. After quite a tough hike, we will see fascinating and remote Choquequirao ("cradle of gold" in Quechua) – awesome in design and also location, perched high on a spur above the Apurimac canyon – the third deepest canyon in Peru. This is a great place to see condors inhabiting the area. From here we continue our trek into an even more remote territory where we can see villagers who live in the area of Yanama, as well as glaciers, valleys and silver mines. The highest point of the trek is the Yanama pass at 4800 msnm/15900 feet after which we descent to the subtropical area. We walk along coffee and banana plantations before arriving in Aguas Calientes. The last day is devoted to exploring the Lost City of the Incas – Machu Picchu. You must join us on this unforgettable and challenging adventure.
Duration: 6 days – 5 nights
Level of difficulty: moderate/ Challenging ( click to see levels)
*A minimum of 4 persons is needed for this trek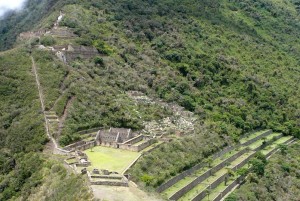 ---
Day 1 : Cusco Capuliyoc – Chikiska – Santa rosa.
We leave Cusco at 4am in a private van for a 4 hour drive to Capuliyoc, situated on the edge of the Apurimac Canyon and surrounded by impressive snow capped peaks. Then we hike down for 2 hours until we arrive at Chikiska where we have lunch. Afterwards we continue our hike for 3 hours more to, Santa Rosa where we will spend the night.
*Meals: Lunch, Dinner
*Accommodation: campsite, Santa Rosa 2000 masl
*Climate : warm and sunny
*Distance Traveled: Approximately 12km
*Hiking time : 8// 9 hour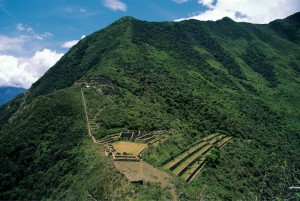 ---
Day 2: Santa Rosa – Maranpata – Choquequirao.
Departing early, we ascend to Santa Rosa Alta and to Maranpata where we will have lunch. The climb to the river takes about 4 hours and is tough. From our lunch spot we can see the remains of Choquequirao. Then we have 2 hours more to hike to reach the Choquequirao Archeological site (3110 metres/10120 feet). We spend the evening there and get to watch the sunset and some condors.
* Meals: Breakfast, Lunch, Dinner
* Accommodation: camp site, Choquekiraw 3100 masl
* Climate : warm and cold at night
* Distance Travelled: Approximately 14km
* Hiking time : 7 // 8 hour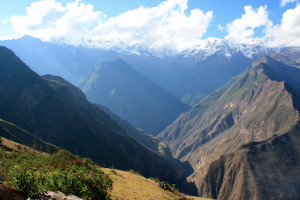 ---
Day 3 : Choquequirao – Rio Blanco – Maizal.
We leave early for the short climb to the pass. Then it is downhill 1400m (4600ft) past the recently discovered ruins of Pincha Unuyoc to the Rio Blanco where you can dip your feet in the cool water. Just beware of the biting sand-flies. Known as "Pumahuacachi" their name means "makes the puma cry". Here you will have lunch. Afterwords you climb steeply again, 1,200m (3900ft) to the small and beautifully located campsite of Maizal at an altitude of 3,000m (9840ft). This is probably the toughest day of the trip but if you have prepared well and are determined, you will succeed.
* Meals: Breakfast, Lunch, Dinner
* Accommodation: camp site, Maizal 2100 masl.
* Climate : warm, windy and cold at night
* Distance Traveled: Approximately 18km
* Hiking time : 8 hour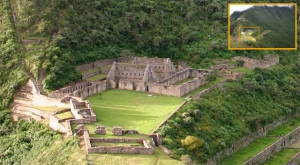 ---
Day 4 : Maizal – Yanama
You leave the camp behind and climb past old silver mines to the highest pass of the trip. Abra San Juan at 4,000m (13123ft) affords spectacular views of the Cordillera Vilcabamba mountain range. Here we are going to take our lunch. Then you take a delightful and at times precipitous path down to the charming Andean village of Yanama. Here you say goodbye to your muleteers.
* Meals: Breakfast, Lunch, Dinner
* Accommodation: camp site, Yanama 2100msnm.
* Climate : warm and hummed
* Distance Traveled: Approximately 27 km
* Hiking time : 6 / 7 hour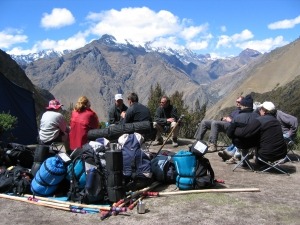 ---
Day 5 : Yanama –Hidroelettrica (by car) – Aguas Caliente
After the breakfast, we are going to take a Local bus to the hidro electrica .
After aprox 3 hours by car we will reach the train rails. Next to the rails there is a nice path to walk on; this path will take us in approximately 3 hours to Aguas Calientes which is located at the foot of Machu Picchu. This section is very interesting because it is the trail that was used by the American Professor Hiram Bingham who rediscovered Machu Picchu after centuries of being lost.
* Meals: Breakfast, Lunch, Dinner
* Accommodation: Hostel, Aguas Calientes 1650msnm.
* Climate : warm
* Distance Travelled: Approximately 9km
* Hiking time : 3 hours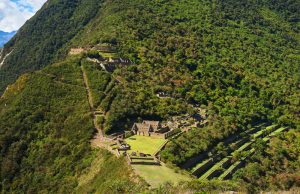 ---
Day 6 : Aguas Calientes – Machu Picchu – Cusco
We will have breakfast very early around 5 a.m. Then we will take one of the first busses to Machu Picchu around 5.45 a.m. We will enter Machu Picchu and have a guided tour of the complex for about 2 hours. After this you will have some free time to wander around by yourself, walk to Inti Punko, the "Sun Gate" or go to the mountain behind Machu Picchu which is called Waynapicchu (About a 45 minute walk, not included), from here you have stunning views over the whole complex, but be careful there is a new rule that only 400 people a day are allowed. It's included in your trip if the day you made the reservation there were still permits available! If the permits are gone you can climb up to the Sungate. After your free time you can walk or take a bus down to the town of Aguas Calientes for a late lunch (not included). In the afternoon we will take the train back to Poroy or Ollantaytambo, we will then transfer you to your hotel in Cusco!
PS The time and type of train ticket will depend on availability.
Meals: Breakfast
Lowest Elevation: 2,040 m/ 6,691 ft
Highest Elevation: 2,440 m/ 8,052 ft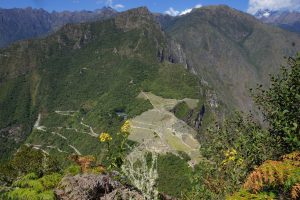 ---
Included:
*Transportation .
* Tents: 2 people in each 4-people-capacity tent.
* Matress.
* Kitchen tent & dining tent with tables and chairs.
* Entrance fee to Choquequirao and Machu Picchu.
* English speaking professional guide.
* Cook and cooking equipment.
* Horsemen and horses (to carry tents, food and cooking equipment and 5 kilos of your personal item).
* Meals (4 B, 4 L, 4 D daily tea service except last day) .
* Boiled water to fill up your water bottle .
* First-aid kit including emergency oxygen bottle.
* Hostel at Aguas Calientes.
* Bus ticket Aguas Calientes – Machupicchu (one way).
* Train ticket from Aguas Calientes to Cusco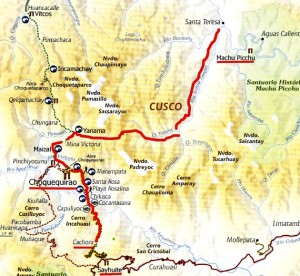 Not included:
* Sleeping bag.
* Breakfast on the first day and Lunch on the last day after the guided tour at Machupicchu, you can enjoy free time to further visit the ruins or choose to have lunch either in Machupicchu or in Aguas Calientes.
* Tips.
---
What you should bring:
* A backpack.
* Rain poncho.
* Strong footwear.
* Waterproof trekking boots .
* Warm clothes, including jacket, fleeces & Thermal clothing.
* Flashlight and batteries.
* Camera, films and batteries (batteries consume quickly under cold conditions).
* Hat or cap to protect you from the sun, rain and cold.
* Sun block.
* After-sun cream or hydrating cream for face and body.
* Insect repellent – minimum recommended 20% DEET – no malaria risk has been reported.
* Handkerchiefs.
* Toilet paper.
---
What do we need when you make a reservation?
*Full name as it is written in your passport.* Scanned copy of your passport.
*Departing date for the trail.
*We ask for a 40% deposit, sending to us via visa or Pay Pall online through this website:+5,5 % or Wetravel 4,5 % (cost credit cards charge us) The balance you will pay at our office in Cusco before the start of the trek. We accept cash USD or credit card (+5,5%)