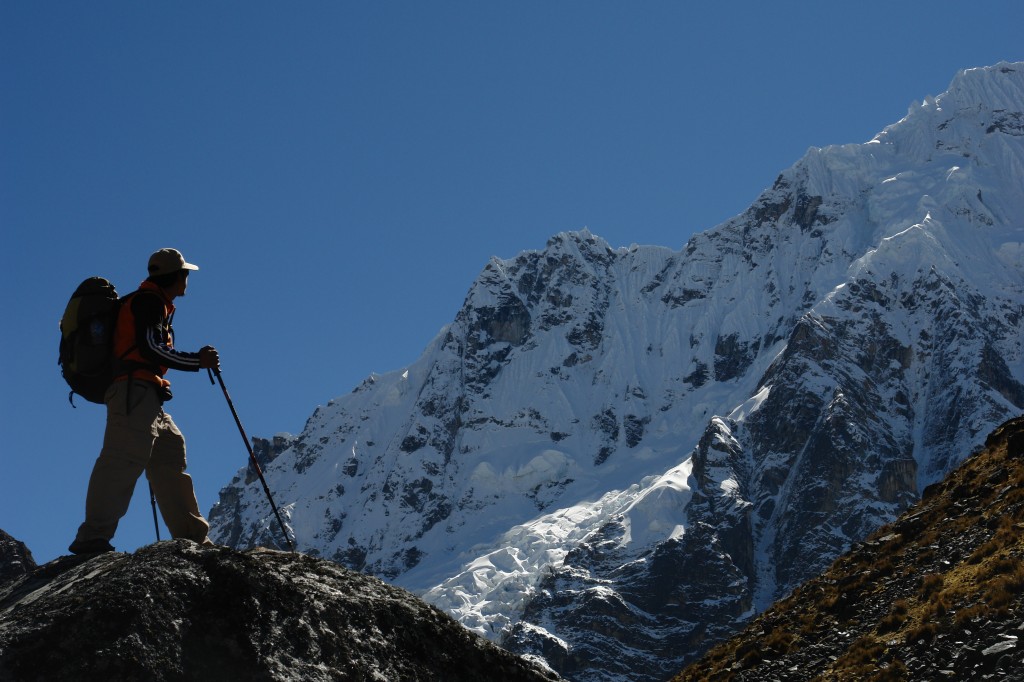 Climb the amazing Huayna Potosi 6088 mt
Available from April till November from La Paz, Bolivia
Huayna Potosí is the most popular peak in Bolivia as it is easily accessible to novices. At 6088m it surpasses the magic 6000m mark, meaning you're kicking ass if you reach the summit. This climb is certainly a challenge but attainable to anyone who is acclimatized. It is worth every oxygen-depleting step. The breathtaking views, the twinkling night lights below you and the shimmering stars above you makes you feel like you're floating between two worlds. The incredible sunrise and views over the city and Cordillera Real mountain range make this climb one of the most memorable and rewarding experiences in South America.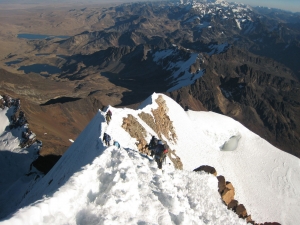 ---
Day 1: La Paz – Base Camp – High Base Camp
Will will depart from La Paz at 9:30 a.m to head towards El Alto. While on the highway we can enjoy unique views of this growing capital city, its surroundings, and some of the highest peaks in Bolivia such as the Illimani, Mururata, Huayna Potosí and many other peaks reaching over 16,400 ft. (5,000 m). The trip continues through the unpaved road to the Zongo Valley, one of the closest cloud forest or ´yungas´ from La Paz.
This road passes Puna grasslands and alluvial valleys with characteristic flora and fauna. There will be short stops, one of them to view the Milluni Lagoon, and the other to view a nearby abandoned tin mine. By 12:00 p.m we will arrive to the Low Base Camp located at 15,416 ft. (4,700 m). Here we will have lunch. Later we will climb to the High Camp 17,220 ft. (5,250 m). This slow climb can be done in 2 hours. This part of the tour will be useful to condition you for the next day. We will then have dinner, prepare for the following day and go to sleep. (L, D)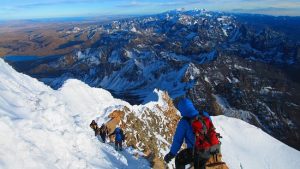 ---
Day 2: High Camp – Huayna Potosi Summit – La Paz
We will have breakfast at 1:00 am. Today we will start hiking at 2:00 am to avoid the later intense snow reflection. We will start walking with flashlights. The ascension will be Grade 2 (or represent a 45 degree slope climbing) and will last approximately 6 hrs. Arrival to the summit is expected by 8:00 am. Sunrises at the Huayna Potosí are astonishing.
On clear days you will enjoy a spectacular 360 degree view of this beautiful part of the Eastern Andes. The open landscape shows the distant Sajama Volcano; the highest peak in Bolivia, the steaming cloud forest of yungas and La Paz and El Alto cities. Later we will descent from the summit to the 1st camp, the hike will last around 3 hrs. We will have lunch by 1:00 pm at the camp. Departure to La Paz by car. On your way back, during sunset, you can enjoy more enchanting views of the Huayna Potosi and glacial valleys. (B, L)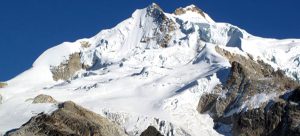 ---
Included:
*Private transportation (round trip).
*Certified guide (AGTM and ENSA).
*Breakfast, lunch and dinner.
*Assistant guide when 3 + persons.
*Tent (mountaineering quality).
*Porter(s) to the High Camp.
*Guide is certified in First Aid.
*Group medical kit
Not Included:
*Personal equipment and insurance.
*Personal medical kit.
*Tips
*Entree fee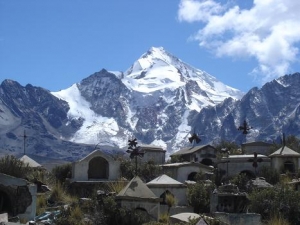 ---
Essentials
*Warm Clothing.
*Polar fleece.
*Hat/gloves.
*Trekking boots.
*High factor sun block.
*Sunglasses (preferably polarized).
*Mountaineering sleeping bag.
*Thermal Underwear.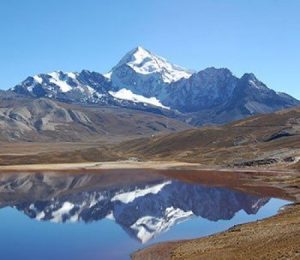 ---
Optional
*Own mountaineering gear.
*First aid kit.
---
Technical Equipment Included:
*Climbing boots
*Crampons
*Ice axe
*Harness
*Gaiters
*Headlamp
*Mittens
Possible to upgrade 3 nights and 2 days.
---
What do we need when you make a reservation?
* Scanned copy of your passport..
*Departing date for the trail.
*We ask for a 40% deposit, sending to us via visa or Pay Pall online through this website:+5,5 % or Wetravel 4,5 % (cost credit cards charge us) The balance you will pay at our office in Cusco before the start of the trek. If you don,t come before to Peru, we ask 100 % We accept cash USD or credit card (+5,5%)
https://southamericaplanet.com/en/climb-the-amazing-huayna-potosi-6088-mt/
https://southamericaplanet.com/es/sube-al-increible-huayna-potosi-a-6088-metros/
https://southamericaplanet.com/nl/beklim-de-prachtige-huayna-potosi-berg-6088-mt/