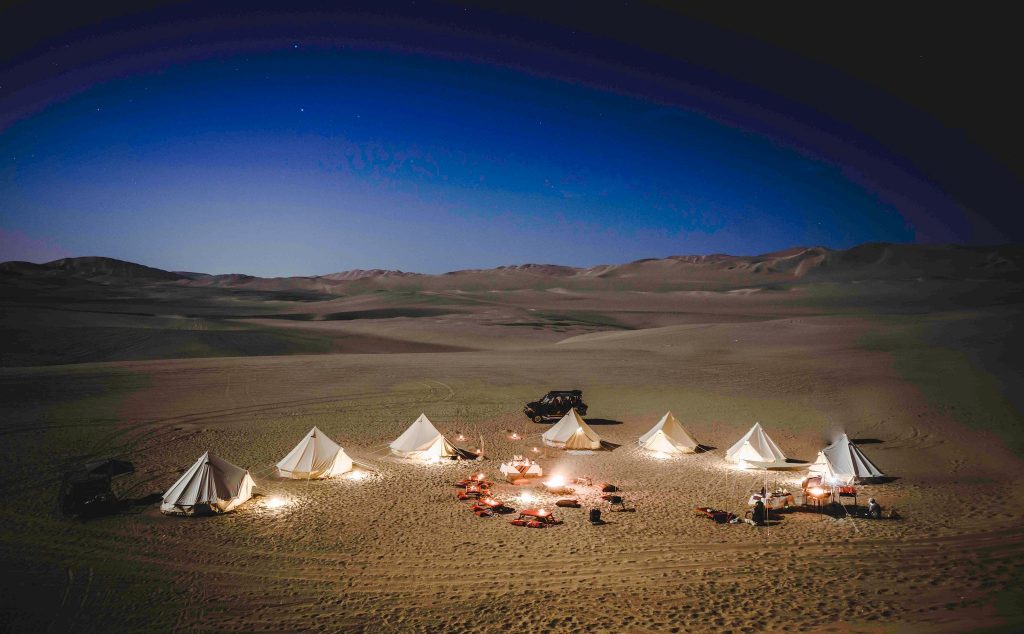 Dinner and Glamping in the desert of Ica Shared Service / More Luxury
Glamping in Ica desert, a special place designed to have dinner and camping, decorated with tents, pillows, tables, carpets and campfire. We also offers different areas specially designed for your comfort as dining area, kitchen with private chef, bar and bathrooms for all your comfort. The tents we use are imported (Sibley model) and are very spacious, offering different set ups like double, twin or tipple bed.
Camping in the desert on vacation is an exciting way to break free from regular tours!
* option Dinner Only
* option Dinner + Glamping in the Desert + sand buggy
Make your vacation fun and exciting! We will take you to camp in the desert.
ITINERARY:
Service description:
*at 4 Pm you will have a ride on sand buggy's and sand board, in this tour you will not only go through the dunes with enough emotion and adrenaline, but you will also have the opportunity to practice the sand board.
After watching the sunset in the desert you will be transferred to the camp, where you will be received with a refreshing drink and cocktails in the warm environment specially designed with tents, awnings, decorated chairs, cushions, pillows, side tables and where different environments such as food, drinks, area campfire and bathroom
Upon arrival you will be greeted with wet towels and drinks and then invite them to the food area to enjoy a delicious grill prepared at the moment by our chef.
Around 22:00 hrs you will be returned to your hotel. (* Only those who take the option of dinner only)
---
It includes:
– Dinner: Which has a cheese board as an accompaniment with nuts, olives, cabanossi and seasonal fruit. As a main course you will enjoy an exquisite BBQ meat grill (180 grams of beef) and chorizo, accompanied by a delicious grilled vegetable salad (zucchini, peppers, asparagus, onion, zucchini Italian) and golden potatoes served in a warmer.
– Drinks: As a welcome cocktail, we offer a glass of red wine per couple, as well as soda and mineral water.
– Music: Show: Accompaniment and dance music (non-professional).
– Decoration: Campfire, carpet, tents, awnings, chairs, cushions, pillows, pouf.
– Lighting: Lighting based on candles, torches, lamps and led light spheres which not only serve to illuminate but also give a warm, decorative and elegant atmosphere.
– Transfers: in / out from your hotel or bus station in Ica to the desert in a 4 × 4 or tubular van.
– Attendance: By a bilingual guide.
– Sand buggy tour
** Glamping / Camp Option: includes 2.20m Arab style tent with a double bed (two places) or doubles (two mattresses of a square and a half), carpet and a center table with cushions.
---
Environments:
– Men's and Women's Bathroom.
– Kitchen area
– Campfire area.
– Food area with tables, cushions and rugs.
– Bar area.
** Arab 6-point awning is armed with a minimum group of 10 paxs.
---
NOTE:
– Rates in shared service which takes place every Saturday and long holidays with a minimum of 2 people.
– For other dates a minimum of 4 people is required for these reservations.
– Glamping service subject to availability, maximum capacity 12 tents equivalent to 24 people in double or double beds.
Also possible in private tour
---
What do we need when you make a reservation?
*Full name as it is written in your passport.* Scanned copy of your passport.
*exact arrival date and flight nr.
*vegetarian or no.
*kind of room 2 beds or 1 big bed.
*we ask 40 % deposit when reserve the rest 4 weeks before departure. Banktransfer to our Peruvian bankaccount or Wetravel ( +4,5% )
https://southamericaplanet.com/en/dinner-and-glamping-in-the-desert-of-ica-shared-service-more-luxury/
https://southamericaplanet.com/es/nl/cena-y-glamping-en-el-desierto-de-ica-servicio-compartido-mas-lujo/
https://southamericaplanet.com/nl/diner-en-glamping-in-de-woestijn-van-ica-gedeelde-service-meer-luxe-programma/