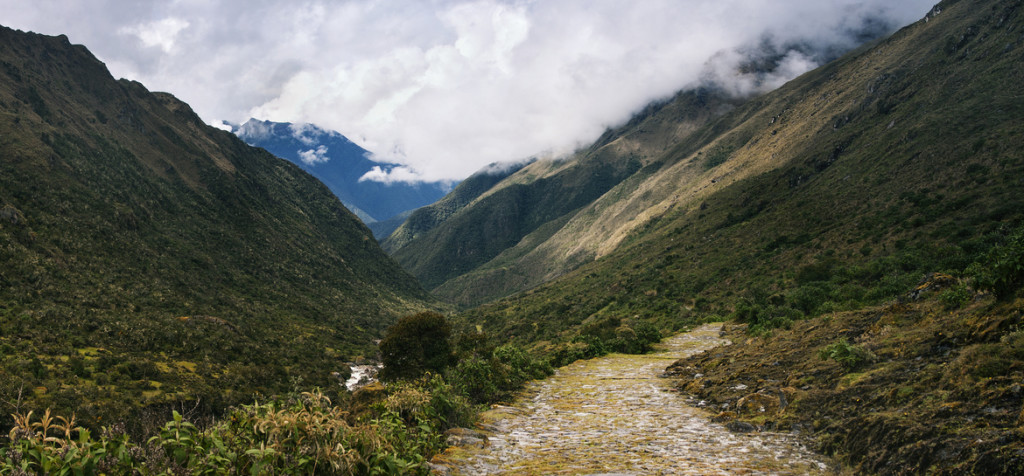 El Choro trekking 3 days from la Paz, Bolivia
El Choro trekking, available from April to October (minimum 2 persons)
This is one of the most popular downhill treks in Bolivia and achievable by nearly everybody. A shame to miss it if time allows you the luxury of experiencing this fabulous and sometimes demanding adventure. Walk in the steps of the Inca from a barren 4,900m down a beautifully preserved stone path into the subtropical vegetation of the Yungas, where you'll see citrus & banana trees, coffee and coca plantations, colorful birds and butterflies and if your extremely lucky you'll catch a glimpse of the elusive spectacled bear staring back at you. Expect to get your feet wet in the pristine waterfall-fed stream crossings and bring a photo to show to the Japanese man in exchange for a spot to set up camp in his garden. Ending in the town of Chairo you can choose to stay in the lovely tropical town of Coroico or return directly to La Paz.
Note: Trek available daily with minimum 2 people. Treks can be arranged as 2 or 3 day.
Time taken will vary on ability.
---
Day 1 La Paz – Challapampa
We will depart from La Paz. Until we reach La Cumbre at 4770 Mt . Starting from this location, the trek will continue until the Apacheta Pass at 4900 Mt. After this Pass, there will be a spectacular descent for about 7 hours from the high Puna Grasslands to the cloud forest or yungas, passing the small Chukara village at 3750 Mt. Later in the morning arriving to the Challapampa Camp at 2800 Mt. We will have lunch along the way. Dinner and overnight at Challapampa.
L, D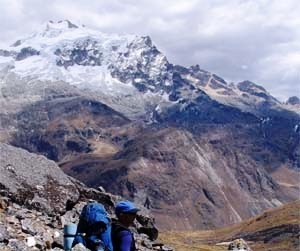 ---
Day 2 Challapampa – San Francisco
Today we will pass through one of the few untouched cloud forest left in Bolivia, protected by the Cotapata National Park. The trail descends through narrow valleys showing more trees, orchids, bromeliads and larger cloud forest trees. Colorful birds and butterflies can be seen. This habitat is home of the Spectacled bear, rarely seen by visitors. We will have lunch along the way. After approximately another 7 hour descend, we will reach the Rio Jucumarini Camp at 2600 Mt. Dinner and overnight.
B, L, D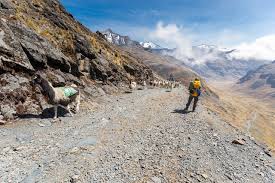 ---
Day 3 San Francisco – Chairu
The trek continues down the Rio Jucumarini valley where forests are more developed. There will be more vegetation with lovely larger canopies adorned by bromeliads, mosses and orchids. Bird life is more abundant. After another 6-7 hour walk we will finally reach Chairu at 1400Mt. Transfer by car to Coroico. Trip back to La Paz. Private transport is available if requested for the pick up from Chairu and later transfer to La Paz.
B, L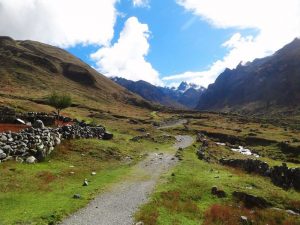 ---
Included:
* Private transportation, La-Paz – La Cumbre.
* Transportation Chairo – Coroico, Coroico – La Paz.
* Professional guide
* A cook, breakfast, lunch & dinner.
* Tent.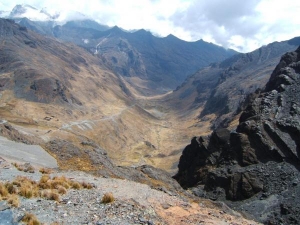 ---
Not Included:
* Personal equipment.
* Personal medical kit.
* Entrance fee Bs.20. each day
* Personal porter.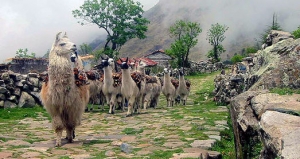 ---
Essentials:
*Light, warm clothing.
*Trekking boots.
* Sunglasses.
* Sun block (high factor).
* Waterproof jacket.
* Sleeping bag.
* Insect repellent (high DEET content).
* Photocopy of passport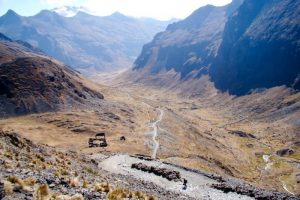 ---
Optional:
* Camera.
* Binoculars.
* Pocket knife.
---
What do we need when you make a reservation?
* Scanned copy of your passport..
*Departing date for the trail.
*We ask for a 40% deposit, sending to us via visa or Pay Pall online through this website:+5,5 % or Wetravel 4,5 % (cost credit cards charge us) The balance you will pay at our office in Cusco before the start of the trek. If you don,t come before to Peru, we ask 100 % We accept cash USD or credit card (+5,5%)
https://southamericaplanet.com/en/el-choro-trekking-3-days-from-la-paz-bolivia/
https://southamericaplanet.com/es/el-choro-trekking-3-dias-desde-la-paz-bolivia/
https://southamericaplanet.com/nl/el-choro-trekking-3-dagen-vanaf-la-paz-bolivia/