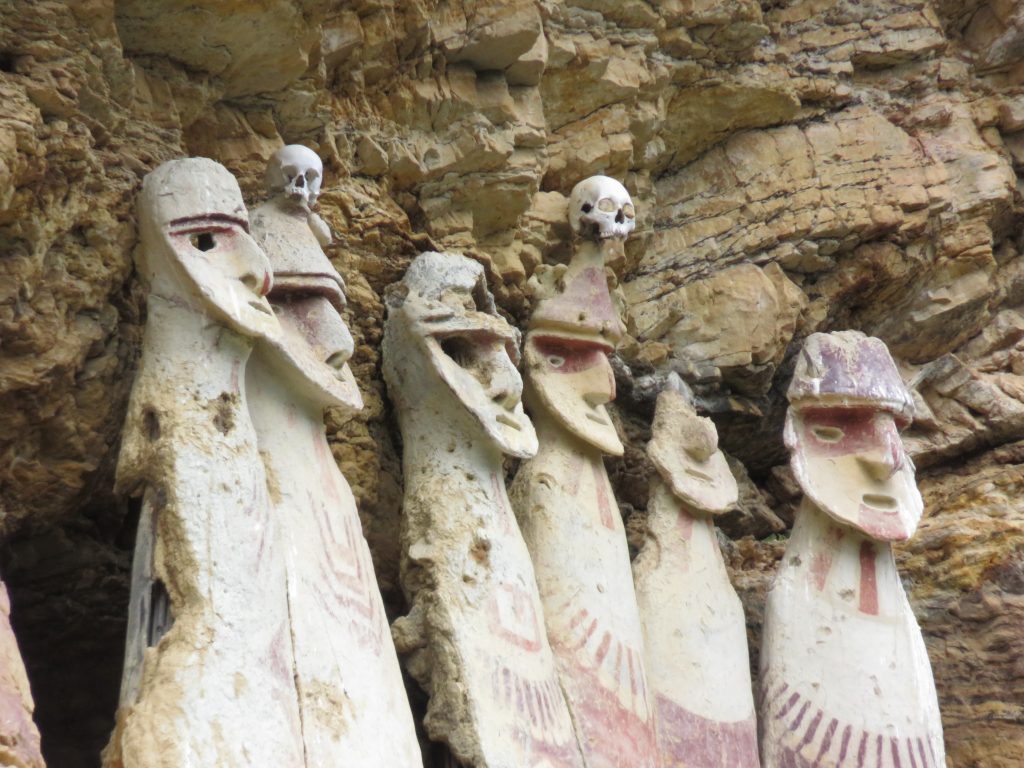 Excursion to Karajia and Quiocta Cave
8:30 AM Pick up from your hotel heading to the town of Lamud (1 hour by car). Continue to the Quiocta cave, where there is a 5-minute walk to the entrance of the cave. Tour of the cave is approx 1.5 hours. There are cave paintings, usually shapeless, as well as animal and human bones at the cave entrance. The first cave formations are seen nearly 300 meters from the mouth of the cave, including stalagmites, stalactites, flowstone, columns. After the tour we return to the town of Lamud for Lunch. After lunch the trip continues for another hour by car to the community of Cruz Pata. From here you walk 40 minutes to reach the archaeological site of Karajía,1000 year old tombs placed at the top of a cliff. Each sarcophagus stands almost 2 meters tall, are made of mud.
The grouping of Sarcophagi can be seen about 25 meters away, and are human burials considered by the UNWTO to be unique in the world. After detailed information and explanations from your Guide we begin the walk back to our transport vehicle to return to the city of Chachapoyas.
6:30 PM End of services for the day.
Transport
English speaking guide
Entree fees
Basic lunch
Rubber boots ( only Quiocta cave)
Not included
https://southamericaplanet.com/en/excursion-to-karajia-and-quiocta-cave/
https://southamericaplanet.com/es/sarcofagos-de-karajia-y-cavernas-de-quiocta/
https://southamericaplanet.com/nl/excursie-naar-karajia-en-quiocta-grotten/