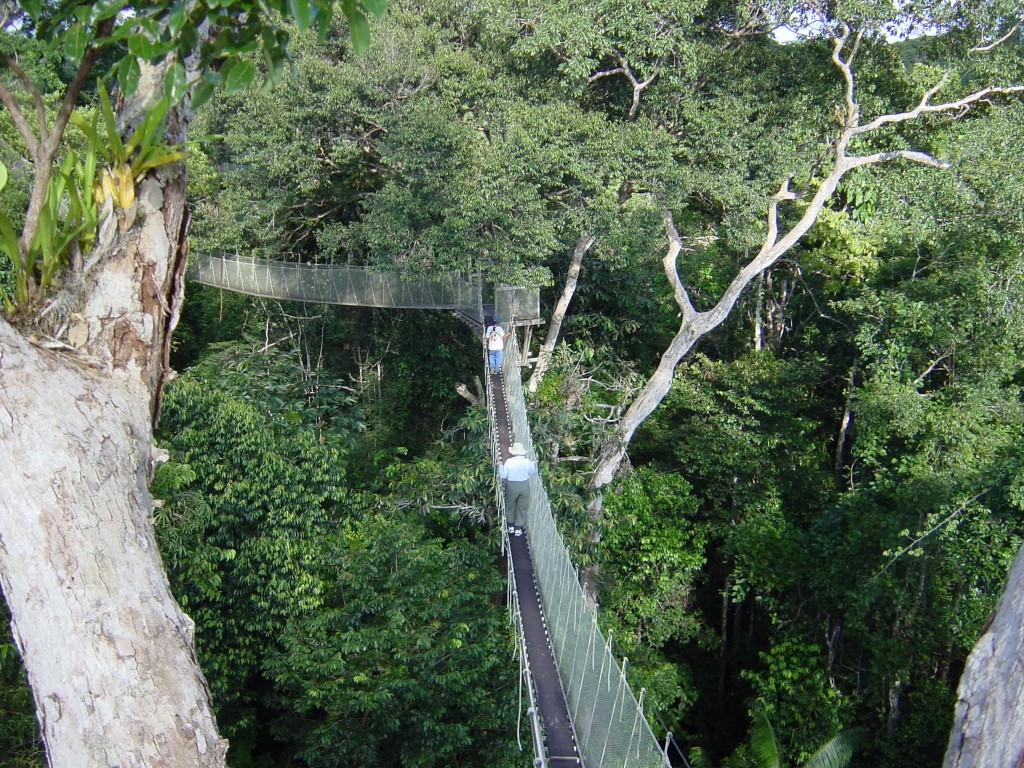 Explorama or Ceiba jungle lodge 4 days
Iquitos Explorama Lodge or luxury Ceiba Tops lodge. Iquitos, canopy walk, north Peru jungle, amazone river 4 days 3 nights.
Ask us for shorter or longer programs!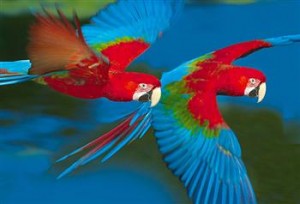 ---
The Canopy Walkway is an experience unbeatable in the rainforest! At a height of over 35 meters (115 feet) and extending for 500 meters (one-third of a mile), the Canopy Walkway provides a view of the rainforest from the treetops, the best vantage point for observing Amazon wildlife and vegetation. The Canopy Walkway is accessible to all and requires no special skills or equipment. The suspended walkway is spread between 14 of the area's largest rainforest trees and is one of the longest canopy walkways in the world.
Maintained by the Peruvian Foundation CONAPAC, the Canopy Walkway has extended research into an area where little is known and so much is left to be discovered.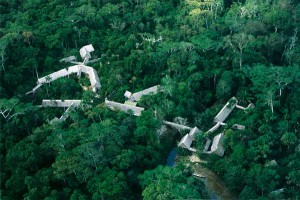 ---
Explorama Lodge "Jungle bound" adventure.
Established in 1964, 80 km (50 mi) down the Amazon River. Explorama Lodge is deep in primary rainforest. Romantic kerosene torches and lamps illuminate palm-thatched houses with 10-17 private sleeping rooms. Covered connecting walkways lead to the Tahuampa Bar, the Dining Room, the Sun Porch and two Hammock Houses. Showers & toilet facilities adjoin each house. A variety of treks are offered, including the Seven Bridges Trail walk. A special Full Day excursion to the Canopy Walkway is available for Explorama Lodge guests staying 2 or more nights.we have 40 bungalows.Explorama Lodge offers a variety of adventures including the Seven Bridges Trail walk and a special Full Day excursion to the Canopy Walkway can be added for those staying two or more nights.
This program is also possible in the luxery Ceibo lodge with Airco and swimming pool.
At Ceiba Tops, elaborate gardens, a swimming Ceiba Tops Lodge, water slide, hammock house and the Esmeralda lounge all complement the surrounding exotic environment. Ceiba Tops is perfect for stays of one or more nights. For families, connecting rooms are available or you can upgrade your Amazonian Adventure by choosing the Presidential, Ministerial or Junior Suite. This comfortable lodge now has courtesy Wi-Fi Internet service in all public areas, so you can send your e-mail while swinging in a hammock or in a lounge chair by the Ceiba Tops Lodge on your own laptop.It is the newest of Explorama's lodges, is located on the banks of the Amazon River just 40 km (25 mi) from Iquitos. Ceiba Tops offers the comforts of home, air conditioned rooms with private bathrooms, in the most luxurious of Amazonian Rainforest settings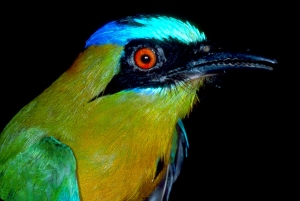 ---
Day 1: Iquitos – Explorama Lodge
Iquitos – Explorama Lodge
Reception at the airport or hotel, brief city orientation and transfer to the Explorama dock. Fifty mile journey down the Amazon River to Yanamono Stream where Explorama Lodge is located. Afternoon hike along the "Lake trail" through lowland rainforest which is seasonally flooded. During the high water season, this excursion is done by open boat! Night walk or open boat ride to enjoy the sounds of the rainforest and stars of the Southern sky.
Lunch, Dinner ——————— Overnight Explorama Lodge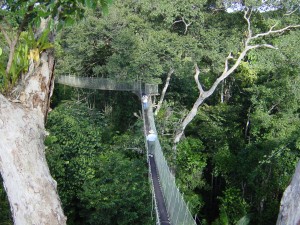 ---
Day 2 – Explorama Lodge
Early morning birding excursion. Morning walk along the "Bushmaster Trail", where scientific studies by the Missouri Botanical Gardens have found the world's highest biodiversity of trees per square hectare. Continue on to a small village of Yagua Indians where your guide will explain their culture and how it has been affected by the passing of time. There will be an opportunity to see their local crafts and for a demonstration of the use of the blowgun which some of the Yagua elders still use. Afternoon boating excursion in search of sloth, found in Cecropia trees at the water's edge, and the two species of freshwater river dolphin, pink and grey, found in Amazonian waters.
Breakfast, Lunch, Dinner —————– Overnight Explorama Lodge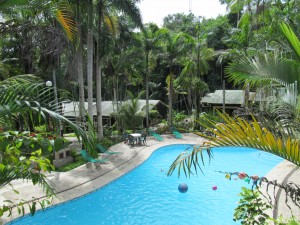 ---
Day 3: Explorama Lodge – Canopy Walkway – Explorama Lodge
Explorama Lodge / Canopy Walkway / Explorama Lodge
Early morning departure from the Lodge by boat to the mouth of the Napo River where in 1542, the intrepid explorer Francisco de Orellana, became the first European to discover the Amazon River. Continue on the Napo River to ExplorNapo Lodge for breakfast. Hike to the spectacular Canopy Walkway spanning over 500 meters (one-third of a mile), connected by tree platforms, and reaching a height of over 35 meters (115 feet) but accessible without any type of climbing skill or equipment. After lunch, visit the "ReNuPeRu" Ethnobotanical Garden where over 240 medicinal plants are cultivated by a local shaman who will explain the nature of Amazonian natural healing and the uses of some of the plants. Return to Explorama Lodge in time to relax in the hammock house or at the Tahuampa Bar before dinner.
Breakfast, Lunch, Dinner —————– Overnight Explorama Lodge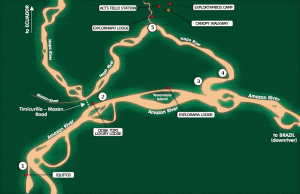 ---
Day 4: Explorama Lodge – Iquitos
Explorama Lodge – Iquitos
Morning walk along a local Amazon River trail stopping at a "ribereños" house, corner store and sugar cane rum factory. Afternoon return to Iquitos and on to the airport or hotel.
Breakfast, Lunch (if departure flight permits)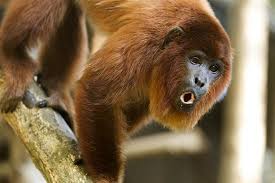 ---
Includes the following:
* All accommodations and meals in Explorama's rainforest lodges.
* Self-service potable water at all lodges.
* Privately owned transport over land and water.
* Airport arrival and departure transfers. Arrival after 4pm requires the first night in Iquitos with transfer to Explorama's lodges the following morning. (We can take care of Iquitos hotel reservations.)
* Local bilingual naturalist guides who accompany each guest throughout their program.
* Entrance fee to the Canopy Walkway.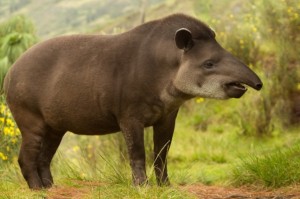 Not included in the tariff.
* Bar service, laundry, airport tax and airline tickets.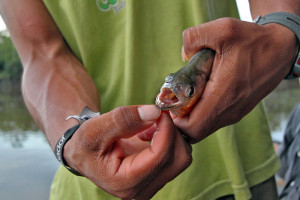 https://southamericaplanet.com/en/nl/iquitos-lodge-canopy-walk-adventure-in-the-north-peru-jungle-amazone-river/
https://southamericaplanet.com/es/explorama-o-ceiba-jungle-lodge-4-dias/
https://southamericaplanet.com/nl/es/explorama-of-ceiba-jungle-lodge-4-dagen/