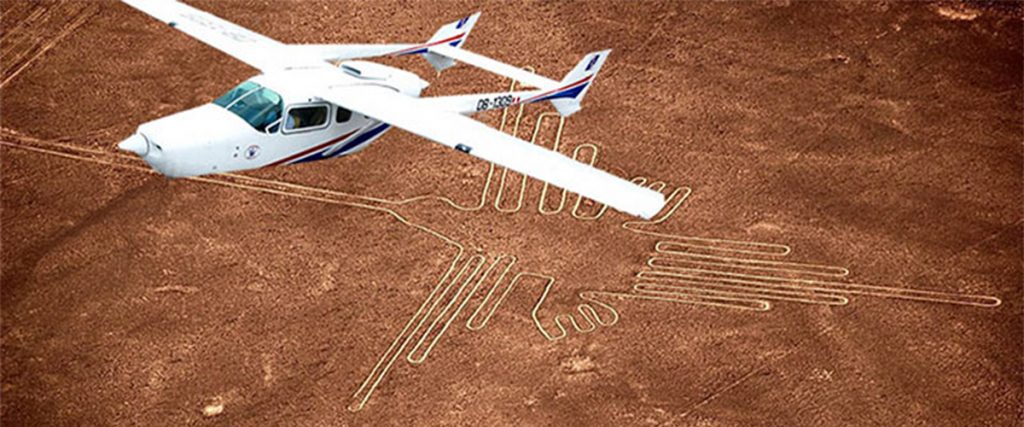 Flight over the Nazca lines
The mysterious Nazca Lines! You'll board a small aircraft. During your adventure, you'll see first hand several famous line figures, including the spider, monkey, astronaut, flamingo, parrot & condor among many others. Why were these figures created? Do they have an astrological or religious purposes. Be relaxed and let yourself captivate by this incredible heritage of our past overflying the Nazca Lines with one of the best planes providing the best comfort and security. Includes a flight over the most representative geoglyphs.
The lines, some over 2,000 years old, have blown away historians and archaeologists for hundreds of years, and even today there is no uniform agreement as to how or why they were created. Spread over almost 80 km of desert a flight over the Nazca Lines is the only way to do justice to these incredible landmarks.
Departing from the Maria Reiche Aerodrome in Nazca. The flight takes 30 minutes and you could admire 12 enigmatic figures.
Included
Transfer to and back from the airport
30 min flight over the lines
Not included
Airporttax 30 Soles
Palpa lines
https://southamericaplanet.com/en/flight-over-the-nazca-lines/
https://southamericaplanet.com/es/sobrevuelo-de-las-lineas-de-nazca/
https://southamericaplanet.com/nl/vlucht-over-de-nazca-lijnen/