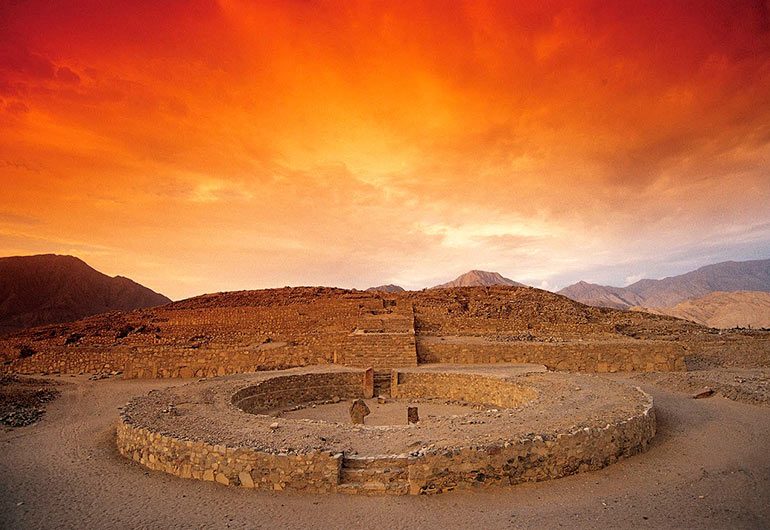 Full Day Caral
The Missing Link/ Tour to Caral from Lima
06:30 am You will be picked up from your hotel and driven to the Caral Archaeological Site. On our way to Caral, we will pass through the towns of Chancay, Huacho, Huaura and Supe. Your tour guide will be pointing them out to you as we drive along. We will also stop along the way in order to use the restrooms and to do some last minute shopping.
This is the OLDEST known city in the Americas. Developed simultaneously with the ancient cultures of Mesopotamia and Egypt about 5000 years ago.
The archeological site of Caral is among Peru,s most impressive ruins and makes a popular day trip from nearby Lima. The UNESCO World Heritage listed site covers an area of around 60 hectares in the arid Supe Valley and was first inhabited between 2600 BCE and 2000 BCE.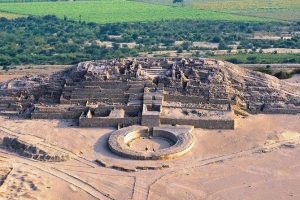 ---
Throughout the Twentieth Century archaeologists in different places in the world looked for places in the old world where this could have taken place, places such as Mesopotamia, China, Egypt and India, to study and discover why and how human beings were able to make this great leap. A missing link that could explain this great transformation. The oldest cities in the old world were polluted because newer civilizations had built on top of the older places. In 1994, Archaeologist Ruth Shady found that Missing Link in the Valley of Supe. Caral is now considered Heritage of Humanity and the oldest civilization in America and the central Andes.
Although initially discovered back in 1948, recent excavations of Caral revealed an elaborate complex of temples, sunken plazas and some of the largest terraced pyramids in the world, leading archeologists to ponder the chance Caral being the fabled . Mother City? of ancient civilizations. Now open to the public, the site has garnered acclaim for its beautifully preserved ruins and intriguing collection of artifacts, which include a quipu (a unique knot system used by ancient Andean civilizations) and a number of musical instruments fashioned from animal bones, but definitely, no trace of warfare or weaponry.
NOTE: This is a shared tour we go to tour with a maximum group size of 6 people.
Please check this impressive documental about CARAL, the BBC did in 2001:
TOUR INCLUDES
– Pick up from your Accommodations.
– Private transport.
–

English-speaking guide.

– Customized service
– All entrance tickets.
– Tolls
– Parkings
– Return transport to your place
Important Notes:
Lunch is not included but we will help you to organize a meal in one of the typical restaurants in caral. Lunch on these places area , around S/.30 soles main course
https://southamericaplanet.com/en/full-day-caral/
https://southamericaplanet.com/es/dia-entero-caral/
https://southamericaplanet.com/nl/volle-dag-caral/