Fundo Chinchero/Puno 2 d /1 n
We offer a totally new tourism alternative combining lodge and activities. There is no better place in the Altiplano where the visitor can visit the Titikaka lake and have a complete experience of contact with farm animals and the nature.
Fundo Chincheros is a late 19th century ranch, dedicated to traditional Andean animal husbandry and recently to the tourism activity. Not more than 20 minutes by car from Puno city. We offer accommodation facilities at the farm house, horseback riding, country walks, bird watching, lama and alpaca lifestock, share daily farm activities, or just spending time to relax in nature.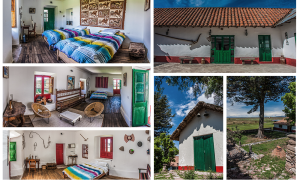 Lodging
We have five warm and cosy rooms full of style and history, carefully equipped and decorated. All these have heating and wonderful aromatic amenities.
Feel At Home
You can relax in your comfortable room with stile and history, use the nice and well equipped kitchen, share a nice glass of wine in front of the chimney or enjoy the magnificent star view from the terrace.
Twin & Family Rooms
There are single, double or twin bedrooms with private bathroom, and also family rooms which consist in two rooms net to each other sharing one private bathroom.
Live The Experience
You can go horseback riding, explore different walking trails along the farm and surroundings, such as our trail through the distinctive cactus forest, or simply enjoy the stunning scenery and the tranquility at the house farm.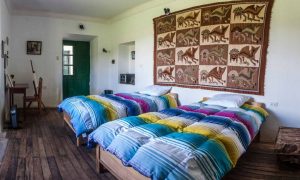 Horseback Riding
Proud breeders Peruvian Paso horse, we offer horseback riding tour based on the taste and experience of our visitors. We give visitors an introductory class to give them enough confidence with the horse and to know better the expertise level of the rider. We have routes of one and three hours, riding along the farm and surroundings, through nice valleys, forest, among the farmer community and near the Titicaca Lake and the train rail like real cow boys. If visitors are interested and have good experience with horses, we can organize customized tours by horse of one or more days, there are plenty of beautiful and interesting places to visit by horse.
Walking Trails
There are 125 hectares to enjoy different types of wonderful hikes, some flat and relaxed and other more challenging, all of them offer you a fantastic scenery of the altiplano. You can see the farm animals, walk across an interesting cactus forest, walk through a nice valley or enjoy the view and history of the pre-inca ceremonial center.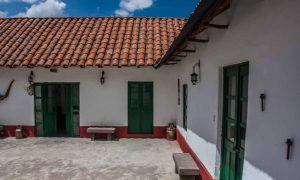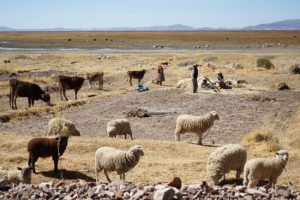 https://southamericaplanet.com/en/fundo-chinchero-puno-2-d-1-n/
https://southamericaplanet.com/es/fundo-chinchero-puno-2-d/
https://southamericaplanet.com/nl/fundo-chinchero-puno-2-d-1-n-2/