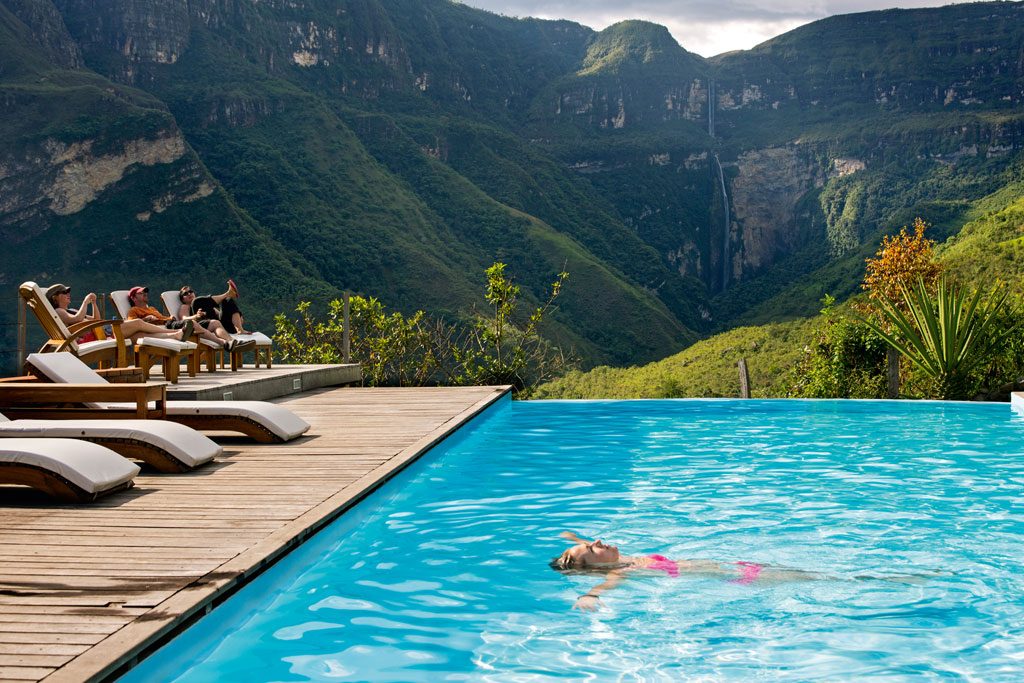 Gocta Lodge, gocta, chachapoyas 4* Hotel
Gocta Andes Lodge is designed to enjoy the view of the falls of Gocta. All rooms, which offer either a balcony or terrace, are oriented towards them. Aswel as the gardens, pools and surrounding terraces. Gocta Lodge is located in the village of Cocachimba, the starting point of hikes to Gocta. Access is easy, just 22 km from Pedro Ruiz, arrival point for buses from Tarapoto and Chiclayo, and 42 km from Chachapoyas, the colonial capital of the region. At an altitude of 1.800 meters, it enjoys a privileged spring weather.
In addition to one of the most spectacular views of Peru , Gocta Lodge enjoys an exceptional weather and strategic location, making it the ideal base camp for exploring the entire region of the Chachapoyas: Kuelap Leymebamba, Karajía. Its eight rooms and two suites are spacious and comfortable. All rooms have great views of the falls. Surrounded by tranquility, let you rest and have total relaxation . The kitchen incorporates the best ingredients of this Andean region. In the exteriors we have swimming pool, spacious terraces where
sunbathe and simply enjoy the amazing view.
The road from Tarapoto to Gocta is one of the most espectacular of Perú. Rising from the Amazon rainforest to the green Andes of Chachapoyas, crossing the Alto Mayo and other interesting places.