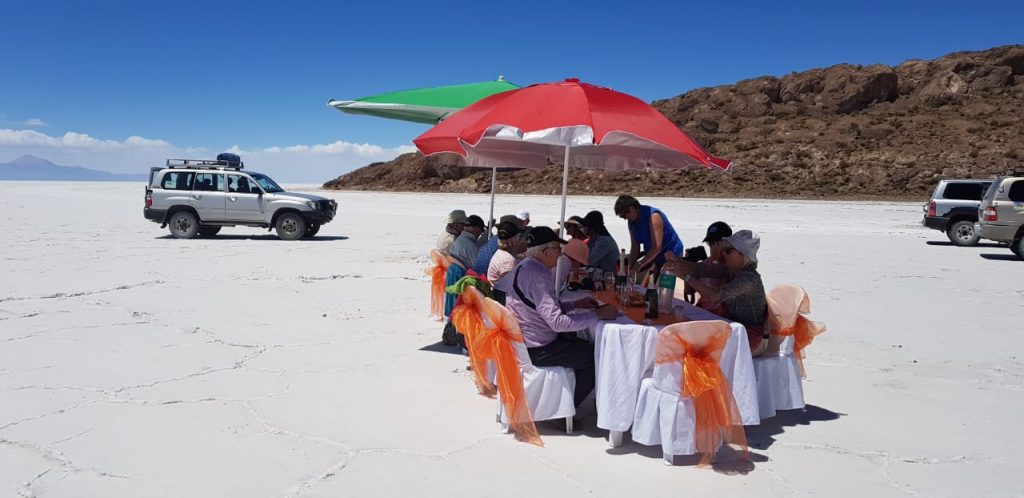 Group tours South America
Dear Traveler!
Here you will find Our own group tours Peru, Bolivia, Colombia, Patagonia, Ecuador, culinary Peru
We exist 18 years and we work in our 2 offices in Peru with 14 people, we are ready to make your South America adventure, the trip of your dreams!
Below you will find our tour groups with tourleader in South America / Only possible in Private groups from 10 Persons with tourleader. If less persons we also can arrange !
Again a whole range of different trips.
Ideal for group of friends, or large family's/ Everything can be made taylor made. We have experience with groups !
---
All our trips are suitable for all ages. We promote a lot of freedom during the trip, where you are not always attached to a fixed day program, but where you always have the safety of a Dutch-speaking regulator / guide who lives in the country and also knows the customs. We are a Specialist in the South America region, our great asset is that we live in Peru and are always available in the country itself. We have been offering individual and group tours for 18 years. After many years of living here, we know the best restaurants, everyone always thinks it's a culinary highlight after the trip!
Our group tours South America go from 10 to ….. people with personal service!
Group tours only land arrangement. You can buy own flights, looking for a promotion, or we can arrange at good rates in Peru.
---
Below Our dates with Dutch speaking tourguide
2021

Data vertrek EUROPA + aankomst EUROPA
* Prijs vanaf
Groep9
03 Sept -27 september
25 dagen Peru / Bolivia
€ 1 999
KLIK
Groep10
02 oktober -16 /23 oktober
15 of 22 dagen

Noord Peru +Ecuador

€ 1 096
KLIK
Groep11
16 of 18 oktober tot 03 Nov
17 of 19 dagen

Reeds 6 boekingen

Noord Peru + zuid Peru

€ 1 459
KLIK
Groep12
07 November-27 /29 November
21 of 23 dagen

Totaal Bolivia

€ 1 689
KLIK
Groep13
29 november – 20 december
22 dagen Totaal Colombia
€ 1899
KLIK
Groep14
26 november- 13 /18 december
18 of 23 dagen Patagonia- Argentinië
€ 2599
KLIK
*prijzen zijn vanaf voor de korte versie/ kijk op link naar juiste prijs en programma
---
Daar al de reservaties en betalingen van de groepsreizen langs een Vlaams erkend reisbureau gaan, zit iedere reiziger ook in het garantiefonds !
---
En de grote ontdekking,,,, kleuren , geuren en smaken,,, Peru culinair met een snuifje cultuur. een 14 daagse reis met 3 kook workshops, bezoek de locale markten, en leer de geuren en smaken van de beste keuken van Zuid America kennen, met natuurlijk ook Machu picchu op het einde.
---
Al onze reizen zijn voor alle leeftijden geschikt. We promoten veel vrijheid tijdens de reis, waar je niet steeds aan een vast dagprogramma vastzit, maar waar je wel steeds de veiligheid hebt van een Nederlandstalige regelaar/ begeleider die in het land woont en ook de gewoontes kent. We zijn Specialist in de zuid America regio, onze grote troef is dat we in Peru zelf wonen en ook steeds bereikbaar zijn in het land zelf. We bieden reeds 18 jaar Individuele en groeps rondreizen aan. Na vele jaren hier te wonen weten we de beste restaurantjes, iedereen vind het na de reis steeds een culinaire topper!
Onze groepsreizen zuid Amerika gaan door van 10 tot 18 personen. Kleine groepen met persoonlijke service!
Groepsreizen enkel landarrangement. Vluchten koop je zelfs, op zoek naar een promotie, of kunnen wij regelen aan goede tarieven bij onze brooker in Belgie. Dit is eerlijk naar de klant toe, reserveer je vroeg, kan je goedkope vluchten op de kop tikken bij promoties en vroeg boekacties, reserveer je later, zal je reis duurder zijn. De prijs landarrangement staat vast. Hierdoor ben je ook meer flexibel en kan je eventueel 1 dag vroeger of later dan de groep vliegen.
---
Al onze reizen zijn ook mogelijk voor privé groepen of families of op individuele basis.
Share this destination with your friends and family
Categories:
Argentina
,
Bolivia
,
Colombia
,
Destacados HOME
,
Ecuador
,
Group tours
,
Group tours
,
Group tours
,
Group tours
,
Group tours
,
Home
,
Individual tours
,
News
,
Perú