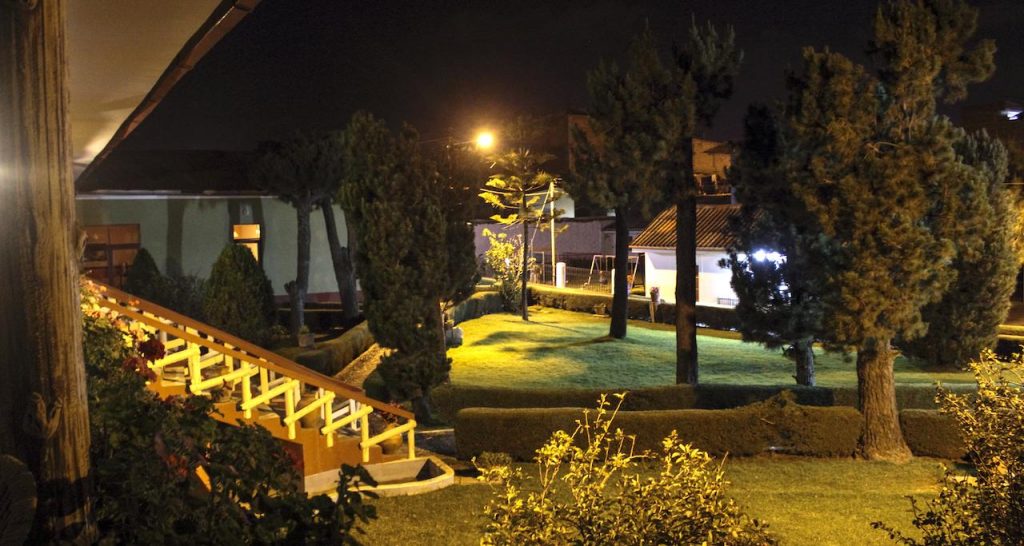 Hotel Colombo 3* Huaraz
The Hotel Colomba, located in Huaraz city, department of Ancash (Perú), is an ancient property that became a hotel. Its lands come since 1887 and part of its current infrastructure was built in 1903. Inside its facilities worked the soda and syrups factory called "The Phoenix" (1909 – 1990), the candies, chocolates and cookies factory (1928 – 1959) as well as the brewery "The Huascarán" (1932 – 1961), rewarded in different competitions and exhibitions with gold and silver medal to the quality. Likewise it has inside the San Nicolás chapel, blessed and given to the public cult in 17 / 12 / 1931.
All their rooms or bungalows are with private bathroom. The hotel has double rooms (with 2 double size beds) matrimonial, all with tub and hidromassage. Triple and quadruple rooms (bungalows with 2 bedrooms), rooms with five and six beds and 2 bathrooms with hidromassage shower. Likewise all have cable TV, telephone (DDI; DDN) intercom, radio alarm clock, coffee maker, new mattresses and beds box spring with the novel "Andean Dreams" system, hair dryer, amenities and room service.
It is the ideal place and with bigger distinction.
Located:
Hotel Colomba is located in Huaraz city, capital of Ancash department, only 5 minutes by walk from the main square or the center, in the north sense.
Open since: 1972
Floors: 1.
Hotel Area : 4,300 m2
Front Desk
Languages spoken: Spanish and English.
Facilities at the hotel
Large green areas, where rooms are situated in a pleasant atmosphere of tranquility.
Games for children, handball courts and basketball.
Food and Beverage
Breakfast : Buffet
Lunch and dinner a la carte. Peruvian and international food .
Hours:
Cafeteria serves breakfast from 7:00 am to 10:30 am
Restaurant : From 12:30 to 15:30 and 19:00 to 22:00 hrs.