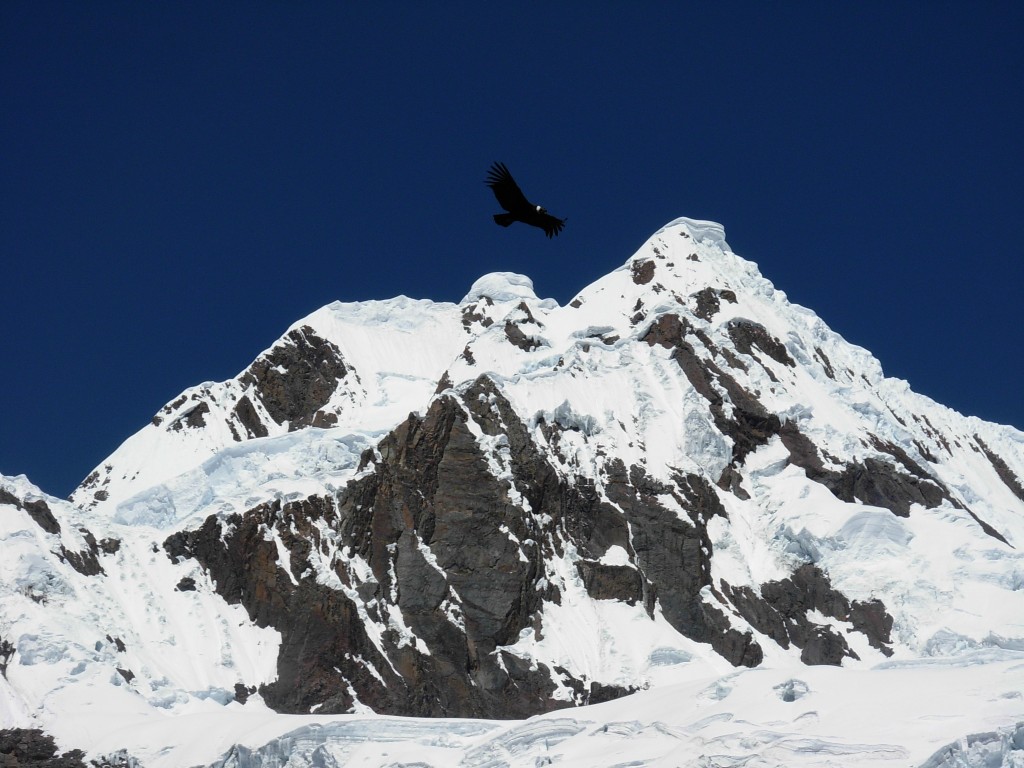 Huaraz -North Peru
All wonders of nature and history
The archaeology of Northern Peru is at least as interesting as the archaeology in the Cusco area!
Peru is a huge country, full of ancient empires, with the rise and fall of spectacular kingdoms throughout the ages. The Incas were the last era before Columbus, so their gold and empire was recorded and made famous to Europeans. Today 99% of Peru's tourists go ONLY to the half of Peru, South of Lima. Peru's North half is about half the size of Western Europe, avoid the crowds, yet it contains the most ruins and the highest level of Americas' past civilizations. It's also a heaven for those who like to do some trekking in pure nature!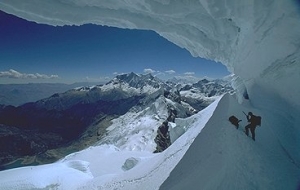 ---
Huaraz:
It's the capital of the Ancash department. Here, the Cordillera Blanca a magnificent range of snow-covered mountains is the most popular hiking region in South America. Along 120 km length of the Cordillera is the world's largest concentration of glaciers lying within the tropical zone, twenty peaks over 6,000 meters and Huascaran (6,768 m), Peru's highest mountain Visitors are invariably astonished by a landscape of deep contrasts: the sprawling palm treetops and flowering shrubs are set against a backdrop of imposing snow-covered mountains. Along the thickly wooded valley floor, through fields of flowers, the Santa flows noisily northward, past brightly-collared villages and thermal springs. There are numerous tourist excursions in the Callejon de Huaylas.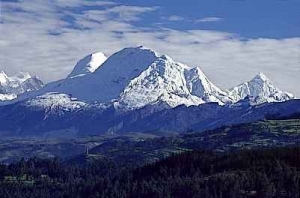 Examples are:
*a trip to Lake Llanganuco, known as the acclimatisation tour;
*To the Chavin ruins, called the cultural tour; its also possible to do this in a 3 days amazing trekking, look at trekking for more information about this trek.
*To Pastoruri glacier, one of the area's frequently visited and easily climbed mountains
*The Monterrey thermal springs, are only just over four miles from Huaraz. Here the Park management has installed a special pool for visitors in which mineral-rich water bubbles to the surface at a luxuriously hot 40 degrees Celsius. Nearby are the Chancos springs, which, like those in Monterrey, are known for easing arthritis. Chancos also has caves of steam, an attraction for many visits
*The ruins of willkawain from the Huari empire ,from there we have a beautiful view over Huaraz ,Take the local bus up to the ruins ,from there you can walk down , about 2 ½ h to Monterrey from where you take a local bus back to Huaraz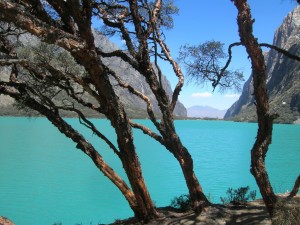 Huascaran Nature Park
The sky's the limit Huascaran (6,768m), the highest mountain in Peru. Listed by UNESCO as part of the Natural Heritage of Humanity in 1985 in view of its incredible natural beauty and bounty of natural resources, the Huascaran Nature Park is a haven of lakes, a variety of plant and animal life, and of course, majestic, snow-covered mountains. If you are visiting the park, which is approximately 23 kilometres wide and covers an area of 340,000 hectares, we recommend you to take the acclimatisation tour to Lake Llanganuco first. The more remote Cordillera Huayhuash is 4 hours by bus from Huaraz and has 7 summits over 6,000m, the highest of which is Yerupaja at 6,634m
Mount Pastoruri is a favourite destination of hikers. There, in all its ancient glory, lies the Callejón de Huaylas. This wide valley, some 200 km long, is split by the Santa River and fringed by a picturesque group of towns and villages, among them Recuay, Huaraz, Carhuaz, Yungay and Caraz. It is a land where time appears to have stood still.
Wedged between two soaring mountain chains -the Cordillera Negra and Cordillera Blanca- the Callejón de Huaylas gave rise to the ancient Chavín civilization, who have left a legacy in the Chavín de Huántar temple just hours from the city of Huaraz, famous for their stones in the form of heads. For more excavation information, don't miss the Archaeological Museum in the main square of Huaraz. Its great collection of ancient Chavin art is a millennia-old testimony to the sculpting skill of this people
Persons who like to have some activity , can do the excursion 3 days 2 nights Lama trekking from olleros to Chavin de huantar, this is a beautiful trek , amazing snow caped mountains , no many tourist, you real feel the pure nature. But this is a hard trek !! The first day you sleep in tents around 4000 Mt altitude and the second day you cross the pass of puntayanashallash,4700 Mt ,the third day you go down to chavin. Here you visit the amazing ruins .This trek you do with guide, cook , tents , and mules or lamas who carry al the gear .You just walk with your daypack .Look under trekkings this website for more information
Ancash, however, is a vast department that includes not only the highlands, but also stretches as far as the coast where one can find cities like the fishing port of Chimbote or Casma, a tranquil town by the shores of the Pacific. Possibly Ancash's geographic and climactic diversity has made it one of Peru's premier tourist destinations. Huascarán National Park, offers opportunities to practice just about every adventure sport under the sun, from rafting down the Santa River to climbing up the Pastoruri snowfields. Mountaineering Week is one of the major events in the region. It's also a great place for the less adventurous who enjoys going for day walks and exploring the villages and their lively markets.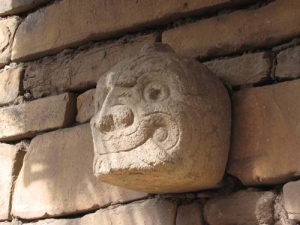 Huaraz.
The main destination for visitors to the Callejon de Huaylas is the city of Huaraz, about 8 hours by bus from Lima. The setting of the city, at the foot of the Cordillera Blanca, is spectacular. You can see over 20 snow-capped peaks over 5000 meters.
The first thing that strikes you on arrival in Huaraz is that it cannot exactly be called a pretty place, with most of the buildings built from concrete. This is because the town was completely rebuilt following a catastrophic earthquake in 1970 which flattened all but one street of buildings and killed half of the city's population.
However, Huaraz can provide all the facilities and infrastructure required by tourism. There are numerous hotels and hostals of varying kinds. Some are very basic, while some of the more expensive ones offer a luxurious mountain retreat.
Just about everything you need is on or near the main street, Calle Luzuriaga, including restaurants, banks and the post office
The main places of interest in and around Huaraz are Llanganuco Lakes
These dazzling glacier-fed lakes lie about 50 km north of Huaraz.
From the lakes you'll get incredible views of the beautiful peaks of the Cordillera Blanca including Chopicalqui (6,354m), Huandoy (6,395m) and the twin peaks of Huascaran (6,768m and 6,655m). It's best to choose a clear day for the trip.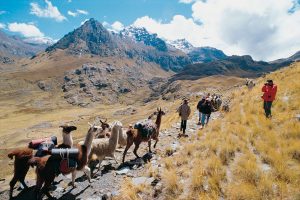 Pastoruri Glacier and Puya Raimondii plants.
This day tour offers a great opportunity to visit and walk on a glacier. The glacier is fairly flat and you don't need any special equipment but, at 5240m in altitude, you need to be well acclimatized before going (best to spend 3 days in Huaraz first). The trek up to the glacier takes about 45 minutes, although horses and mules are usually available to help the weary. Many Peruvians even bring their skis and snowboards along, although it's nothing compared to other skiing areas in South America. Remember to bring along a spare pair of shoes as yours will probably get wet on the glacier.
This trip is usually combined with a visit to the valley of Pachacoto, 57km to the south of Huaraz, where you can see the Puya de Raimondii plants. These strange plants, looking more like mutated cacti, are actually the largest member of the bromeliad family (relative of the pineapple). This species is considered to be one of the oldest in the world, and can be found in only a few isolated areas of the Andes. The low bushy base of the Puya Raimondii forms a large rosette of spiky, long leaves, about 1½m across.
The plant flowers just once in its life, which can be up to 100 years. This usually takes place in the month of May, when a huge central stem is pushed up to 12 meters into the sky, covered in many thousands of blooming flowers. The plant dies shortly after it blooms. If you are lucky enough to witness this event, it's an unbelievable sight set against a spectacular snowy mountain back-drop
Llanganuco to Santa Cruz Valley trek (4-5 days)
This is the most popular trek in the Cordillera Blanca due to the incredible mountain scenery including snow-capped peaks, turquoise lakes and beautiful meadows. The 45 km hike is not particularly difficult (rated moderate) so long as you have acclimatized for a few days in Huaraz. The altitude along the trail ranges from 2,900m to 4,750m. Due to the large number of trekkers this trail attracts in the peak season there are now established campsites and pit toilets at regular intervals along the route.You can walk the trail in both directions starting at either Cashapampa ( 2 hours by bus from Caraz) or at Vaqueria (2½ hours by bus from Carhuaz). Climbing is best done during the dry season (June to September) with optimum conditions usually in July. Acclimatization is essential so allow between 4 days and 1 week before starting the ascent depending on the height and difficultly of the mountain.
Look at this website under trekking for more information about this trek!
GENERAL
-Bank:banco de credito, at plaza de armas closed between 13 and 16 H ,at the main street there are also casas de cambio
-Post: Serpost at the corner Sucre and bolivar 8- 2000 H
-Tel:The best cards for international calls are HOLA PERU
-Laundry:at the hotel or B&B la mar 674
-Toerist office: from policía de turismo between post and municipalidad, they also have maps
The Cordillera Blanca is truly a climbers paradise
Cordillera Blanca: Peaks which can easily be climbed by trekking
Hatun Montepuncu45,415 mts.all year
Huarapasca25,530 mts.all year
Ishinka35,534 mts.all year
Maparaju45,326 mts.all year
Pastoruri15,220 mts.all year
Pisco35,752 mts.all year
Rima Rima25,203 mts.all year
Tuco25,454 mts.all year
Urus35,420 mts.all year
Vallunaraju35,686 mts.all year
Wamashraju35,434 mts.all year
Cordillera Blanca: Peaks which can be climbed with moderate difficulty
Aquilpo45,050 mts.May to Sept
Caullaraju35,597 mts.May to Sept
Copa46,137 mts.May to Sept
Champara75,878 mts.May to Sept
Chequiaraju45,512 mts.May to Sept
Hualcan46,122 mts.May to Sept
Paria45,500 mts.May to Sept
Raria35,576 mts.May to Sept
San Juan45,884 mts.May to Sept
Tocllraju46,052 mts.May to Sept
Urhuashraju55,544 mts.May to Sept
Yanapaccha55,393 mts.May to Sept
Southamerica planet can arrange all your hotel, tours, trekking and transport in Huaraz !.