Inca jungle 4 or 3 days cheapest tour to Machu Picchu
Walking and Mountain biking, zip line, rafting with a visit to Machu Picchu
The cheapest way to visit Machu Picchu
This adventure is a good alternative and much cheaper than the Inca Trail!
This is not only an alternative to the Inca Trail, it is the most original and exclusive: following paths only recently discovered. The Inka Jungle trail can be done in either 4 or 3 days and is a mixture of both biking and hiking to Machu Picchu. It is suitable for anyone with a sense of adventure and curiosity.
---
Day 1: Downhill mountain bike Cusco to Santa Maria 45 km
You will be picked up from your hotel at approximately 6.30 a 7.00 am. You will then be driven through the stunning Sacred Valley, we stop in Ollantaytambo, here we will make a short stop where you can buy breakfast and any last-minute purchases such as ponchos, snacks, repellents, etc. We then continue by bus for the next hour and a half to the highest point of the tour – the mountain pass Abra Malaga (4,330 m above sea level).Here you will change into the biking kit provided (gloves and helmet) and receive a briefing by your tour guide. Then the fun commences… freewheeling down quiet but challenging roads, past changing landscapes, you will not want to catch your breath , 2 1/2 hours down from your starting point. Throughout the journey we are accompanied by our private transport which is will carry luggage and offers support in case of emergency. We will arrive in Huamanmarca approximately 1.30pm. We travel by bus to the town of Santa Maria, where we will have a delicious lunch in a local restaurant, enjoying the typical local dishes. After a quick change and a dab of insect repellent,we begin a new adventure with those who reserved the rafting (additional cost of $30 USD) In Santa Maria, here you can browse the internet, buy snacks or just rest your legs and enjoy a cold beer before dinner of traditional Peruvian food. Here you will stay in a family run hostel and sleep in either single, double or triple rooms.
The group who booked the rafting will be taken to the rafting camp near the Urubamba river, where they will receive detailed instructions for the activity and the safety equipment, including helmets and life jackets. In the raft you will accompanied by a guide, and a rescue boat will follow to supervise the adventure.
Depending on the season the river is between class III and III+ with exciting speed and some turbulence, but all controlled and supervised by experienced guides, certified in extreme sports, who have excellent knowledge of the geography, climate and local environment.
Optional 30 usd a person you can do rafting this day at the Vilcanota River, real recommended.

---
Day 2: Trekking Santa Maria – Santa Teresa 22 km
We start the second day of our Inka Jungle Tour at 7:00 am with a delicious local breakfast . We begin trekking around 8:00 am, and after approximately 30-40 minutes we join the original Inca Trail. Along the way you will witness the diverse flora and fauna of one of the richest biodiversity areas in the world. Fruit trees such as pineapple, papaya, banana grow around us, and different species of birds flutter around. After around 2.5 hours of walking, we arrive in Quellomayo village, where we will have lunch and take a rest in hammocks to prepare for the rest of the trip. After the break we continue trekking for around 3 hours, crossing farms, waterfalls and rivers (including one we cross in a cable car! 10 sol extra to pay ). At around 4 pm we arrive at Cocalmayo – better known as the hot springs of Santa Teresa, where we will have the opportunity to take a relaxing, warm bath. Cocalmayo ( 10 sol )offers several relaxing hot springs, each with its own temperature. After the break at the hot springs we continue walking for about 40 minutes until we reach the town of Santa Teresa where we will stay for a night. (There are taxis available for this last stretch if you prefer, not included). After dinner you will have free time to explore the town, or just relax and take a nap. Santa Teresa offers a variety of local pubs and discotheques where you can enjoy the nightlife, taste typical Peruvian beverages and meet the locals.
---
Day 3: Trekking or zipline Santa Teresa – Aguas Calientes
Today we have breakfast again at 7am. After breakfast we continue exploring .In Santa Teresa there is a zip line, and we split the group again into those who booked the zip line and those who chose trekking. The zip line group will be taken to the activity where they will spend around two hours zipping across the valley, enjoying spectacular scenery as they fly by over the river. After the activity they will be taken by bus to the area known as 'the hydroelectric'.
The rest of the group will the trek for approx. 3 hours through the valley until reaching the hydroelectric, where the entire group will come together again to have lunch. After a break we continue walking along the railway, enjoying beautiful waterfalls, coca and coffee farms and much more. After 3 hours walking we arrive in Aguas Calientes, also called Machu Picchu Pueblo, around 4 pm. Here, in a hostel with hot water and wi-fi, we spend the third and final night In the evening we all meet together for dinner in a local restaurant, followed by a briefing about the fourth day, and Machu Picchu. You will also have time to explore the town on your own. In Aguas Calientes there are more hot springs, so if you would like to rest in the warm water, you will have opportunity to visit them (additional.
Optional : Canopy zipline and bridge, Approximately 10 minutes from Santa Teresa. The duration is roughly 2 hours. The price is $ 30 USD Per person.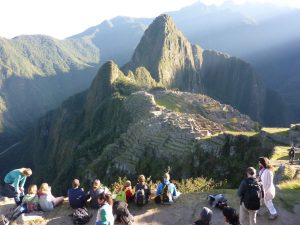 ---
Day 4: Machu Picchu
The last day of the Inka Jungle tour will start around 4:00 am to make sure we arrive early to to the entrance of the famous Inca Citadel of Machu Picchu. The "Lost City of the Incas." First, we will hike through the high forest, climbing around 1500 stairs, to reach the entrance for 6am. After entering the complex our tour guide will lead you, for about 1.5 to 2 hours, through the spectacular ruins of Inca city. You will also have plenty of time to explore Machu Picchu on your own. Machu Picchu is the best known of the Inca ruins, as it is recognized worldwide yet it is not mentioned in any of the writings of the Spanish Conquistadors. It is believed to have been constructed around the mid-15th century and was "rediscovered" by American historian Hiram Bingham in 1911. The guided tour of this fascinating place is an inspiring experience. You will visit the Main Square, the Royal Quarters, the Temple of the Three Windows, the Circular Towers, the Sacred Sun Dial and Burial Grounds. After the excursion you can walk to Inti Punko, the "SUN GATE" to take your famous photo, or to the mountain behind Machu Picchu " Huayna Picchu ", the hike takes about 45 minutes, from here you have stunning views over the whole complex! But be careful, from 2005 there is a new rule that only allows 400 people a day to visit Huayna Picchu. The gates will close at 12p.m. And you have to book your tickets in advance. After visiting Machu Picchu we take the train from Aguas Calientes to Ollantaytambo, where we will be picked up and transferred back to Cusco by bus. The journey ends close to the Plaza de Armas in Cusco, from where you walk to your hotel. Please note that you will be descending by yourself from Machu Picchu to the train station in Aguas Calientes, because some people will want to stay longer in the ruins, some shorter, and some will climb additional mountains, so will have a train at a different time or take the bus back to cusco.
Important! Remember that you have to be at the train station in Aguas Calientes at least 30 minutes before departure of your train. Remember to leave Machu Picchu with enough time to get there 30 minutes before this time. Usually it takes around 2 hours to come back on foot from Machu Picchu to Aguas Calientes, but it depends on the person and their physical condition and may take longer. We will not be responsible if someone misses their train.( a bus take 20 min )
For the travellers that booked hiking up Huayna Picchu or Alternative Mountain (Montana Vieja) Note that it will take around 45 minutes to reach the top of Huayna Picchu. The path is very steep and narrow, but worth the extra effort, as the view from the top is absolutely breath-taking. Climbing Alternative Mountain (Montana Vieja) will take about 2 hours, but the route is not as steep as Huayna Picchu, although this mountain is higher. Remember that entrance tickets to Huayna Picchu and Alternative Mountain (Montana Vieja) are for a specific time, so be in front of the entrance gate on time, otherwise you will lose the opportunity to explore these additional mountains. These entree tickets are optional and only possible to reserve in advance together with your reservation!
---
3 days option / it is possible to do the 3 days inca jungle tour, than after rafting, you drive direct to santa teresa and skip day 2, in the 3 days tour there is less waking
Cheaper option/ it is possible to walk back to Hydro electrico and take from there the bus back to cusco for 6 h ( bus leaves 14,30 PM )
Includes
*Transport from Cusco to abra malaga and santa maria
*Professional bilingual guide.
*Bike with front suspension, gloves and helmet.
*Food, from lunch on the first day to breakfast on the last day.
*Accommodation ( basic) for 3 nights
*First Aid kit
*Entrance fee to Machu Picchu
*Train back to Ollantaytambo then bus from Ollantaytambo to Cusco.( orbus from Hydro to cusco)
---
Not included
*Breakfast on the first day.
*lunch abd diner on day 4 in Aguas Calientes
*Bus from Aguas Calientes to Machu Picchu and back.
*Entrance fee to the hot springs in Santa Teresa ( 10 sol ) and Aguas Calientes.
*Entrance fee to Wayna Picchu or Machu picchu montagne (you have to book when you reserve your tour and is subject to availability)
*optional transport hot springs – santa teresa
*rafting 30 usd
*zip line 30 usd
*cable 10 sol on day 2 to reach santa teresa
*towels and soap( for rent)
What do you need to take ?
*Wind jacket.
*Solar protection.
*Mosquito repellent.
*Swimming suit and towel.
*Sandals / flip flops.
*Hiking boots.
*Change of clothing.
*Small backpack.
*150 soles in extra money.
*Original passport.
*university student ID if applicable.
What do we need when you make a reservation?
* Full name as it is written in your passport.
* Fax or scan of your international university student card (if you have one the tour will cost $18 less).
* Passport number.
* Nationality.
* Date of birth.
* Departing date for the trail.
*We ask for a 40% deposit, sending to us via Western Union, or even better via visa online through this website
The balance you will pay at our office in Cusco before the start of the trek. We accept cash USD or credit card (+5,5%)
Cancelation policy:
If a notification of cancellation is received from the moment of reservation till 8 days prior to the date of the beginning of the Trek, we charge cancelation fee of 70 Usd a person for the 4 day Inca jungle.
No refund will be made if the notification of cancellation is received 8 or less days before the beginning of the Trek, or in the case of a no-show by person(s) or for cancellations made during the trip itself.
Nota: This 4 day trek is the cheapest way to do hiking and biking with a visit to Machu Picchu, this means that the accomodation is basic + bikes are basic and you wil eat in local restaurants, along the way.
IMPORTANT NOTE: Some details of Inka Jungle Tour may change depends on the weather conditions, physical condition of the participants and other unpredictable things, like for example strikes, storms, slidelands, etc.