Inca Trail and Maragua Crater
This hike (6 + 6 km) starts at the chapel of Chataquila on the rim of the Cordillera de los Frailes.
You walk down the Inca trail to Chaunaca while you enjoy impressive views all around.
At Chaunaca the car will pick you up to bring you to the Ravelo River where you can have a break or a swim if you like. Then the car will cross the river and take you to the crater of Maragua. The crater is not volcanic as you might think but was formed by erosion. The area is beautiful, however.
Or you can hike up in four hours to the dinosaur tracks at Niñu Mayu. This is only recommended for experienced hikers.
Don't want to do any hiking but just want to enjoy the view from the car? It's still worth the trip! Around the villages is a lot to see as well; locals are happy to show you their weavings or you can visit the cemetery, the waterfalls and the sacred cave under the waterfall of Maragua.
---
Included:
Transport;
English speaking guide;
Entrance fee;
Not Included
Not included:
Other costs
meals
---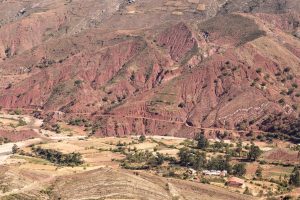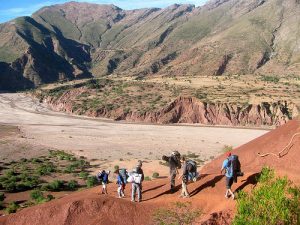 https://southamericaplanet.com/en/inca-trail-and-maragua-crater/
https://southamericaplanet.com/es/camino-inca-y-crater-maragua/
https://southamericaplanet.com/nl/inca-trail-maragua-krater/