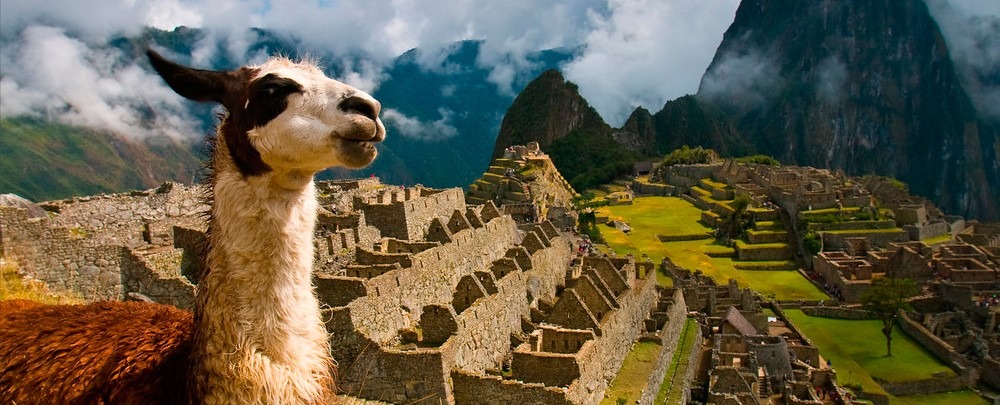 INCA TRAIL 4 DAYS TO MACHU PICCHU
We are official operator of the Inca Trail in Cusco, Perú
Walk with southamericaplanet the famous incatrail hike to Machu picchu. Discover the amazing ruins and the inca culture.
---
Notice about incatrail permits:
There are only 500 permits available each day for the Inca Trail ( 250 in covid times) (including the guides, porters and cooks that will come with you for the 2 or 4 day trails). Because of these new rules it's highly recommended to book your Inca trail 60 to 90 days in advance (especially likein high season).
If you wish to book your Inca Trail you will need to pay the trek deposit in advance. Otherwise we will not be able to buy your trek permit. Once we have bought your permit for the Inca Trail it's not possible to change the date of your departure or your passport number, so make sure these details are correct. At this moment it's not allowed to climb the Wayna Picchu Mountain for persons that are on the Inca trail.
How do you now if there is availability for the incatrail to Machu picchu?
Well, it's very easy, just select the month you want to travel in and you will see how many spaces are still available. The trail is regulated to 250 people each day. Support staff like guides and porters is also included into this allowance, so really only half of the 250 is for tourists. February Inca trail is always closed.
Please notice that the Lares and Salkantay trail with Machu Picchu included are always possible as permits are not required. look here
---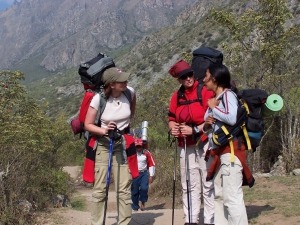 ---
Day 1: Cusco – Ollantaytambo – Wayllabamba 4 h
At 5.30am you will be picked up from your hotel to be transferred to Ollantaytambo. At 7.30am you will arrive in Ollantaytambo where you can have breakfast. It's also recommended to buy some coca leaves or a pair of walking sticks (10 soles) if you require.
After breakfast the bus will drive you to Piskacucho (2650 m.a.s.l.). Piskacucho is a small community located at the beginning of the Inca trail. From this point you will hike for about 12 km. During the hike you will walk along the Urubamba river, have a little break at the Miskay community (2800 m.a.s.l.) and you will have an amazing view of an Inca building called: Patallacta.
Around lunch time you will reach a nice natural spot where our cook and porters are waiting for you to have lunch.
After lunch you will hike up hill for about 2 hours until you reach the campsite where you will stay your first night. During the last 2 hours you will enjoy the Vilcanota ridge and the Veronica snow covered mountain on the opposite side of the Urubamba river (5832 m.a.s.l.).
---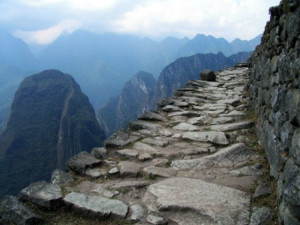 Day 2: Wayllabamba – Warmiwañusca – Pacaymayo 7 h
After an early breakfast you will climb up for 9 km along a beautiful narrow ravine. On this section hikers will experience a hard time because of all the steps. We advise you to take it easy and take a rest whenever you feel it is necessary.
After a few hours you will reach Lluluchapampa. At this point you will start to climb to the highest and most famous mountain pass: the Abra Warmihuañusca (Dead Woman's Pass 4200 m.a.s.l.). It will take about 2 hours to get to the top. We recommend you to just take it easy, without pushing yourself too much. Don't worry if you get delayed; the group will wait for everyone at the top of the pass. Once we reach the pass, we will have a break to enjoy the view and take some photos.
After our break we will continue our way downhill to Pacaymayo Valley (3650 m.a.s.l.). During our way to Pacaymayo we will have lunch and we will likely see different kind of birds and the Andean bear (Tremarctus Ornatus).
Once we reach Pacaymayo we will have diner. This is also where we will stay overnight.
Notice:
We recommend you to carry some chocolates, candies and coca leaves with you during the hike. This will help to keep your sugar level high. It will also help against altitude sickness.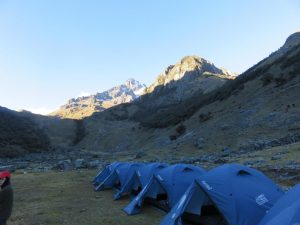 ---
Day 3: Pacaymayo – Puya Patamarka – Wiñay Huayna 8 – 9 h
After breakfast we will continue hiking for 15 km. Day 3 is the longest but most impressive and interesting day since you get to see a number of archaeological sites.
This day we will start by hiking up a steep path that will lead us to the Runkurakay pass (3970 m.a.s.l.). During our way, you will stop to visit the archaeological ruins of Runkurakay (3800 m.a.s.l.) After we have reached the top, we will walk down to Yanacocha and arrive at Sayacmarca (3624 m.a.s.l.). After visiting this archeological site, we will enter the rain forest. In the rain forest we will be walking up and down until we will come to the last climb of the trail that will lead you to the third pass: Abra de Phuyupatamarca (3650 m.a.s.l) From this point the rest of the trail is mostly downhill. During the way we will be visiting the ruins of Phuyupatamarca.
At the end of the day we will reach Wiñaywayna, where you will spend the night at a camp site. Close to the camp site there is a restaurant where you can enjoy hot showers, cold beers maybe even a bit of a party. This night you will also say goodbye to the cooks and porters, since they will take an early train to Cusco the next morning.
---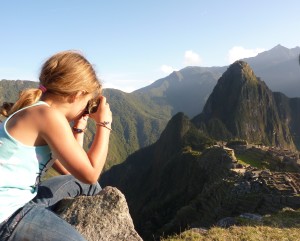 Day 4: Wiñay Huayna – Machu Picchu – Cusco
On day 4 we will have to wake up at 4.00 a.m. After breakfast, around 4.30am, we will hike to Inti Punko ( Sun gate). This gate will take you to Machu Picchu. It's about an hour hiking along a narrow trail of rainforest. Our tour guide will show you around the wonderful Inca village called: Machu Picchu for about 2,5 h.
Machu Picchu is the best known of the Inca ruins, as it is recognized worldwide, yet it is not mentioned in any of the writings of the Spanish Conquistadors. It is believed to have been constructed around the mid-15th century and was "rediscovered" by American historian Hiram Bingham in 1911. The guided tour of this fascinating place is an awe-inspiring experience. Visit the Main parts of Machu Picchu. After the explanation (about 2 hours) in total you can stay 4 h maxima at Machu Picchu.
We are going to visit one of these circuits,
Ministry of Culture has introduced fixed circuits from November 2021, depending on which one is available on the purchase dates. The ticket can only be used once to enter. You will then gain access to one of the circuits below. It's a one way walk, you can't turn back.
Included in the incatrail is the standard ticket, without Huayna or Machu Picchu mountain.
After you are done exploring Machu Picchu you can walk down, or take the bus (included in the price) to Aguas Calientes to have lunch (not included).
In the afternoon you will take the train back to Ollantaytambo or Poroy, from where there will be a transfer to Cusco, where you will arrive late evening after an amazing 4 days!
---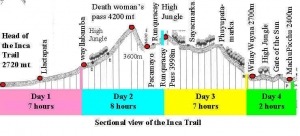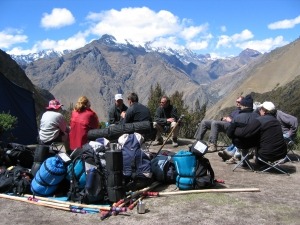 Included:
Train ticket Machu Picchu/Aquas Calientes – Cusco or Ollantaytambo

Bus to Km 82 (start of the trail).

Entrance fee to the ruins and the Inca Trail.

Porters to carry tents and food.

Cook service.

Transfers to and from your hotel.

All applicable taxes.

Bilingual guide.

Camping equipment including tents and air mattresses, (you have to carry the mattress and sleeping bagg yourself).

Kitchen tent and eating tent.

Medical Assistance.

Bus ticket down to Aqua Calientes.

All Meals as indicated in the itinerary. 3 breakfast / 3 lunch / 3 diner, Vegetarian food available on request.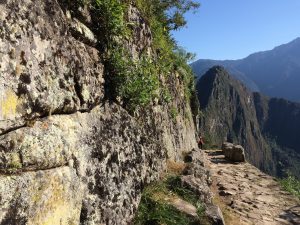 ---
Not included:
Breakfast on the first day and lunch on the last day (take some snacks with you because the food at Machu Picchu is very expensive

Extra nights which are possible at the end location of Aguas Calientes. All you need to do is tell us you would like to stay extra nights so we can organize your transport back to Cusco for a different day

Extra Kg to carry by porters/ you have to carry all your personal belongings yourself included mattress and sleeping bag. There is a possibility to hire 6 or 12 kg to be carry by porters for a cost of $100USD for 6 kg or 200 Usd for 12 kg, for the 4 day trek. If you are interested in hiring extra kg to carry, you will need to tell us when you make your booking as the porters will also need a permit for the Inca Trail. Each porter can carry up to 20 Kg

Sleeping bag. We rent out good sleeping bags which will keep you warm to minus 10 degrees. The cost is $20 USD for the 4 days.

Walking sticks. You can also rent these from us for a price of $20 USD for the 4 days.

Private tent. For an extra charge of $50 you can have a private tent for yourself.

Tips for porters / guide/ Cook.

Personal insurgency.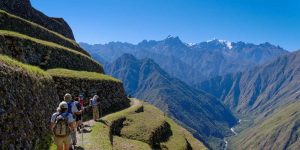 ---
What do we need when you make a reservation?
Full name as it is written in your passport.* Scanned copy of your passport.

Copy/fax or scan from both sides of your Internat University student card (if you have one and are less than 28 years old the price of the Trek is $40 USD less).

Departing date for the trail.

We ask for a 40% deposit, sending to us via visa or Pay Pall online through this website:+5,5 % or Wetravel 4,5 % (cost credit cards charge us) The balance you will pay at our office in Cusco before the start of the trek. We accept cash USD or credit card (+5,5%)
Note: If after making the reservation you have to change your passport, or if it is stolen, please bring the old one with you or at least a copy. The INC are very strict!
If the passport and the number on the permit do not match they will not let you start the Inca Trail. Please inform us in advance if you don't have a copy of the old passport. The INC and Southamerica planet charge 25 USD in administration fees to change this. It is not possible to Climb Wayna Picchu for Inca Trail clients (rules of INC)!
---
What you should bring:
Your official international passport and student card, if you forget, you can't enter the trail!!!

Personal sleeping bag, we can rent this to you if you don't have one!

Backpack.

Trekking shoes.

Water bottle.

Flash light.

Sun hat.

Personal clothing for the trek and waterproofs for the rain.

Insect repellent.

Snacks.

Emergency money and money for tips to the guide, cooks and porters.
https://southamericaplanet.com/en/incatrail-4-days-to-machu-picchu/
https://southamericaplanet.com/es/camino-inca-4-dias-3-noches-machu-picchu/
https://southamericaplanet.com/nl/inca-trail-4-daagse-trektocht-naar-machu-picchu/