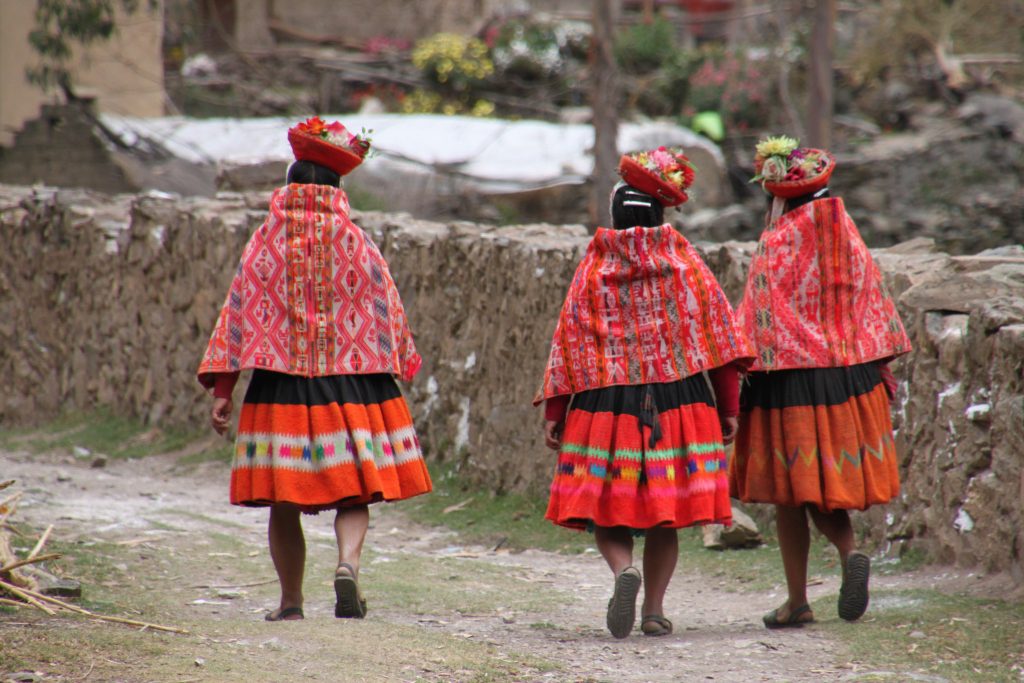 Individual Live and experience Peru in a different way in 18 days
This tour is specially designed for people who want to EXPERIENCE Peru. No mass tourism, no hours of shared buses, but more focus on authentic small hotels or homestays and glamping. Contact with local people and contact with nature is the highlight of this tour. Back to the basics of travel and explore. Mainly Private tours or in small groups. Get to know Peru and its splendor differently. Ending in the lung of Peru, the beautiful jungle.
LIVE and EXPERIENCE Peru!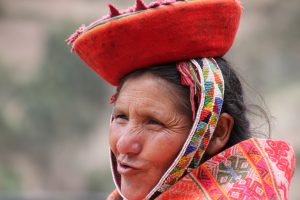 ---
How do we work?
In our packet, you travel all by yourself, South America Planet take care of you, we reserve all. When you arrive in Peru you find in your first hotel someone of South America Planet gives you a personal briefing and digital information. The excursions will be doing with English speaking guides..
You travel around by yourself but without worries, all arranged thru South America Planet. If there are any problems, you always find support by contacting our office by WhatsApp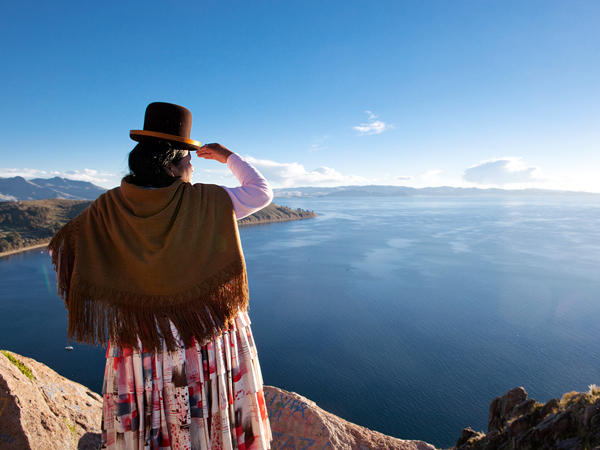 ---
What is included
* All transport, all hotels- homestay – glamping and all the tours as indicated in the program.
* All your vouchers, information packet, like general info over all the places you visit/ All digital
* All accommodation is based on double room with private bathroom ( homestays, in shared )
* all the transfer
* Meals where indicated in the program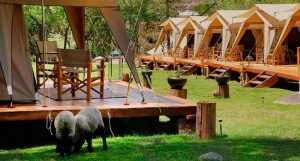 ---
Not included
* Your food, (breakfast included and some other meals)
* The entry fees and taxes
* Local flight Lima / Arequipa + Cusco / Puerto/ Lima (we also can arrange)

---
Day 1: Lima
Day 1: Lima
Arrive at Lima airport, someone from South America Planet picks you up from the airport and brings you to your first hotel with a garden in Barranco or Miraflores. ( if you arrive with KLM you need to add an extra night in Lima)
After a long flight, we start our Bike Tour of Lima. Discover the artistic and bohemian district of Barranco, known as the home of distinguished Peruvian artists from the 18th century to the present. We do around 10 km in 3 hours tour with an English-speaking guide. Sight beautiful views of the privileged location of Barranco, we visit the main plaza and the charming Plaza San Francisco where you will find different Summer houses of the 19th and 20th centuries. We pass by the Malecon to make you feel in a village far from the city. And the romantic Puente de Los Suspiros (Bridge of Sighs)
---
At 13.30 there we start on our next experience Peruvian Cooking Class in Lima + Local Market Tour and Exotic Fruit Tasting
Peruvian Cooking: This class is for people who love traditional foods and want to make it at home! You'll love the relaxed atmosphere with no dull demo's, because we believe in the hands-on approach. You will make an authentic Peruvian dish to tantalize your taste buds and later enjoy your achievements.
To cook, we use ceramic pots, the same as our ancestors did. This way we will keep all the flavors as natural as they are.Carefully and after a long work together with chefs, cooks, gourmets and local food lovers we choose 4 different great options to teach to cook then you have to choose among these tasty dishes:
included
Bike tour in Barranco
Cooking cours in the afternoon
hotel in lima click here
not included
lunch + drinks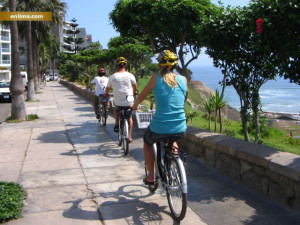 ---
Day 2 + 3: Flight to Arequipa +1/2 day City tour
In the morning there is a transfer to the airport, and you take the (morning) flight to Arequipa. Then transfer to your hotel and independent visit to the city. You have all day to discover this colonial city. Arequipa is located at 2325 m in a valley at the foot of the snow-covered El Misti volcano (5822 m). Many buildings and churches are made of sillar, a pearly white volcanic material. Arequipa is a modern and rich city by Peruvian standards but still has a beautiful colonial center. Do not forget to visit the Santa Catalina monastery. It is a special place to spend an afternoon wandering through. The city itself covers approximately 20,000 m2 and for 400 years, about 450 nuns lived here in total seclusion. The monastery was not opened to the public here until 1970.
The cathedral in the Plaza de Armas and another monastery, La Recoleta, are also recommended. Be sure to visit the pride of Arequipa: the mummy "Juanita." In the museum Santuarios Andinos, you can visit the mummy of the young Inca girl (occasionally this famous mummy is on an exhibition in another country or city). She was sacrificed by the Incas to the volcano to appease it. The mummy has been so well preserved because all these years it has been frozen under an ice cap. Also try the local specialty "CUY", our hamster, in the many cozy restaurants.
Today, you can also optionally do the reality tour where you will look behind the scenes of Peru. You see real life, the market for the poorer people, the sillar quarry … or go rafting even you can do mountain biking
including
transfer to lima airport
hotel in Arequipa click here
City tour in Arequipa 1/2 day walking tour in Private
transfer in Arequipa
Not included
Lunch – Dinner
Flight to Arequipa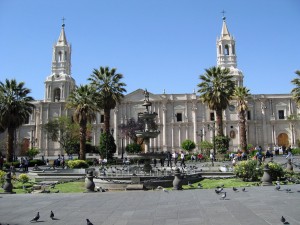 ---
Day 4: Colca canyon 3 days
This morning we leave from our hotel to the Colca Valley, you will be 2 days in a private transport with English speaking guide.
We climb considerably and see the landscape change. We reach a reserve where you can see alpacas and vicunas. Vicunas are relatives of the domesticated llamas and alpacas. Vicunas are slender elegant animals and their wool is the finest and most precious in the world. They are also threatened with extinction. Before we cross the pass, we make a stop for a coca tea, the most natural way to not be bothered by the height. You should always drink a lot of water, up to 1 liter extra per 1000 mt. Above there is a pass of 4900 meters, where we stop for a view of snow-capped peaks and volcanoes. This tour is physically difficult because of the height, the highest point is 4900 meters. But the village of Chivay, where we have lunch, is about 3600 meters. The local Indians here wear colorful traditional clothing and special hats that characterize this environment. In the afternoon you can enjoy your day in the lovely hot springs located at the hotel. We stay in beautiful nature, a hotel a bit away from the city where you can relax.
Including
Colca canyon tour in Private
Hotel in Colca click here
Not included
Entrance colca 70 sol
Lunch- Dinner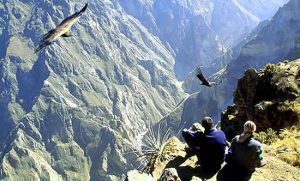 ---
Day 5: Colca canyon 3 days
We get up very early to arrive at Cruz del Condor in time. Driving past the gorge you can see pre-Inca terraces everywhere in this extremely spectacular canyon, the deepest in the world! The terraces were the only way to grow crops like corn at this height. At the "Cruz del Condor", a point where you have a beautiful view over the more than 1000 meters deep gorge, you have a great chance to see condors. These are impressive animals with a wingspan of more than three meters.
The condors use the morning thermals to be carried upwards in large circles along the mountainside. Note that it is and remains nature, so we cannot guarantee anything, but only the canyon and surroundings are definitely worth a visit. See the condor as a bonus! The chances from the end of November are smaller to see them since condors do not like rain. The first condors normally appear around 9 o'clock. They sometimes fly just over the spectators. Afterward we drive a bit further to Cabanaconde, where we stay in a hotel with a beautiful view of the canyon. Here is the farewell of the guide and you have free time to walk in this beautiful area.
Including
Colca canyon tour in Private
Hotel in Colca click hier
Not included
Lunch- Dinner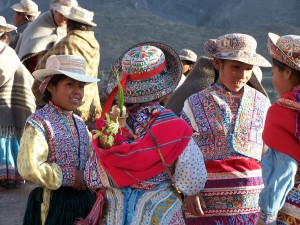 ---
Day 6: Colca canyon 3 days and transport to Puno
This morning you wake up in this beautiful nature and there is a good chance that you can see the Condors passing close to your hotel. You can also walk to the condor cross. Afterward, you have private transport to Chivay and Puno. Along the way, you will see beautiful lagunillas and sometimes also flamingos. Until we arrive at the beautiful Lake Titicaca. We sleep on a very special alpacas farm. Fundo Chincheros is a late 19th-century farm, dedicated to traditional Andean livestock farming and recently to tourism activity. No more than 20 minutes driving from the city of Puno. We stay at the farm where you can horseback ride, walks in the country, bird watching, Llama and alpacas share daily farm activities. A beautiful place with relaxation in nature.
Including
Private transfer to Chivay and Puno
Hotel in Puno click here
Transfer in puno
Bus chivay – Puno at 1.30 Pm ( optional in Private)
Not included
Lunch + dinner
Note / to lower the price you can take a shared bus from Chivay to Puno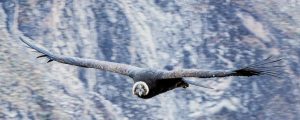 ---
Day 7: ALTERNATIVE TOUR UROS ISLANDS – TAQUILE – WITH OVERNIGHT IN LUQUINA (2D / 1N)
DEPARTURE: 7:15 AM FIRST DAY: We get up early and transfer 20 minutes to the harbor, where our shared boat is waiting for us.
This tour is different from regular tours. The standard boat trips only go to Taquile or Amantani, but we go to a homestay in Liquina
We will visit the floating islands of Uros, you will be there for about 1 hour where you can get in touch with the inhabitants of the island and learn about their customs and traditions. We continue the boat trip to the island of Taquile, where you can admire nature, crafts, the lively culture, and enjoy a delicious lunch.
After this visit, we will go to Luquina, located on the Chucuito Peninsula, where we will share experiences with a local family. (Arrival in Luquina at about 2.30 pm), On this day you will sleep with a host family (basic) including dinner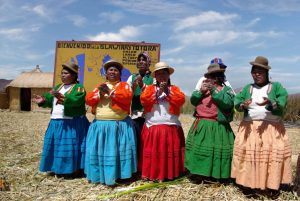 ---
Day 8: ALTERNATIVE TOUR LUQUINA (2D / 1N) back to Fundo chincheros
Breakfast included. walk with the family to share their daily activities and learn about the lifestyle of the people in the high plains. Each family teaches their guests their activities and ends the day with a delicious lunch before returning to our cozy farmhouse along the lake.
DEPARTURE FROM LUQUINA A PUNO: 2.30 PM approx.
Including
Transfers
Hotel in Puno Click here + homestay in Luquina
Shared boat to taquile and luquina
1 dinner with family
Not included
other meals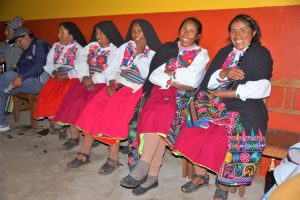 OPTIONALLY you can stay on the farm for 2 or 3 nights and from there do various excursions, or optionally go to isla suasi click here
---
Day 9: On the way to Cusco with private transport + guide + 3 stops en route
In the morning our private transport and guide will pick us up at the farm. About 7 hours drive through the Andes over the rugged mountains and the high plains along with beautiful scenery. Along the way, you see the landscape slowly changing and we pass the highest pass at La Raya. After this, the landscape becomes much greener and more fertile. We visit several sites, colonial churches and on the way, we have spectacular views over the Vilcanota mountain range. A beautiful bus ride on the altiplano in luxury and comfort. We also stop for an inclusive lunch buffet
Visit Pukara / La Raya Pass / lunch in Sicuani / Rachi Inca Complex / Andahuaylillas church
We arrive in Cusco in the afternoon, this is the royal city of the mighty Inca empire.
We will also make further arrangements for your tours in and around Cusco. You will also get the train tickets and entrance of Machu Picchu + a briefing about the Cusco – Machu Picchu piece.
Optional: you can take the expensive but beautiful Titicaca train to Cusco, this only goes on Monday, Thursday and Saturday Click here
Cusco means in the language of the Incas: the navel of the world. Once the city was the powerful and religious center of the Incas, Cuzco still exudes the mystical atmosphere of the time. In 1533 the Inca city was conquered by the Spaniards. The Spaniards literally built today's Cuzco on the ruins of the old Inca city. In many houses, parts of Inca walls have been incorporated, in which the typical Inca architectural style can be recognized immediately. It pays to purchase the special Cusco Visitor Ticket for 130 SOLES, which gives you access to almost all important monuments, churches, and museums in the city and the most important ruin complexes in the area.
In the evening you can eat in one of the many cozy restaurants and drink a Cusqueña beer in the countless cozy bars and discos.
Including
Private transfer to Puno to Cusco With guide
Hotel in Cusco click here
Entree fees
Not included
Lunch + diner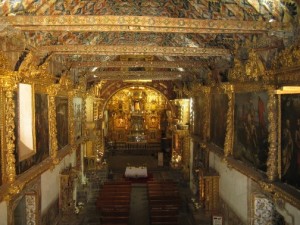 ---
Day 10: Cusco – Walk the Ruins above Cusco for 10 Km
You can sleep in after the previous long days. After breakfast, it is time for action. Today we do an easy walk to the ruins above Cusco. It is best to do this in the morning (not so warm and less chance of rain). These are behind the white Christ statue that you see from the center of Cusco, on top of the mountain. A car will take you with the guide to the furthest ruin that is located 10 km outside of Cusco. From there you walk back to Cusco, with a visit to the main ruins. We visit Sacsayhuaman, known for its huge cut stones and Inca fort, Puca Pucara, Q'enqo, and Tambomachay. From the Christ statue, you descend back to Cusco on an Inca path. Afterward, in Cusco, the guide will leave you, and in the afternoon, you can visit the cathedral and/or Coricancha independently.
Including
Private guide and transport to walking tour
Hotel in Cusco click here
Not included
Lunch + dinner
entrance fees Cusco visitor ticket
Visit to cathedral and Coricancha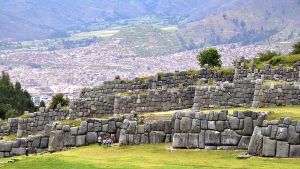 ---
From here we go back to nature and do a glamping tour in the Sacred Valley, this tour is for people who want to experience real Andean life. Contact with nature and inhabitants of the Andes is paramount!
Our tents have electric heating, feather mattress, down duvet, polyester blanket, alpaca blanket, electricity with light and plugs, bedside table, pillows, towels, central table, and typical details of the Andes. 2 nights with shared bathroom (with 2 other tents) and 2 nights with private bathroom
---
Day 11: Cusco – Chinchero – Moray
We start early in the morning from our hotel in Cusco. With our private car and English-speaking guide, we start to explore the real Peru. This tour will bring you first to Chinchero, 30km from Cuzco, situated in the Sacred Valley of the Incas. We travel across a high plain with splendid views of the Cordillera. The weavings town of Chinchero has a church that sends you back to the 1600s. Its paintings and frescoes are well preserved. Chinchero is a picturesque community that combines both Inca and colonial architecture. We will observe a demonstration of the traditional weaving process. After this visit, we drive to Moray, on the route we enjoy our picnic lunch.
Here we visit one of the most interesting of the Inca constructions – believed to have been an agricultural experiment station. About 7 km to the southwest of Maras; The Incas created their micro-climate to adapt the plants to this altitude. Afterward, we go to our glamping in Moray Misminay where we meet our local family. They show us a comfortable tent. Enjoy from your tent panoramic views of immense crop fields and majestic snow peaks in an Andean rural town. You will not want to miss the sunrise when the sun appears behind the mountains in front of you. María and Mario Mayhua are a cheerful and very kind couple from Misminay. They will show you the surroundings of this wonderful place and will surprise you with delicious typical dishes.
In the afternoon we learn how to make Adobe bricks. The blocks of adobe used for the construction of the houses, are the material par excellence of the Andes. The adobe allows us to have resistant houses, easy to make and the most important thing is that it retains the heat on cold nights. We invite you to see how the land can serve as a construction material. Duration: 1 hour to 1½ hour. Then we take diner with our family.
Including
Private guide and transport
Glamping tent with family in Moray
Pic nic lunch
Dinner with the family
Learn to make Adobe
Not included
entrance fees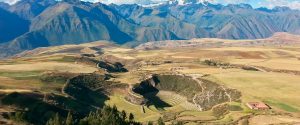 ---
Day 12 Maras – Urubamba – Pisaq
After our delicious breakfast, our driver and the guide pick us up to go to the natural salt pans of Salineras, via old colonial towns which are situated in the Sacred Valley. Maras is well known for its colonial-style houses and interesting churches. Here we visit the famous salt pans. Which was already exploited since the Inca era. Maras are constituted by about 3000 small Salt pans. After this visit, we drive to the village of Urubamba where we can visit the local market. We stop somewhere for our nice picnic lunch (or buffet restaurant) before we drive to Pisaq. Pisac is one of the most vibrant villages in the Sacred Valley and is a great place to use as a base from which you can explore the surroundings. Here we go to our Glamping Viacha Location: 18km from the main track Pisac village – Pisac archeological center, detour to Viacha. Your tent is between a small Andean forest with native plants and good panoramic views Jualián Maque and his family will open your house for you to know the hidden details of the culture of the Andes. Just 13km from the archaeological center of Pisac, a place with a lot of history, cave paintings, little-visited archeological remains, alpacas, and above all a unique charm
Here we do in the afternoon the Andean Ceremony, or medicinal plants.
In this place of the world, the populations live in contact and communion with the earth. Earth is the mother of all the beings that inhabit her and therefore we must honor her and respect her. Its maximum representations are the Apus, sacred mountains, guardian angels. Understanding the meaning of these is essential to understand the worldview of the Andes.
Duration: 30min to 1 hour. Includes: Andean priest, materials for the performance of the ceremony.
Diner with our family
Including
Private guide and transport
Glamping tent with family in Pisaq
lunch
Dinner with the family
Andean Ceremony, or medicinal plants.
Not included
entrance fees
---
Day 13 Pisaq + Ollantaytambo + Glamping Chaska Ocupi
Included
Private guide and transport
Glamping tent click Here
lunch
Diner
Not included
Entree fees
---
Day 14 Visit Machu Picchu from the sacred valley
Early in the morning, you will be transferred to the train station of Ollantaytambo, to take the train to Machu Picchu. We drive thru the sacred village to Aguas Calientes in about 1 hour & 30 min from Ollantaytambo. Here a bus waits for you, to take you 20 min to the actual site of the "Lost City of the Incas" Machu Picchu. Your bilingual guide will take you throughout the vast ruins. Machu Picchu is the best known of the Inca ruins, as it is recognized worldwide, yet it is not mentioned in any of the writings of the Spanish Conquistadors. It is believed to have been constructed around the mid-15th century and was "rediscovered" by American historian Hiram Bingham in 1911. The guided tour of this fascinating place is an awe-inspiring experience. Visit the Main Square, the Royal Quarters, the Temple of the Three Windows, the Circular Towers, the Sacred Sun Dial and Burial Grounds. After the explanation (about 2 hours) you still have some free time to wander around by yourself. You can stay maxima 4 hours in total at Machu Picchu from the hour written on your entree ticket. You can walk to Inti Puncu, the "Sun Gate" or to the mountain behind Machu Picchu "Huayna Picchu", in a 45 min climb. Be careful, only 400 tourists a day can climb this, and you have to buy the permit far in advance. This permit has to be reserved for an extra charge together with the entree fee. From here you have stunning views over the whole complex! After your visit, you take the bus back down to Aguas Calientes where we have lunch before we take the train back to Ollantaytambo, from where we transfer you back to your Glamping where you have diner.
Including
Transfer to and from ollanta train station
Glamping tent click Here
Train tickets there and back
Bus up and down to Machu Picchu
2 H private guide at Machu picchu
Entrance at Machu picchu
Dinner
Not included
Lunch
Optionally you can stay an extra night in the sacred valley, where you can do excursions such as, Yoga, pottery, Weaving baskets or fabric, mountain bike, horseback riding, Rafting, Kayak, Atv, or just a day of REST, so plenty of opportunities for an extra day
Optionally You can do from here one of our amazing trekking, Incatrail 4 or 2 days or Lares
---
Day 15 From here we drive back in 1 hour to Cusco, to the airport for a flight to our next adventure. The PURE jungle of Puerto maldonado 4 D 3 Nights
You will be flying for 1 hour to the lung of Peru, Puerto Maldonado. Full jungle journey to the largest Macaws Clay Lick, explore the best of the Tambopata National Reserve, the most remote Lake, Sachavacayoc and the always surprisingly pristine Condenado Lake, all in one trip.
Jungle Pro is a new lodge with only 10 cabins. All cabins have a private bathroom, hot water in the showers, balcony with excellent quality hammocks, mattresses, and bedding. We also have security protocols, the whole operation is strictly per river, where the chances of incidents are minimal, so we invested heavily in fast, stable, safe, and comfortable boats. Our services also focus on excursions of a pure and original nature, places where wildlife viewing is superior to many places, and we guarantee high visitor satisfaction. The advantage of our service is that we have 10 cabins, so you travel in small groups with personal service, so we prevent tourists from coming together in one place.
---
DAY 1 Arrival and reception by our guide or transfer at the airport or bus station. Our guides are highly experienced professionals with deep knowledge of the area and rain forest Transfer from the airport to our main office in town. Upon arrival to Puerto Maldonado City, our Transfer or guide will welcome you and drive you for a few minutes to our office in town In our office we recommend you pack only the necessary stuff you need for your next few days, the main luggage can stay at our safe deposit. Transportation is easier that way, and keep our boats and porter cargo light, we provide you duffels at the office if necessary. Transfer from our office to the Tambopata River Port. We navigate up the Tambopata River for about 2 hours until Finca Sachavacayoc on the way, we have the option of watching birds, caimans, capybaras, and monkeys if lucky. Box lunch in the boat. We can customize your box lunch with a vegetarian option. With full company and orientation of our guide, we get to Finca Sachavacayoc Accommodation and a Little rest. After de little rest, we will go for a jungle walk, as an introduction to nature and get familiarized with the forest interior, wait until it gets dark to do a night walk looking for the exclusive nocturnal creatures and critters, like the impressive ground bird eating Tarantula (as big as your hand) Dinner at the lodge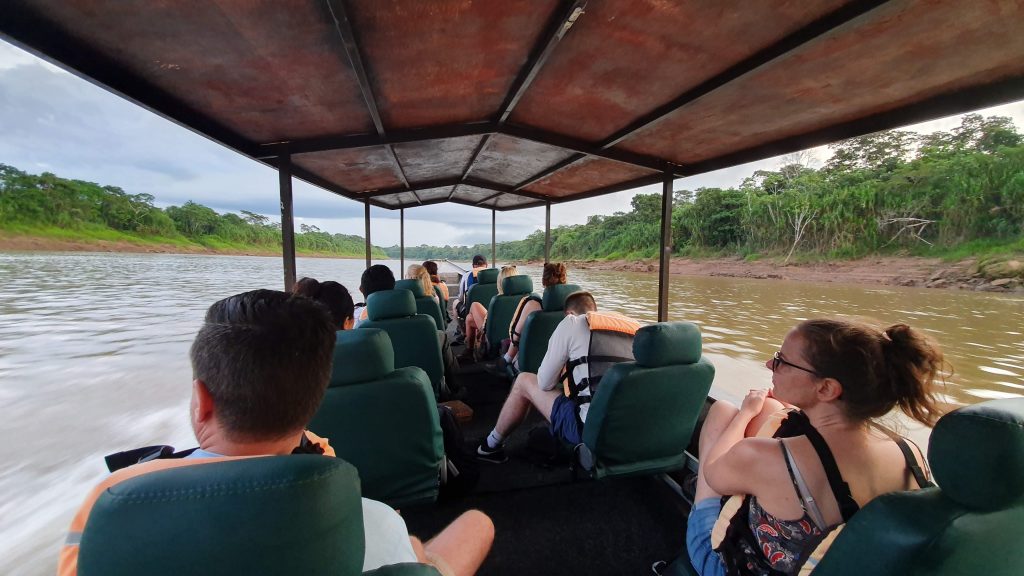 ---
Day 16/DAY 2 We will visit the spectacular Chuncho clay- lick, the largest in the world, with the three major species of macaws getting together at the same time, and many varieties of parrots, hundreds of parrots come together to eat clay, a special and unique behavior that is only found in this part of the planet. Early departure at 4 am, then 2 hours on our boat upstream of the Tambopata River; to enjoy the best of the parrot show is important to arrive early before the birds! We will take breakfast in the boat, Along the journey to the clay-lick, we have great chances of seeing capybaras, Caymans and maybe if lucky Jaguar or Tapirs (the two most special terrestrial mammal of the Amazon) We stay in the clay lick area, if necessary until we get to see the macaws eating clay Return to the lodge for lunch. Lunch at the lodge.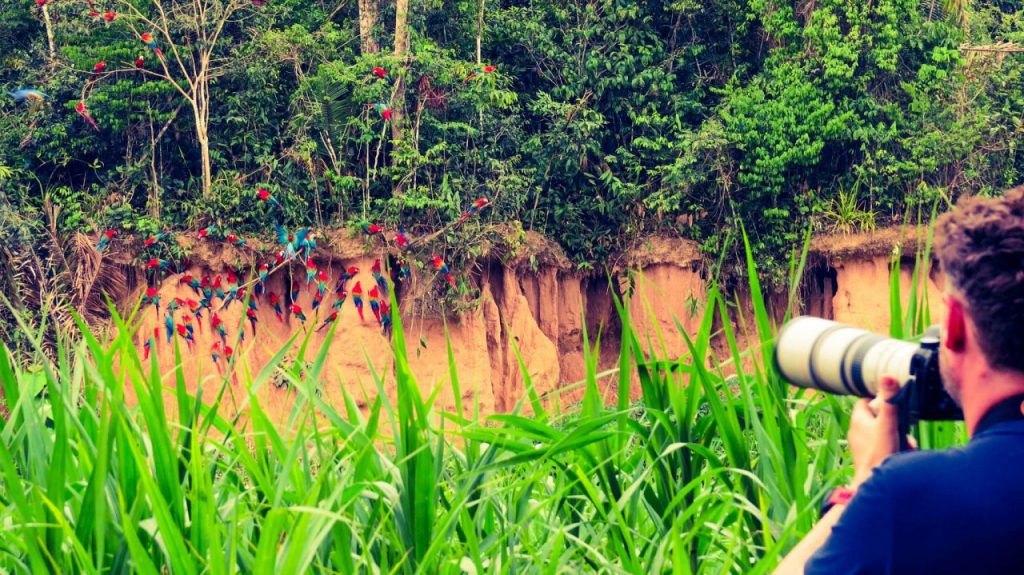 ---
In the afternoon we will do piranha fishing in one of the several spots we have for it, we can visit one of the lakes, if we catch them, we can bring them for dinner. if piranha fishing is not for you, or you do not like fishing at all, we are happy to remove that and organize a different activity that matches your interest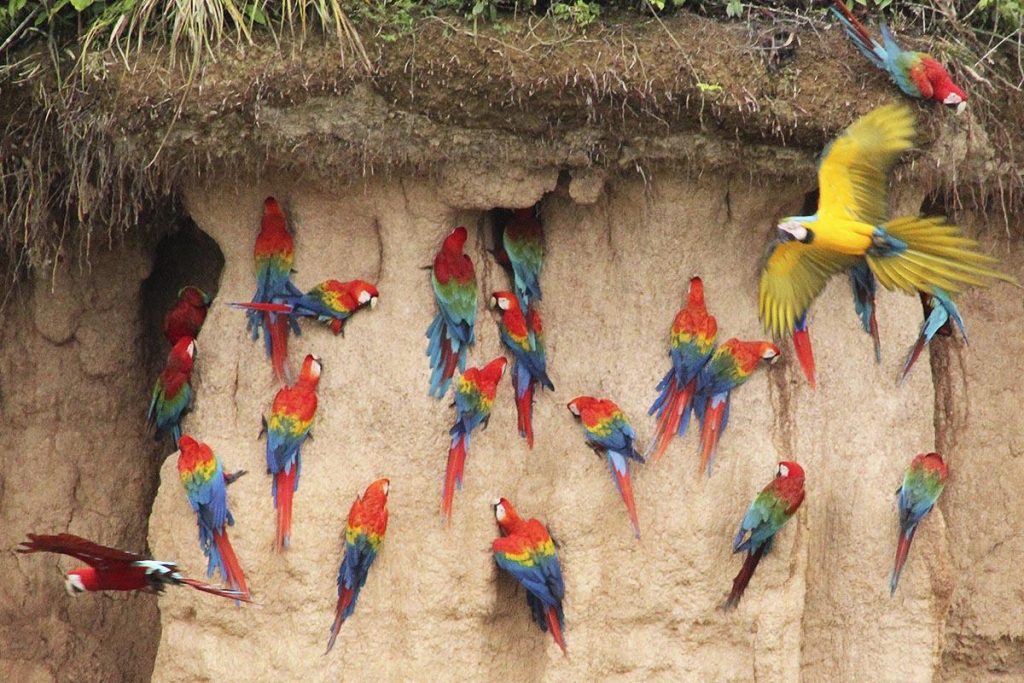 ---
DAY 17 /DAY 3 After breakfast, we will visit the spectacular Lake Sachavacayoc, which is in the heart of the Tambopata National Reserve, at two hours away from the lodge (walking slowly watching things), Sachavacayoc has very good wildlife such as monkeys, caimans, options of tapirs, Anacondas, Hoatzin, and lots of blue and yellow macaws roosting and nesting all over, this place gives us a unique Jungle experience, We get there midmorning and right away we take a paddle-canoe and leisurely enjoy the deepest and wildest jungle, watching monkeys and macaws being loud. On the way back, we return to the lodge we walk through the deepest jungle you can find Lunch at the lodge/you can also take box lunch for enjoining the lake for longer and search for anacondas longer too. In the afternoon, optional walk to Condenado lake (if energy is still abundant) or just enjoy the comfort and leisure of the lodge.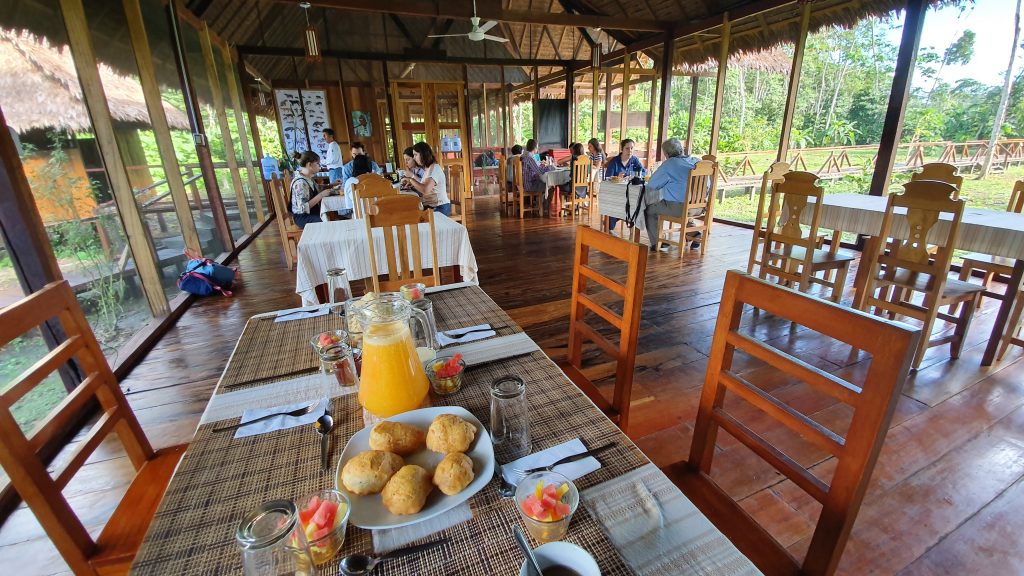 ---
DAY 18 /DAY 4 Breakfast at the lodge and departure to Puerto Maldonado, the journey back to the city from the lodge takes from 1:45 minutes to a maximum of 2 hours. There we find our large luggage and fly to Lima in connection home (optionally you sleep another night in Lima)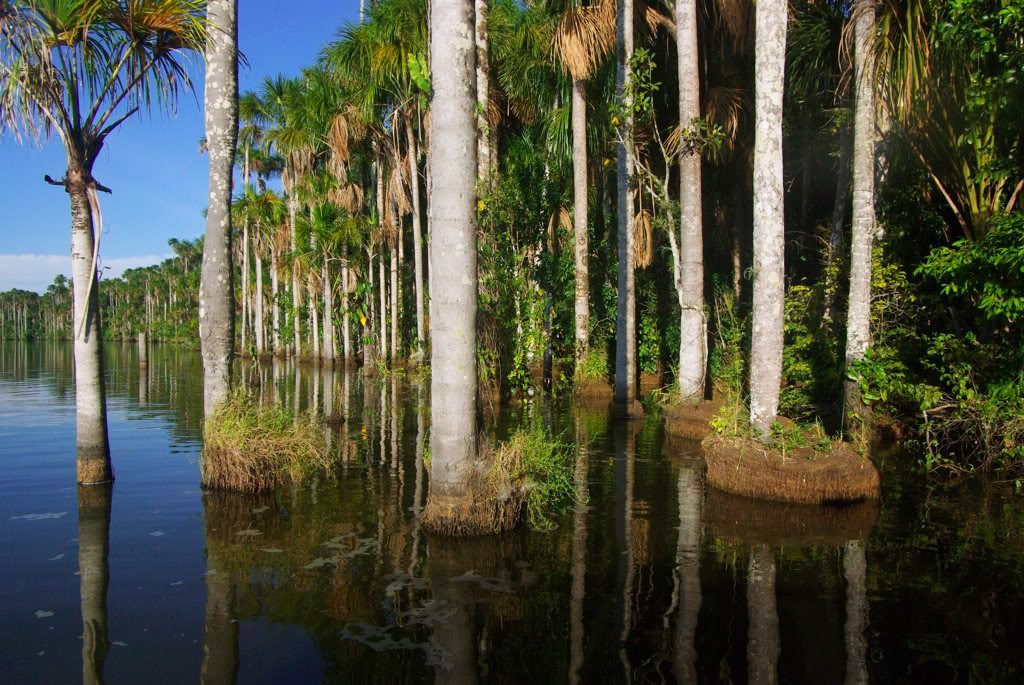 including:
Transport
English speaking guide
All meals
Excursions as described in the program
Not included
Drinks and extras
End of a very special trip, contact with nature and people
---
What do we need for a reservation?
* Full name as it appears in your passport.
* Scanned copy of your passport.
* exact arrival date and flight number.
* vegetarian or not.
* room type 2 beds or 1 large bed.
* We ask for a 40% deposit when booking the rest 4 weeks before departure. Bank transfer to our Peruvian bank account or Wetravel (+ 4.5%)
For general info click below
https://southamericaplanet.com/en/individual-live-and-experience-peru-in-a-different-way-in-18-days/
https://southamericaplanet.com/es/vive-y-experimenta-peru-de-una-manera-diferente-en-18-dias/
https://southamericaplanet.com/nl/individueel-leef-en-beleef-peru-op-andere-manier-in-18-dagen/