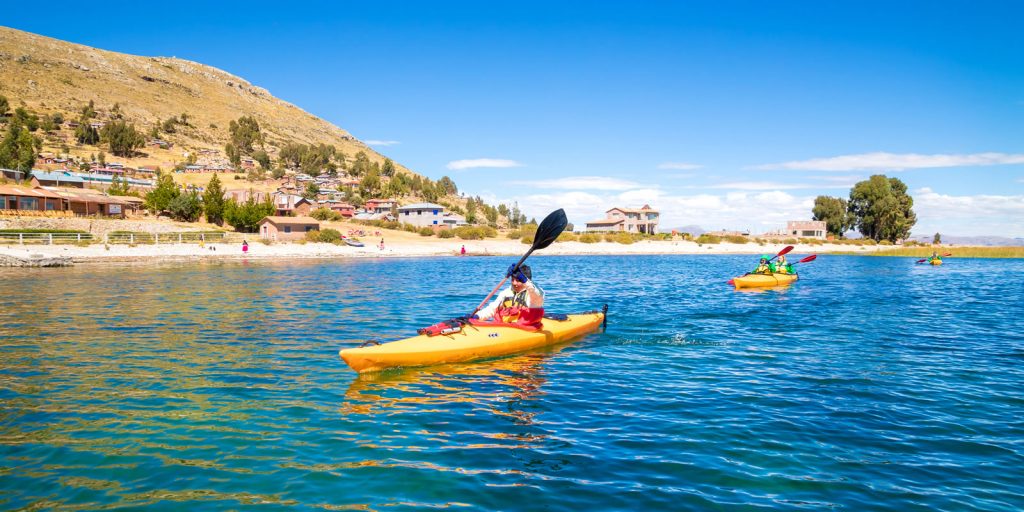 Kayak tour at Titicaca + visit Uros + Taquile islands
At 6:45am. Transfer from your hotel to the bay of isla esteves. The guide gives explanation about the Kayak and adventure guidelines. Than we start our kayak tour to the Uros floating islands. We row about 1 h 30 min. During the trip we have amazing views over titicaca lake. About 1 H 30 Min.
Uros islands, home to the descendants of the pre-Inca Urus people, who continue to live on the floating islands, which are constructed by totoro reeds that grow around the lake. It is said that, when seen from the sky, the lake looks like a Puma hunting a rabbit. Uros is comprised of about 40 islands, but the total number varies. Then we will go to Taquile Island. Another beautiful destination. The island still bears vestiges of a pre-Incan past. The are Ayamara Indians. The intricate and brightly-colored textiles produced here reflect the inhabitants' Andean beliefs, myths, and ways of life. After a short but steep climb to the main village you'll enjoy lunch and spend the afternoon exploring the island and finding out about its people. The islanders are known for the beautiful textiles and garments that they produce, and interestingly the knitting of these garments is done exclusively by men. Boat back to Puno /hotel Puno. Transfer to your hotel around 5 Pm.
Included
English speaking guide
Transfer from hotel in the center of Puno ( extra for hotels along the lake)
Kayak + Material
Motor boat From uros to Taquile and back
Not included
NOTE This tour is also possible in a 2 day tour with 1 night sleeping on Amantani island in Homestay
Nota / this tour you only can reserve during a packet tour Peru
https://southamericaplanet.com/en/kayak-tour-at-titicaca-visit-uros-taquile-islands/
https://southamericaplanet.com/es/excursion-en-kayak-en-titicaca-visita-uros-islas-taquile/
https://southamericaplanet.com/nl/kajaktocht-op-titicaca-bezoek-aan-uros-taquile-eilanden/