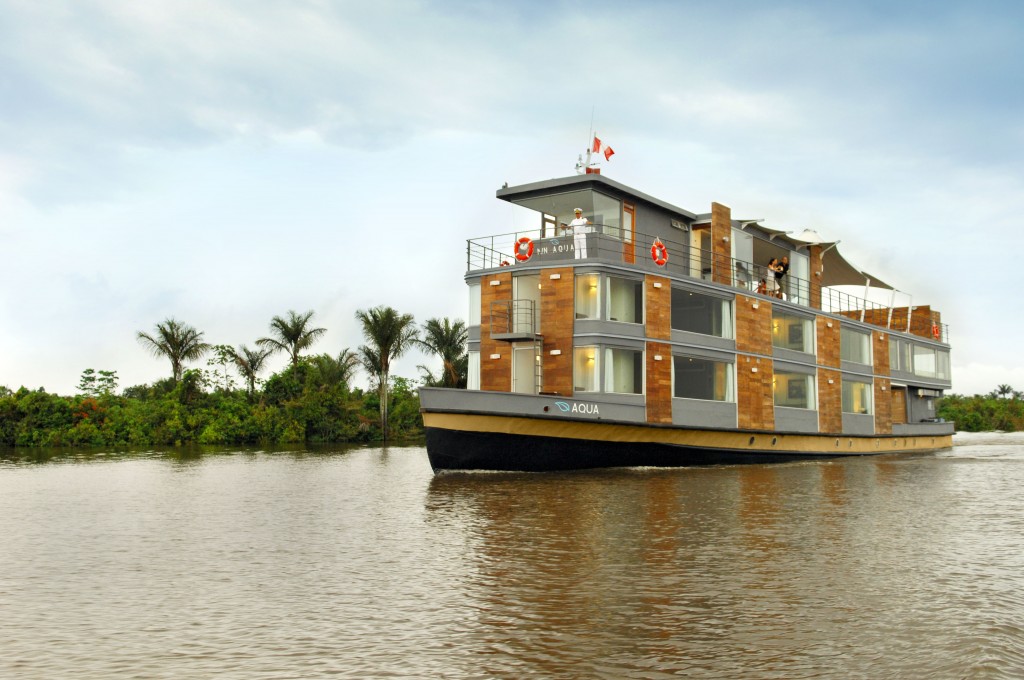 luxury cruise, amazon river Iquitos, Aqua Expedition's
Amazon River Cruise: Peru 4 days Iquitos, north Peru
Endless amazing discoveries in the most bio diverse rain forest and river system on Earth
---
An Amazon river cruise is possibly the most rewarding nature expedition in the world. Journeying into Earth's largest rainforest, the explorer is ushered into Mother Nature's Cradle of Life, which covers some 40% of South America across nine countries. A voyage into the selva ("jungle"), as the locals call it, is only possible by boat on the mythical Amazon River. Also known as Rio Amazonas, this great waterway originates from the foothills of the Andes mountains in Peru and flows east on a 4,000 mile (6,400 km) course towards the Atlantic Ocean.
The Amazon rainforest houses the world's largest and most diverse collection of plant and animal life. It is 'home sweet home' for more than one-third of all recorded animal species in the world, including 20% of all bird species. At least 40,000 plant species, 427 mammals, 1,300 birds, 378 reptiles, more than 400 amphibians and around 3,000 freshwater fishes are known to exist within this giant cradle.
Embark on the voyage of a lifetime,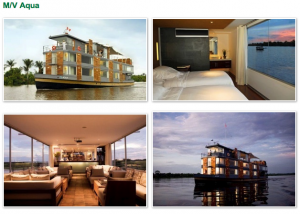 ---
3-night, 4-night and 7-night river cruises aboard the luxury Aria Amazon and Aqua Nera
Every itinerary on our luxury vessel is designed to offer an enjoyable and deeply insightful experience of the Amazon river and rainforest. Having grown up on the Amazon's riverbanks, our experienced naturalist guides not only help guests spot and zoom in on wildlife during excursions, they readily share deep insights about their behavior and the jungle's many secrets and fascinating truths — ingredients for a truly rewarding Amazon journey.
Our guides' keen instincts aside, chances of encountering wildlife with Aqua Expeditions are also maximized with small-group explorations in groups of no larger than 8 aboard Aria Amazon, and no more than 10 for Aqua Nera's fleet of private launch boats . These boats are also ergonomically designed for maximum comfort.
There's a lot more to cruising the Amazon than meets the eye. Especially with the Pacaya-Samiria National Reserve's many different habitat types and microclimates, no two wildlife excursions are the same. Fishing, kayaking and canoeing are also part of the quintessential Amazon experience, along with local village and market visits.
All journeys begin in Iquitos. Explore our itineraries to get a fuller picture of what it is like to cruise with us on the Aria Amazon and Aqua Nera.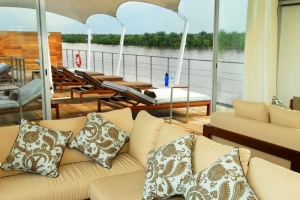 ---
A brief yet unforgettable Amazon experience
Get a taste of the most biodiverse rainforest in the world aboard the Aria Amazon or Aqua Nera. Begin your journey in Iquitos, a rustic city which is the beating commercial heart of the Peruvian Amazon. Our 3-night itineraries focuses on the Marañon, the Amazon River's largest tributary, as well as other neighboring waterways, the Yarapa and Yanayacu-Pucate. Discover the habitats of these nutrient-rich waterbodies and how they — and the lush jungle around them — support a vast array of wildlife.
Accommodation
M/V Aqua is Aqua Expedition's 130-foot flagship. Its 12 luxury guest suites, designed by an internationally renowned Peruvian interior designer, measure a generous 230 to 240 square feet, and feature large, outward facing panoramic windows and en suite sitting areas. All suites are air conditioned, and four are interconnected, to cater to families. Guests can socialize in the dining room, bar, on the observation deck and in the outdoor lounge. There is also a small boutique. You'll be served by a crew of 16, plus three skilled guides. Rates include all excursions, meals, and wine with meals.
Here we show you the Low water program June to October

Ask for the High water program from December to May
4 days 3 night Program /

Ask us for the 5 and 7 days program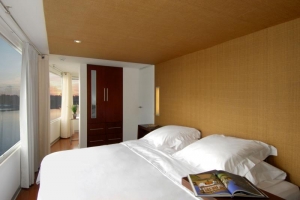 ---
Day 1: Iquitos – Nauta – Embarkation – Marañon River
We will meet at Iquitos International Airport then journey together by air-conditioned vehicle through the Peruvian countryside to arrive at our Nauta Lounge in time for lunch, or we will serve a box lunch en route depending on the flight arrival time. In the afternoon, we will set off on your first skiff excursion along the Marañon River. At 6:00 pm, we will board the ARIA AMAZON. Settle into your generously proportioned suite as you begin one of life's greatest adventures. Following a routine safety drill and introduction to our naturalist guides, we gather for innovative Amazonian cuisine created by our Executive Chef Pedro Miguel Schiaffino, whose restaurant, Malabar, is the one of Lima's top-ranked dining experiences.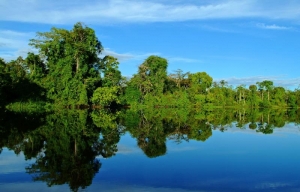 ---
Day 2: Yanayacu Pucate River – Marañon River
We commence today's adventures near the main entrance of Pacaya Samiria National Reserve, cruising along Yanayacu Pucate in the comfort of our state-of-the-art skiffs. Kayak, canoe and swim in these unspoiled black waters, keeping eyes peeled for the Amazon's legendary pink dolphins. In the afternoon, we will visit a remote village along the Marañon River to learn about traditional customs. Focus our hi-tech telescope on the night sky to identify the planets and constellations.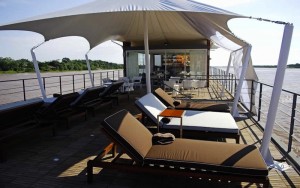 ---
Day 3: Samiria River – Nauta Caño Or PNA (Amazonian Natural Park)
We set off by skiffs for an excursion along the Samiria River with optional fishing. Listen carefully to our after-lunch flora and fauna lecture, then venture out for a singularly thrilling jungle walk across the high Amazon rainforest. On our return in the evening, enjoy the jungle symphony and extraordinary stargazing on local boats along the "Enchanted Lake". This evening before dinner, we will gather to introduce you to some of the crew members whom you may not have met, working "behind the scenes" to ensure your countless exceptional experiences aboard the ARIA AMAZON.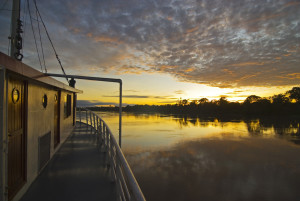 ---
Day 4:Nauta Town – Manatee Rescue Center – Transfer To The Airport
This morning, we will visit the local fresh market with your guides who can identify the day's catch by the fishermen of Amazonia and the region's exotic fruits. Return to the ARIA for breakfast and to pack up. Before saying goodbye, we visit the Manatee Rescue Center, a kind of animal orphanage for Amazonian manatees to rescue, rehabilitate and release them back into the wild. We will also visit San Juan craft market on route to the airport. Lunch or box lunch will be provided, depending on the exact departure flight time, which may vary. Other local activities may be included as well, according to our recommended flight schedule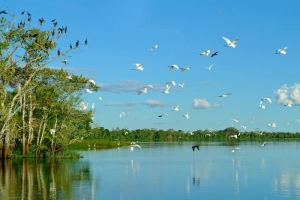 ---
Ask for our fixed departure dates!
Booking Policies for Independent Travelers
One defining advantage of Aqua Expeditions luxury cruise ships is the small capacity compared with other river cruises or a river lodge. Thus we recommend our guests book early, especially if your desired travel dates are not flexible. People typically book their Aqua Expeditions Cruise at least 10 to 18 months in advance, however, we will always do our best to accommodate your desired cruise dates.
When you book your 3, 4 or 7-night Aqua Expeditions River cruise, you will receive an email confirmation 90 days prior to the start date for your cruise, following your final payment. We ask that you read these terms and conditions prior to arrival.
Further details regarding Aqua Expeditions booking policies for independent travelers are listed below: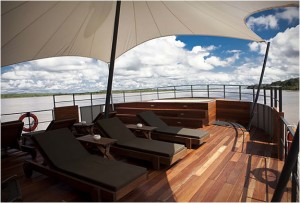 ---
ONLINE BOOKING POLICY
A deposit of US $500 per person is required to confirm the booking. Reservations made 90 days or less prior to departure: A full, non-refundable payment is required to confirm the booking
BOOKING CANCELLATION POLICY*
Cancellations made 121 days or more before departure: Partial payment will be refunded, less a US$ 200 service charge plus third party credit card charges of approx. 4% on the total cruise ticket price per person.
Cancellations made 120 to 91 days prior to departure: Partial payment will be refunded, less a US$ 400 service charge plus third party credit card charges of approx. 4% on the total cruise ticket price per person.
Cancellations made 90 days or less prior to departure: Full payment will be applied as the cancellation penalty.
REFUND POLICY
Please note that Aqua Expeditions will only refund to the same bank account or credit card previously used to make payments.
---
DEPARTURE DATE CHANGE POLICY
Aqua Expeditions permits guests to change the departure date of their cruise at least 181 days prior to their original date of departure without penalty. A fee of US$ 200 per person will be applied for date changes made between 180 and 121 days prior to departure. No date changes are permitted within 120 days from departure.
WATER LEVELS & ITINERARIES
Itineraries are subject to change due to weather conditions and time of year. River and tributary levels
may vary, and thus navigation times and excursions may need to be modified at the captain's discretion. All times indicated are approximate, and are also subject to change. At times embarkation and disembarkation points for guests may need to be modified. We will make every possible attempt to minimize disruption to travel plans. Aqua Expeditions will make every reasonable attempt to cover the cost of transferring guests to and from the original port of embarkation.
MEDICAL AND HEALTH
Guests should be in good physical health in order to be able to make the most of their cruise. Exploring the area involves the use of small, motorized skiffs and at times may include some wet landings. Daily excursions may include walking on irregular terrain and getting in and out of the skiffs occasionally requires some physical effort. Walking excursions may last up to one hour. Malaria and yellow fever vaccinations are not required for Peru bound travelers coming into the Amazon region, but are recommended.
TRIP CANCELATION INSURANCE
Travelers are strongly advised to purchase trip cancellation insurance, which will reimburse the cost of air tickets and other non-refundable trip payments. International medical, baggage loss and delay insurance are also recommended. Aqua Expeditions assumes no liability for lost or stolen personal belongings.
VESSEL REPLACEMENT
Aqua Expeditions reserves the right to substitute another vessel for the Aria Amazon or Aqua Mekong if considered necessary (i.e. force majeure or mechanical failure). If the travelers do not take this option, Aqua Expeditions reserves the right to cancel the trip upon a refund pro-rata per cruise night not used or, as an alternative, will offer credit toward a future cruise on the Aria Amazon or Aqua Mekong.
DIETARY NEEDS
Aqua Expeditions should be contacted at least 30 days prior to embarkation regarding travelers' specific dietary needs. Every effort will be made to cater to special dietary needs, and to accommodate special requests, subject to a given product's availability.
TRAVELERS' RESPONSIBILITIES
Travelers have responsibilities toward both their fellow passengers and the Aqua Expeditions' crew. Every passenger should review the conditions contained in the trip itinerary, observe all safety requirements on board and on excursions, and act in an appropriate and respectful manner toward the crew members and their fellow travelers.
https://southamericaplanet.com/en/luxury-cruise-amazon-river-iquitos-aqua-expeditions/
https://southamericaplanet.com/es/crucero-de-lujo-aqua-expeditions/
https://southamericaplanet.com/nl/luxe-cruise-amazone-rivier-iquitos-aqua-expedition/