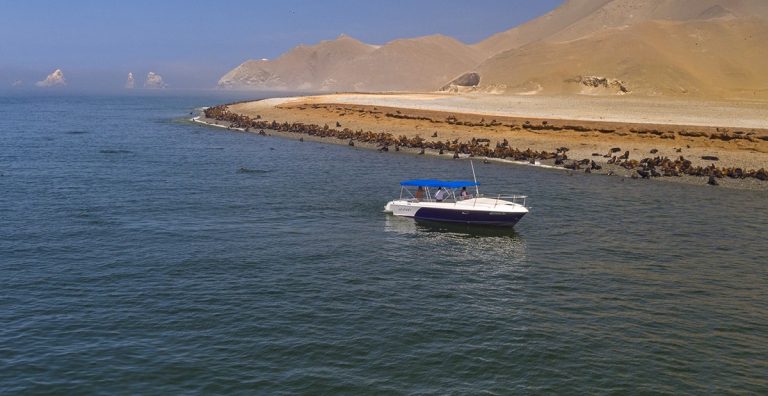 PREMIUM MOTORBOAT EXPEDITION BALLESTAS Private or shared boat
With 12 comfortable seats, our Skimmer is a boat specially designed to explore every nook and cranny in the Paracas bay, as well as doing longer journeys to more interesting sites in the Reserve. A simple tour around the bay, intensive wildlife observation expeditions, sports fishing or surf escapades are all possible with the comfort and exclusivity of this unique Venturia boat.
ACTIVITY ITINERARY AND DESCRIPTION
• Private departures from the dock at Hotel Paracas, a Luxury Collection Resort.
• A thorough ride around the Paracas bay including a tour of the Ballestas Islands takes around 3 hours.
• Crossings to farther destinations such as Chincha or San Gallán Islands can take up to 4 hours ( other tour )
CAPACITY • 12 PAX maximum.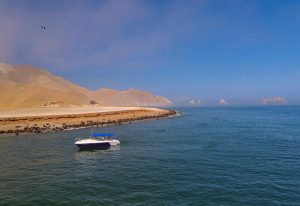 ---
ABOUT THE VESSEL
• Sun deck at the bow, indoor relax area with restroom, 12 seats at the stern, removable awning.
• Volvo Penta inboard engine. 260 hp turbo diesel.
• An available rescue boat, according to local regulations.
SECURITY
• Constant radio communication.
• Life vests.
• Emergency rations.
• Certified captains.
RECOMMENDATIONS
• Bring camera, sunscreen, hat, binoculars, windbreaker, and sunglasses. • Take motion sickness pills if sensitive (1 hour before departure). • Eat a light breakfast (A cup of coffee and a croissant will be ready for you at the dock if you don't). • We kindly ask guests to arrive at the dock 15 minutes before scheduled departure so we can register all passengers with the Port Authority.
INTENSITY LEVEL • Low.
This tour is possible in Private boat or in shared with fixed departure
Nota / Only possible to book inside a package
---
Included
Not included
Entree fee
Meals
Transfers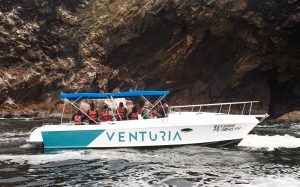 https://southamericaplanet.com/en/premium-motorboat-expedition-ballestas-private-or-shared-boat/
https://southamericaplanet.com/es/balestas-premium-para-expediciones-en-barco-privado-o-compartido/
https://southamericaplanet.com/nl/premium-motorboat-expeditions-ballestas-in-prive-of-gedeelde-boot/