River Boat Reina de Enín in 3 or 4 days Trinidad
Waking up to the sound of parrots and monkeys… , Bolivia Jungle
3 or 4 day programs.
Take a look at this movie over this trip (click at the mame)
Look out of the window and see early morning dolphins, hundreds of animals and plants await you in the forest.
As well as Native peoples, their traditions and their ways of life, their compromise with nature and the magic of milenario civilizations.
Imagine you are in a hammock on the terrace with a cold drink in your hand. A flock of royal storks crosses the blue sky. The air is hot… Paradise!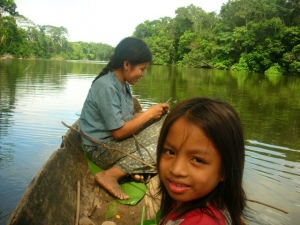 ---
Day 1 : Note
This Program is just an example (it may be subject to changes according to the arrival day, our operational conditions, weather and specific interests of the clients).
This route can also be done backwards.
You will be met at the Trinidad airport and transferred to the Municipal Protected Area Ibare Mamore, Los Puentes Port (18 Km to the west) where we´ll embark the Floating Hotel Reina de Enin. From its terraces we will search for Bufeos or Bolivian Dolphins and we will start navigating along the Mamore River, the largest river within Bolivian territory. Our first day will bring us many opportunities for great wildlife viewing. We will go to San Carlos and in the afternoon we will visit the people who inhabit this zone, they will lend us a canoe to enjoy the unforgettable experience of rowing on the river and seeing how these people live their daily lives.
At the end of the afternoon we will introduce ourselves to each other and we will find out the needs and wishes from each tourist. The clients and staff will share stories about the region and/or play board games after the evening meal. Meals included on board. L & D.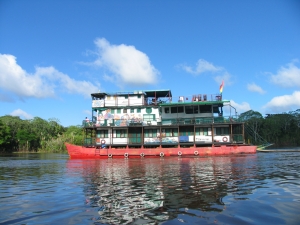 ---
Day 2 :
Navigation to where the Ibare river where meets the Mamoré river, the heart of the Protected Area, here you will find a lot of bufeos (Bolivian Dolphins) upon arrival we will have a refreshing bath with them.
In the afternoon with little boats we will go to the Basilea lagoon and explore until we get to Villa Soledad, this is a place where we will find lots of fresh fruits. At night after dinner, using a small aluminum motor boat we´ll go on a "photo safari" looking for the alligators and caimans, we´ll be able to see them really close up which is really exciting! All meals are included on board. B, L & D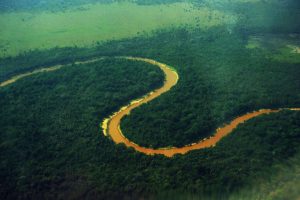 ---
Day 3 :
We will navigate to get the Mamoré River again, the biggest in Bolivia, until we get to the green lagoon, here we will get into small boats and we will have a bath with the bufeos.
In the afternoon we will visit Estancia El Carmen cattle ranch. From there we will take a horseback riding excursion, for about 90 min through the forest and along the savanna, it will be possible to spot different species of aquatic birds or typical from the pampas, like storks, herons, wood peckers, parrots, and others. If you finish your tour now, we will return to Trinidad in a fast boat to Los Puentes Port or Loma Suares Port on the Ibare River, depending on your flight itinerary. After dinner in a little boat we will enjoy the silence… listening to the different sounds of the nature & animals and observe a sky full of stars. All meals are included on board. B, L & D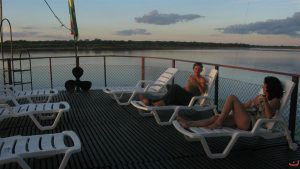 ---
Day 4 :
Today we will dedicate our last day to visit Victoria lagoon. We will have a choice of things to do here, like have a bath or go fishing! Also we will see different species of flora like: Bibosi, Coquino, Ochoó, Peloto, Patujú and others. If we are lucky we will observe some mammals like squirrels, monkeys and others.
In the afternoon, experience rowing a kayak or canoe (made from only one piece of wood). If you finish your tour now, we will return to Trinidad in a fast boat to Los Puentes Port or Loma Suares Port in the Ibare River, depending on your flight itinerary. Meals included on board. B, L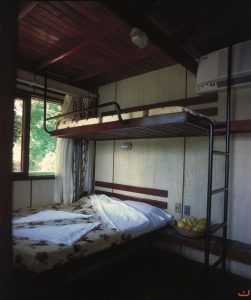 ---
Possible 5, 6 or 7 days :
According to the clients' preferences, the program can be changed to realize the following optional activities:
* Full day fishing, for people who really enjoy of this activity, it is possible to catch different species, like: pacú, pirate fish, tambaquí, doradillo, ventón, tucunaré and others.
* Expedition to the Ibare and Mamoré rivers and its channels.
* Expedition to the furthest lagoons like, Jocreni, Morenita or Montevideo.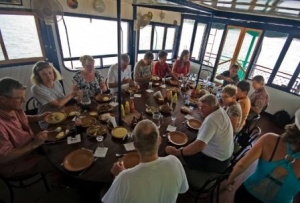 ---
The fares include:
*Transfers to and from the airport.
*meals and 1 personal bottle of water for each person every day in the room (B = Breakfast, L = Lunch and D = Dinner).
Do not include:
*Airplane tickets.
*Alcoholic beverages.
*Soft drinks.
*Insurance and airport taxes ($2 for national flights and $25 for international flights).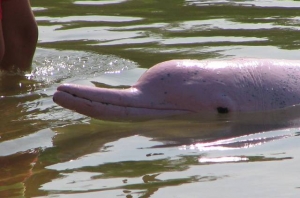 ---
What to Take:
The Beni region has a hot and humid climate.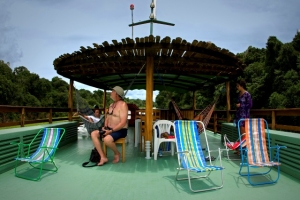 ---
We recommend you to bring: * Light cotton clothing covering arms and legs.
* Sun block protector cream.
* Sunglasses.
* Hat or cap.
* For trips in the jungle also take a raincoat and hard shoes to walk in the mud.
* Mosquito repellent.
* A flash light for night excursions is necessary.
* Occasional cold winds from the South may occur and carrying extra warmer clothes might be useful.
Important: As a security measure, each tourist must take photocopies of their passport and individual insurance.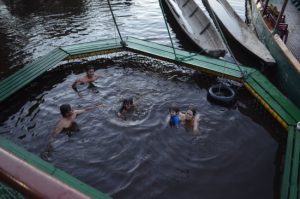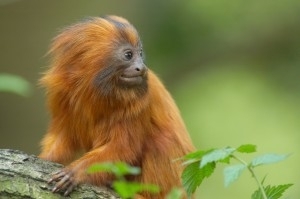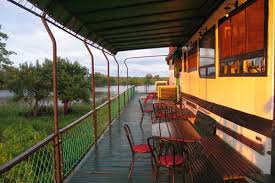 https://southamericaplanet.com/en/river-boat-reina-de-enin-in-3-or-4-days-trinidad/
https://southamericaplanet.com/es/barco-de-rio-reina-de-enin-en-3-o-4-dias-de-crucero-desde-trinidad/
https://southamericaplanet.com/nl/rivier-boot-reina-de-enin-in-3-of-4-dagen-cruise-vanuit-trinidad/