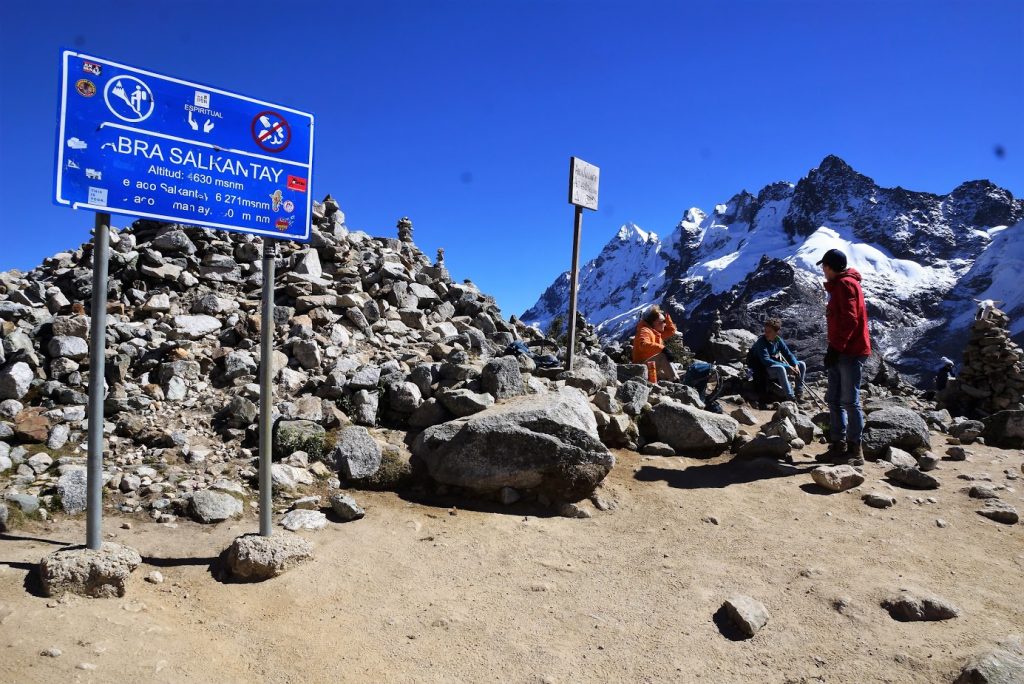 Salkantay trekking 4 days, to Machu Picchu
This Salkantay is the best alternative trek if the Inca Trail is full. Via Cusco – Santa Teresa – Salkantay – Aqua calientes – Machu Picchu – Cusco
Official Salkantay operator.
Level of Difficulty: Moderate Click to see
1: Cusco – Marqoqasa – Soraypampa 5 to 7 h Walk
We will pick you up from your hotel in Cusco 5:30 am to go by bus to Mollepata. Begin a spectacular scenic drive through the Anta plains with beautiful and panoramic views of the majestic Salkantay and other mountains
covered with snow, and the Valley of Apurimac River. After two and a half hours drive we stop in Mollepata to have breakfast ( not includedc) and for our last minute supplies, leg-stretching or to use the bathrooms, We will continue our trip to Soraypampa 3,912 meters, Starting point of our hike to Humantay Lake where we will appreciate a beautiful scenery. We will return to Soraypampa 1 hour aprox walk (LUNCH),
After lunch, we will walk 2 hours (ascent) continue to the hike on the right side of the Humantay snowy mountain and around 2 hours we will arrive at SALKANTAY PAMPA (4100 M) where we will have our first camp and spend our first night.
NOTE/ Iff the group is only 2 Persons, only the program on day 1 can be a bit different
Meals: Lunch, Dinner
Accommodation: Camping
Maximum Altitude: 3850 masl
Minimum Altitude: 2850 masl
Distance Travelled: 14km approx
Total hours walking: 5 – 7 hours
---
Day 2: Salkantaypampa –Chaullay- 9 h walk
After an early wake up with the first daylight at 06:00 am. and a quick breakfast we soon start hiking up to the highest point of the trail: the Salkantay Pass (4650 MASL – 15,255 ft). The distance is a 7 km (4.34miles) tough ascent in 3 hours, between the rocky valley bottom and the magnificent Salkantay Mountain (6200 MASL– 20,341 ft). When we finally reach the top we can and definitely will appreciate the spectacular views of the mountains and the imposing snowy peaks of the Salkantay, Humantay, Tucarhuay and Pumasillo. The Salkantay Mountain is the second highest mountain in the Cusco region and one of the Inca Gods called "Apu". After reaching the top of the pass there is a 5km (3.1miles) and 2 hours downhill hike towards the camp for our lunch. The walk downwards is on a serpent shape trail and a rocky gravel path to get to the Huayracmachay lunch spot. In the afternoon we will enter the upper part of the amazon jungle, which is also called "the cloud forest". This is a 10 km (6.2miles) hike in 3 hours on a wide trail in the thick forests. This hike is truly beautiful, there are decorated the hills with colorful sceneries and a lot of wildlife and native plants. The forests are most times of the year warm or have a temperate temperature. When finishing this magnificent hike we finally arrive at Chaullay Village (2900 MASL – 9,514 ft), our base camp in the jungle.
*Walking Distance – 22 km / 13.7 miles
*Starting Elevation – 3800 meters / 12467 feet
*Campsite Elevation – 2750 meters / 9022 feet
*Maximum Altitude: 4650 meters / 15255 feet
*Difficulty: Challenging – Moderate.
*Meals: Breakfast, Lunch, Dinner (Snack and afternoon tea)
*Accommodation: Camping
Total hours walking: 8 to 9 hours
---
Day 3: Chaullay – Playa Sahuayaco – Hydro elecrtrico – Aquas Calientes 7 h walk
At 6:00 am. we will start our trek to La Playa through the Santa Teresa valley. We will be hiking approximately 6 hours. During the hike we'll see: waterfalls, wild orchids, but also coffee, banana and avocado plantations. Here you can taste the famous passion fruit and granadilla fruit. We will see a village called Colpapampa, also called the "forest cloudy brow" where waterfalls, thermal hot springs, fruit-bearing trees, varied flora and birds can be observed. If we are lucky, we will be able to see the famous bird called "the Cock of the Rocks" this bird is the national bird of Peru. After lunch at La playa, we will catch a local transportation to the Hidroelectrica train station. Here you will have two options: 1) If you are exhausted you may take the train (not included) to Aguas Calientes. 2) If you are still eager to hike you may walk from Hydroelectric to Aguas Calientes for about 3 hours along the train track. Once in Aguas Calientes we will go to the accommodation which is included in the tour. At 7:00 pm. we will have dinner at a local restaurant.
All the expenses ( without drinks) in Aguas Calientes are covered by the company. Including: breakfast, lunch, dinner and the overnight at a hotel.
Optional: Train ride from Hidroelectrica to Aguas Calientes
*Walking Distance – 26km / 16.1 Miles
*Starting Elevation – 2750 meters / 9022 feet
*Campsite Elevation – 1600 meters / 5249 feet
*Meals: Breakfast, Lunch, Dinner
Total hours walking: 7 hours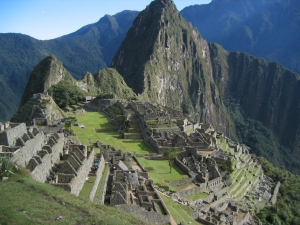 ---
Day 4 : Machu Picchu – Cusco
We will have breakfast very early at around 5 a.m. Then we will take one of the first busses to Machu Picchu at around 5.45 a.m. We will enter Machu Picchu and have a guided tour of the complex for around 2 hours. After this you will have some free time to wander around by yourself, walk to Inti Punko, the "Sun Gate" or go to the mountain behind Machu Picchu which is called Waynapicchu (About a 45 minute walk), from here you have stunning views over the whole complex, but be careful there is a new rule that only 400 people a day are allowed, it's included in your trip if the day you make the reservation there are still permits available! If the permits are gone you can climb up to the Sungate. After your free time you can walk or take a bus down to the town of Aguas Calientes for a late lunch (not included). In the afternoon we will take the train back to Poroy or Ollantaytambo, we will then transfer you to your hotel in Cusco!
PS The time and type of train ticket will depend on availability.
Meals: Breakfast
Lowest Elevation: 2,040 m/ 6,691 ft
Highest Elevation: 2,440 m/ 8,052 ft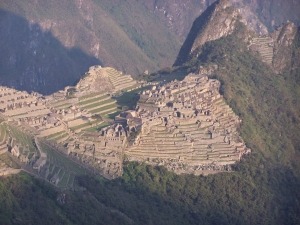 ---
Included:
* Pre trek briefing.
* Pick up from your hotel.
* Transportation to start of the trail.
* Guide: Professional English and Spanish speaking guide (+1 assistant for groups over 8 people).
* Cook.
* Horsemen and horses: Carry tents, cooking equipment and also carry backpacks (5 Kg for each person).
* Bus ticket up and down: Aguas Calientes – Machu picchu – Aguas Calientes (day 4)
* Entrance ticket to Machu picchu + Wayna Picchu permit (depending on availability).
* Inflatable mattress.
* Hotel: Double accommodation in Aguas Calientes (3rd night) with private bathroom
* Train ticket back to Poroy or Ollantaytambo
* Meals: 3 Breakfasts/3 Lunches/3 Dinners. Vegetarian food available on request.
* Equipment: tents (2 people in each, 3 person capacity), mattress, Dining tent, kitchen tent, tables and chairs, table settings, first aid kit, including emergency oxygen bottle.
* Transfers.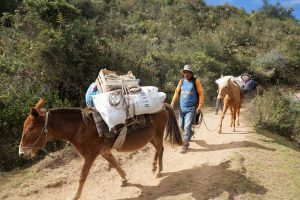 ---
Not included:
* Breakfast on the first day.
* Lunch on the last day (take some snacks with you because the food at Machu Picchu is very expensive).
* optional, train ticket from hydro electrico to Aquas Calientes.
* Extra nights, at ending point in Aguas Calientes, so you can stay some extra nights at Machu Picchu, you will need to tell us in advance so we can buy your return train ticket for a different day!!
* Personal horse. If you would like a personal horse the cost is 150 USD extra for 3 days.
* Personal travel insurance.
* Entrance fee to the hot springs.
* Walking sticks.
* If you would like to have a single room in the hostel in Aguas Calientes the cost is 15 USD extra.
* Sleeping bag. We rent out good sleeping bags which will keep you warm to minus 10 degrees. The cost is $20 USD for the 4 days.
* Tips for the guide, cook and porters.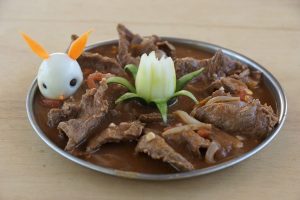 ---
You should bring:
* A light back pack with a change of clothes for the whole period of the trek – prepare for a vast range of changes in temperature.
* Rain gear (jacket and pants if available) or rain poncho.
* Plastic ponchos can be bought for about $1 in Cusco.
* Strong footwear, waterproof trekking boots are recommended.
* Extra socks are a must.
* Sandals are also good to give your feet a chance to breath in the evenings.
* Warm clothes, including jacket, fleeces, gloves, scarf.
* Thermal clothing is also recommended, especially for sleeping.
* Sleeping bag (we can rent this to you if you like).
* Torch/Flashlight and spare batteries.
* Camera, films and batteries (batteries consume quicker under cold conditions).
* Hat or cap to protect you from the sun, rain and cold.
* Sun block + After-sun cream or hydrating cream for face and body.
* Insect repellent – minimum recommended 20% DEET – although NO malaria risk has been reported.
* Toilet paper in plastic bag.
* Snacks: biscuits, energy bars, chocolate, raw fruits, muesli, etc.
* Non-disposable canteen (Nalgene type) and water for the first morning.
* We advise you to bring water sterilizing tablets in case you collect water from streams.
* Your own medical kit with any special medications that you might require, paracetamol, plasters for blisters etc.
* Small towel or sarong.
* Swimsuit (if you intend on swimming in the hot springs).
* Cash – sufficient for snacks, tips and souvenirs.
* Original passport & International university card if you have one.
* Walking sticks or poles (we can rent these to you. Please note poles with metal tips cannot be carried into Machu Picchu and should be left at your hotel on the final day).
* Binoculars (if you have them).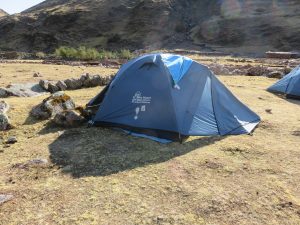 ---
What do we need when you make a reservation?
*Full name as it is written in your passport.* Scanned copy of your passport.
*Copy/fax or scan from both sides of your Internat University student card (if you have one and are less than 28 years old the price of the Trek is $18 USD less).
*Departing date for the trail.
*We ask for a 40% deposit, sending to us via visa or Pay Pall online through this website:+5,5 % or Wetravel 4,5 % (cost credit cards charge us) The balance you will pay at our office in Cusco before the start of the trek. We accept cash USD or credit card (+5,5%)