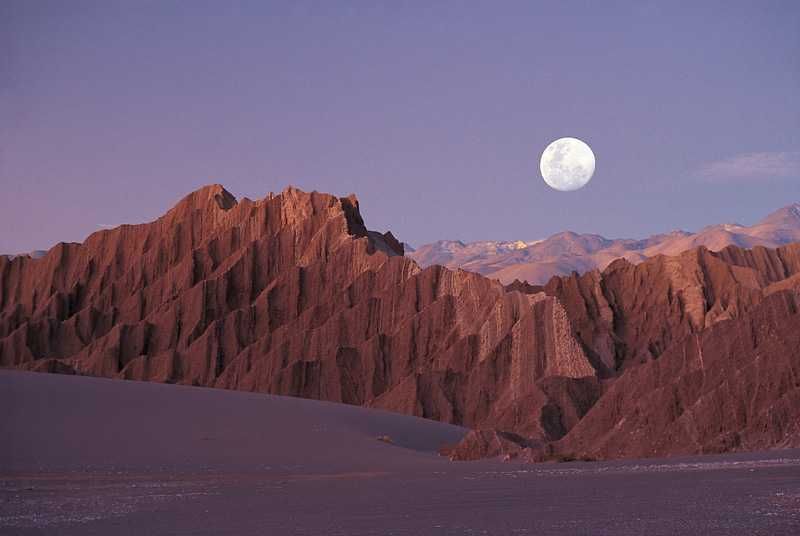 San Pedro de Atacama – Chile
San Pedro de Atacama
This tiny oasis village, isolated in the vast Atacama Desert has excellent access to the some spectacularly bizarre land formations, including giant sand dunes, jagged canyons, salt pillars, boiling geysers, one smoking volcano, and the high altitude lakes of the northern altiplano. All of which have propelled San Pedro into becoming one of northern Chile's most popular traveler destinations.
The village itself, estimated to have been built around 800 B.C. is quaint, unhurried, and built of adobe brick, and there is a certain mellow charm amongst the shady streets and the crumbling ancient walls that drift away from the town and on into the dust. Many visitors are captivated by San Pedro's spiritual sense of peace, which is no more evident than at night, when the clear atmosphere and isolation allows for views of the night sky that few places on Earth can rival.
Despite the surge of tourists during the summer months, San Pedro retains its uniquely relaxed atmosphere, and offers a wealth of available means of exploring its captivating surroundings, including hiking, mountain biking, horseback riding, or simply sightseeing with a tour van. Amongst the highlights are the geysers at El Tatio (the world's highest geyser field), the flamingo breeding grounds of the Salar de Atacama (Chile's largest salt flat), numerous volcanoes and natural hot springs, pre-Columbian archaeological sites and other-worldly landscapes such as the famous Valle de la Luna. It is also a gateway to Bolivia's dazzling salt flat, Salar de Uyuni, which is increasingly becoming one of the continents most popular travel experiences
Weather
Weather in this area is desert-like in altitude (Altiplano) and with a marked thermo oscillation. Winter temperature: 22 C during the day and 4 C during the night. Summer temperature: 27 C during the day and 16 C during the night (occasional rains). No matter the season, it is recommended to take shorts, t-shirts, bathing suit, sun block and warm clothing for the night.
When to come?
The best months to visit Atacama are June to September as these are the dry months and the perfect blue sky just sometimes features clouds. Summer months can be quite hot during the day.
How long?
We recommend staying in San Pedro de Atacama for at least three nights, that time will be enough to visit the main attractions in the area. If you are planning to leave to Uyuni from Atacama, consider the 3-day tour available with daily departures
How to get there?
By plane, you have first to fly to Calama (from Santiago de Chile) and then take a transfer to San Pedro (98 km). By bus, you can access San Pedro de Atacama from Santiago (20h) or from Salta in Argentina (13h). Another way to get to San Pedro is by taking the 3-day tour from Uyuni, described below.
Museums
Archaeological Museum R.P. Gustavo Le Paige.
Moon Valley Tour 5 h
Just 12km out of San Pedro and into the Atacama Desert sits the Moon Valley (Valle de Luna), where for thousands of years the wind has carved strange, desolate shapes creating a dramatic lunar landscape of eroded hills, surrounding a crust-like valley floor. An immense sand dune sweeps across the valley, easy enough to climb and a great place to sit and survey a sunset that gives the maximum expression of silence and transforms the valley into a spellbinding palette of golds and reds.