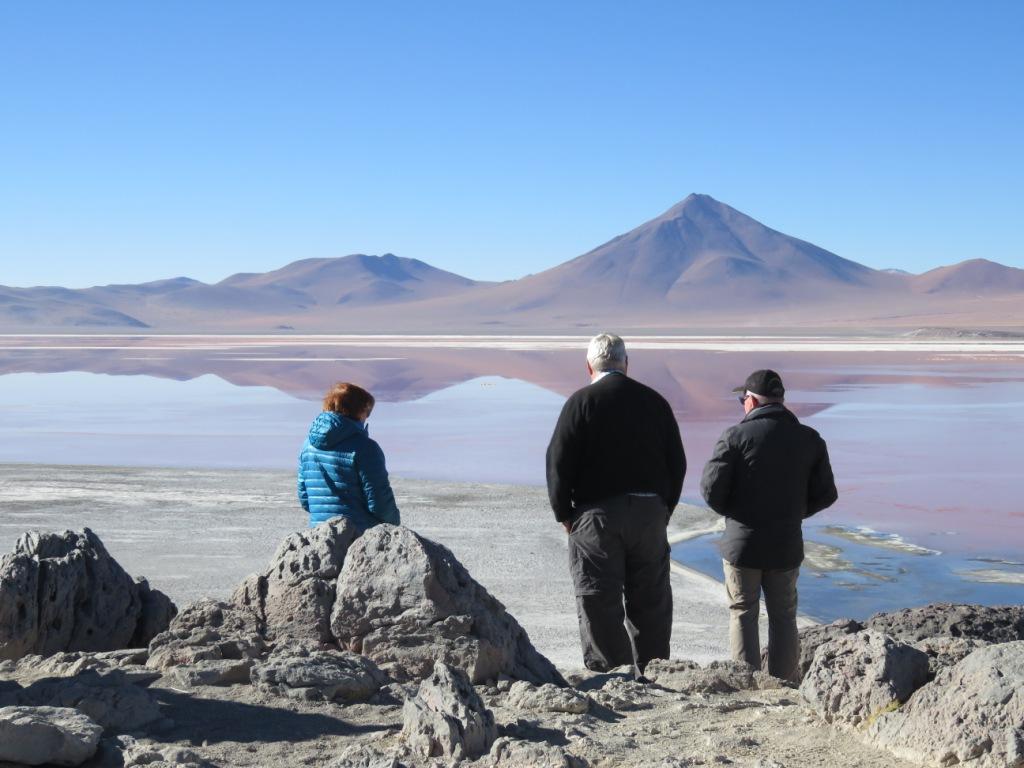 Start package 3 days jeeptour San Pedro( Chili) – Uyuni or 4 D San Pedro – San Pedro
Surreal vision formations, valleys and lagoons. 3 days ending in Bolivia or 4 days with return to San Pedro.
Salar de Uyuni (or Salar de Tunupa) is the world's largest salt flat, or playa, at over 10,000 square kilometres (3,900 sq mi) in area. It is in the Potosí province in southwest Bolivia, near the crest of the Andes at an elevation of 3,656 meters (11,995 ft) above sea level.
The Salar was formed as a result of transformations between several prehistoric lakes. It is covered by a few meters of salt crust, which has an extraordinary flatness with the average elevation variations within one meter over the entire area of the Salar. The crust serves as a source of salt and covers a pool of brine, which is exceptionally rich in lithium. It contains 50% to 70% of the world's known lithium reserves. The large area, clear skies, and exceptional flatness of the surface make the Salar ideal for calibrating the altimeters of Earth observation satellites. Following rain, a thin layer of dead calm water transforms the flat into the world's largest mirror, 129 kilometers (80 miles) across.
Uyuni, we will appreciate lovely views of the Altiplano highland plain and the eastern mountain ranges on the way to Chili,or in a jeep round trip .We will observe llamas, vicuñas, as well as local flora such as Andean grass (Ichu) yareta muss and Thola. The town of Uyuni is situated 220 km from Potosí.
From here you can do the most amazing tour in Southamerica. The Saltlakes in 4X drive jeeps
---
You can choose this tour in 2 options
1 Budget Shared jeep tour : in hostals in shared tour
2 Private jeep tour: in 3* hotels in private tour
---
DAY 1:
You will be pick up from your hotel in San Pedro de Atacama, to make chilean migration at customs, then we start driving to Hito Cajon which is the border betweenChile and Bolivia. Then you will make another migration to enter Bolivian territory. We will have breakfast. After the changing to a jeep 4×4 vehicle is made, we began to visit the White Lagoon, Green Lagoon which is based on the foots of Licancabur Volcano. We continuous driving north of Salvador Dali Desert. Then continue to the Polques Hot Spring, Geysers of Morning Sun, at 5000 meteres. Then, arrival to the spectacular Red Lagoon where you can appreciate thousands of flamingos. We will go to settle to a BASIC hostel of the Community Mallku Villa Mar which is at a height of 3500 meters (Breakfast and dinner at the hostel).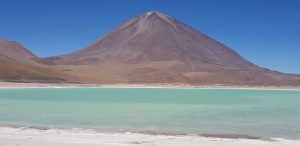 ---
DAY 2:
Breakfast. We started visiting cave paintings, Valley of the Rocks, where you can see formations like Los City Italy, World Cup, Camel, etc. Then we visit the Black Lagoon with a lot of wildlife like Tawas altiplánica or geese and vegetation according to the ecosystem, or Catal Lagoon (Laguna Misteriosa), Canyon Catal. Lunch. Viewpoint Waterfall Agua Dulce, until a valley inhabited by many highland communities. These communities are engaged in raising Andean animals such as llamas and alpacas. The day ends with the arrival at the community of Villa Candelaria Hostal of salt. A double or triple accommodation where we will have dinner.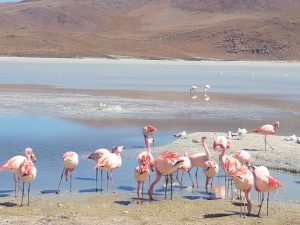 ---
DAY 3:
At 5:00 hours started to go to Incahuasi Island to observe the sunrise that is located in the middle of Uyuni Salt Flat. We visited a completely built of salt blocks (Hotel Playa Blanca), Salt Flat Eyes, Salt Montoneras Hotel, until you reach the Community of Colchani where we can observe the traditional process of salt consumed throughout Bolivia. Lunch. Last stop at Train Cemetery. And the tour ends at Uyuni – Bolivia to 15:00. Approximately.
* The passengers who return to San Pedro will depart from ours agency in Bolivia at approximately 4:00 PM. We will start the transfer to Villa Mar where we will have dinner and spend the last night there.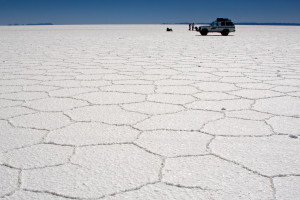 ---
DAY 4 (Only for passengers with return):
We start the return at 05:00 AM, we will have breakfast at the shelter of Laguna Blanca and we will go to Hito Cajón. Here we will carry out the immigration procedures and finally our last destination San Pedro de Atacama, arriving at approximately 12:00 PM.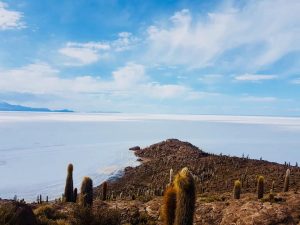 ---
DEPARTURES:
Excursion start time: 7:00 a.m.
IT INCLUDES:
Bus transport (San Pedro de Atacama to the border) and 4×4 jeep all the trip in Bolivia. All meals (breakfast, lunch, dinner) and drinks (water and juice) during meals. Lodging.
NOT INCLUDED:
Entrances to the parks. Direct payment by the passenger at each place. Alcoholic drinks. English speaking guide.
https://southamericaplanet.com/en/start-package-3-days-jeeptour-san-pedro-chili-uyuni-or-4-d-san-pedro-san-pedro/
https://southamericaplanet.com/es/paquete-de-inicio-3-dias-jeeptour-san-pedrochile-uyuni-o-4-d-san-pedro-san-pedro/
https://southamericaplanet.com/nl/start-pakket-3-dagen-jeeptour-san-pedro-chili-uyuni-of-4-d-san-pedro-san-pedro/