Start package Cajamarca 3 days North Peru
Cajamarca is a city and the capital of the province of the same name, in the region of the same name in Peru. The name Cajamarca comes from the Quechua word Kashamarka, "land of thorns" or from Qasamarka, "cold land." The city is located at an altitude of 2720 m. The equatorial climate is mild, dry and sunny. The maximum temperatures are around 22 ° C and the minimum temperatures around 5 ° C. Cajamarca is known for its church buildings, hot springs and Inca baths.
Ofrecemos estos paquetes en 3 versiones
1 Tour económico: en hostales
2 tour clásico: en hoteles 3 *
3 Tour de lujo: en hoteles 4 *
---
Day 1
A.M. Arrival in Cajamarca. Transfer to the chosen type of hotel.
09:00 am. CITY TOUR: Plaza de Armas, Temples (facades), Cathedral, San Francisco and Belén; Museums: Archaeological, Ethnographic, and Medical; Rescue Room, Santa Apolonia, natural viewpoint, Sillas del Inca.
3:00 p.m. OTUZCO TOUR: Ventanillas de Otuzco (Cajamarca Culture Cemeteries), Hydrangea Garden, Cajamarca Crafts, "Los Alpes" Farm, artisan cheese factory.
Stay in Cajamarca
---
Day 2
08:00 am. Breakfast.
9:30 a.m. CUMBE MAYO TOUR: Bellavista (natural viewpoint), Layzón, rock forest or the fraylones, whimsical formations of the rocks that adapt by erosion, El Santuario, caves or shelters, La Piedra del Sacrificio, ceremonial altars, 3,000 hydraulic channel years of antiguaty
---
Day 3
Transfer to the airport or bus terminal for the flight to Lima or bus to Chiclayo or Trujillo
If you want to continue to Leymebamba- Chachapoyas we can organize private transportation 6 to 7 hours by car.
---
What is included?
* Transfers to the bus station or airport 2 times
* City tour in Cajamarca 1/2 day
* 2 hotel nights in Cajamarca
* 2 breakfasts
* Cumbemayo excursion
* Ouzco windows excursion
* all entrance fees
Not included?
* Other food
* flights and bus tickets
---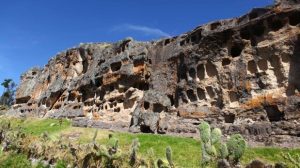 https://southamericaplanet.com/en/start-package-cajamarca-3-days-north-peru/
https://southamericaplanet.com/es/paquete-de-inicio-cajamarca-3-dias-north-peru/
https://southamericaplanet.com/nl/start-pakket-cajamarca-noord-peru/