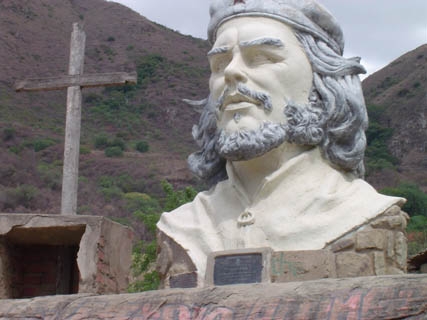 Start Package Sucre – Samaypata Bolivia/ old trade- Che guevara
3 Days/2 Nights in the foothsteps of Che Gurvara
The region of Che Guevarra and villages with domestic population. The tour starts on Thursday because of the Sunday market in Tarabuco.
Old Trade Road to Sucre (including Ché Guevara Tour!)
(or:from Sucre to Samaipata)
When you come to Bolivia, you should certainly visit the capital Sucre, the "white" city. And right you are, because this city is one that must be seen. The centre is beautiful with its white painted, pristine spanish colonial houses and State buildings.
The setting as well is excellent, close to the mountains of the Cordillera de los Frailes.
But what makes a tour to Sucre even more valuable is going there via the old trade road from Samaipata (or Santa Cruz).This tour can be done best in 3 or 4 days, depending on the day of departure and your travel scheme. We advise you to visit Tarabuco on a Sunday morning anyway, when a colourful market is held that you shouldn´t miss
Here we write the Tour From Samaypata to Sucre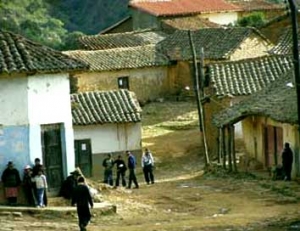 ---
1st day:
In Vallegrande you will visit the Ché Guevara museum and the hospital. Here you can see the laundry where Ché Guevara's corpse was shown to the world press and his last letter to his children painted on a wall. You will also go to the mausoleum where Ché was buried for 30 years.
After lunch in Vallegrande, we´ll drive via picturesque Pucará to the community of La Higuera. In La Higuera you visit the school where Ché Guevara was executed in 1967.
The school building holds a small museum nowadays. On the small square you will see 2 statues in honour of Ché. You will spend the night in La Higuera. There is no electricity in La Higuera so you will have dinner at candlelight in this romantic and quiet place. This hostel is the only place in La Higuera where you can take a hot shower!
---
2nd day:
This will be a wonderful day because of the constantly changing landscapes. After breakfast we drive to the Rio Grande. During this drive you will probably see many parrots, vultures and other birds. We make a stop on the bridge which crosses the Rio Grande. And maybe, time permitting, you can have a swim in the river (bring bathing suit and a towel, just in case). The landscape between the Rio Grande and Nuevo Mundo is beautiful and varied; cacti, black earth, red rocks, river and mountain views.
We pass the community of El Oro with its white houses, red roofs, black earth, green banana trees and sugarcane. In Nuevo Mundo we stop to visit a woman who makes hand weavings. We continue to Villa Serrano. From Monday till Friday it´s possible to visit an evening school where the children learn to play the charango. Dinner and stay overnight in Villa Serrano.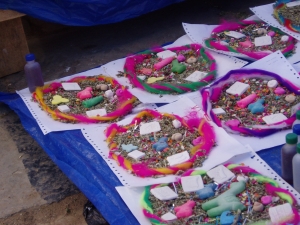 ---
3rd day
If possible we make an appointment with the charango teacher to visit him in his house/workshop where he makes the charango. He explains you about the making of them, what materials he works with, etc. In the museum you will see the biggest charango in the world. This guitarlike instrument is played, only twice a year, by 10 persons at a time. Back on the road you will appreciate the landscape that keeps changing, higher mountains, different style of houses and costumes. Iff this day is Sunday, we go to the famous Sunday market! The most typical local market of Bolivia. After the Market we drive in 1,5 h to Sucre
You can Start from Sucre or from Samaypata.
We also can arrange transfer to Santa Cruz