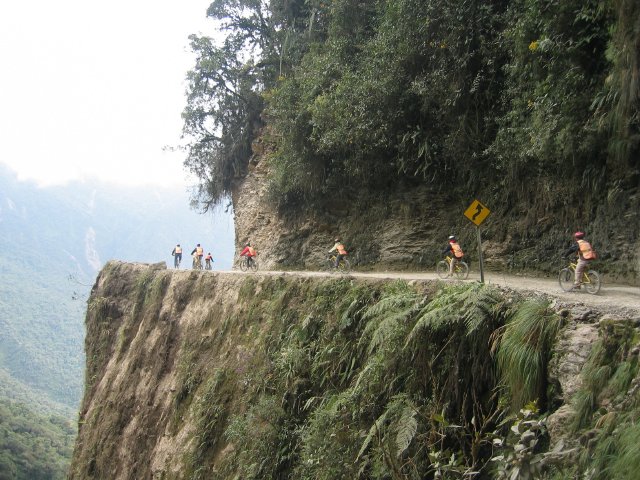 Start Packet dead road, amazing mountain bike tour La Paz, Bolivia – Coroyco
Go with us to the experience of a lifetime !
The most dangerous road in the world " Dead Road "
Look at this video the real thing ( click at the name) DEAD ROAD LIVE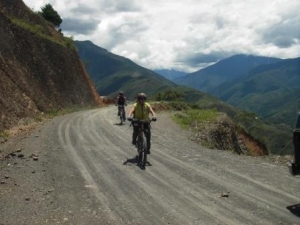 ---
To Coroico from La Paz
The most dangerous road, exiting mountain bike tours /1 day tour .A fantastic adventure that begins in La Paz and end at Coroico town. Across the most dangerous road in the world (3600m of altitude difference).Travel with professionals to this adventure.
---
Program(Altitude 3600m)
We leave La Paz at hrs 8:00 AM, with our own transport and arrive in la Cumbre after a trip of 90 minutes. La Cumbre is at 4500m of altitude. From this place we begin the descent till Coroico, over a twist road, with many curves. In travelling 64 Km. we will be able to observe the climatologic and geographic changes, from mountains covered with snow and fog to the pleasant humid of tropical forest. In the itinerary we receive a lunchbox. You have the attendance of our guide and mechanic.
During the passage we will be able to make the stops necessary to take pictures When we arrive at the town of Coroico we can relax . On the way, we shall see typical animals like llamas and other characteristic of the region. After arriving at Coroico our private transport shall bring us back to la Paz where we arrive in the evening.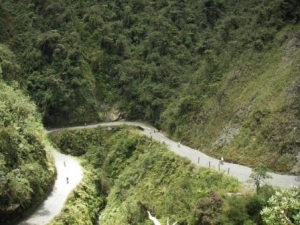 ---
Info
Required total time for the tour 13 hrs.
descent : more than 3600 Mt
distance : 65 km /40,6 Miles
Experience is not necessaire.
Attendance: complete bicycles of double suspension, helmets, gloves and guide ,mechanic, food
Climate at the beginning cold, the rest of the trip, hot.
Inclination 90 degrees.
back to La paz in bus : 3 to 4 h
Downhill percent : 85 %
Feel safe while descending on the famous Death road !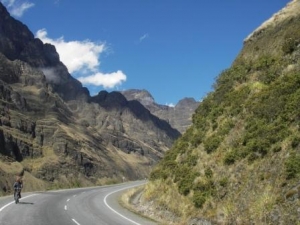 ---
The program includes
– Riding on professional brand bicycles FULL suspension with hydraulic disc brakes
– Six one brand certified helmets and gloves ,safety vest and dust masks
– Professional guides coaching and supervising the group along the route
– 2 snacks provided on the route
– Support vehicle safeguarding the group all through the excursion
– Buffet , shower and swimming pool at the hotel (beverages are not included )
– The death road conqueror T – shirt !
– The tour pictures on CD
This makes the most dangerous road a safe and most recommended experiance !
not included
– entree fee to the parc 40 bolivianos
https://southamericaplanet.com/en/start-packet-dead-road-amazing-mountain-bike-tour-la-paz-bolivia-coroyco/
https://southamericaplanet.com/es/paquete-de-inicio-dead-road-increible-recorrido-en-bicicleta-de-montana-la-paz-bolivia-coroico/
https://southamericaplanet.com/nl/start-pakket-bouwsteen-mountain-bike-fiets-tocht-deadroad-la-paz-coroyco-fantastische-afdaling-per-mountainbike-bolivie/